Against the long history of huge temperature variation in the earth's climate (ice ages etc.), the .6 of one degree average rise reported for the entire 20th century by the United Nations (a rise so small that you would not be able to detect such a difference personally without instruments) shows in fact that the 20th century was a time of exceptional temperature stability.

There is an "ascetic instinct" (or perhaps a "survivalist instinct") in many people that causes them to delight in going without material comforts. Monasteries and nunneries were once full of such people -- with the Byzantine stylites perhaps the most striking example. Many Greenies (other than Al Gore and his Hollywood pals) have that instinct too but in the absence of strong orthodox religious committments they have to convince themselves that the world NEEDS them to live in an ascetic way. So their personal emotional needs lead them to press on us all a delusional belief that the planet needs "saving".

The blogspot version of this blog is HERE.
The
Blogroll
. My
Home Page
. Email John Ray
here
. Other mirror sites:
Dissecting Leftism
,
Political Correctness Watch
,
Education Watch
,
Immigration Watch
,
Food & Health Skeptic
,
Gun Watch
,
Socialized Medicine
,
Eye on Britain
,
Recipes
,
Tongue Tied
and
Australian Politics
. For a list of backups viewable in China, see
here
. (Click "Refresh" on your browser if
background colour
is missing) See
here
or
here
for the archives of this site
****************************************************************************************
30 November, 2009
Official inquiry into the hacked climate e-mails coming
Details of a university inquiry into e-mails stolen from scientists at one of the UK's leading climate research units are likely to be made public next week. Announcement of a chair of the inquiry and terms of reference will probably be made on Monday, a source says. The University of East Anglia's (UEA) press office did not confirm the date. But a spokesperson said information about the investigation into the hack at UEA's Climatic Research Unit (CRU) would be made public very soon.
Scientists will be scrutinising the choice of chair and the terms of reference. One senior climate scientist told me that the chair would have to be a person accepted by both mainstream climate scientists and sceptics as a highly respected figure without strong connections to either group.
BBC News understands that senior individuals at UEA have acknowledged the potential damage to the university's reputation from the CRU affair and are anxious to clear the institution's name.
But there is a risk that some people will not accept the findings of any inquiry unless it is fully independent, as demanded by the former UK Chancellor Lord Lawson earlier in the week.
A petition is running on the 10 Downing Street website calling for CRU to be suspended from preparation of any government climate statistics until the allegations have been fully investigated.
Some researchers would not comment until they had seen UEA's nominated chairman and terms of reference. But Professor Sir John Houghton, chair of the IPCC's first science panel, said he would not support an inquiry as many of those demanding one were biased.
Phil Willis MP said the House of Commons Science and Technology Select Committee - of which he is chair - had written to UEA asking for copies of the e-mails and an explanation. Depending on the response, the committee will decide whether to proceed further.
Professor Sir David King, the former government chief scientist, told BBC News there are three key issues:
* how did the leakage occur - was there any payment in the process?
* the alleged behaviour of the scientists indicated by the e-mails
* does this have any impact on the scientific conclusion?
If an independent inquiry encompassed all three aspects, Professor Sir David said he would support it.
SOURCE
BBC coverup
The BBC has become tangled in the row over the alleged manipulation of scientific data on global warming. One of its reporters has revealed he was sent some of the leaked emails from the Climatic Research Unit at the University of East Anglia more than a month ago – but did nothing about them.
Despite the explosive nature of some of the messages – which revealed apparent attempts by the CRU's head, Professor Phil Jones, to destroy global temperature data rather than give it to scientists with opposing views – Paul Hudson failed to report the story.
This has led to suspicions that the scandal was ignored because it ran counter to what critics say is the BBC's unquestioning acceptance in many of its programmes that man-made climate change is destroying the planet.
Dr Benny Peiser, director of the Global Warming Policy Foundation, said: 'We need to know more about the BBC's role in this affair. Was Mr Hudson told by the BBC not to use the story?'
It was only after the same emails were published on a blog called Air Vent that Look North climate correspondent Mr Hudson owned up in his own blog to the fact he had also had the material. In a bizarre twist, he claimed the leak had been triggered by an article he had written that questioned global warming. Mr Hudson, 38, last night declined to comment. A BBC spokesman said: 'Paul has nothing to add to what he has already said in his blog.'
SOURCE
.
This is the worst scientific scandal of our generation
Our hopelessly compromised scientific establishment cannot be allowed to get away with the Climategate whitewash, says Christopher Booker
A week after my colleague James Delingpole, on his Telegraph blog, coined the term "Climategate" to describe the scandal revealed by the leaked emails from the University of East Anglia's Climatic Research Unit, Google was showing that the word now appears across the internet more than nine million times. But in all these acres of electronic coverage, one hugely relevant point about these thousands of documents has largely been missed.
The reason why even the Guardian's George Monbiot has expressed total shock and dismay at the picture revealed by the documents is that their authors are not just any old bunch of academics. Their importance cannot be overestimated, What we are looking at here is the small group of scientists who have for years been more influential in driving the worldwide alarm over global warming than any others, not least through the role they play at the heart of the UN's Intergovernmental Panel on Climate Change (IPCC).
Professor Philip Jones, the CRU's director, is in charge of the two key sets of data used by the IPCC to draw up its reports. Through its link to the Hadley Centre, part of the UK Met Office, which selects most of the IPCC's key scientific contributors, his global temperature record is the most important of the four sets of temperature data on which the IPCC and governments rely – not least for their predictions that the world will warm to catastrophic levels unless trillions of dollars are spent to avert it.
Dr Jones is also a key part of the closely knit group of American and British scientists responsible for promoting that picture of world temperatures conveyed by Michael Mann's "hockey stick" graph which 10 years ago turned climate history on its head by showing that, after 1,000 years of decline, global temperatures have recently shot up to their highest level in recorded history.
Given star billing by the IPCC, not least for the way it appeared to eliminate the long-accepted Mediaeval Warm Period when temperatures were higher they are today, the graph became the central icon of the entire man-made global warming movement.
Since 2003, however, when the statistical methods used to create the "hockey stick" were first exposed as fundamentally flawed by an expert Canadian statistician Steve McIntyre, an increasingly heated battle has been raging between Mann's supporters, calling themselves "the Hockey Team", and McIntyre and his own allies, as they have ever more devastatingly called into question the entire statistical basis on which the IPCC and CRU construct their case.
The senders and recipients of the leaked CRU emails constitute a cast list of the IPCC's scientific elite, including not just the "Hockey Team", such as Dr Mann himself, Dr Jones and his CRU colleague Keith Briffa, but Ben Santer, responsible for a highly controversial rewriting of key passages in the IPCC's 1995 report; Kevin Trenberth, who similarly controversially pushed the IPCC into scaremongering over hurricane activity; and Gavin Schmidt, right-hand man to Al Gore's ally Dr James Hansen, whose own GISS record of surface temperature data is second in importance only to that of the CRU itself.
There are three threads in particular in the leaked documents which have sent a shock wave through informed observers across the world. Perhaps the most obvious, as lucidly put together by Willis Eschenbach (see McIntyre's blog Climate Audit and Anthony Watt's blog Watts Up With That), is the highly disturbing series of emails which show how Dr Jones and his colleagues have for years been discussing the devious tactics whereby they could avoid releasing their data to outsiders under freedom of information laws.
They have come up with every possible excuse for concealing the background data on which their findings and temperature records were based.
This in itself has become a major scandal, not least Dr Jones's refusal to release the basic data from which the CRU derives its hugely influential temperature record, which culminated last summer in his startling claim that much of the data from all over the world had simply got "lost". Most incriminating of all are the emails in which scientists are advised to delete large chunks of data, which, when this is done after receipt of a freedom of information request, is a criminal offence.
But the question which inevitably arises from this systematic refusal to release their data is – what is it that these scientists seem so anxious to hide? The second and most shocking revelation of the leaked documents is how they show the scientists trying to manipulate data through their tortuous computer programmes, always to point in only the one desired direction – to lower past temperatures and to "adjust" recent temperatures upwards, in order to convey the impression of an accelerated warming. This comes up so often (not least in the documents relating to computer data in the Harry Read Me file) that it becomes the most disturbing single element of the entire story. This is what Mr McIntyre caught Dr Hansen doing with his GISS temperature record last year (after which Hansen was forced to revise his record), and two further shocking examples have now come to light from Australia and New Zealand.
In each of these countries it has been possible for local scientists to compare the official temperature record with the original data on which it was supposedly based. In each case it is clear that the same trick has been played – to turn an essentially flat temperature chart into a graph which shows temperatures steadily rising. And in each case this manipulation was carried out under the influence of the CRU.
What is tragically evident from the Harry Read Me file is the picture it gives of the CRU scientists hopelessly at sea with the complex computer programmes they had devised to contort their data in the approved direction, more than once expressing their own desperation at how difficult it was to get the desired results.
The third shocking revelation of these documents is the ruthless way in which these academics have been determined to silence any expert questioning of the findings they have arrived at by such dubious methods – not just by refusing to disclose their basic data but by discrediting and freezing out any scientific journal which dares to publish their critics' work. It seems they are prepared to stop at nothing to stifle scientific debate in this way, not least by ensuring that no dissenting research should find its way into the pages of IPCC reports.
Back in 2006, when the eminent US statistician Professor Edward Wegman produced an expert report for the US Congress vindicating Steve McIntyre's demolition of the "hockey stick", he excoriated the way in which this same "tightly knit group" of academics seemed only too keen to collaborate with each other and to "peer review" each other's papers in order to dominate the findings of those IPCC reports on which much of the future of the US and world economy may hang. In light of the latest revelations, it now seems even more evident that these men have been failing to uphold those principles which lie at the heart of genuine scientific enquiry and debate. Already one respected US climate scientist, Dr Eduardo Zorita, has called for Dr Mann and Dr Jones to be barred from any further participation in the IPCC. Even our own George Monbiot, horrified at finding how he has been betrayed by the supposed experts he has been revering and citing for so long, has called for Dr Jones to step down as head of the CRU.
The former Chancellor Lord (Nigel) Lawson, last week launching his new think tank, the Global Warming Policy Foundation, rightly called for a proper independent inquiry into the maze of skulduggery revealed by the CRU leaks. But the inquiry mooted on Friday, possibly to be chaired by Lord Rees, President of the Royal Society – itself long a shameless propagandist for the warmist cause – is far from being what Lord Lawson had in mind. Our hopelessly compromised scientific establishment cannot be allowed to get away with a whitewash of what has become the greatest scientific scandal of our age.
SOURCE
Emails spreading the word
Just a few considerations in addition to previous remarks about the explosion of the East Anglia Climategate e-mails in America. The reaction is growing exponentially there. Fox News, Barack Obama's Nemesis, is now on the case, trampling all over Al Gore's organic vegetable patch and breaking the White House windows. It has extracted some of the juiciest quotes from the e-mails and displayed them on-screen, with commentaries. Joe Public, coast-to-coast, now knows, thanks to the clowns at East Anglia's CRU, just how royally he has been screwed.
Senator James Inhofe's Senate Committee on Environment and Public Works has written to all the relevant US Government agencies, acquainting them with the nature of the e-mails. But the real car crash for Obama is on Capitol Hill where it is now confidently believed his Cap and Trade climate legislation is toast. It was always problematic; but with a growing awakening to the scale of the scientific imposture sweeping the world, as far as the Antipodes, the clever money is on Cap and Trade laws failing to pass, with many legislators sceptical and the mid-term elections looming ever closer.
At the more domestic level, the proposed ban on incandescent light bulbs, so supinely accepted in this servile state of Britain, is now provoking a huge backlash in America. US citizens do not like the government coming into their houses and putting their lights out. Voters may not understand the cut and thrust of climate debate at the technical level, but they know when the Man from Washington has crossed their threshold uninvited.
The term that Fox News is now applying to the Climategate e-mails is "game-changer". For the first time, Anthropogenic Global Warming cranks are on the defensive, losing their cool and uttering desperate mantras such as "You can be sceptical, not denial." Gee, thanks, guys. In fact we shall be whatever we want to be, without asking your permission.
At this rate, Copenhagen is going to turn into a comedy convention with the real world laughing at these liars. Now is the time to mount massive resistance to the petty tyrants and hit them where it hurts – in the wallet. Further down the line there may be, in many countries, a question of criminal prosecution of anybody who has falsified data to secure funds and impose potentially disastrous fiscal restraints on the world in deference to a massive hoax. It's a new world out there, Al, and, as you may have noticed, the climate is very cold indeed.
SOURCE
Skeptical journalists excluded from climate conference
The Warmists have learned nothing from the CRU affair. Suppression of dissent is in the bones of Leftists
Attorneys for WND today threatened the United Nations with a lawsuit for its refusal, thus far, to issue press credentials for coverage of the global climate-change convention next month in Copenhagen. WND's senior staff writer Jerome Corsi has been seeking the credentials from the U.N. Framework Convention for Climate Change for weeks – providing all of the documentation requested and establishing his bona fides as a full-time reporter for the largest independent English-language Internet news organization in the world.
Until today, despite repeated requests, the UNFCCC had refused to acknowledge whether Corsi, a two-time No. 1 New York Times bestselling author, will be permitted to attend the meetings that have been hailed by organizers as a major step forward in "global governance."
The UNFCCC press office sent an e-mail to Corsi today insisting the agency had not responded because it is dealing with more than 4,000 applications and must "examine each on a case-by-case basis." "We regret that you have had to wait so long; however, it is not for any political reason. We would be happy to refer your application to New York for further consideration," the e-mail said.
"It takes time to make arrangements to travel to Copenhagen for an extended period, and I began to believe the U.N. was stalling," said Joseph Farah, editor and chief executive officer of WND. "So we are formally putting the U.N. on notice that we will not accept its nondecision lying down." The conference begins Dec. 7.
"Your refusal to respond to these contacts leads to the conclusion that UNFCCC believes that if it ignores Dr. Corsi, he 'will go away,'" wrote Gary Kreep of the U.S. Justice Foundation. "Nothing can be further from the truth. If he is denied press credentials to this event as a result of the acts, or omissions, of UNFCCC, litigation will ensue that will result in substantial negative press coverage for UNFCCC, and for the attendees at the Copenhagen Conference as well. The specter of UNFCCC trying to allow attendance at the conference only of journalists who will report in what UNFCCC views to be a positive manner on the conference will not sit well with the American public, no matter what the outcome of the litigation."
Last year, the Department of Transportation barred Corsi from attending a news conference in which Secretary Mary Peters defended the controversial Bush administration program allowing Mexican trucks to travel freely on U.S. roads. Corsi, however, received White House press credentials to attend summits of the Security and Prosperity Partnership of North America in Quebec and in New Orleans.
Last weekend, the first president of the European Union, Herman Van Rompuy, affirmed in a speech captured by the BBC his belief that "2009 is the first year of global governance with the establishment of the G20 in the middle of the financial crisis. The climate conference in Copenhagen is another step toward the global management of our planet."
Lord Christopher Monckton, a former science adviser to British Prime Minister Margaret Thatcher, asserts the real purpose of the United Nations Climate Change Conference in Copenhagen Dec. 7-18 is to use concern over "global warming" as a pretext to lay the foundation for a one-world government. At the U.N. Climate Change Conference in Copenhagen "this December, weeks away, a treaty will be signed," Monckton told a Minnesota Free Market Institute audience at Bethel University in St. Paul.
Monckton warned that President Obama supports the idea and is ready to sign on the dotted line. "Your president will sign it," he said. "Most of the Third World countries will sign it, because they think they're going to get money out of it. Most of the left-wing regimes from the European Union will rubber-stamp it. Virtually nobody won't sign it. I read that treaty and what it says is this: that a world government is going to be created. The word 'government' actually appears as the first of three purposes of the new entity." He has warned the proposal would cede U.S. sovereignty, mandate a massive wealth transfer from the United States to pay reparations for "climate debt" to Third World countries and create a new "world government" to enforce the treaty's provisions.
Meanwhile, in recent days, as WND reported, documents and e-mails retrieved by a computer hacker from the University of East Anglia's Climate Research Unit indicate top climate-change scientists have manipulated data to hide cooling trends and worked together to marginalize scientists with opposing views.
The U.S. Senate's leading global-warming skeptic says he plans to demand an investigation into the allegedly fraudulent data manipulation unveiled at the highly influential British research center. Sen. James Inhofe, R-Okla., said he knew scientists were "cooking" information years ago. The e-mails, he said, were the proof, and now something needs to be done. "It is pretty serious," Inhofe said. "And since, you know, Barbara Boxer is the chairman and I'm the ranking member on Environment and Public Works, if nothing happens in the next seven days when we go back into session a week from today that would change this situation, I will call for an investigation.
Inhofe said he would ask for an investigation into the United Nations and its climate-change committee "on the way they cooked the science to make this thing look as if the science was settled, when all the time of course we knew it was not."
SOURCE
Australia's kindly "Green" bureaucrats at work
A warning about giving them any more power. Anybody else would have just sent the document back for re-signing instead of applying the guillotine. And, far from apologizing, they are digging in their heels over their obnoxious behaviour. Just the usual Greenie people-hatred, I guess
A WOODSIDE pensioner has condemned "dead headed" government bureaucrats for refusing to pay a grant for an $8000 solar panel - because he signed the form in the wrong place. Don Purvis and his neighbours applied for funding under the federal Solar Homes plan, but his application was rejected because he signed his name in a box reserved for the installer's signature.
Eight other households at the Woodside Lodge Retirement Village are now looking forward to cheaper electricity, but not Mr Purvis, whose appeal was flatly turned down. "I signed where the installer should sign. The forms went off to Canberra and some less-than-nice public servant picked up that mine was signed in the wrong place," the 72-year-old said. Mr Purvis said he had to fill in the forms quickly after the Government announced it was closing the scheme 18 months early.
Despite writing to apologise and begging officials to reconsider, his appeal was rejected. "It could be they're trying to keep the numbers (of applicants) down after they brought forward the cut-off date. But I also think there is some dead-headed public servant not even bothering to read the letters," Mr Purvis said. "It's obvious my intent was there, the signature was on the paperwork."
Mr Purvis, a former Ansett employee who spent more than 50 years in the travel industry, is an AGL customer who spent $301 on his last quarterly electricity bill. He lives alone with Bernice, his golden retriever, for company. "I'm a pensioner. I can feed the dog and have a drink, that's all I need. It would make a difference,"' he said. "His neighbours have called for a change of heart.
A woman who lives nearby but asked not to be identified, said: "I was accepted along with several other people and assumed Don was too - there needs to be a little bit of leverage there."
Mr Purvis' local MP, Jamie Briggs, described his plight as "outrageous" and wrote to Environment Minister Peter Garrett urging him to overrule the decision, but has not yet received a reply. "Common sense would say this is a stupid thing for the Government to do," he said.
Mr Purvis also appealed for the Environment Minister to reconsider. "Hopefully, if Peter Garrett intervenes, they'll see the light, because it's just so bloody stupid," he said.
SOURCE
***************************************
For more postings from me, see DISSECTING LEFTISM, TONGUE-TIED, EDUCATION WATCH INTERNATIONAL, POLITICAL CORRECTNESS WATCH, FOOD & HEALTH SKEPTIC, GUN WATCH, SOCIALIZED MEDICINE, AUSTRALIAN POLITICS, IMMIGRATION WATCH INTERNATIONAL and EYE ON BRITAIN. My Home Pages are here or here or here. Email me (John Ray) here. For readers in China or for times when blogger.com is playing up, there are mirrors of this site here and here
*****************************************
29 November, 2009
Forecasting experts' simple model leaves IPCC climate models cold
A simple model was found to be produce forecasts that are over seven times more accurate than forecasts from the procedures used by the United Nations Intergovernmental Panel on Climate Change (IPCC). This important finding, is reported in an article titled
"Validity of climate change forecasting for public policy decision making"
(PDF) in the latest issue of the
International Journal of Forecasting
. It is the result of a collaboration among forecasters J. Scott Armstrong of the Wharton School, Kesten C. Green of Monash University, and climate scientist Willie Soon of the Harvard-Smithsonian Center for Astrophysics.
In
an earlier paper
(PDF), Armstrong and Green found that the IPCC's approach to forecasting climate violated 72 principles of forecasting. To put this in context, would you put your children on a trans-Atlantic flight if you knew that the plane had failed engineering checks for 72 out of 127 relevant items on the checklist?
The IPCC violations of forecasting principles were partly due to their use of models that were too complex for the situation. Contrary to everyday thinking, complex models provide forecasts that are less accurate than forecasts from simple models when the situation is complex and uncertain.
Confident that a forecasting model that followed scientific forecasting principles would provide forecasts that were more accurate than those provided by the IPCC, Green, Armstrong and Soon used a model that was more consistent with forecasting principles and knowledge about climate. The forecasting model was the so-called "naive" model. It assumes that things will remain the same. It is such a simple model that people are generally not aware of its power. In contrast to the IPCC's central forecast that global mean temperatures will rise by 3 degrees C over a century, the naive model simply forecasts that temperatures next year and for each of 100 years into the future would remain the same as the last years'.
The naive model approach is confusing to non-forecasters who are aware that temperatures have always varied. Moreover, much has been made of the observation that the temperature series that the IPCC uses shows a broadly upward trend since 1850 and that this is coincident with increasing industrialization and associated increases in manmade carbon dioxide gas emissions.
In order to test the naive model, annual forecasts were made from one to 100 years in the future starting with 1850's global average temperature as the forecast for the years 1851 to 1950. This process was repeated by updating for each year up through 2007. This produced 10,750 annual average temperature forecasts for all horizons. It was the first time that the IPCC's forecasting procedures had been subject to a large-scale test of the accuracy of the forecasts that they produce.
Over all the forecasts, the IPCC error was 7.7 times larger than the error from the naive model. While the superiority of the naive model was modest for one- to ten-year-ahead forecasts (where the IPCC error was 1.5 times larger), its superiority was enormous for the 91- to 100-year-ahead forecasts, where the IPCC error was 12.6 times larger.
Is it proper to conduct validation tests? In many cases, such as the climate change situation, people claim that: "Things have changed! We cannot use the past to forecast." While they may think that their situation is unique, there is no logic to this argument. The only way to forecast the future is by learning from the past. In fact, the warmers claims are also based on their analyses of the past.
Could one improve upon the naive model? The naive model violates some principles. For example, it violates the principle that one should use as long a time series as possible, because it bases all forecasts on simply the global average temperature for the single year just prior to making the forecasts. It also fails to combine forecasts from different reasonable methods. The authors planned to start simple with this self-funded project and to then obtain funding to undertake a more ambitious forecasting effort to ensure that all principles were followed. This would no doubt improve accuracy. However, the forecasts from the naive model were very accuurate. For example, the mean absolute error for the 108 fifty-year ahead forecasts was only 0.24 degrees C. It is difficult to see any economic value to reducing such a small forecast error.
Above article received by email. Author: Scott Armstrong [armstrong@wharton.upenn.edu]
Climate change data dumped
Leaky Jonathan does a straight report for once (below). Is his faith wavering? He does not however go as far as puncturing the excuse given by the CRU below: That the dumped data was on obsolete media. Transferring it to modern magnetic media would have cost virtually nothing in terms of both space and money
SCIENTISTS at the University of East Anglia (UEA) have admitted throwing away much of the raw temperature data on which their predictions of global warming are based. It means that other academics are not able to check basic calculations said to show a long-term rise in temperature over the past 150 years.
The UEA's Climatic Research Unit (CRU) was forced to reveal the loss following requests for the data under Freedom of Information legislation. The data were gathered from weather stations around the world and then adjusted to take account of variables in the way they were collected. The revised figures were kept, but the originals - stored on paper and magnetic tape - were dumped to save space when the CRU moved to a new building.
The admission follows the leaking of a thousand private emails sent and received by Professor Phil Jones, the CRU's director. In them he discusses thwarting climate sceptics seeking access to such data. In a statement on its website, the CRU said: "We do not hold the original raw data but only the value-added (quality controlled and homogenised) data."
The CRU is the world's leading centre for reconstructing past climate and temperatures. Climate change sceptics have long been keen to examine exactly how its data were compiled. That is now impossible.
Roger Pielke, professor of environmental studies at Colorado University, discovered data had been lost when he asked for original records. "The CRU is basically saying, `Trust us'. So much for settling questions and resolving debates with science," he said.
Jones was not in charge of the CRU when the data were thrown away in the 1980s, a time when climate change was seen as a less pressing issue. The lost material was used to build the databases that have been his life's work, showing how the world has warmed by 0.8C over the past 157 years. He and his colleagues say this temperature rise is "unequivocally" linked to greenhouse gas emissions generated by humans. Their findings are one of the main pieces of evidence used by the Intergovernmental Panel on Climate Change, which says global warming is a threat to humanity.
SOURCE
The great climate change science scandal
The report below appeared in "The Times" of London, which means that the news concerned has now gone mainstream and has become general public knowledge. And it is again an objective article from the keyboard of Leaky Jonathan! Quite a change! He can obviously tell which way the wind is blowing
The storm began with just four cryptic words. "A miracle has happened," announced a contributor to Climate Audit, a website devoted to criticising the science of climate change. "RC" said nothing more - but included a web link that took anyone who clicked on it to another site, Real Climate. There, on the morning of November 17, they found a treasure trove: a thousand or so emails sent or received by Professor Phil Jones, director of the climatic research unit at the University of East Anglia in Norwich.
Jones is a key player in the science of climate change. His department's databases on global temperature changes and its measurements have been crucial in building the case for global warming.
What those emails suggested, however, was that Jones and some colleagues may have become so convinced of their case that they crossed the line from objective research into active campaigning. In one, Jones boasted of using statistical "tricks" to obliterate apparent declines in global temperature. In another he advocated deleting data rather than handing them to climate sceptics. And in a third he proposed organised boycotts of journals that had the temerity to publish papers that undermined the message.
It was a powerful and controversial mix - far too powerful for some. Real Climate is a website designed for scientists who share Jones's belief in man-made climate change. Within hours the file had been stripped from the site. Several hours later, however, it reappeared - this time on an obscure Russian server. Soon it had been copied to a host of other servers, first in Saudi Arabia and Turkey and then Europe and America. What's more, the anonymous poster was determined not to be stymied again. He or she posted comments on climate-sceptic blogs, detailing a dozen of the best emails and offering web links to the rest. Jones's statistical tricks were now public property.
Steve McIntyre, a prominent climate sceptic, was amazed. "Words failed me," he said. Another, Patrick Michaels, declared: "This is not a smoking gun; this is a mushroom cloud."
Inevitably, the affair became nicknamed Climategate. For the scientists, campaigners and politicians trying to rouse the world to action on climate change the revelations could hardly have come at a worse time. Next month global leaders will assemble in Copenhagen to seek limits on carbon emissions. The last thing they need is renewed doubts about the validity of the science.
The scandal has also had a huge personal and professional impact on the scientists. "These have been the worst few days of my professional life," said Jones. He had to call on the police for protection after receiving anonymous phone calls and personal threats.
Why should a few emails sent to and from a single research scientist at a middle-ranking university have so much impact? And most importantly, what does it tell us about the quality of the research underlying the science of climate change?
THE hacking scandal is not an isolated event. Instead it is the latest round of a long-running battle over climate science that goes back to 1990. That was when the Intergovernmental Panel on Climate Change - the group of scientists that advises governments worldwide - published its first set of reports warning that the Earth faced deadly danger from climate change. A centrepiece of that report was a set of data showing how the temperature of the northern hemisphere was rising rapidly.
The problem was that the same figures showed that it had all happened before. The so-called medieval warm period of about 1,000 years ago saw Britain covered in vineyards and Viking farmers tending cows in Greenland. For any good scientist this raised a big question: was the recent warming linked to humans burning fossil fuels or was it part of a natural cycle?
The researchers set to work and in 1999 a group led by Professor Michael Mann, a climatologist at Pennsylvania State University, came up with new numbers showing that the medieval warm period was not so important after all. Some bits of the Atlantic may have been warm for a while, but the records suggested that the Pacific had been rather chilly over the same period - so on average there was little change. Plotted out, Mann's data turned into the famous "hockey stick" graph. It showed northern hemisphere temperatures as staying flat for hundreds of years and then rising steeply from 1900 until now. The implication was that this rise would continue, with potentially deadly consequences for humanity.
That vision of continents being hit by droughts and floods while the Arctic melts away has turned a scientific debate into a highly emotional and political one. The language used by "warmists" and sceptics alike has become increasingly polarised. George Monbiot, widely respected as a writer on green issues, has branded doubters "climate deniers", a phrase uncomfortably close to holocaust denial. Sceptics, particularly in America, have suggested that scientists who believe in climate change are part of a global left-wing conspiracy to divert billions of dollars into green technology.
A more cogent criticism is that there has been a reluctance to acknowledge dissent on the question of climate science. Al Gore, the former US vice-president turned green campaigner, has described the climate debate as "settled". Yet the science, say critics, has not been tested to the limit. This is why the climatic research unit at the University of East Anglia is so significant.
Its researchers have built up records of how temperatures have changed over thousands of years. Perhaps the most important is the land and sea temperature record for the world since the mid-19th century. This is the database that shows the "unequivocal" rise of 0.8C over the last 157 years on which Mann's hockey stick and much else in climate science depend.
Some critics believe that the unit's findings need to be treated with more caution, because all the published data have been "corrected" - meaning they have been altered to compensate for possible anomalies in the way they were taken. Such changes are normal; what's controversial is how they are done. This is compounded by the unwillingness of the unit to release the original raw data.
David Holland, an engineer from Northampton, is one of a number of sceptics who believe the unit has got this process wrong. When he submitted a request for the figures under freedom of information laws he was refused because it was "not in the public interest". Others who made similar requests were turned down because they were not academics, among them McIntyre, a Canadian who runs the Climate Audit website.
A genuine academic, Ross McKitrick, professor of economics at the University of Guelph in Canada, also tried. He said: "I was rejected for an entirely different reason. The [unit] told me they had obtained the data under confidentiality agreements and so could not supply them. This was odd because they had already supplied some of them to other academics, but only those who support the idea of climate change."
It was against this background that the emails were leaked last week, reinforcing suspicions that scientific objectivity has been sacrificed. There is unease even among researchers who strongly support the idea that humans are changing the climate. Roger Pielke, professor of environmental studies at the University of Colorado at Boulder, said: "Over the last decade there has been a very political battle between the climate sceptics and activist scientists. "It seems to me that the scientists have lost touch with what they were up to. They saw themselves as in a battle with the sceptics rather than advancing scientific knowledge."
Professor Mike Hulme, a fellow researcher of Jones at the University of East Anglia and author of Why We Disagree About Climate Change, said: "The attitudes revealed in the emails do not look good. The tribalism that some of the leaked emails display is something more usually associated with social organisation within primitive cultures; it is not attractive when we find it at work inside science."
There could, however, be another reason why the unit rejected requests to see its data. This weekend it emerged that the unit has thrown away much of the data. Tucked away on its website is this statement: "Data storage availability in the 1980s meant that we were not able to keep the multiple sources for some sites ... We, therefore, do not hold the original raw data but only the value-added (ie, quality controlled and homogenised) data."
If true, it is extraordinary. It means that the data on which a large part of the world's understanding of climate change is based can never be revisited or checked. Pielke said: "Can this be serious? It is now impossible to create a new temperature index from scratch. [The unit] is basically saying, `Trust us'."
WHERE does this leave the climate debate? While the overwhelming belief of scientists is that the world is getting warmer and that humanity is responsible, sceptical voices are increasing. Lord Lawson, the Tory former chancellor, announced last week the creation of the Global Warming Policy Foundation, a think tank, to "bring reason, integrity and balance to a debate that has become seriously unbalanced, irrationally alarmist, and all too often depressingly intolerant". Lawson said: "Climate change is not being properly debated because all the political parties are on the same side, and there is an intolerance towards anybody who wants to debate it. It has turned climate change from being a political issue into a secular religion."
The public are understandably confused. A recent poll showed that 41% accept as scientific fact that global warming is taking place and is largely man-made, while 32% believe the link is unproven and 15% said the world is not warming.
This weekend many of Jones's colleagues were standing by him. Tim Lenton, professor of earth system science at UEA, said: "We wouldn't have anything like the understanding of climate change that we do were it not for the work of Phil Jones and his colleagues. They have spent decades putting together the historical temperature record and it is good work." The problem is that, after the past week, both sceptics and the public will require even more convincing of that.
SOURCE
Big backdown. Shamed University of East Anglia to release climate data
This is still much less of a concession than it appears. It will only be data as "edited" by them which will appear -- unless their claim to have "lost" the raw data was a lie. It will still be interesting, though. Comparing their edited data with any available sources of raw data should be MOST instructive. It will reveal any biases in their editing methods -- and expect plenty of those. It is precisely such comparisons that they have obviously been fearing for years
Leading British scientists who were accused of manipulating climate change data have agreed to publish their figures in full. The U-turn by the university follows a week of controversy after the emergence of hundreds of leaked emails, "stolen" by hackers and published online, triggered claims that the academics had massaged statistics. In a statement welcomed by climate change sceptics, the university said it would make all the data accessible as soon as possible, once its Climatic Research Unit (CRU) had negotiated its release from a range of non-publication agreements.
The publication will be carried out in collaboration with the Met Office Hadley Centre. The full data, when disclosed, is certain to be scrutinised by both sides in the fierce debate.
A grandfather with a training in electrical engineering dating back more than 40 years emerged from the leaked emails as a leading climate sceptic trying to bring down the scientific establishment on global warming. David Holland, who describes himself as a David taking on the Goliath that is the prevailing scientific consensus, is seeking prosecutions against some of Britain's most eminent academics for allegedly holding back information in breach of disclosure laws. Mr Holland, of Northampton, complained to the Information Commissioner's Office (ICO) last week after the leaked emails included several Freedom of Information requests he had submitted to the CRU, and scientists' private responses to them.
Within hours, a senior complaints officer in the ICO wrote back by email: "I have started to examine the issues that you have raised in your letter and I am currently liaising with colleagues in our Enforcement and Data Protection teams as to what steps to take next." The official also promised to investigate other universities linked to the CRU, which is one of the world's leading authorities on temperature levels and has helped to prove that man-made global warming not only exists but will have catastrophic consequences if not tackled urgently. Mr Holland is convinced the threat has been greatly exaggerated.
In one email dated May 28, 2008, one academic writes to a colleague having received Mr Holland's request: "Oh MAN! Will this crap ever end??"
Mr Holland, who graduated with an external degree in electrical engineering from London University in 1966 before going on to run his own businesses, told The Sunday Telegraph: "It's like David versus Goliath. Thanks to these leaked emails a lot of little people can begin to make some impact on this monolithic entity that is the climate change lobby." He added: "These guys called climate scientists have not done any more physics or chemistry than I did. A lifetime in engineering gives you a very good antenna. It also cures people of any self belief they cannot be wrong. You clear up a lot of messes during a lifetime in engineering. I could be wrong on global warming - I know that - but the guys on the other side don't believe they can ever be wrong."
Professor Trevor Davies, the university's Pro-Vice-Chancellor, Research Enterprise and Engagement, said yesterday: "CRU's full data will be published in the interests of research transparency when we have the necessary agreements. It is worth reiterating that our conclusions correlate well to those of other scientists based on the separate data sets held by the National Oceanic and Atmospheric Administration and the NASA Goddard Institute for Space Studies. "We are grateful for the necessary support of the Met Office in requesting the permissions for releasing the information but understand that responses may take several months and that some countries may refuse permission due to the economic value of the data."
Among the leaked emails disclosed last week were an alleged note from Professor Phil Jones, 57, the director of the CRU and a leading target of climate change sceptics, to an American colleague describing the death of a sceptic as "cheering news"; and a suggestion from Prof Jones that a "trick" is used to "hide the decline" in temperature. They even include threats of violence. One American academic wrote to Prof Jones: "Next time I see Pat Michaels [a climate sceptic] at a scientific meeting, I'll be tempted to beat the crap out of him. Very tempted."
Dr Michaels, tracked down by this newspaper to the Cato Institute in Washington DC where he is a senior fellow in environmental studies, said last night: "There were a lot of people who thought I was exaggerating when I kept insisting terrible things are going on here. "This is business as usual for them. The world might be surprised but I am not. These guys have an attitude."
Prof Jones, who has refused to quit despite calls even from within the green movement, said last week in a statement issued through University of East Anglia, "My colleagues and I accept that some of the published emails do not read well. I regret any upset or confusion caused as a result. Some were clearly written in the heat of the moment, others use colloquialisms frequently used between close colleagues." He suggested the theft of emails and publication first on a Russian server was "a concerted attempt to put a question mark over the science of climate change in the run-up to the Copenhagen talks".
He added: "Our global temperature series tallies with those of other, completely independent, groups of scientists working for NASA and the National Climate Data Centre in the United States, among others. Even if you were to ignore our findings, theirs show the same results. The facts speak for themselves; there is no need for anyone to manipulate them.
SOURCE
The Litigation Begins
This is a post from a few days ago but I thought it was still worth a mention
Yesterday "the Competitive Enterprise Institute filed three Notices of Intent to File Suit against NASA and its Goddard Institute for Space Studies (GISS), for those bodies' refusal--for nearly three years--to provide documents requested under the Freedom of Information Act," CEI fellow Christopher Horner announces at Pajamas Media:
The information sought is directly relevant to the exploding "Climategate" scandal revealing document destruction, coordinated efforts in the U.S. and UK to avoid complying with both countries' freedom of information laws, and apparent and widespread intent to defraud at the highest levels of international climate science bodies. Numerous informed commenters had alleged such behavior for years, all of which appears to be affirmed by leaked emails, computer code, and other data from the Climatic Research Unit of the UK's East Anglia University.

All of that material, and that sought for years by CEI, goes to the heart of the scientific claims and campaign underpinning the Kyoto Protocol, its planned successor treaty, "cap-and-trade" legislation, and the EPA's threatened regulatory campaign to impose similar measures through the back door.
A lawyer writes us that "'the purloined 'global warming emails' suggest several lines of legal inquiry":
Tortious interference: For researchers and academicians, publication in peer-reviewed journals is important to advancement, raises, grant funding, etc. Wrongful interference with the ability to publish has monetary and reputational damages. If that interference is based not on editorial judgment of worthiness for publication, but rather on protecting reputations, scientific positions, political goals or "places in history" (as mentioned in one email), then it could give rise to liability in tort for the individual scientist and possibly for the university or organization for which he works.

Breach of faculty ethics standards or contracts: Most universities and research organizations have ethics clauses in their faculty/employee manuals and in their contracts with faculty/researchers. If (as suggested by the purloined emails) these individuals cooked data or manipulated assumptions to achieve preferred outcomes, or denied others access to data essential for replication of result that is essential to the scientific method, they could have violated university or organizational ethics standards.

State-chartered universities: Some of these individuals appear to work for state-chartered and state-funded institutions, and might well be classified as state employees (and thereby eligible for generous state benefits). The conduct suggested by the purloined emails might violate state ethics or funding policies. State governments and legislatures therefore might have a basis for inquiry and oversight.

Federal grants: Federal grants typically have ethics/integrity clauses to assure that the research funded by the grant is credible and reliable (and to assure that the agency can avoid accountability if it isn't). As noted, the purloined emails suggest that data might have been cooked and assumptions might have been manipulated to generate a predetermined outcome. If true, and if the work in question was funded by federal grant, the researchers in question might well have violated their federal grant contracts--for which there are legal consequences. Inspectors general of the grant agencies should be in position to make inquiry if the data/assumptions in question could be linked in time and topic to a contemporaneous federal grant to the researchers in question.
SOURCE
California's "smart" electriciy meters causing uproar
Not highlighted below is the main reason for installing these meters: They enable the government to switch your airconditioning on and off any time they like. It is the Democrats' alternative to building new power stations in the teeth of Greenie opposition. Californians will be FORCED to reduce their electricity usage
A push by California's electricity provider to modernize its power grid is turning into a public relations disaster, as allegations mount that it's responsible for stratospheric overcharges. At issue are the 10 million smart meters Pacific Gas & Electric, or PG&E, is rolling out to customers throughout the state. The digital meters, unlike the analog devices they're replacing, provide two-way communications between electricity users and the power stations that serve them. That eliminates the need for meter readers to visit each customer to know how much power has been consumed.
It also turns the power grid into a computerized network that can provide real-time data operators can use to make their grids "smart," at least in theory. During periods of peak usage, for instance, the meters can automatically tell washing machines to stop running until power is more plentiful.
Over the past few months, PG&E's rollout has been pre-empted by complaints that the meters are wildly inaccurate. Most notably, a lawsuit filed on behalf of Bakersfield, California-based resident Pete Flores claimed his bills jumped from about $200 on average to $500 to $600, even though there was no change in his usage pattern.
The Utility Reform Network, a non-profit that advocates on behalf of power users, has received more than 100 smart-meter complaints, according to the lawsuit. California State Senator Dean Florez has also jumped on the bandwagon, telling one newspaper "They are fraud meters" and calling for a moratorium on their installation. Articles such as this one in which customers decry the unreliability of the new meters, is now a regular staple in state news feeds.
Michael Louis Kelly, the attorney who filed the lawsuit, said the problem is that there wasn't enough testing of the meters before they were installed. "You're transmitting things wirelessly and you're relying upon computer interfaces to accurately transmit information that may or may not be happening," he told The Register. "If this was a weights and measures issue, every scale at Wholefoods, for example, is tested to make sure if you buy and ounce of something, it's an ounce."
PG&E, and the providers of the smart meter gear take strong exception to those claims. "The manufacturers test and certify the meters before they leave the factory," said PG&E spokesman Paul Moreno. "We also do some testing of meters upon arrival, and when meters are deployed in the field, before we convert the billing, we also check usage reads to ensure they're consistent with a customer's historic usage." Once the complaints started rolling in, PG&E began paying visits to angry customers to test their meters. So far, it has tested more than 1,100 of them and none has been found faulty, he said.
Moreno said customers' bills are rising not as a result of the new meters, but because of recent rate increases and a hotter-than-normal summer, which has driven up air-conditioning costs.
Landis+Gyr and Silver Spring Networks, two of the companies providing technology for the smart meters, also insist their gear has been rigorously tested. Among other criteria, the equipment must pass accuracy and performance muster spelled out in in ANSI C12.20, they say. "The system itself is working exactly as intended," said Eric Dresselhuys, an executive vice president for Silver Spring. "The accuracy of the meters and the accuracy of the system in total is excellent."
Erfan Ibrahim, a technical executive at the Electric Power Research Institute, also argues that the meters are accurate. "If the accuracy was in question, all the meters would be showing errors because it would be a structural issue," he said. To date, the complaints amount to a tiny fraction of the people using them.
The controversy has grown so heated that the California Public Utilities Commission recently agreed to hire an independent consultant to test the meters. PG&E's Moreno said the utility supports the move.
SOURCE
***************************************
For more postings from me, see DISSECTING LEFTISM, TONGUE-TIED, EDUCATION WATCH INTERNATIONAL, POLITICAL CORRECTNESS WATCH, FOOD & HEALTH SKEPTIC, GUN WATCH, SOCIALIZED MEDICINE, AUSTRALIAN POLITICS, IMMIGRATION WATCH INTERNATIONAL and EYE ON BRITAIN. My Home Pages are here or here or here. Email me (John Ray) here. For readers in China or for times when blogger.com is playing up, there are mirrors of this site here and here
*****************************************
28 November, 2009
Central England Temperature series
The very long thermometer-reading series from central England (from 1659 on) is of huge interest because it does NOT rely on dubious proxies -- and it shows the 20th century as being unexceptional. I have therefore made a number of allusions to it on this blog.
The Warmists have noted it too and one of them --
Tamino
-- has gone to work and made a hockey stick out of it -- using the expected dubious statistical techniques. Tamino is one of the guys mentioned in the hacked CRU emails.
That his results are incredible can I think most convincingly be seen from his plot of the raw data (below)
It is clearly a random walk and any trend up or down is a statistical creation rather than anything real. One of my readers taken an interest in tracking down just what Tamino did to get his magical result. He offers the following graphic:
LARGER VERSION of the graphic
HERE
He comments:
Tamino's work takes a bit of following. I initially thought his moving average had been moved to match a "mere smoothing function". I was wrong. He simply used a centered average. The "mere smoothing function" is one of the most important breakthroughs of all time. The Savitzky-Golay filter of 1964 can remove noise without softening peaks. I next thought he had smoothed the moving average instead of the data. A second mistake. With more serious software I easily reproduced his graph from original data. He has taken advantage of a severe end-effect which requires lots of homework to comprehend. He also used a lowest order filter setting so peaks *are* in fact quashed in the middle as well! Higher order settings let peaks breathe but still have huge end effects. End effect means his upswing in today's news may be retroactively pulled back down if cooler years are added in the future. It will take 15 years for that part of the graph to become etched in stone. Over 200 commenters failed to detect such subterfuge
As an old FORTRAN-using statistical analysis programmer myself, I am well aware of how you can lie with statistics. That is why it is important to do courses in statistics -- so you can spot it when you are being "had". And much of my academic writing was devoted to pointing out how statistical nullities were being paraded as if they told us something. So it is no surprise to see the statistical jiggery-pokery that has been going on in climate science. Mountains are regularly made out of pimples and if there are not even pimples to be had, one will be created.
Patterns of Change
Below is an attempt by "Bristlecone" Mann to support the Warmist contention that the Medieval Warm Period and Little Ice Age were "local" events. Given his chronic reliance on discredited proxies, however, this should detain no-one. Amusing that he starts his data survey immediately AFTER the Roman Warm Period. Did that period not fit the pattern he claims to find?
The global climate record of the past 1500 years shows two long intervals of anomalous temperatures before the obvious anthropogenic warming of the 20th century: the warm Medieval Climate Anomaly between roughly 950 and 1250 A.D. and the Little Ice Age between around 1400 and 1700 A.D. It has become increasingly clear in recent years, however, that climate changes inevitably involve a complex pattern of regional changes, whose inhomogeneities contain valuable insights into the mechanisms that cause them. Mann et al. (p. 1256) analyzed proxy records of climate since 500 A.D. and compared their global patterns with model reconstructions. The results identify the large-scale processes—like El Niño and the North Atlantic Oscillation—that can account for the observations and suggest that dynamic responses to variable radiative forcing were their primary causes.
SOURCE
The journal abstract:
Global Signatures and Dynamical Origins of the Little Ice Age and Medieval Climate Anomaly
By Michael E. Mann et al.
Global temperatures are known to have varied over the past 1500 years, but the spatial patterns have remained poorly defined. We used a global climate proxy network to reconstruct surface temperature patterns over this interval. The Medieval period is found to display warmth that matches or exceeds that of the past decade in some regions, but which falls well below recent levels globally. This period is marked by a tendency for La Niña–like conditions in the tropical Pacific. The coldest temperatures of the Little Ice Age are observed over the interval 1400 to 1700 C.E., with greatest cooling over the extratropical Northern Hemisphere continents. The patterns of temperature change imply dynamical responses of climate to natural radiative forcing changes involving El Niño and the North Atlantic Oscillation–Arctic Oscillation.
Science 27 November 2009: Vol. 326. no. 5957, pp. 1256 - 1260
The New Zealand Warmists are crooks too
From
Anthony Watts
through a report from the
Climate Science Coalition of New Zealand
, we find some more climate alarmist chicanery
The New Zealand Government's chief climate advisory unit NIWA is under fire for allegedly massaging raw climate data to show a global warming trend that wasn't there.

The scandal breaks as fears grow worldwide that corruption of climate science is not confined to just Britain's CRU climate research centre.

In New Zealand's case, the figures published on NIWA's [the National Institute of Water and Atmospheric research] website suggest a strong warming trend in New Zealand over the past century:
The figure they released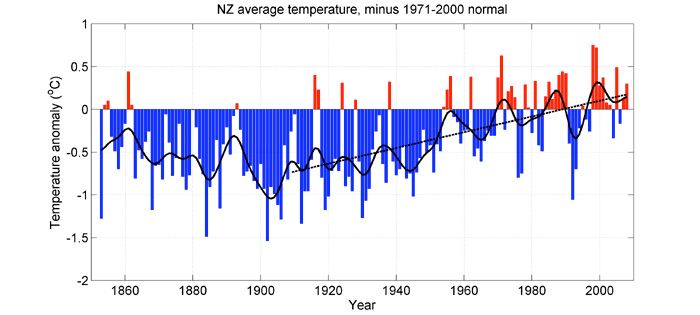 But, taking a look at the real, raw data, we get
As Anthony points out
Gone is the relentless rising temperature trend, and instead there appears to have been a much smaller growth in warming, consistent with the warming up of the planet after the end of the Little Ice Age in 1850.
The house of cards is falling, climate alarmists. It will be interesting to see what happens when NASA and the Goddard Center are forced to release their raw data. Look, we "skeptics" and "deniers" do not deny that there has been warming since the end of the Little Ice Age. We deny that Mankind is mostly, or solely, responsible for it, and, if you were really interested in real science, rather then agenda based science, you would have our same opinion. You've created a tenuous link between CO2 release and rising temps, and, when that didn't pan out fully, what with the cooler years, you started calling it climate change, to somehow hide how the release of greenhouse gasses, things that hold in, to put it imprecisely, heat, can cause a decline or stagnant temps. You've faked links to all around, such as with Mt. Kilimanjaro. Perhaps it's time for you to be honest, and get interested in real science, eh?
Meanwhile, it appears that several of the gents involved in the ClimateGate emails
might have broken laws
.
SOURCE
CRU data-fudging again
A French scientist's fine-grain temperature data show results quite different from CRU
By Phil Green, a statistician
The global average temperature is calculated by climatologists at the Climatic Research Unit (CRU) at the University of East Anglia. The temperature graph the CRU produces from its monthly averages is the main indicator of global temperature change used by the International Panel on Climate Change, and it shows a steady increase in global lower atmospheric temperature over the 20th century. Similar graphs for regions of the world, such as Europe and North America, show the same trend. This is consistent with increasing industrialization, growing use of fossil fuels, and rising atmospheric concentrations of carbon dioxide.
It took the CRU workers decades to assemble millions of temperature measurements from around the globe. The earliest measurements they gathered came from the mid 19th century, when mariners threw buckets over the side of their square riggers and hauled them up to measure water temperature. Meteorologists increasingly started recording regular temperature on land around the same time. Today they collect measurements electronically from national meteorological services and ocean-going ships.
Millions of measurements, global coverage, consistently rising temperatures, case closed: The Earth is warming. Except for one problem. CRU's average temperature data doesn't jibe with that of Vincent Courtillot, a French geo-magneticist, director of the Institut de Physique du Globe in Paris, and a former scientific advisor to the French Cabinet. Last year he and three colleagues plotted an average temperature chart for Europe that shows a surprisingly different trend. Aside from a very cold spell in 1940, temperatures were flat for most of the 20th century, showing no warming while fossil fuel use grew. Then in 1987 they shot up by about 1 C and have not shown any warming since. This pattern cannot be explained by rising carbon dioxide concentrations, unless some critical threshold was reached in 1987; nor can it be explained by climate models.
Courtillot and Jean-Louis Le Mouël, a French geo-magneticist, and three Russian colleagues first came into climate research as outsiders four years ago. The Earth's magnetic field responds to changes in solar output, so geomagnetic measurements are good indicators of solar activity. They thought it would be interesting to compare solar activity with climatic temperature measurements.
Their first step was to assemble a database of temperature measurements and plot temperature charts. To do that, they needed raw temperature measurements that had not been averaged or adjusted in any way. Courtillot asked Phil Jones, the scientist who runs the CRU database, for his raw data, telling him (according to one of the 'Climategate' emails that surfaced following the recent hacking of CRU's computer systems) "there may be some quite important information in the daily values which is likely lost on monthly averaging." Jones refused Courtillot's request for data, saying that CRU had "signed agreements with national meteorological services saying they would not pass the raw data onto third parties." (Interestingly, in another of the CRU emails, Jones said something very different: "I took a decision not to release our [meteorological] station data, mainly because of McIntyre," referring to Canadian Steve McIntyre, who helped uncover the flaws in the hockey stick graph.)
Courtillot and his colleagues were forced to turn to other sources of temperature measurements. They found 44 European weather stations that had long series of daily minimum temperatures that covered most of the 20th century, with few or no gaps. They removed annual seasonal trends for each series with a three-year running average of daily minimum temperatures. Finally they averaged all the European series for each day of the 20th century.
CRU, in contrast, calculates average temperatures by month — rather than daily — over individual grid boxes on the Earth's surface that are 5 degrees of latitude by 5 degrees of longitude, from 1850 to the present. First it makes hundreds of adjustments to the raw data, which sometimes require educated guesses, to try to correct for such things as changes in the type and location of thermometers. It also combines air temperatures and water temperatures from the sea. It uses fancy statistical techniques to fill in gaps of missing data in grid boxes with few or no temperature measurements. CRU then adjusts the averages to show changes in temperature since 1961-1990.
CRU calls the 1961-1990 the "normal" period and the average temperature of this period it calls the "normal." It subtracts the normal from each monthly average and calls these the monthly "anomalies." A positive anomaly means a temperature was warmer than CRU's normal period. Finally CRU averages the grid box anomalies over regions such as Europe or over the entire surface of the globe for each month to get the European or global monthly average anomaly. You see the result in the IPCC graph nearby, which shows rising temperatures.
The decision to consider the 1961-1990 period as 'normal' was CRUs. Had CRU chosen a different period under consideration, the IPCC graph would have shown less warming, as discussed in one of the Climategate emails, from David Parker of the UK meteorological office. In it, Parker advised Jones not to select a different period, saying "anomalies will seem less positive than before if we change to newer normals, so the impression of global warming will be muted." That's hardly a compelling scientific justification!
It is well known to statisticians that in any but the simplest data sets, there are many possible ways to calculate an indicator using averages. Paradoxically, and counter-intuitively, they often contradict each other. As a simple example of how the same data can be teased to produce divergent results, consider the batting averages of David Justice and Derek Jeter. For each of three years in 1995-97, Justice had a higher batting average than Jeter did. Yet, overall, Jeter had the highest batting average.
In addition to calculating temperature averages for Europe, Courtillot and his colleagues calculated temperature averages for the United States. Once again, their method yielded more refined averages that were not a close match with the coarser CRU temperature averages. The warmest period was in 1930, slightly above the temperatures at the end of the 20th century. This was followed by 30 years of cooling, then another 30 years of warming.
Courtillot's calculations show the importance of making climate data freely available to all scientists to calculate global average temperature according to the best science. Phil Jones, in response to the email hacking, said that CRU's global temperature series show the same results as "completely independent groups of scientists." Yet CRU would not share its data with independent scientists such as Courtillot and McIntyre, and Courtillot's series are clearly different.
At the upcoming Copenhagen conference, governments are expected to fail to agree to an ambitious plan to cut greenhouse gas emissions. Here's a more modest, if mundane goal for them: They should agree to share the data from their national meteorological services so that independent scientists can calculate global climatic temperature and identify the roles of carbon dioxide and the sun in changing it.
SOURCE
(See the original for graphics)
UN scientists turn on each other
UN Scientist Declares Climategate colleagues Mann, Jones and Rahmstorf 'should be barred from the IPCC process' -- They are 'not credible any more'
A UN scientist is declaring that his three fellow UN climate panel colleagues "should be barred from the IPCC process." In a November 26, 2009 message on his website, UN IPCC contributing author Dr. Eduardo Zorita writes: "CRU files: Why I think that Michael Mann, Phil Jones and Stefan Rahmstorf should be barred from the IPCC process."
Zorita writes that the short answer to that question is: "Because the scientific assessments in which they may take part are not credible anymore."
Zorita indicates that he is aware that he is putting his career in jeopardy by going after the upper echelon of UN IPCC scientists. "By writing these lines I will just probably achieve that a few of my future studies will, again, not see the light of publication," Zorita candidly admits, a reference to the ClimateGate emails discussing how to suppress data and scientific studies that do not agree with the UN IPCC views.
Zorita was a UN IPCC Contributing Author of the Fourth Assessment Report in 2007. Since 2003, Zorita has headed the Department of Paleoclimate and has been a senior scientist at the Institute for Coastal Research of the GKSS Research Centre in Germany. Zorita has published more than 70 peer-reviewed scientific studies.
Zorita's stunning candor continued, noting that scientists who disagreed with the UN IPCC climate view were "bullied and subtly blackmailed."
"In this atmosphere, Ph D students are often tempted to tweak their data so as to fit the 'politically correct picture'. Some, or many issues, about climate change are still not well known. Policy makers should be aware of the attempts to hide these uncertainties under a unified picture. I had the 'pleasure' to experience all this in my area of research," Zorita explained.
Zorita's revelations are the latest in a series of continuing fallout to the global warming establishment and to the United Nations Intergovernmental Panel on Climate Change (IPCC), since the email and data scandal dubbed "ClimateGate" broke earlier this month.
Zorita's defection from the global warming establishment comes after the shocking news today that one of the scientists employed at ground zero of what has been termed "ClimateGate" has suggested disbanding the United Nations climate panel, the IPCC. See: Pressure Mounts From Inside: Disband IPCC? Scientist from U. of East Anglia Suggests 'UN IPCC has run its course...politicizes climate science...authoritarian, exclusive form of knowledge production' - Mike Hulme. Excerpt: "ClimateGate reveals science has become 'too partisan, too centralized...more usually associated with social organization within primitive cultures'
SOURCE
(See the original for links)
My version of the hockey stick
A rather sarcastic post from a very naughty person
I present to you my own version of the Hockey Stick, made famous by Michael Mann. Can you guess what it represents?
I'll admit that I have cheated here and hidden the data at the end of the series to "hide the decline".
In the interests of openeness, this is what I did:
SOURCE
***************************************
For more postings from me, see DISSECTING LEFTISM, TONGUE-TIED, EDUCATION WATCH INTERNATIONAL, POLITICAL CORRECTNESS WATCH, FOOD & HEALTH SKEPTIC, GUN WATCH, SOCIALIZED MEDICINE, AUSTRALIAN POLITICS, IMMIGRATION WATCH INTERNATIONAL and EYE ON BRITAIN. My Home Pages are here or here or here. Email me (John Ray) here. For readers in China or for times when blogger.com is playing up, there are mirrors of this site here and here
*****************************************
27 November, 2009
It's not the emails ...
The computer files released by the CRU hacker are MUCH more damaging than the emails, damaging though those are. The computer code and coding notes reveal that the CRU data do NOT back up the CRU claims. One excerpt below with much more soon to come, I would think
In addition to e-mail messages, the roughly 3,600 leaked documents posted on sites including Wikileaks.org and EastAngliaEmails.com include computer code and a description of how an unfortunate programmer named "Harry" -- possibly the CRU's Ian "Harry" Harris -- was tasked with resuscitating and updating a key temperature database that proved to be problematic. Some excerpts from what appear to be his notes:
I am seriously worried that our flagship gridded data product is produced by Delaunay triangulation - apparently linear as well. As far as I can see, this renders the station counts totally meaningless. It also means that we cannot say exactly how the gridded data is arrived at from a statistical perspective - since we're using an off-the-shelf product that isn't documented sufficiently to say that. Why this wasn't coded up in Fortran I don't know - time pressures perhaps? Was too much effort expended on homogenisation, that there wasn't enough time to write a gridding procedure? Of course, it's too late for me to fix it too. Meh.

I am very sorry to report that the rest of the databases seem to be in nearly as poor a state as Australia was. There are hundreds if not thousands of pairs of dummy stations, one with no WMO and one with, usually overlapping and with the same station name and very similar coordinates. I know it could be old and new stations, but why such large overlaps if that's the case? Aarrggghhh! There truly is no end in sight... So, we can have a proper result, but only by including a load of garbage!

One thing that's unsettling is that many of the assigned WMo codes for Canadian stations do not return any hits with a web search. Usually the country's met office, or at least the Weather Underground, show up – but for these stations, nothing at all. Makes me wonder if these are long-discontinued, or were even invented somewhere other than Canada!

Knowing how long it takes to debug this suite - the experiment endeth here. The option (like all the anomdtb options) is totally undocumented so we'll never know what we lost. 22. Right, time to stop pussyfooting around the niceties of Tim's labyrinthine software suites - let's have a go at producing CRU TS 3.0! since failing to do that will be the definitive failure of the entire project.

Ulp! I am seriously close to giving up, again. The history of this is so complex that I can't get far enough into it before by head hurts and I have to stop. Each parameter has a tortuous history of manual and semi-automated interventions that I simply cannot just go back to early versions and run the update prog. I could be throwing away all kinds of corrections - to lat/lons, to WMOs (yes!), and more. So what the hell can I do about all these duplicate stations?...
As the leaked messages, and especially the HARRY_READ_ME.txt file, found their way around technical circles, two things happened: first, programmers unaffiliated with East Anglia started taking a close look at the quality of the CRU's code, and second, they began to feel sympathetic for anyone who had to spend three years (including working weekends) trying to make sense of code that appeared to be undocumented and buggy, while representing the core of CRU's climate model.
One programmer highlighted the error of relying on computer code that, if it generates an error message, continues as if nothing untoward ever occurred. Another debugged the code by pointing out why the output of a calculation that should always generate a positive number was incorrectly generating a negative one. A third concluded: "I feel for this guy. He's obviously spent years trying to get data from undocumented and completely messy sources."
Programmer-written comments inserted into CRU's Fortran code have drawn fire as well. The file briffa_sep98_d.pro says: "Apply a VERY ARTIFICAL correction for decline!!" and "APPLY ARTIFICIAL CORRECTION." Another, quantify_tsdcal.pro, says: "Low pass filtering at century and longer time scales never gets rid of the trend - so eventually I start to scale down the 120-yr low pass time series to mimic the effect of removing/adding longer time scales!"
More
HERE
Climategate: this is our Berlin Wall moment!
By James Delingpole
I've just had a great, very sympathetic interview about Climategate on LBC radio (London's main commercial news and talk station) with Petrie Hosken. She told me she has been simply inundated with callers, all of them utterly unconvinced that human influence has made any significant on so-called "Global Warming". She was desperate to get a few balancing calls from people who do believe in AGW but just couldn't find any.
Can you imagine this happening a year ago? Or even a month ago? Until Climategate, we "Sceptics" were considered freaks – almost as bad as Holocaust deniers – beyond the pale of reasonable balanced discussion. Suddenly we're the norm. Climategate has finally given us the chance to express openly what many of us secretly felt all along:
AGW is about raising taxes; increasing state control; about a few canny hucksters who've leapt on the bandwagon fleecing us rotten with their taxpayer subsidised windfarms and their carbon-trading; about the sour, anti-capitalist impulses of sandal-wearing vegans and lapsed Communists who loathe the idea of freedom and a functioning market economy.
We know it's all a crock and we're not going to take it. This is our Berlin Wall moment! They can't stop us now!
SOURCE
Climategate: how they all squirmed
Among the many great amusements of the Climategate scandal are the myriad imaginative excuses being offered by the implicated scientists and their friends in the MSM as to why this isn't a significant story. Here are some of the best. Most Unexpectedly Honourable Response: The Guardian's eco-columnist George Monbiot. Say what you like about the Great Moonbat, the heliophobic Old Stoic is the ONLY member of the Climate-Fear-Promotion camp to have delivered a proper apology: "I apologise. I was too trusting of some of those who provided the evidence I championed. I would have been a better journalist if I had investigated their claims more closely."
Most brazen "doth protest too much" defence: www.realclimate.org. Real Climate is the website established and run by a claque of scientist friends of Michael Mann – inventor of the discredited Hockey Stick curve. They are also closely associated with the crowd at the disgraced Climate Research Unit. They clearly feel no apology is necessary: "More interesting is what is not contained in the emails. There is no evidence of any worldwide conspiracy, no mention of George Soros nefariously funding climate research, no grand plan to 'get rid of the MWP', no admission that global warming is a hoax, no evidence of the falsifying of data, and no 'marching orders' from our socialist/communist/vegetarian overlords."
Well, boys, if you say so…. Least convincing "The Dog Ate My Homework"excuse: Professor Phil 'It was a typing error' Jones, director of the Climate Research Unit. Many of the potentially incriminating Climategate emails were the work of CRU's director Phil Jones, including the infamous one where he discussed "trick" to "hide the decline" in global temperatures. But it's OK. As he tells his sympathetic audience at the Guardian it was a perfectly honest mistake: "The use of the term 'hiding the decline' was in an email written in haste,"
Which does make you wonder how the sentence would have read had he just had a little longer to type it correctly. "Hiding the sausage?" "Heeding the decline?" "Playing a straight bat and keeping everything above board and scientifically scrupulous as we always do here at CRU". Yes, that'll be it – the last one. But you can see how easily the slip was made.
Most Disingenuous Cop-Out: Andrew Revkin of the New York Times. For years Andrew Revkin has been using the NYT – aka Pravda – to push the Al-Gore-approved AGW narrative so kindly embellished for him by likeminded scientist chums at parti pris institutions like CRU. But, like any decent reporter, Revkin is above all else a principled seeker-after-truth. That's why he had absolutely no hesitation in furnishing NYT readers with every juicy detail of the biggest science scandal of the age. Or at least he would have done, had it not been for the following problem, expressed on his Dot Earth blog: "The documents appear to have been acquired illegally and contain all manner of private information and statements that were never intended for the public eye, so they won't be posted here."
Damn right, Andrew. Don't you be troubling your readers with any of that "damning revelations" nonsense. If only journalists had shown similar integrity at Watergate, why, good old Richard Nixon might have stayed in power long enough to make America truly great.
Most Haughtily Dismissive "Nothing To See Here" Apologia: George Marshall. Here is George Marshall putting us right in the Guardian's Comment Is Free section: "Leaked email climate smear was a PR disaster for UEA. There was no evidence of conspiracy among climate scientists in the leaked emails – so why was the University of East Anglia's response so pathetic?"
George who? Fortunately the great Bishop Hill has been doing some digging. According to the Guardian, "George Marshall is the founder and director of projects at the Climate Outreach and Information Network. He posts regularly to the blog climatedenial.org". But as Bishop Hill has discovered it's rather more sinister than that. This COIN charity has been funded to the tune of £700,000 over two years by DEFRA (US readers note: the dismal branch of the UK government responsible for murdering livestock, destroying agriculture, persecuting farmers etc) in order to: "profoundly change the attitude of rank and file union members; generating visible collective reduction action, establishing a social norm for personal action, and creating a persuasive synergy and cross over between personal action, work-placed programmes such as 'Greening the workplace', and the emissions reduction targets of employers."
So not so much a case of Comment Is Free then. More a case of Comment Is Very Expensive If You're A Taxpayer.
Most Ludicrously Biased Environment Correspondent, Even By The Ludicrously Biased Standards of Environment Correspondents: the BBC's Roger Harrabin. When Harrabin (rather reluctantly one imagines) broke the Climategate story to BBC listeners a few days ago, guess where he turned for authoritative independent analysis of its significance. Yes, that's right: to those completely unbiased scientists at Real Climate (above). They confirmed Harrabin's suspicions that this wasn't – as that "small minority" of pesky sceptics had been saying – a searing indictment of the AGW-promotion lobby's dubious practices, but just a routine criminal break-in.
Now that he's had a bit more time to digest the story, though, Harrabin has realised that the story is much, MUCH more important than that. Yes: it has much to tell us, he concludes, about the issue of data protection: "But this affair will surely change things: From now, scientific teams and peer-review groups will be much more cautious about how they word e-mails. Researchers at CRU complain that no one will want to do collaborative work if their private e-mail conversations may later be revealed. But many commercial corporate organisations at risk of hacking have developed ways of communicating that don't leave them open to sabotage."
Thanks Roger. It's thanks to responsible, studiedly neutral reporting like that that we've all come so fervently to trust the BBC.
SOURCE
How to Forge a Consensus
The impression left by the Climategate emails is that the global warming game has been rigged from the start.
The climatologists at the center of last week's leaked-email and document scandal have taken the line that it is all much ado about nothing. Yes, the wording of the some of their messages was unfortunate, but they insist this in no way undermines the underlying science, which is as certain as ever.
"What they've done is search through stolen personal emails—confidential between colleagues who often speak in a language they understand and is often foreign to the outside world," Penn State's Michael Mann told Reuters Wednesday. Mr. Mann added that this has made "something innocent into something nefarious."
Phil Jones, Director of the University of East Anglia's Climate Research Unit, from which the emails were lifted, is singing from the same climate hymnal. "My colleagues and I accept that some of the published emails do not read well. I regret any upset or confusion caused as a result. Some were clearly written in the heat of the moment, others use colloquialisms frequently used between close colleagues," he said this week.
We don't doubt that Mr. Jones would have phrased his emails differently if he expected them to end up in the newspaper. His May 2008 email to Mr. Mann regarding the U.N.'s Fourth Assessment Report: "Mike, Can you delete any emails you may have had with Keith re AR4?" does not "read well," it's true. (Mr. Mann has said he didn't delete any such emails.)
But the furor over these documents is not about tone, colloquialisms or even whether climatologists are nice people in private. The real issue is what the messages say about the way the much-ballyhooed scientific consensus on global warming was arrived at in the first place, and how even now a single view is being enforced. In short, the impression left by the correspondence among Messrs. Mann and Jones and others is that the climate-tracking game has been rigged from the start.
According to this privileged group, only those whose work has been published in select scientific journals, after having gone through the "peer-review" process, can be relied on to critique the science. And sure enough, any challenges that critics have lobbed at climatologists from outside this clique are routinely dismissed and disparaged.
This past September, Mr. Mann told a New York Times reporter in one of the leaked emails that: "Those such as [Stephen] McIntyre who operate almost entirely outside of this system are not to be trusted." Mr. McIntyre is a retired Canadian businessman who fact-checks the findings of climate scientists and often publishes the mistakes he finds—including some in Mr. Mann's work—on his Web site, Climateaudit.org. He holds the rare distinction of having forced Mr. Mann to publish a correction to one of his more-famous papers.
As anonymous reviewers of choice for certain journals, Mr. Mann & Co. had considerable power to enforce the consensus, but it was not absolute, as they discovered in 2003. Mr. Mann noted to several colleagues in an email from March 2003, when the journal "Climate Research" published a paper not to Mr. Mann's liking, that "This was the danger of always criticising the skeptics for not publishing in the 'peer-reviewed literature'. Obviously, they found a solution to that—take over a journal!"
The scare quotes around "peer-reviewed literature," by the way, are Mr. Mann's. He went on in the email to suggest that the journal itself be blackballed: "Perhaps we should encourage our colleagues in the climate research community to no longer submit to, or cite papers in, this journal. We would also need to consider what we tell or request of our more reasonable colleagues who currently sit on the editorial board." In other words, keep dissent out of the respected journals. When that fails, re-define what constitutes a respected journal to exclude any that publish inconvenient views. It's easy to manufacture a scientific consensus when you get to decide what counts as science.
The response to this among the defenders of Mr. Mann and his circle has been that even if they did disparage doubters and exclude contrary points of view, theirs is still the best climate science we've got. The proof for this is circular. It's the best, we're told, because it's the most-published and most-cited—in that same peer-reviewed literature.
Even so, by rigging the rules, they've made it impossible to know how good it really is. And then, one is left to wonder why they felt the need to rig the game in the first place, if their science is as robust as they claim. If there's an innocent explanation for that, we'd love to hear it.
SOURCE
'Big Government, Big Business and Big Green don't give a s**t about 'the science'?
Comment from Canada
If you're wondering how the robot-like march of the world's politicians towards Copenhagen can possibly continue in the face of the scientific scandal dubbed "climategate," it's because Big Government, Big Business and Big Green don't give a s*** about "the science." They never have.
What "climategate" suggests is many of the world's leading climate scientists didn't either. Apparently they stifled their own doubts about recent global cooling not explained by their computer models, manipulated data, plotted ways to avoid releasing it under freedom of information laws and attacked fellow scientists and scientific journals for publishing even peer-reviewed literature of which they did not approve.
Now they and their media shills -- who sneered that all who questioned their phony "consensus" were despicable "deniers," the moral equivalent of those who deny the Holocaust -- are the ones in denial about the enormity of the scandal enveloping them. So they desperately try to portray it as the routine "messy" business of science, lamely insisting, "nothing to see here folks, move along."
Before the Internet -- which has given ordinary people a way to fight back against the received wisdom of so-called "wise elites" -- they might have gotten away with it. But not now, as knowledgeable climate bloggers are advancing the story and forcing the co-opted mainstream media to cover a scandal most would rather ignore.
The problem, however, is those who hijacked science to predict a looming Armageddon unless we do exactly as they say, have already done their damage. The moment they convinced politicians the way to avert the End of Days was to put a price on emitting carbon dioxide into the atmosphere, the unholy alliance of Big Government, Big Business and Big Green was forged. Big Government wants more of your taxes. Big Business wants more of your income. Big Green wants you and your children to bow down to its agenda of enforced austerity.
What about saving the planet, you ask? This was never about saving the planet. This is about money and power. Your money. Their power. If it was about saving the planet, "cap-and-trade" (a.k.a. cap-and-tax) -- how Big Government, Big Business and Big Green ludicrously pretend we will "fight" global warming and "save the planet" -- would have been consigned to the dust bin of history because it doesn't work. We know it doesn't work because Europe's five-year-old cap-and-trade market -- the Emissions Trading Scheme -- has done nothing to make the world cooler.
All it's done is make hedge fund managers, speculators and Big Energy giddy with windfall profits, while making everyone else poorer by driving up the cost of energy, and thus of most goods and services, which need energy to be lighted, heated, cooled, grown, constructed, manufactured, produced and transported.
Readers often ask how they can fight back. First, forget about asking when the warmists will see reason. They won't. Instead, send a message to Prime Minister Stephen Harper by e-mail (pm@pm.gc.ca), fax (1-613-941-6900) or call toll-free (1-866-599-4999) and ask to be put through to the Office of the Prime Minister. Do the same for Liberal Leader Michael Ignatieff by e-mail, (ignatm@parl.gc.ca). fax, (1-613-947-0310), or call-toll free (1-866-599-4999) and ask to be put through to the Liberal Leader's Office. Tell them you want no part of the madness in Copenhagen. Blow their phones off the hook.
SOURCE
Black Friday Payback: Vote with your Wallet -- Don't Buy Products from Companies That Support President Obama's Cap-and-Trade Policy
Today the Free Enterprise Project of the National Center for Public Policy Research calls on patriotic Americans to vote with their wallets starting on Black Friday and avoid buying products from companies that are working with President Obama and liberals in Congress to impose cap-and-trade policies.
"The only reason why cap-and-trade is on the national scene is because CEOs of major corporations are actively lobbying for the legislation. Every time we buy products from these companies our money is rewarding CEOs who are the enemies of liberty," said Tom Borelli, Ph.D., Director of the Free Enterprise Project. "Cap-and-trade legislation will cause higher energy prices, lower economic growth and increase unemployment. The consequence of this legislation will cause a severe reduction in our standard of living."
Companies such as Starbucks, Levi Strauss and Company and Nike are members of the Business for Innovative Climate & Energy Policy -- a group that supports aggressive federal laws to reduce carbon dioxide emissions and limits on construction of coal-fired power plants.
General Electric, BP, Shell and Johnson & Johnson are members of the United States Climate Action Partnership - a lobbying group comprised of corporations and environmental special interest groups that have been active in supporting cap-and-trade legislation.
Al Gore is on Apple's board of directors and the company recently canceled its membership with the U.S. Chamber of Commerce because of differences over global warming policies.
"Avoiding that Starbucks cup of coffee and that BP gas station are easy choices we can make every day. Companies need to know there will be a price to pay for colluding with environmental activists and liberal politicians that seek to loot us of our liberty," said Borelli.
"We don't need to wait for elections to exercise our belief in limited government and individual liberty. Every day we have an opportunity to vote with our wallet and avoid products from companies that are advancing the left-wing agenda," said Borelli.
The following is a partial list of companies whose products should be avoided on Black Friday and going forward until they stop lobbying for cap-and-trade: Starbucks, Levi Strauss & Company, Nike, Apple, Timberland, Gap Inc., General Electric, BP, Shell and Johnson & Johnson.
SOURCE
***************************************
For more postings from me, see DISSECTING LEFTISM, TONGUE-TIED, EDUCATION WATCH INTERNATIONAL, POLITICAL CORRECTNESS WATCH, FOOD & HEALTH SKEPTIC, GUN WATCH, SOCIALIZED MEDICINE, AUSTRALIAN POLITICS, IMMIGRATION WATCH INTERNATIONAL and EYE ON BRITAIN. My Home Pages are here or here or here. Email me (John Ray) here. For readers in China or for times when blogger.com is playing up, there are mirrors of this site here and here
*****************************************
26 November, 2009
More Monbiot: Still shaken but not stirred
Monbiot has made his mark by shrieking louder than most about climate change so he can't back down now but he is smart enough to see that the hacked CRU materials cannot be ignored -- which is what most Warmists are trying to do
I have seldom felt so alone. Confronted with crisis, most of the environmentalists I know have gone into denial. The emails hacked from the Climatic Research Unit (CRU) at the University of East Anglia, they say, are a storm in a tea cup, no big deal, exaggerated out of all recognition. It is true that climate change deniers have made wild claims which the material can't possibly support (the end of global warming, the death of climate science). But it is also true that the emails are very damaging.
The response of the greens and most of the scientists I know is profoundly ironic, as we spend so much of our time confronting other people's denial. Pretending that this isn't a real crisis isn't going to make it go away. Nor is an attempt to justify the emails with technicalities. We'll be able to get past this only by grasping reality, apologising where appropriate and demonstrating that it cannot happen again.
It is true that much of what has been revealed could be explained as the usual cut and thrust of the peer review process, exacerbated by the extraordinary pressure the scientists were facing from a denial industry determined to crush them. One of the most damaging emails was sent by the head of the climatic research unit, Phil Jones. He wrote "I can't see either of these papers being in the next IPCC report. Kevin and I will keep them out somehow - even if we have to redefine what the peer-review literature is!"
One of these papers which was published in the journal Climate Research turned out to be so badly flawed that the scandal resulted in the resignation of the editor-in-chief. Jones knew that any incorrect papers by sceptical scientists would be picked up and amplified by climate change deniers funded by the fossil fuel industry, who often – as I documented in my book Heat – use all sorts of dirty tricks to advance their cause.
Even so, his message looks awful. It gives the impression of confirming a potent meme circulated by those who campaign against taking action on climate change: that the IPCC process is biased. However good the detailed explanations may be, most people aren't going to follow or understand them. Jones's statement, on the other hand, is stark and easy to grasp.
In this case you could argue that technically he has done nothing wrong. But a fat lot of good that will do. Think of the MPs' expenses scandal: complaints about stolen data, denials and huffy responses achieved nothing at all. Most of the MPs could demonstrate that technically they were innocent: their expenses had been approved by the Commons office. It didn't change public perceptions one jot. The only responses that have helped to restore public trust in Parliament are humility, openness and promises of reform.
When it comes to his handling of Freedom of Information requests, Professor Jones might struggle even to use a technical defence. If you take the wording literally, in one case he appears to be suggesting that emails subject to a request be deleted, which means that he seems to be advocating potentially criminal activity. Even if no other message had been hacked, this would be sufficient to ensure his resignation as head of the unit.
I feel desperately sorry for him: he must be walking through hell. But there is no helping it; he has to go, and the longer he leaves it, the worse it will get. He has a few days left in which to make an honourable exit. Otherwise, like the former Speaker of the House of Commons, Michael Martin, he will linger on until his remaining credibility vanishes, inflicting continuing damage to climate science.
Some people say that I am romanticising science, that it is never as open and honest as the Popperian ideal. Perhaps. But I know that opaqueness and secrecy are the enemies of science. There is a word for the apparent repeated attempts to prevent disclosure revealed in these emails: unscientific.
The crisis has been exacerbated by the university's handling of it, which has been a total trainwreck: a textbook example of how not to respond. RealClimate reports that "We were made aware of the existence of this archive last Tuesday morning when the hackers attempted to upload it to RealClimate, and we notified CRU of their possible security breach later that day." In other words, the university knew what was coming three days before the story broke. As far as I can tell, it sat like a rabbit in the headlights, waiting for disaster to strike.
When the emails hit the news on Friday morning, the university appeared completely unprepared. There was no statement, no position, no one to interview. Reporters kept being fobbed off while CRU's opponents landed blow upon blow on it. When a journalist I know finally managed to track down Phil Jones, he snapped "no comment" and put down the phone. This response is generally taken by the media to mean "guilty as charged". When I got hold of him on Saturday, his answer was to send me a pdf called "WMO statement on the status of the global climate in 1999". Had I a couple of hours to spare I might have been able to work out what the heck this had to do with the current crisis, but he offered no explanation.
By then he should have been touring the TV studios for the past 36 hours, confronting his critics, making his case and apologising for his mistakes. Instead, he had disappeared off the face of the Earth. Now, far too late, he has given an interview to the Press Association, which has done nothing to change the story.
The handling of this crisis suggests that nothing has been learnt by climate scientists in this country from 20 years of assaults on their discipline. They appear to have no idea what they're up against or how to confront it. Their opponents might be scumbags, but their media strategy is exemplary.
The greatest tragedy here is that despite many years of outright fabrication, fraud and deceit on the part of the climate change denial industry, documented in James Hoggan and Richard Littlemore's brilliant new book Climate Cover-up, it is now the climate scientists who look bad. By comparison to his opponents, Phil Jones is pure as the driven snow. Hoggan and Littlemore have shown how fossil fuel industries have employed "experts" to lie, cheat and manipulate on their behalf. The revelations in their book (as well as in Heat and in Ross Gelbspan's book The Heat Is On) are 100 times graver than anything contained in these emails.
But the deniers' campaign of lies, grotesque as it is, does not justify secrecy and suppression on the part of climate scientists. Far from it: it means that they must distinguish themselves from their opponents in every way. No one has been as badly let down by the revelations in these emails as those of us who have championed the science. We should be the first to demand that it is unimpeachable, not the last.
SOURCE
Tom Yulsman of CE Journal is shaken, not stirred too
He still has not lost the faith but calls for an enquiry
George Monbiot's post at the Guardian today is a must-read for anyone who covers climate change as a journalist — and for anyone who is concerned about our future in a warming world. "I have seldom felt so alone," Monbiot writes. "Confronted with crisis, most of the environmentalists I know have gone into denial."
Denial of the impact of the hacked emails, and particularly this statement from Phil Jones, director of the U.K.'s Climatic Research Unit: "I can't see either of these papers being in the next IPCC report. Kevin and I will keep them out somehow - even if we have to redefine what the peer-review literature is!" ....
As someone who has written about the science for decades — and trusted the peer-review process to guide me toward trustworthy information — I'm standing with George Monbiot on this. I believe the CRU should agree to an independent examination of what happened. Not a trial. Not an adversarial process. But one that is unbiased and focused on restoring public faith in the science that institution produces.
In the meantime, I'm certainly curious to know who leaked the emails. But answering that question is a sideshow compared to the main event. Journalists should do what they can to take a closer look both at the peer review process and what specifically went on in this case. We must be careful not to jump to conclusions. One instance of a possible problem with peer review does not indict the entire enterprise. But here is where the journalistic watchdog role can actually do a service by helping to preserve the overall integrity of the process — and prevent this kind of thing from ever happening again.
More
HERE
Shock -- Et Tu, DeSmogBlog? Climate Alarmists at DeSmogBlog Call for Phil Jones to Offer his Resignation!
Comment from Richard Littlemore, who "has been trained by Al Gore as part of The Climate Project, an initiative designed to educate the public about climate change".
Monbiot turns the pointy end of his pen toward CRU Director Phil Jones, calling (for a second time) for his resignation and - well - tut-tutting at the whole inadequate reaction to the current tempest. As Monbiot says, when you have been caught making a mistake, there are two reactions: you can wear out your voice - and your credibility - arguing over the details and severity of the actual offense; or you can say you're sorry and show why we should believe that you won't do it again.
Currently, Jones and company have been leaning toward the former, and they're drawing out a tedious conversation in the process.
It's hard to watch this - galling to see the deniers having such fun in this manufactured debacle. It's worse having to listen to sage advice that goes against people whom we have come to respect enormously. I don't personally know that Jones has to be sacked, but I have to admit that it would be savvy for him to at least offer to step aside before someone in authority makes a move to give him a push.
More
HERE
The collapse of the global warming myth
By Michael R. Fox, Ph.D., a nuclear scientist who has also taught chemistry and energy at the University level
If this scandal of November 20, 2009 continues in the horrendous path it's taken, it should be the end of the man-made CO2 global warming hypothesis. Beyond the warmers inability to prove their simple hypothesis after more than 20 years and $80 billion dollars, has been their collective bullying behavior patterns. This bullying has been so outrageous and out of character of honest scientists, that it is as offensive as it is noticeable. This behavior suggested to me that this group of people were being less than honorable in their conduct of their work.
In a speech last Spring in New York by John Sununu I was reminded that the climate warming leaders were high paid bullies who determined who got funded (the recipients of those $89 Billion), and who didn't, who got published and who didn't, and who got the acclaim, and who didn't. Much of this is now confirmed in the released emails from Hadley/CRU.
The release of 62 Mbytes of the climate research data from the Climate Research Unit (CRU) of the University of East Anglia in computer files has been momentous, almost unique in human history (http://tinyurl.com/yha4lxn). During the 24 hours following the release of these 62 Mbytes of documents, emails, letters, and reports, all became public knowledge around the world and thousands are pouring over the contents.
While still in the beginning stages of analyses, gleaned information has been showing horrendous levels of corruption, suborning subterfuge and deceptions, and controlling the science journals in limiting publications of research which do not support the AGW hypothesis. I have never ever seen anything like this, so high level, so unethical, and so evil.
I say evil since the unproven AGW hypothesis promoted by these insiders, is the basis for the trillion dollar Cap and Trade legislation and the redistribution of trillions from the US to the rest of the world. It is the basis for the Copenhagen meeting coming up in December which is designed how best to cripple the economics of the west through increased energy costs and energy rationing. It is the basis for the EU and the UN asking the US to pay trillions in reparations to all of those 3rd world nations which have been "damaged" by global warming.
These nation members walk the halls of the UN promoting "justifications" for reparations for their "damages" and their need for our wealth. It is the basis for demanding green energy sources to be installed with trillions of our dollars all over the 3rd world. Green energy sources already installed in the 3rd world, are not working well either. This debate has profound global implications and I find it contemptible that adults, Ph.D.s or not, would works so fanatically to achieve these destructive goals.
I also point out the thousands of media, academics, environmentalists, legislators, and movie elites who have taken strong and powerful positions in this debate, as if the AGW hypothesis has been validated. It hasn't. All of them have failed to ask the simple question "Show us the evidence that man-made CO2 causes global warming." That such people, presumed to be Americans, could promote and defend such a dangerous policy for our nation, is stunning.
Many of the global warming supporters seem to think that a photo of a polar bear on an ice floe is evidence that man-made CO2 is the cause!! The implied message is that this has never happened before, that man is causing it, that it is dangerous, which is all nonsense. They also seem to think that a photo-shopped video of a tidal wave roaring through downtown Manhattan is evidence of sea level rise, or that an iceberg calving from a glacier is evidence. We might also add that consensus is not evidence either, nor are appeals from high authority, nor are computer model predictions. If it weren't for faulty computer models there would be no controversy at all, since real world measured evidence is still unreported.
Too few seem to have the wits to ask for a thermometer or ask for real Temp data, or sea level data, or hurricane data, or polar ice data. Also missing from the discussions is the large program needed to achieve high quality of all of the data, and how that is sustained. I have never seen a word of a Quality Assessment/Quality Control programs being used within the climate science realm. Then there is the entire issue of pathetically poor quality of the climate computer modeling programs. Anthony Watts at www.whatsupwiththat.com has undertaken to examine the low quality of the temperature stations and the low grade erratic temperature data they produce. His findings also show low grade station and data management as practiced by our climate agencies.
The British seem now to have realized the damage to all of science which has been done by the AGW crowd at the Climate Research Unit (CRU). In response to recent revelations contained in leaked e-mails originating from the CRU at the University of East Anglia, Lord Lawson, Chairman of the Board of Trustees of the Global Warming Policy Foundation (GWPF), has called for a rigorous and independent inquiry into the matter. While reserving judgment on the contents of the e-mails, Lord Lawson said these are very serious issues and allegations that reach to the heart of scientific integrity and credibility:
"Astonishingly, what appears, at least at first blush, to have emerged is that (a) the scientists have been manipulating the raw temperature figures to show a relentlessly rising global warming trend; (b) they have consistently refused outsiders access to the raw data; (c) the scientists have been trying to avoid freedom of information requests; and (d) they have been discussing ways to prevent papers by dissenting scientists being published in learned journals."
"There may be a perfectly innocent explanation. But what is clear is that the integrity of the scientific evidence on which not merely the British Government, but other countries, too, through the Intergovernmental Panel on Climate Change, claim to base far-reaching and hugely expensive policy decisions, has been called into question. And the reputation of British science has been seriously tarnished. A high-level independent inquiry must be set up without delay."
People in the media, academics, legislators, movie elites, and environmentalist group have been quite sympathetic to the AGW promoters, and with apologies to Sherlock Holmes they have been the "The Dogs Which Didn't Bark". They knew or should have known that these climate crimes were being committed and they knew or should have known who was committing them. They not only did nothing to stop them, they attacked, insulted, and dismissed those who objected. These are actions of dangerous people, too, and are unforgivable.
SOURCE
Disagreeable truth about the coming Copenhagen charade
We are about to see an advanced case of "agreementism" between world leaders at the Copenhagen climate change meeting. It is a painful and embarrassing disorder with familiar results. Every case begins the same way. Leaders gather in summits. They confer. They reach earnest consensus that they need to solve a common problem. They commission studies and agree to meet again. Next time, they tell reporters, they will make real decisions.
This looks terrifically statesmanlike and carries lots of photo opportunities. But then they realise it will be unpopular and difficult to implement necessary reforms. Troubled, the weaker among the leaders gaze into their quivering souls and choose self-preservation over problem-solving. At this instant, the fire of activism departs.
But their huffing and puffing self-promotion has built a peak of expectation. They can't just walk away and admit failure. The conditions are now ripe - the next time the leaders gather, agreementism sets in. In a mild case, leaders simply draw up high-sounding communiques. In numbered paragraphs, they give a strong impression of firm agreement and resolute action, but without actually binding themselves to any. But in an advanced case, leaders know that this simple ruse is unconvincing. The problem is too big, and the leaders have talked too much, to hope that they can get away this easily. They need more than a mere communique. In this stage of the disease, the symptoms deteriorate markedly. Leaders display a disturbing symptom known as "concerted unilateralism".
This is a sophisticated way of saying that countries can do whatever the hell they like, but they will write something pompous about it first. And they will all do it together. This is precisely the symptom that world leaders are now displaying ahead of the Copenhagen climate change summit - the so-called COP15 - in two weeks.
This was supposed to be the meeting that sealed a legally binding treaty on all 191 nations of the world. Successor to the Kyoto Protocol of 1997, it would be the pact to save the planet from the devastating effects of global warming. But you could pick the acute onset of advanced agreementism the moment the meeting's chairman, Lars Rasmussen, the Danish Prime Minister, uttered the following words at a breakfast meeting of Asia-Pacific leaders in Singapore on November 15: "The Copenhagen Agreement should be global, comprehensive and substantial, yet flexible enough to accommodate countries with very different national circumstances."
Allow me to interpret: "To frightened leaders everywhere, do not panic! Each of you will write down on a piece of paper what you want to do about global warming. There is nothing compulsory. Make it sound impressive. We are supposed to be saving the entire planet, remember? Whatever. "Next, we will collect your papers. We will staple them together. We will call it the Copenhagen Agreement. We will declare victory. We will all have our pictures taken. And we will tell reporters that, next time, we will make real decisions. You know the drill."
How can we be so certain of this outcome? We have two ways to be sure. First, Rasmussen went on to spell it out in unmistakeable terms. "Will it be binding? Yes, it will be binding. Even if we may not hammer out the last dots of a legally binding instrument, I do believe a political binding agreement with specific commitment to mitigation and finance provides a strong basis for immediate action in the years to come."
Take special note of the all-important distinction between a "legally binding instrument" and a "political binding agreement". A politician's binding agreement? That's in the same category as a campaign promise. And celebrate the wonderful non-sequitur of "immediate action in the years to come".
In a masterstroke, Rasmussen called the format "one agreement - two purposes". The first purpose, he says, is to state political intent, and the second is to keep talking about a legal treaty for later. The media shorthand for this has become a "two-step" agreement.
Second, we know how this will end because we've seen it twice before in recent history. We've seen precisely the same format of "concerted unilateralism" on different continents and in different fields, and each time with the same result.
One was the Asia Pacific Economic Co-operation forum's "Bogor Declaration" of 1994. In that much-ballyhooed agreement, the APEC leaders at their summit in Indonesia said "we announce our commitment to complete the achievement of our goal of free and open trade and investment in the Asia-Pacific". For developed countries this would be "no later than the year 2010 and developing economies no later than the year 2020". But there was no binding agreement. It was a political deal which allowed each country to do what it pleased. What happened?' "The Bogor commitments have been all but ignored," summarised the Lowy Institute's Allan Gyngell and Malcolm Cook in a 2005 paper. Some APEC leaders still fantasise about a free-trade zone.
The other was the European Union's "Lisbon Strategy" of 2000. This was supposed to make Europe the world's most dynamic economy by 2010. But individual governments ignored the deal and continued to pander to unions and bureaucracies. The director of the International Centre for Money and Banking Studies in Geneva, Charles Wyplosz, wrote: "The strategy rests on peer pressure - the naming and shaming of governments that fail to make progress. In practice, however, peer pressure has become peer collusion." The result, in the words of the director of the European Policy Centre, Antonio Missiroli, was "shameful". The European economy remains sclerotic.
Bogor and Lisbon are clear precedents for Copenhagen's "concerted unilateralism". Nothing in any such agreement carries any real force. Only the countries that already wanted to act will act, and the rest will just sit around and watch. But there will certainly be agreement.
SOURCE
Token ETS the best idea for Australia
By Greg Sheridan
THE battle of expectations over the Copenhagen climate change conference next month has been fascinating to watch. At first, everything had to be done by Copenhagen, which would produce a binding agreement: targets, offsets, compensation for low-income countries and all the rest. Now everyone knows that nothing real will be achieved at Copenhagen. Of course, whatever happens there will be hailed as a great success. But nothing much will happen.
Watching the debate, I am afraid I have become a climate change agnostic. I am not a denier, nor really a sceptic. I am agnostic. I do not know whether the science that says we're all doomed if we don't de-carbonise the economy is true. Neither does anyone else.
But I am more than half convinced by the argument that we should give the planet the benefit of the doubt. It would be good if we polluted less. I'd like to end the dependence of Western societies on Middle Eastern oil. And one day, even if climate change is not a killer, the world will run out of fossil fuel. So by all means let's diversify our energy sources and clean up our environments. But I don't want us to go broke in the process.
And given that what we physically do in Australia will have almost no effect on the global climate, whatever the scientific faith you choose to believe in, we would be much better off facing the future, whatever it is, as a rich nation rather than a poor one.
In trying to evaluate this issue I have tried to gauge the seriousness of the key players. I'm not convinced that anybody in power anywhere really thinks this is an end-of-the-world issue. Certainly no one is behaving as if it is.
Kevin Rudd said this week that climate change is an "existential, fundamental" issue, then came up with an emissions trading scheme package so recondite and larded with giveaways that it seems unlikely to have any great effect on greenhouse gas emissions. I don't want to misrepresent our beloved PM, but this is really Rudd adopting the agnostic attitude, with his usual rhetoric of moral grandeur attached: sensibly do as little as necessary and see what comes up.
It would be folly for Australia to get out in front. In the end I suspect we'll do more or less whatever the Americans do, plus or minus half a per cent. Copenhagen will not produce anything like the binding deal originally envisaged, but will produce some movement to lower carbon emissions. Australia needs to shelter in the mainstream of developed but resource-rich countries (which really means the US), doing our bit but not overdoing it.
Washington under Barack Obama certainly doesn't appear to regard climate change as an existential question. Obama has clearly given health care a higher priority. He may well announce some sort of target before the Copenhagen meeting but no real economic action will be taken before next year and my guess is the economic action ultimately will be pretty equivocal.
The Europeans look, at times, as though they believe their own rhetoric. But most of their ostensible greenhouse reductions come from switching from coal to gas, decommissioning East German industry, exporting factory jobs to China and creative accounting.
As for China and the other developing nations, there is not the slightest chance they will sign up to any binding targets. To get them on board at Copenhagen, the world has to accept the most spectacularly rubbery figures. China, and all the countries I love such as India and Indonesia, will commit to actions only on the basis of what the boffins call counterfactuals: facts that don't exist.
A couple of years ago Indonesia's environment minister told me his country would cut emissions by 19 per cent. This sounded impressive until I realised he meant 19 per cent of what would have happened had there been no change. That kind of calculation is infinitely malleable.
A couple of weeks ago in New Delhi, India's Minister of State for External Affairs Shashi Tharoor told me India had 17.5 per cent of the world's population but produced only 4 per cent of emissions. He said: "Per capita we are about 120th in the world. We're not part of the cause of the problem, but we do see the moral need to be part of the solution." He said quite a lot of nice things about the environment, but concluded: "We are still a country that cannot take 24 hours of electricity for granted. Six hundred million Indians are still not connected to electricity. If we approach development as consciously green minded, can we get help for the technology that works? (We also) have a duty to our people's development."
Two things strike me about Tharoor's elegant words. First, where is the technology that works, at anything like a reasonable price, in generating electricity without greenhouse gas emissions? Second, no Indian politician is going to tell 600 million fellow Indians they can't have electricity, but everyone in the West can. I describe this not to condemn it or to praise it but simply to register it as reality. The vast majority of new electricity generation in India, as in China and most of the developing world, comes from coal-fired power stations, and still there is no clean coal technology that works.
You cannot give electricity to 600 million people in India, and similar numbers in China, without massively increasing greenhouse gas emissions. The only technology that could possibly generate electricity on a big scale other than coal is nuclear. The Rudd government shows all its fine words on climate change are not to be taken too seriously by refusing to export uranium to India. No one in the world really takes this issue as seriously as they pretend to. Neither should we.
SOURCE
***************************************
For more postings from me, see DISSECTING LEFTISM, TONGUE-TIED, EDUCATION WATCH INTERNATIONAL, POLITICAL CORRECTNESS WATCH, FOOD & HEALTH SKEPTIC, GUN WATCH, SOCIALIZED MEDICINE, AUSTRALIAN POLITICS, IMMIGRATION WATCH INTERNATIONAL and EYE ON BRITAIN. My Home Pages are here or here or here. Email me (John Ray) here. For readers in China or for times when blogger.com is playing up, there are mirrors of this site here and here
*****************************************
25 November, 2009
George Monbiot (the original moonbat) is shaken, not stirred:
It's no use pretending this isn't a major blow. The emails extracted by a hacker from the climatic research unit at the University of East Anglia could scarcely be more damaging. I am now convinced they are genuine, and I'm dismayed and deeply shaken by them.
Yes, the messages were obtained illegally. Yes, all of us say things in emails that would be excruciating if made public. Yes, some of the comments have been taken out of context. But there are some messages that require no spin to make them look bad. There appears to be evidence of attempts to prevent scientific data from being made public.
Worse, some suggest efforts to prevent the publication of work by sceptics, or to keep it out of a Intergovernmental Panel on Climate Change report. The head of the unit, Phil Jones, should resign. Some of the data discussed in the emails should be re-analysed.
But do these revelations justify the sceptics' claims that this is "the final nail in the coffin" of global warming theory? Not at all. They damage the credibility of three or four scientists. They raise questions about the integrity of one or perhaps two out of several hundred lines of evidence. To bury man-made climate change, a far wider conspiracy would have to be revealed.
More
HERE
(Sarcasm follows the excerpt above. Is that the best he can do? No alternative evidence offered for his beliefs??)
A victim of the CRU climate conspirators comments
From Hans von Storch -- Director of Institute for Coastal Research of the GKSS Research Centre in Geesthacht and Professor at the Meteorological Institute of the University of Hamburg, Germany
A hacker has stolen many e-mails (and other files) from the server at the Climate Research Unit (CRU) in the United Kingdom. For an account refer to New York Times or to Roger Pielke jr.'s weblog. The hacked mails have been published at several sites, and I got through a journalist a full copy. As far as I myself can judge, and according to responses by others, the files are authentic, but not complete.
Going through the files, which due to the sheer size I can do only in a sampling mode, the mails begin in the late 1990s and extend to about today. They are all mails to/from Phil Jones. There are a number of problematic statements, which will be discussed in the media and the blogosphere. I found the style of communication revealing, speaking about other people and their ideas, joining forces to "kill" papers, exchanges of "improving" presentations without explaining.
Also mails from/to Eduardo Zorita and myself are included; also we have been subject of frequent mentioning, usually not in a flattering manner.
Interesting exchanges, and evidences, are contained about efforts to destroy "Climate Research"; that we in the heydays of the hockeystick debate shared our ECHO-G data with our adversaries; and that Mike Mann was successful to exclude me from a review-type meeting on historical reconstructions in Wengen (demonstrating again his problematic but powerful role of acting as a gatekeeper.)
I would assume that more interesting issues will be found in the files, and that a useful debate about the degree of politicization of climate science will emerge. A conclusion could be that the principle, according to which data must be made public, so that also adversaries may check the analysis, must be really enforced. Another conclusion could be that scientists like Mike Mann, Phil Jones and others should no longer participate in the peer-review process or in assessment activities like IPCC.
SOURCE
Is East Antarctica Melting?
By Dr. David Whitehouse
The East Antarctic ice sheet is the largest mass of ice on our planet and so its stability and potential contribution to global sea level change is of great interest. It was thought to be relatively stable but new research suggests it may have begun to loose mass, although the true significance of the change is unclear.
Measuring the Antarctic ice sheets is difficult. Over the years estimates of its mass balance has swung between positive and negative values. Radar altimetry observations covering the entire continent between 1992 - 2003 suggested that the ice mass balance was between -5 and + 85 GT/yr, although as usual with ice such estimates have large errors. Another satellite-borne technique, Synthetic Aperture Radar, using observations taken over the past decade, suggested that ice loss exceeded model predictions of snow accumulation. The data also indicated a recent increase in mass loss with 196 +/- 92 GT in 2006.
The latest data uses observations taken monthly between 2002 and 2009 from a pair of satellites flying in formation measuring gravity perturbations. Analysing data from the
GRACE
satellites is tricky and relating them to ice sheet mass estimates involves several steps and assumptions. The new study - published in
Nature Geoscience
by J Chen and researchers at the University of Texas at Austin in Austin, Texas - say the mass loss for the entire continent is - 190 +/- 77 GT/yr averaged over 2002 - 2009. This is much larger than previous estimates (although consistent with the most recent Synthetic Aperture Radar estimates of 196 +/- 92 GT/yr.)
Loss from the West Antarctic ice sheet is 132 +/- 26 GT/yr. East Antarctica, the researchers say, is losing mass at about 57 +/- 52 GT/yr (note large uncertainty - it could be consistent with zero ice loss). Most of the loss appears to be from coastal regions and to stem from increased ice loss after 2006. The finding is significant because the east of the continent has been regarded as the more stable half. It should be stressed however that although these seem large quantities of ice they are tiny in terms of their significance for global sea level changes.
The importance of this research is that it highlights the close scrutiny needed of the region, especially for the East Antarctic ice cap, to see if its rate of loss increases. At present it is not known if the loss is due to climate change or if such losses are in any way exceptional or cyclical. If the changes persist, and accelerate, then, "Antarctica may soon be contributing significantly more to global sea-level rise", the researchers write.
Others have expressed surprise at the results. A study in 2005 suggested that the East Antarctic ice sheet was actually gaining mass. What this latest work indicates is the need for more observations, an appreciation of the large uncertainties in individual measurements and the problem of relating them to each other. Overall it would be unwise to draw strong conclusions from this research.
SOURCE
Lawmakers Probe Climate Emails
Congressional Republicans have started investigating climate scientists whose hacked emails suggest they tried to squelch dissenting views about global warming. An aide to Rep. Darrell Issa (R., Calif.), the ranking member of the House Committee on Oversight and Government Reform, said investigators are studying the documents, which unknown hackers stole last week from the computer of a prominent British climate-research center.
Investigators are focusing on the correspondence of White House Science Adviser John Holdren, he said. Dr. Holdren, a point man for the Obama administration on climate change, sent one of the hacked emails. In the 2003 email, Dr. Holdren, then at the Woods Hole Research Center in Woods Hole, Mass., defended research by Michael Mann of Pennsylvania State University, a scientist who believes global warming is man-made and who also sent some of the hacked emails.
On Monday, Dr. Holden said: "I'm happy to stand by my contribution to this exchange. I think anybody who reads what I wrote in its entirety will find it a serious and balanced treatment of the question of 'burden of proof' in situations where science germane to public policy is in dispute."
The aide said investigators are also probing the contributions of dozens of climate scientists to reports published by the United Nations' Intergovernmental Panel on Climate Change. The Environmental Protection Agency, in its recent move to boost regulation of greenhouse gases, based its conclusions on IPCC reports. The IPCC has said the climate is heating up and humans are almost certainly to blame. Those who disagree that the globe is warming, or on the cause or extent of any warming, complain that their views have been excluded.
The documents, hacked from the Climatic Research Unit at East Anglia University in the U.K., show that some climate researchers declined to share their data with fellow scientists, and sought to keep researchers with dissenting views from publishing in leading scientific journals.
Separately, Sen. James Inhofe (R., Okla.), an outspoken critic of the view that humans are causing global warming, said that in light of the emails, he will call for an investigation into the state of climate science if the Senate Committee on Environment and Public Works doesn't act soon.
Amid the furor over the released documents, more than two dozen climate scientists will release a report Tuesday arguing that the effects of man-made global warming have intensified in recent years. One of them is Dr. Mann, director of the Earth System Science Center at Penn State. In a 2003 response to an email complaining about a paper in the journal "Climate Research" which questioned assertions that the 20th century was abnormally warm, Dr. Mann wrote, "I think we have to stop considering 'Climate Research' as a legitimate peer-reviewed journal. Perhaps we should encourage our colleagues in the climate research community to no longer submit to, or cite papers in, this journal." Dr. Mann said Monday that he didn't think there was anything wrong in telling his colleagues that "we shouldn't be publishing in a journal that's activist."
Police in the U.K. are continuing to investigate the attack, and the university there said Monday that it is conducting its own review.
Hans von Storch, editor at the time of "Climate Research," had his own objections to the paper mentioned by Dr. Mann, and resigned shortly after it was published, citing a breakdown in the peer-review process. But Dr. von Storch, now at the University of Hamburg's Meteorological Institute, said Monday that the behavior outlined in the hacked emails went too far.
East Anglia researchers "violated a fundamental principle of science," he said, by refusing to share data with other researchers. "They built a group to do gatekeeping, which is also totally unacceptable," he added. "They play science as a power game."
SOURCE
LA Times Changes Its Mind: Science Doesn't Matter On Climate Bill
That thumping sound you hear is the Los Angeles Times moving the goal posts in the global warming debate. On November 22, while responding to the growing scandal about alleged proof that global warming is a hoax, the Times brushed it off with a puzzling claim that science should have no bearing on climate legislation.
What a difference a few leaked e-mail messages could make: just over a month ago, the exact same paper had insisted science was behind the push for regulation. Now with the validity of that science in doubt, the Times was quick to find a different angle. In an article titled "A Climate Change Dust-up," writers Jim Tankersley and Henry Chu began with reassurance that the scandal was nothing to fear because the hacked e-mail messages would not make a difference either way:
Is it a "Warmist Conspiracy," or a case of an email being "taken completely out of context"? Regardless, the latest dust-up over the science of climate change appears unlikely to affect the dynamics of either a pending debate in the Senate or international climate negotiations in Copenhagen next month.
The whole point of the meeting in Copenhagen has been to limit pollution that supposedly destroys the planet based on evidence gathered and purported by researchers specifically involved in the email scandal. If the very premise of global warming has possibly been exposed as a fraud, why would that not be of interest to those who want to legislate global warming?
Because, according to the Times, the fight to stop possibly nonexistent global warming would be about saving the economy:
But advocates of action to curb global warming dismiss those claims, and political leaders and analysts say the Senate bill to limit greenhouse gas emissions will sink or swim based on economics, not science. "The scientists are going to fight about this for decades," said Robert Dillon, a spokesman for Sen. Lisa Murkowski of Alaska, one of several Senate Republicans who say they are open to some form of a climate bill. "We should be doing something to curb our emissions that would not harm the economy, and would in fact boost the economy," he said.
So the Times believed in doing something about emissions whether or not we knew that they were harmful. It was suddenly okay for the science to remain unsettled, and in fact, the Senate was encouraged to limit greenhouse gases even if science was unable to prove a connection between carbon dioxide emissions and temperature.
But if the entire logic of this effort to save the economy was based on the hope that green jobs would put Americans to work, someone should have told the Times that President Obama has already been funding green jobs without a climate bill.
Equally preposterous, nowhere did the article explain exactly how limiting a company's carbon dioxide output would cause it to expand payrolls. Not to worry, for according to global warming activists it would all work with or without the data to back it up.
Most amazingly of all, though, was an explanation about the data offered by Phil Jones, one of the scientists involved in the email scandal. When asked about his use of the word "trick" when presenting data, Jones told the Times it was just clever wording:
In the 1999 e-mail, Jones wrote of using a "trick" to hide an apparent decline in recent global temperatures on a chart being prepared for use by a meteorological organization. But in a statement posted on the university's website Saturday, Jones said that the e-mail had been "taken completely out of context" and that there had been no misrepresentation of the data. "The word 'trick' was used here colloquially as in a clever thing to do. It is ludicrous to suggest that it refers to anything untoward," Jones said.
The hard-hitting journalism force at the Times failed to ask how a trick was taken to mean anything other than a trick. What possible "colloquial" use of the word could have implied a trick that was not really a trick? Thanks to the Times, Jones got away without having to expound.
This whole notion of scientific tricks being irrelevant to a major debate about international climate legislation represented a major change in thinking at the Times. It was just six weeks ago the paper criticized Bush for hiding scientific data that could be used to sway the debate over legislation. Back then, science had everything to do with it:
The Environmental Protection Agency on Tuesday released a long-suppressed report by George W. Bush administration officials who had concluded -- based on science -- that the government should begin regulating greenhouse gas emissions because global warming posed serious risks to the country. The report, known as an "endangerment finding," was done in 2007. The Bush White House refused to make it public because it opposed new government efforts to regulate the gases most scientists see as the major cause of global warming.
When scientific findings were there to warn that global warming would kill the planet, the Times was quick to support it; when science was later found to be riddled with tricks that tainted its credibility, climate legislation was suddenly all about fixing the economy.
This is one more example in the long list of ways the liberal media has played fast and loose with the global warming agenda. Even when faced with plausible evidence the whole thing might be a fraud, global warming believers simply found a way to assert that evidence was not necessary.
SOURCE
THE AUSTRALIAN SCENE
Two current articles below
Emissions Trading Scheme will cost Australian families $1100 a year
KEVIN Rudd's Emissions Trading Scheme will increase the average family's bills by about $1100 a year. Based on the Federal Government's own modelling, by 2012 the ETS will add more than 20 per cent to electricity tariffs - a surge of nearly $300 for typical households already reeling in New South Wales from a similar blow from the state pricing tribunal in July. And industry forecasts predict grocery prices could surge 5 per cent once the estimated price of carbon is imposed, making stocking a home larder $520 more expensive, The Daily Telegraph reports.
For those on lower incomes, overall costs are tipped to rise $630. While lower in dollar terms this represents a bigger slice of their outgoings. They will be compensated by taxpayers - the Government yesterday vowed nine in 10 poorer households would receive more than what the ETS added to their bills but middle-income families won't get the same deal.
The Government's latest changes to the proposed ETS actually reduce consumer compensation by $5.8 billion over the next decade. Climate Change Minister Penny Wong said the high Australian dollar meant the carbon price would be lower, so less compensation was required.
Experts said that higher-earning households looking to limit the financial impact of the scheme would either need to spend up on going green or cut back on power use.
National Institute of Economic and Industry Research head Dr Peter Brain, author of the most commonly cited study into the cost of the ETS for households, said: "It's carrot and stick. It has to be. Otherwise emissions won't decline by anything like the rate required."
Mr Rudd said the latest version of the ETS would ensure that Australia could "achieve its ambitious unconditional target" of a 5 per cent reduction in greenhouse gas emissions by 2020 when compared with 2000 levels and its conditional target of 15-25 per cent.
Energy price comparison service GoSwitch CEO Ben Freund said: "What the Government wants people to do is shift from cheaper sources of power to more expensive sources like wind and solar. "How do you make people do that? By making the expensive sources of energy more compelling. And you do that by making the cheaper sources of energy more expensive."
Professor Joshua Gans from the Melbourne Business School said the other way middle - and higher - income families could limit the impact was to cut power usage. "The idea of the CPRS is not to cause people to spend more on electricity. It is to change their behaviour so they don't spend more on electricity," Professor Gans said.
Small business owners James and Kylie White, of Botany, said they were worried about how much the ETS was going to cost them. "It's obviously a concern, coupled with the interest rates heading back up," Mr White, 34, said. "Over the last 12 months we have been seeing less and less income and the bills increasing. This is going to make it a little bit tougher."
SOURCE
Infamy, insanity, inanity in Australia's proposed climate laws
We had a prime minister who declared economic war on his own country. And an opposition leader who spent the rest of the day trying desperately to make it unanimous. Finally, succeeding. Or, perhaps not.
As I wrote yesterday this is one case where the devil is not in the detail. So making the detail of the Emissions Trading Scheme seemingly 'better' is without the slightest merit. And indeed is worse even in its own distorted terms. The ETS remains a direct, if slightly diverted attack against our national interest, against the very foundation not just of our economy but of our society. And it is completely incompatible with the government's population growth 'policy,' for want of a better word.
Yes, the extra 'assistance' to the power industry would probably help - literally - to keep the lights on in the short term. But only in the short term, and only if the debts of Victoria's power stations are guaranteed by the federal government, whether directly or indirectly.
There still wouldn't be another coal-fired power station built anywhere in Australia while this insanity prevails - while dozens are built in China and India.
And with nuclear also prohibited, we would face an 'interesting' intersection point between population, power and permits some time around 2015. Not, obviously, that nuclear could have 'saved us' in just five years anyway. That's when a bigger population demands more power; there isn't any; and all that 'generous assistance' is reaching its use-by date and then we face the prospect of the existing power stations going broke or breaking down.
This is when the reality of prime ministerial insanity catches up with Australia. Not even in 'distant 2020' but a few years before that. Because all that so-called assistance doesn't alter the basic reality of the ETS and the government's overall Carbon Pollution Reduction Scheme.
What's in a name? Digressing, one really wonders how Kevin Rudd and his co-destroyer Penny Wong can literally live with themselves, as they spread the same 'pollution' every breath of their lives. As Rudd said yesterday, seemingly proudly, certainly totally unaware of his own stupidity: "the deal will ensure that Australia can achieve its ambitious unconditional target of 5 per cent (reduction in CO2 emissions), conditional target of up to 15 per cent and top-end target of 25 per cent off 2000 levels by 2020." This is the bottom line that isn't altered by all the extra so-called assistance. That once the ETS is in place, we are legislatively committed to cutting CO2 emissions by 5 per cent by 2020, whatever - the nothing - that the rest of the world does.
So if coal-fired power stations emit more as a consequence of their extra assistance, the cuts have to come from somewhere else. Or we pay foreigners for the right to over-emit. Doesn't sound too tough? Just 5 per cent? But factor in our roaring population growth and we have to cut by closer to 33 per cent per person. And do it in just 10 years!
Now committing to something like this this would be bad enough coming from any leader of any country. Directly attacking the wellbeing of its citizens. Especially when that leader knows, and I mean knows, that it is utterly pointless, even in his own misconceived terms, as no-one of major emitting substance is going to follow.
Coming from the leader of a country whose entire economy is built on carbon-based energy and the export of carbon-based products, it is criminally - there really are no other words for it - insane. In the context of my opening reference, it is as if Rudd himself had launched the planes on our Pearl Harbor, our economy.
In this case, double apologies are due to the author of the original quote, Franklin Delano Roosevelt. The usual apology for amendment. The additional one for associating it with something and someone so grubby.
SOURCE
***************************************
For more postings from me, see DISSECTING LEFTISM, TONGUE-TIED, EDUCATION WATCH INTERNATIONAL, POLITICAL CORRECTNESS WATCH, FOOD & HEALTH SKEPTIC, GUN WATCH, SOCIALIZED MEDICINE, AUSTRALIAN POLITICS, IMMIGRATION WATCH INTERNATIONAL and EYE ON BRITAIN. My Home Pages are here or here or here. Email me (John Ray) here. For readers in China or for times when blogger.com is playing up, there are mirrors of this site here and here
*****************************************
24 November, 2009
Warmist pseudo-scientists admit that the hacked CRU emails are genuine
A leading climate change scientist whose private e-mails are included in thousands of documents that were stolen by hackers and posted online said the leaks may have been aimed at undermining next month's global climate summit in Denmark.
Kevin Trenberth, of the US National Center for Atmospheric Research, in Colorado, said he believes the hackers who stole a decade's worth of correspondence from a British university's computer server deliberately distributed only those documents that could help attempts by skeptics to undermine the scientific consensus on man-made climate change. Trenberth, a well respected atmospheric scientist, said it did not appear that all the documents stolen from the university had been distributed on the internet by the hackers.
The University of East Anglia, in eastern England, said hackers last week stole from its computer server about a decade's worth of data from its Climatic Research Unit, a leading global research center on climate change. About 1000 e-mails and 3000 documents have been posted on websites and seized on by climate change sceptics, who claim correspondence shows collusion between scientists to overstate the case for global warming, and evidence that some have manipulated evidence.
"It is right before the Copenhagen debate, I'm sure that is not a coincidence," Trenberth said in a telephone interview from Colorado.
At least 65 world leaders will attend the Copenhagen climate summit in December as representatives of 191 nations seek agreement on a new global treaty on limiting emissions of greenhouse gases.
Trenberth, a lead author on the 2001 and 2007 Intergovernmental Panel on Climate Change assessments, said he had found 102 of his own e-mails posted online. "I personally feel violated," he said. "I'm appalled at the very selective use of the e-mails, and the fact they've been taken out of context."
In one of the stolen e-mails, Trenberth is quoted as saying "we can't account for the lack of warming at the moment and it is a travesty that we can't." He said the comment is presented by sceptics as evidence scientists can't explain some trends that appear to contradict their stance on climate change. Trenberth explained his phrase was actually contained in a paper he wrote about the need for better monitoring of global warming to explain the anomalies — in particular improved recording of rising sea surface temperatures.
In another e-mail posted online, and unrelated to Trenberth, the British research centre's director, Phil Jones, wrote that he had used a "trick" to "hide the decline" in a chart detailing recent global temperatures. Jones has denied manipulating evidence and insisted his comment had been misunderstood. He said in a statement Saturday that he'd used the word trick "as in a clever thing to do."
Trenberth acknowledged that language used by some colleagues in the hacked e-mails "looks awkward at best," particularly messages which criticise climate change sceptics.
SOURCE
BBC sat on the hacked emails for over a month
By Paul Hudson, weather presenter and climate correspondent for BBC Look North in Yorkshire and Lincolnshire
Very busy with forecast duties right now, but I do intend to write a blog regarding the UK Climate research centre (CRU) being hacked into, and the possible implications of this very serious affair.
I will add comment on this page as soon as I can free up some time. But I will in the meantime answer the question regarding the chain of e-mails which you have been commenting about on my blog, which can be seen here, and whether they are genuine or part of an elaborate hoax.
I was forwarded the chain of e-mails on the 12th October, which are comments from some of the worlds leading climate scientists written as a direct result of my article 'whatever happened to global warming'. The e-mails released on the internet as a result of CRU being hacked into are identical to the ones I was forwarded and read at the time and so, as far as l can see, they are authentic.
SOURCE
A reaction to the hacked emails from a grassroots AGW believer
A posting on the Christian Science Monitor named "Ron" sums up the impact of the scandal that is rocking the United Nation's global warming establishment. These comments may turn out to be the inconvenient sentiment of many.
As a long time AGW supporter I must say I found the emails very disturbing. I spent hours reading them myself. I don't know if they qualify as "smoking gun" that the AGW science is bust, but I just cannot ignore it.
I feel ashamed for the behavior of our leading scientists. Even more than feeling ashamed – I feel betrayed. For years I trusted that science will prevail over the unsubstantiated skeptic view. These emails reveal a very disturbing picture of ideology overriding science. Science being bent out of shape to support a hypothesis.
They reveal unbelievable arrogance. These people whom I trusted so much think they are
- above the law (destroying email, refusing FOIA, tax evasion)
- above the data ("hide the decline", remove the cooling blip)
- above their peers (get uncomforting journal editors fired, block skeptic publications)
- above the rest of us (manipulate the message, presentation and media)
I am sick to my stomach. I know there are so many other hard working scientists that have not tainted themselves. But this group – Phil Jones, Ken Briffa, Mike Man, Gavin Schmidt have casted a huge shadow of doubt over the entire field and caused a huge damage to the green movement.
I talked with many of my friends who, like most of us, continue to believe in AGW, and we think that as long as these guys continue to lead the science and the IPCC assessments they will continue to taint all of the good work done by thousands of other scientists.
We need to acknowledge that wrong was done. We need to replace the tainted leadership and continue the research without the air of doubt.
SOURCE
Inhofe calls for hearing into crooked climate change research
The publication of more than 1,000 private e-mails that climate change skeptics say proves the threat is exaggerated has prompted one key Republican senator to call for an investigation into their research. In an interview with The Washington Times on Monday, Sen. James Inhofe (R-Okla.) announced he would probe whether the U.N.'s Intergovernmental Panel on Climate Change (IPCC) "cooked the science to make this thing look as if the science was settled, when all the time of course we knew it was not."
"[T]his thing is serious, you think about the literally millions of dollars that have been thrown away on some of this stuff that they came out with," Inhofe, the ranking member of the Environment and Public Works Committee, said during the interview. He added that it was "interesting" that the e-mails surfaced only weeks before an important climate change summit would bring world leaders to Copenhagen.
Fueling Inhofe's concerns is last week's news that a blogger hacked into the University of East Anglia's Climate Research Unit (Cru) and published about 1,000 e-mails and more than 3,000 private documents relating to climate change. Some of those communications disparaged climate change skeptics and their views, while others contained conversations about how to best portray climate change research.
The scientists have since insisted their e-mails were hardly deceptive and that their words were taken out of context. Still, their assurances have not settled the concerns of their biggest foes -- including Inhofe, who has long maintained global warming is a "hoax."
However, it is not immediately clear what Inhofe hopes to accomplish with his proposed hearing. U.S. lawmakers and scientists routinely cite IPCC evidence when discussing climate change legislation, but Congress can hardly force the United Nations to halt spending on a program over which it has no jurisdiction.
Rather, Inhofe perhaps hopes to deal a symbolic blow to next month's climate change conference, at which IPCC is likely to play a major role. "The timing couldn't be better," said the Oklahoma Republican, who previously announced he would attend the December summit as a "one-man truth squad." "Whoever is on the ball in Great Britain, their time was good."
SOURCE
Lord Lawson Calls For Public Inquiry Into CRU Data Affair
In response to recent revelations contained in leaked e-mails originating from the Climate Research Unit at the University of East Anglia, Lord Lawson, Chairman of the Board of Trustees of the GWPF, has called for a rigorous and independent inquiry into the matter. While reserving judgment on the contents of the e-mails, Lord Lawson said these are very serious issues and allegations that reach to the heart of scientific integrity and credibility:
"Astonishingly, what appears, at least at first blush, to have emerged is that (a) the scientists have been manipulating the raw temperature figures to show a relentlessly rising global warming trend; (b) they have consistently refused outsiders access to the raw data; (c) the scientists have been trying to avoid freedom of information requests; and (d) they have been discussing ways to prevent papers by dissenting scientists being published in learned journals."
"There may be a perfectly innocent explanation. But what is clear is that the integrity of the scientific evidence on which not merely the British Government, but other countries, too, through the Intergovernmental Panel on Climate Change, claim to base far-reaching and hugely expensive policy decisions, has been called into question. And the reputation of British science has been seriously tarnished. A high-level independent inquiry must be set up without delay."
Lord Lawson added: "Since the CRU is funded by the Natural Environment Research Council (NERC) and is part of the University of East Anglia, we call on Edmund Wallis, the chairman of the NERC and Brandon Gough, the Chancellor of the UEA, to jointly commission an independent inquiry into the revelations, including, of course, their veracity."
Professsor David Henderson, the Chairman of the Academic Advisory Council of the GWPF said: "The evolution of climate policies needs to be linked to a process of inquiry, review and advice that is more open, thorough, balanced and objective than is now the case. This is the mission of the Global Warming Policy Foundation."
SOURCE
Unforeseen climate 'crisis'
A climate crisis of worldwide proportions is unfolding right before our eyes, and not even the most powerful world leaders can do anything to stop it. It looks like 2009 may very well turn out to be the fourth straight year of declining global temperatures at a time when carbon dioxide levels continue to rise - the opposite of what was predicted by vaunted climate models.
Something must be done immediately to either (1) rework the temperature data so it vindicates esteemed climate visionaries, (2) come up with some scientific-sounding mumbo-jumbo as to why long-term weather doesn't conform to authoritative proclamations or (3) simply ignore or downplay the reality hoping people don't finally catch on that they've been had. Perhaps it could at least be claimed that Mother Nature is giving us a reprieve to get our collective global act together before she really lowers the boom. After all, it has worked so well in the past to say that disaster is just around the corner.
Our guess is that the crafty climate chieftains will likely use a combination of the three smoke-and-mirror strategies listed (with a smattering of "denier" bashing thrown in just for fun).
But we wonder, when will ostensibly superintelligent people learn a simple fact that even a forecast is simply a guess at the future based on past and present information? Putting a lot of sincere confidence in your prognostication does not improve its predictive power.
The confidence just helps to make more people believe your forecast. More people buy into it. More people look to you for solutions, for salvation, and the whole thing takes on a life of its own. Knowing that you can in no way know the future for something as complicated as the Earth's climate, at some point your confidence becomes inflated to the point of arrogance - it's unavoidable. Soon you're pushing a confidence game. And, since many in the general public and too many of the high and mighty can look with awe or advantage at the forecasts generated by sophisticated climate models, there will be no lack of sufficient players to keep the game moving. But, before we get into overtime, consider the reality of climate forecasting.
Everyone is aware of the folly of short-term weather forecasts. And, yes we know climate and weather are not the same! So, let's consider short-term climate forecasts. A terrific example is the official U.S. prediction for the hurricane season of 2006. In May 2006, immediately preceding the onset of the Atlantic hurricane season (and again in August 2006), arguably the best hurricane forecasters on Earth couldn't accurately predict even simply the total number of severe storm events.
The forecast was for another season of unusually numerous events (although not expected to be on par with the record-breaking 31 events of 2005, which included 15 hurricanes). But, the forecast was a bust, with only 10 events (five hurricanes and five tropical storms) recorded. Average was closer to at least 15 events ... so much for forecasting climatic conditions better than the weekend's weather.
If we can't accurately predict occurrences in a small portion of the globe in the short range, what then are we to make of the substantially more complicated art of long-range global climate forecasting? We see that the Earth's temperatures don't seem to be playing the game by the climate-wizard's rules. Should we begin to admit that we're not really as smart as we or others think we are; that the tremendous complexity of climate, although better understood than in decades past, is still a long way from being confidently forecasted in decades future? Or would that be too honest?
For now, continuous falling temperatures are truly a global crisis, coming at a time when some very powerful people will soon be meeting in Copenhagen to remedy increasing temperatures. World leaders should stay home and enjoy the weather. Unless, of course, they're not as concerned about changing climate as they are about redistributing wealth.
SOURCE
***************************************
For more postings from me, see DISSECTING LEFTISM, TONGUE-TIED, EDUCATION WATCH INTERNATIONAL, POLITICAL CORRECTNESS WATCH, FOOD & HEALTH SKEPTIC, GUN WATCH, SOCIALIZED MEDICINE, AUSTRALIAN POLITICS, IMMIGRATION WATCH INTERNATIONAL and EYE ON BRITAIN. My Home Pages are here or here or here. Email me (John Ray) here. For readers in China or for times when blogger.com is playing up, there are mirrors of this site here and here
*****************************************
23 November, 2009
More guesswork
Sounds like the differences they observed were not even statistically significant. Looking at their raw averages would be fun. I predict that any trend detectable will be non-linear (e.g. a recent change of direction) -- which makes any projection into the future a joke
THE East Antarctic icesheet, once seen as largely unaffected by global warming, has lost billions of tonnes of ice since 2006 and could boost sea levels in the future, according to a new study. Published yesterday in Nature Geoscience, the same study shows that the smaller but less stable West Antarctic icesheet is also shedding significant mass.
Scientists worry that rising global temperatures could trigger a rapid disintegration of West Antarctica, which holds enough frozen water to push up the global ocean watermark by about five metres. In 2007 the UN Intergovernmental Panel for Climate Change (IPCC) predicted sea levels would rise 18 to 59cm by 2100, but this estimate did not factor in the potential impact of crumbling icesheets in Greenland and Antarctica.
Today many of the same scientist say that even if heat-trapping CO2 emissions are curtailed, the ocean watermark is more likely to go up by nearly a metre, enough to render several small island nations unlivable and damage fertile deltas, home to hundreds of millions.
University of Texas professor Jianli Chen and colleagues analysed nearly seven years of data on ocean-icesheet interaction in Antarctica. Covering the period up January 2009, the data was collected by the twin GRACE satellites, which detect mass flows in the ocean and polar regions by measuring changes in Earth's gravity field. Consistent with earlier findings based on different methods, they found that West Antarctica dumped, on average, about 132 billion tonnes of ice into the sea each year, give or take 26 billion tonnes.
They also found for the first time that East Antarctica - on the Eastern Hemisphere side of the continent - was likewise losing mass, mostly in coastal regions, at a rate of about 57 billion tonnes annually. The margin for error, they cautioned, is almost as large as the estimate, meaning ice loss could be a little as a few billion tonnes or more than 100.
Up to now, scientists had thought that East Antarctica was in "balance", meaning that it accumulated as much mass and it gave off, perhaps a bit more. "Acceleration of ice loss in recent years over the entire continent is thus indicated," the authors conclude. "Antarctica may soon be contributing significantly more to global sea level rise."
SOURCE
Huge numbers of power stations and SUVs in the prehistoric past
A new study of Antarctica's past climate reveals that temperatures during the warm periods between ice ages (interglacials) may have been higher than previously thought. The latest analysis of ice core records suggests that Antarctic temperatures may have been up to 6°C warmer than the present day.
The findings, recently reported by scientists from the British Antarctic Survey (BAS), the Open University and University of Bristol in the journal Nature could help us understand more about rapid Antarctic climate changes.
Previous analysis of ice cores has shown that the climate consists of ice ages and warmer interglacial periods roughly every 100,000 years. This new investigation shows temperature 'spikes' within some of the interglacial periods over the last 340,000 years. This suggests Antarctic temperature shows a high level of sensitivity to greenhouse gases at levels similar to those found today.
Lead author Louise Sime of British Antarctic Survey said, "We didn't expect to see such warm temperatures, and we don't yet know in detail what caused them. But they indicate that Antarctica's climate may have undergone rapid shifts during past periods of high CO2."
During the last warm period, about 125,000 years ago, sea level was around 5 metres higher than today.
Ice core scientist Eric Wolff of British Antarctic Survey is a world-leading expert on past climate. He said, "If we can pin down how much warmer temperatures were in Antarctica and Greenland at this time, then we can test predictions of how melting of the large ice sheets may contribute to sea level rise."
Notes:
Ice cores are unique climate records, allowing scientists to investigate climate changes over hundreds of thousands of years. The Earth's oldest ice is found in East Antarctica. The three oldest existing ice cores were drilled at Dome C, Dome F and Vostock. The longest ice core -- at 3,650 metres -- comes from Vostock, but the oldest ice core, drilled by the European Project for Ice Coring in Antarctica (EPICA) team, contains a climate record stretching back 800,000 years. Analysis of the ice cores has revolutionized our understanding of how Antarctic climate has varied in the past. Information from ice cores is vital for testing and improving the computer models used to predict future climate.
Interglacials -- recur roughly every 100,000 years between ice ages. The present warm period began around 10,000 years ago and has been relatively stable.
Direct sea level measurements based upon coastal sedimentary deposits and tropical coral sequences have established that global sea level was higher than present during the last interglacial (~125,000 years ago) by approximately 4 to 6 m. This indicates that the Greenland and Antarctic ice-sheets were smaller than during the present day.
The authors analysed 340,000 years of oxygen and hydrogen isotope data from three ice core sites across East Antarctica, alongside isotope-enabled general circulation model results.
SOURCE
Hacked files of the Climatic Research Unit, Global Warming a deliberate fraud
By climatologist Dr. Tim Ball
Global Warming is often called a hoax. I disagree because a hoax has a humorous intent to puncture pomposity. In science, such as with the Piltdown Man hoax, it was done to expose those with fervent but blind belief. The argument that global warming is due to humans, known as the anthropogenic global warming theory (AGW) is a deliberate fraud. I can now make that statement without fear of contradiction because of a remarkable hacking of files that provided not just a smoking gun, but an entire battery of machine guns.
Someone hacked in to the files of the Climatic Research Unit (CRU) based at the University of East Anglia. A very large file (61 mb) was downloaded and posted to the web. Phil Jones Director of the CRU has acknowledged the files are theirs. They contain papers, documents letters and emails. The latter are the most damaging and contain blunt information about the degree of manipulation of climate science in general and the Intergovernmental Panel on Climate Change in particular.
Climate science hijacked and corrupted by this small group of scientists
Dominant names involved are ones I have followed throughout my career including, Phil Jones, Benjamin Santer, Michael Mann, Kevin Trenberth, Jonathan Overpeck, Ken Briffa and Tom Wigley. I have watched climate science hijacked and corrupted by this small group of scientists. This small, elite, community was named by Professor Wegman in his report to the National Academy of Science (NAS).
I had the pleasure of meeting the founder of CRU Professor Hubert Lamb, considered the Father of Modern Climatology, on a couple of occasions. He also peer reviewed one of my early publications. I know he would be mortified with what was disclosed in the last couple of days.
Jones claims the files were obtained illegally as if that absolves the content. It doesn't and it is enough to destroy all their careers. Jones gave a foretaste of his behavior in 2005. Warwick Hughes asked for the data and method he used for his claim of a 0.6°C temperature rise since the end of the nineteenth century. Jones responded, "We have 25 years or so invested in the work. Why should I make the data available to you when your aim is to try and find something wrong with it?" He has stonewalled ever since. The main reason was because it was used as a key argument in the Intergovernmental Panel on Climate Change (IPCC) Reports to convince the world humans caused rapid warming in the 20th century. The emails obtained are a frightening record of arrogance, and deception far beyond his 2005 effort.
Another glimpse into what the files and emails reveal was the report by Professor Deming. He wrote, " With publication of an article in Science (in 1995) I gained sufficient credibility in the community of scientists working on climate change. They thought I was one of them someone who would pervert science in the service of social and political causes. So one of them let his guard down. A major person working in the area of climate change and global warming sent me an astonishing email that said. "We must get rid of the Medieval Warm Period." The person in question was Jonathan Overpeck and his even more revealing emails are part of those exposed by the hacker. It is now very clear that Deming's charge was precise. They have perverted science in the service of social and political causes.
Professor Wegman showed how this "community of scientists" published together and peer reviewed each other's work. I was always suspicious about why peer review was such a big deal. Now all my suspicions are confirmed. The emails reveal how they controlled the process, including manipulating some of the major journals like Science and Nature. We know the editor of the Journal of Climate, Andrew Weaver, was one of the "community". They organized lists of reviewers when required making sure they gave the editor only favorable names. They threatened to isolate and marginalize one editor who they believed was recalcitrant.
Total Control
These people controlled the global weather data used by the IPCC through the joint Hadley and CRU and produced the HadCRUT data. They controlled the IPCC, especially crucial chapters and especially preparation of the Summary for PolicyMakers (SPM). Stephen Schneider was a prime mover there from the earliest reports to the most influential in 2001. They also had a left wing conduit to the New York Times. The emails between Andy Revkin and the community are very revealing and must place his journalistic integrity in serious jeopardy. Of course the IPCC Reports and especially the SPM Reports are the basis for Kyoto and the Copenhagen Accord, but now we know they are based on completely falsified and manipulated data and science. It is no longer a suspicion. Surely this is the death knell for the CRU, the IPCC, Kyoto and Copenhagen and the Carbon Credits shell game.
CO2 never was a problem and all the machinations and deceptions exposed by these files prove that it was the greatest deception in history, but nobody is laughing. It is a very sad day for science and especially my chosen area of climate science. As I expected now it is all exposed I find there is no pleasure in "I told you so."
You can download the climate change fraud documents
here
or
here
.
SOURCE
The Sound Of All Hell Breaking Loose: Now Searchable!
Here's a crazy thought: What if it was Briffa who released the emails? He is known to have been depressed lately and the email below reveals him to be in great conflict over what he is doing. And the now undisputed revelation that his past work depended on the tree rings from just one tree must have hurt him -- JR
The CRU emails are now searchable. Here's one I stumbled across. (Read from bottom up.)
From: Keith Briffa To: mann@xxxxxxxxx.xxx Subject: Re: quick note on TAR Date: Sun Apr 29 19:53:16 2007
Mike
Your words are a real boost to me at the moment. I found myself questioning the whole process and being often frustrated at the formulaic way things had to be done - often wasting time and going down dead ends. I really thank you for taking the time to say these kind words. I tried hard to balance the needs of the science and the IPCC, which were not always the same. I worried that you might think I gave the impression of not supporting you well enough while trying to report on the issues and uncertainties. Much had to be removed and I was particularly unhappy that I could not get the statement into the SPM regarding the AR4 reinforcement of the results and conclusions of the TAR. I tried my best but we were basically railroaded by Susan*. I am happy to pass the mantle on to someone else next time. I feel I have basically produced nothing original or substantive of my own since this whole process started. I am at this moment having to work on the ENV submission to the forthcoming UK Research Assessment exercise , again instead of actually doing some useful research! Anyway thanks again Mike.... really appreciated when it comes from you very best wishes
Keith
Keith
At 18:14 29/04/2007, you wrote:
Keith, just a quick note to let you know I've had a chance to read over the key bits on last millennium in the final version of the chapter, and I think you did a great job. obviously, this was one of the most (if not the most) contentious areas in the entire report, and you found a way to (in my view) convey the the science accurately, but in a way that I believe will be immune to criticisms of bias or neglect--you dealt w/ all of the controversies, but in a very even-handed and fair way. bravo! I hope you have an opportunity to relax a bit now. looking forward to buying you a beer next time we have an opportunity :)
mike
(*I believe he's referring to Susan Solomon here.)
A more detailed examination of a different series of emails pertaining to Briffa's work is up at Powerline.
[See below -- JR]
SOURCE
The global warming alarmists act like a gang of co-conspirators rather than respectable scientists
One of the hacked East Anglia emails that has gotten considerable play on the web indicates that several alarmist scientists deleted emails that were subject to a Freedom of Information Act request rather than produce them. That's true; here is the context.
On May 27, 2008, David Palmer, who is in charge of "data protection" at the University of East Anglia, wrote to Tim Osborn about a Freedom of Information Act request the university had received from one David Holland: "Please note the response received today from Mr. Holland. Could you provide input as to his additional questions 1, and 2, and check with Mr. Ammann in question 3 as to whether he believes his correspondence with us to be confidential? Although I fear/anticipate the response, I believe that I should inform the requester that his request will be over the appropriate limit and ask him to limit it.... I just wish to ensure that we do as much as possible 'by the book' in this instance as I am certain that this will end up in an appeal, with the statutory potential to end up with the ICO."
Thus, the same day, Tim Osborn wrote to Caspar Amman of the National Center for Atmospheric Research in Boulder, Colorado: "Our university has received a request, under the UK Freedom of Information law, from someone called David Holland for emails or other documents that you may have sent to us that discuss any matters related to the IPCC assessment process. We are not sure what our university's response will be, nor have we even checked whether you sent us emails that relate to the IPCC assessment or that we retained any that you may have sent. However, it would be useful to know your opinion on this matter. In particular, we would like to know whether you consider any emails that you sent to us as confidential. Sorry to bother you with this, Tim (cc Keith & Phil)"
The point was to lay foundation for an objection to producing such emails on the ground that they were "confidential." Amman replied: "Oh MAN! will this crap ever end?? Well, I will have to properly answer in a couple days when I get a chance digging through emails. I don't recall from the top of my head any specifics about IPCC. I'm also sorry that you guys have to go through this BS."
Osborn replied: "Hi again Caspar, I don't think it is necessary for you to dig through any emails you may have sent us to determine your answer. Our question is a more general one, which is whether you generally consider emails that you sent us to have been sent in confidence. If you do, then we will use this as a reason to decline the request. Cheers, Tim"
That was followed by this more formal response from Amman on May 30: "In response to your inquiry about my take on the confidentiality of my email communications with you, Keith or Phil, I have to say that the intent of these emails is to reply or communicate with the individuals on the distribution list, and they are not intended for general 'publication'. If I would consider my texts to potentially get wider dissemination then I would probably have written them in a different style. Having said that, as far as I can remember (and I haven't checked in the records, if they even still exist) I have never written an explicit statement on these messages that would label them strictly confidential. Caspar"
In the meantime, though, Osborn and his colleagues had already taken matters into their own hands. On May 29, Phil Jones wrote to Michael Mann, with the subject heading "IPCC & FOI": "Mike, Can you delete any emails you may have with Keith re AR4? ["AR4" is common shorthand for the U.N. IPCC's Fourth Assessment Report, which was released in 2007.] Keith will do likewise. He's not in at the moment - minor family crisis. Can you also email Gene and get him to do the same? I don't have his new email address. We will be getting Caspar to do likewise."
These emails appear to show that, when faced with a legitimate request under Britain's Freedom of Information Act, these global warming alarmists preferred to delete their emails with one another about the crucially important IPCC report --the main basis for the purported "consensus" in favor of anthropogenic global warming--rather than allow them to come to light. This is one of many instances in the East Anglia documents where the global warming alarmists act like a gang of co-conspirators rather than respectable scientists.
SOURCE
The savage battle to suppress scientific dissent
Electronic files that were stolen from a prominent climate research center and made public last week provide a rare glimpse into the behind-the-scenes battle to shape the public perception of global warming.
While few U.S. politicians bother to question whether humans are changing the world's climate -- nearly three years ago the U.N. Intergovernmental Panel on Climate Change concluded the evidence was unequivocal -- public debate persists. And the newly disclosed private exchanges among climate scientists at Britain's Climate Research Unit of the University of East Anglia reveal an intellectual circle that appears to feel very much under attack, and eager to punish its enemies.
In one e-mail, the center's director, Phil Jones, writes Pennsylvania State University's Michael E. Mann and questions whether the work of academics that question the link between human activities and global warming deserve to make it into the prestigious IPCC report, which represents the global consensus view on climate science. "I can't see either of these papers being in the next IPCC report," Jones writes. "Kevin and I will keep them out somehow -- even if we have to redefine what the peer-review literature is!"
In another, Jones and Mann discuss how they can pressure an academic journal not to accept the work of climate skeptics with whom they disagree. "Perhaps we should encourage our colleagues in the climate research community to no longer submit to, or cite papers in, this journal," Mann writes. "I will be emailing the journal to tell them I'm having nothing more to do with it until they rid themselves of this troublesome editor," Jones replies.
Patrick Michaels, a senior fellow at the libertarian Cato Institute who comes under fire in the e-mails, said these same academics repeatedly criticized him for not having published more peer-reviewed papers. "There's an egregious problem here, their intimidation of journal editors," he said. "They're saying, 'If you print anything by this group, we won't send you any papers.' "
Mann, who directs Penn State's Earth System Science Center, said the e-mails reflected the sort of "vigorous debate" researchers engage in before reaching scientific conclusions. "We shouldn't expect the sort of refined statements that scientists make when they're speaking in public," he said.
Christopher Horner, a senior fellow at the libertarian Competitive Enterprise Institute who has questioned whether climate change is human-caused, blogged that the e-mails have "the makings of a very big" scandal. "Imagine this sort of news coming in the field of AIDS research," he added.
The story of the hacking has ranked among the most popular on Web sites ranging from The Washington Post's to that of London's Daily Telegraph. And it has spurred a flood of e-mails from climate skeptics to U.S. news organizations, some likening the disclosure to the release of the Pentagon Papers during Vietnam.
SOURCE
***************************************
For more postings from me, see DISSECTING LEFTISM, TONGUE-TIED, EDUCATION WATCH INTERNATIONAL, POLITICAL CORRECTNESS WATCH, FOOD & HEALTH SKEPTIC, GUN WATCH, SOCIALIZED MEDICINE, AUSTRALIAN POLITICS, IMMIGRATION WATCH INTERNATIONAL and EYE ON BRITAIN. My Home Pages are here or here or here. Email me (John Ray) here. For readers in China or for times when blogger.com is playing up, there are mirrors of this site here and here
*****************************************
22 November, 2009
Some graphic evidence of CRU crookedness
A picture is worth ...
Climategate: the final nail in the coffin of 'Anthropogenic Global Warming'?
The secret emails of the CRU have got a LOT of attention in the press by now. Even the NYT has weighed in, contrary to its usual practice of ignoring news it doesn't like. So it is difficult to know what to reproduce here but I have chosen two pieces below -- JR
By James Delingpole
If you own any shares in alternative energy companies I should start dumping them NOW. The conspiracy behind the Anthropogenic Global Warming myth (aka AGW; aka ManBearPig) has been suddenly, brutally and quite deliciously exposed after a hacker broke into the computers at the University of East Anglia's Climate Research Unit (aka Hadley CRU) and released 61 megabites of confidential files onto the internet. (Hat tip: Watts Up With That)
When you read some of those files – including 1079 emails and 72 documents – you realise just why the boffins at Hadley CRU might have preferred to keep them confidential. As Andrew Bolt puts it, this scandal could well be "the greatest in modern science". These alleged emails – supposedly exchanged by some of the most prominent scientists pushing AGW theory – suggest: " Conspiracy, collusion in exaggerating warming data, possibly illegal destruction of embarrassing information, organised resistance to disclosure, manipulation of data, private admissions of flaws in their public claims and much more."
One of the alleged emails has a gentle gloat over the death in 2004 of John L Daly (one of the first climate change sceptics, founder of the Still Waiting For Greenhouse site), commenting: "In an odd way this is cheering news."
But perhaps the most damaging revelations – the scientific equivalent of the Telegraph's MPs' expenses scandal – are those concerning the way Warmist scientists may variously have manipulated or suppressed evidence in order to support their cause. Here are a few tasters. (So far, we can only refer to them as alleged emails because – though Hadley CRU's director Phil Jones has confirmed the break-in to Ian Wishart at the Briefing Room – he has yet to fess up to any specific contents.) But if genuine, they suggest dubious practices such as:
Manipulation of evidence: "I've just completed Mike's Nature trick of adding in the real temps to each series for the last 20 years (ie from 1981 onwards) amd from 1961 for Keith's to hide the decline."
Private doubts about whether the world really is heating up: "The fact is that we can't account for the lack of warming at the moment and it is a travesty that we can't. The CERES data published in the August BAMS 09 supplement on 2008 shows there should be even more warming: but the data are surely wrong. Our observing system is inadequate."
Suppression of evidence: "Can you delete any emails you may have had with Keith re AR4? Keith will do likewise. He's not in at the moment – minor family crisis. Can you also email Gene and get him to do the same? I don't have his new email address. We will be getting Caspar to do likewise."
Fantasies of violence against prominent Climate Sceptic scientists: "Next time I see Pat Michaels at a scientific meeting, I'll be tempted to beat the crap out of him. Very tempted."
Attempts to disguise the inconvenient truth of the Medieval Warm Period (MWP): "……Phil and I have recently submitted a paper using about a dozen NH records that fit this category, and many of which are available nearly 2K back–I think that trying to adopt a timeframe of 2K, rather than the usual 1K, addresses a good earlier point that Peck made w/ regard to the memo, that it would be nice to try to "contain" the putative "MWP", even if we don't yet have a hemispheric mean reconstruction available that far back…."
And, perhaps most reprehensibly, a long series of communications discussing how best to squeeze dissenting scientists out of the peer review process. How, in other words, to create a scientific climate in which anyone who disagrees with AGW can be written off as a crank, whose views do not have a scrap of authority: "This was the danger of always criticising the skeptics for not publishing in the "peer-reviewed literature". Obviously, they found a solution to that–take over a journal! So what do we do about this? I think we have to stop considering "Climate Research" as a legitimate peer-reviewed journal. Perhaps we should encourage our colleagues in the climate research community to no longer submit to, or cite papers in, this journal. We would also need to consider what we tell or request of our more reasonable colleagues who currently sit on the editorial board…What do others think?" "I will be emailing the journal to tell them I'm having nothing more to do with it until they rid themselves of this troublesome editor.""It results from this journal having a number of editors. The responsible one for this is a well-known skeptic in NZ. He has let a few papers through by Michaels and Gray in the past. I've had words with Hans von Storch about this, but got nowhere. Another thing to discuss in Nice!"
Hadley CRU has form in this regard. In September – I wrote the story up here as "How the global warming industry is based on a massive lie" – Hadley CRU's researchers were exposed as having "cherry-picked" data in order to support their untrue claim that global temperatures had risen higher at the end of the 20th century than at any time in the last millenium. Hadley CRU was also the organisation which – in contravention of all acceptable behaviour in the international scientific community – spent years withholding data from researchers it deemed unhelpful to its cause. This matters because Hadley CRU, established in 1990 by the Met Office, is a government-funded body which is supposed to be a model of rectitude. Its HadCrut record is one of the four official sources of global temperature data used by the IPCC.
I asked in my title whether this will be the final nail in the coffin of Anthropenic Global Warming. This was wishful thinking, of course. In the run up to Copenhagen, we will see more and more hysterical (and grotesquely exaggerated) stories such as this in the Mainstream Media. And we will see ever-more-virulent campaigns conducted by eco-fascist activists, such as this risible new advertising campaign by Plane Stupid showing CGI polar bears falling from the sky and exploding because kind of, like, man, that's sort of what happens whenever you take another trip on an aeroplane.
The world is currently cooling; electorates are increasingly reluctant to support eco-policies leading to more oppressive regulation, higher taxes and higher utility bills; the tide is turning against Al Gore's Anthropogenic Global Warming theory. The so-called "sceptical" view is now also the majority view.
Unfortunately, we've a long, long way to go before the public mood (and scientific truth) is reflected by our policy makers. There are too many vested interests in AGW, with far too much to lose either in terms of reputation or money, for this to end without a bitter fight. But if the Hadley CRU scandal is true,it's a blow to the AGW lobby's credibility which is never likely to recover.
SOURCE
The Warmist conspiracy: the emails that most damn Jones
An excerpt from Andrew Bolt's latest comment:
These are the emails that should have Professor Phil Jones most worried about his future. Jones, head of the CRU unit whose emails were leaked, has been under most fire so far over one email in particular in which he boasted of using a '"trick" to "hide the decline" that would have otherwise spoiled his graph showing temperatures soaring ever-upward.
But far more serious - at least in a legal sense - may be his apparent boasting of destroying data to stop sceptics from checking this alarmist work. If, as some emails suggest, he destroyed it to thwart FOI requests from Professor Ross McKitrick and Steve McIntyre, who'd already exposed as fake the Michael Mann "hockey stick", Jones, one of the most active of the IPCC lead authors, could even face criminal charges.
(Note: in saying that, I should add that these emails may simply be poorly worded, out of context or even altered by the whistleblower who leaked them. Jones may also not knowingly have done anything wrong, and there is no proof that he did anything against the law. UPDATE: Several updates on Jones below, including his "selfish" wish to see global warming "regardless of the consequences" just to be proved right.)
Whether laws were broken or not, the emails prove beyond doubt how resistant Jones and his colleagues were to having their work properly scrutinised by anyone not of their "team". No wonder, perhaps, when the documents reveal Jones has so far attracted $25 million in grants.)
The most damning emails on this point are the following, starting with 1107454306.txt, in which Jones refers to MM - McIntyre and McKitrick:
At 09:41 AM 2/2/2005, Phil Jones wrote:

Mike, I presume congratulations are in order - so congrats etc !

Just sent loads of station data to Scott. Make sure he documents everything better this time! And don't leave stuff lying around on ftp sites - you never know who is trawling them. The two MMs have been after the CRU station data for years. If they ever hear there is a Freedom of Information Act now in the UK, I think I'll delete the file rather than send to anyone. Does your similar act in the US force you to respond to enquiries within 20 days? - our does! The UK works on precedents, so the first request will test it. We also have a data protection act, which I will hide behind. Tom Wigley has sent me a worried email when he heard about it - thought people could ask him for his model code. He has retired officially from UEA so he can hide behind that. IPR should be relevant here, but I can see me getting into an argument with someone at UEA who'll say we must adhere to it !
Jones admits he was warned by his own university against deleting data subjected to an FOI request from McIntyre - or anyone:
From: Phil Jones

To: santer1@XXXX

Subject: Re: A quick question

Date: Wed Dec 10 10:14:10 2008

Ben,

Haven't got a reply from the FOI person here at UEA. So I'm not entirely confident the numbers are correct. One way of checking would be to look on CA, but I'm not doing that. I did get an email from the FOI person here early yesterday to tell me I shouldn't be deleting emails - unless this was 'normal' deleting to keep emails manageable! McIntyre hasn't paid his £10, so nothing looks likely to happen re his Data Protection Act email.

Anyway requests have been of three types - observational data, paleo data and who made IPCC changes and why. Keith has got all the latter - and there have been at least 4. We made Susan aware of these - all came from David Holland. According to the FOI Commissioner's Office, IPCC is an international organization, so is above any national FOI. Even if UEA holds anything about IPCC, we are not obliged to pass it on, unless it has anything to do with our core business - and it doesn't! I'm sounding like Sir Humphrey here!
Makes you wonder very strongly what Jones is trying to hide, doesn't it? Also makes you laugh all over again at his claim once that the data being sought had, sadly, been ... um, lost.
In1212063122.txtm, Jones urges another colleague, Michael "Hockey Stick", Mann, to join in the deleting - at least of emails about the IPCC's controversial ARA report on man-made warming which Jones co-authored, and which claimed warming was "unequivocal" and "most likely" caused by humans:
From: Phil Jones To: "Michael E. Mann"

Subject: IPCC & FOI

Date: Thu May 29 11:04:11 2008

Mike,

Can you delete any emails you may have had with Keith re AR4?

Keith will do likewise. He's not in at the moment - minor family crisis.

Can you also email Gene and get him to do the same? I don't have his new email address.

We will be getting Caspar to do likewise.

I see that CA claim they discovered the 1945 problem in the Nature paper!!

Cheers

Phil:
For years Jones has made clear his determination to keep crucial data from the eyes of sceptics:
From: Phil Jones To: mann@xxx.edu

Subject: Fwd: CCNet: PRESSURE GROWING ON CONTROVERSIAL RESEARCHER TO DISCLOSE SECRET DATA

Date: Mon Feb 21 16:28:32 2005

Cc: "raymond s. bradley" , "Malcolm Hughes"

Mike, Ray and Malcolm,

The skeptics seem to be building up a head of steam here ! Maybe we can use this to our advantage to get the series updated !

Odd idea to update the proxies with satellite estimates of the lower troposphere rather than surface data !. Odder still that they don't realise that Moberg et al used the Jones and Moberg updated series !

Francis Zwiers is till onside. He said that PC1s produce hockey sticks. He stressed that the late 20th century is the warmest of the millennium, but Regaldo didn't bother with that. Also ignored Francis' comment about all the other series looking similar to MBH.

The IPCC comes in for a lot of stick. Leave it to you to delete as appropriate !

Cheers

Phil

PS I'm getting hassled by a couple of people to release the CRU station temperature data.

Don't any of you three tell anybody that the UK has a Freedom of Information Act!
And when Jones is really forced to the point of handing over his data, he considers ways to may checking it more difficult or annoying:
Options appear to be:

Send them the data

Send them a subset removing station data from some of the countries who made us pay in the normals papers of Hulme et al. (1990s) and also any number that David can remember. This should also omit some other countries like (Australia, NZ, Canada, Antarctica). Also could extract some of the sources that Anders added in (31-38 source codes in J&M 2003). Also should remove many of the early stations that we coded up in the 1980s.

Send them the raw data as is, by reconstructing it from GHCN. How could this be done? Replace all stations where the WMO ID agrees with what is in GHCN. This would be the raw data, but it would annoy them.
But Jones figures a way out:
At 04:53 AM 5/9/2008, you wrote:

Mike, Ray, Caspar,

A couple of things - don't pass on either…

2. You can delete this attachment if you want. Keep this quiet also, but this is the person who is putting in FOI requests for all emails Keith and Tim have written and received re Ch 6 of AR4. We think we've found a way around this…

This message will self destruct in 10 seconds!

Cheers

Phil

Prof. Phil Jones
More
HERE
WHY NASA SHOULD CLEAN UP ITS OWN HOUSE
NASA's rocket scientists have been debunking on their official website the current "end of the world" hysteria generated by the latest Hollywood Armageddon movie -- 2012. In an alternately serious and mocking entry titled "No, The World Isn't Going to End in 2012" at www.nasa.gov, they explain that no, come Dec. 21, 2012, the supposed end of the Mayan calendar, the world isn't going to be destroyed by (a) unusual solar activity, the theory in 2012, or (b) getting clobbered by another planet -- another popular scenario.
Now, if only NASA's space cadets could get their own doomsday climatologist -- James Hansen, director of NASA's Goddard Institute for Space Studies -- to stop preaching end-of-the-world hysteria about man-made global warming, they might do some good.
Because as long as Hansen, one of Al Gore's senior scientific advisers on An Inconvenient Truth (enough said) and the first climatologist to start banging the Armageddon drum on global warming 20 years ago, keeps racing around the world hysterically preaching we only have a few years left to save the Earth -- his latest number is four, according to a recent interview with the Sunday Observer -- NASA will remain a maze of contradictions, hypocrisy and unintentional irony.
If you look at the movie trailers for An Inconvenient Truth and 2012 on the Internet, you'll see both used many of the same marketing techniques to scare the bejeebers out of everyone in hopes of getting them to buy a ticket -- pounding, ominous music and narration and scary slogans overlaid with scenes of destruction -- some of which, even in the "documentary" An Inconvenient Truth, are imaginary.
In debunking that the world is about to end -- which NASA said it did because it was getting so many inquiries about 2012 -- Don Yeomans, senior research scientist, writes: "Incorrect doomsday predictions have taken place several times in each of the past several centuries. Readers should bear in mind what Carl Sagan noted several years ago; 'extraordinary claims require extraordinary evidence.' " Indeed.
NASA scientist, David Morrison, who posted a YouTube video on the 2012 controversy, is quoted in the New York Times saying he did it because: "I get angry at the way people are being manipulated and frightened to make money. There is no ethical right to frighten children to make a buck." In his video, Morrison said some young people who contacted NASA were so scared, they were contemplating suicide.
Right. NASA, heal thyself.
Hansen, who once charged the Bush administration with silencing him -- which obviously didn't work because he never shuts up -- has been preaching environmental Armageddon for years, albeit, he would say, not to make money, but to save the planet for his grandchildren. And unlike the makers of 2012, he believes his rhetoric.
Which would be fine if Hansen -- whose views are extreme even for a climate scientist -- was speaking as a private citizen. But how does a NASA "scientist" get to run around preaching democracy isn't working, get arrested for civil disobedience and lecture the U.S. Congress that energy company executives should be tried for "high crimes" against humanity?
If NASA is so concerned about hysterical claims of Armageddon scaring children, it should worry less about science-fiction movies and more about cleaning up its own house. As for 2012, that's when the Kyoto accord expires. Not the Earth.
SOURCE
Greenies partly responsible for British flood disaster
And they're not repentant. People are disposable
Furious Cockermouth residents have complained that fears over disturbing salmon spawning has made the flooding problem far worse this year. Residents had called for the river bed to be dug into by 10ft in order to prevent flooding following discussions about the problem with the authorities earlier this year. But they claim their plan was rejected by the Environment Agency because it would interfere with salmon laying their eggs in the River Derwent.
Today residents reacted with fury and complained that the authorities are treating salmon as being 'more important than people.' Jacqui White, Gote Road, Cockermouth, said: 'I attended a meeting with Natural England earlier this year when we told them we wanted to dig 10ft deeper so that the waters wouldn't flood and alleviate any flooding. 'But the officials there stood up and told the meeting that the salmon in the river were more important.' Jacqui added: 'I've been here 16 years. I know the area is prone to flooding, and it was bad in 2005, but this year is definitely the worst."
Fiona Tunstall, 38, was left in tears after her terraced home was flooded in Gote Road yesterday. She said: 'The authorities seem to think salmon is more important than people and their houses.' 'The residents of this street had a meeting with Natural England and other authorities because they wanted to dig 10ft down into the riverbed around this street. 'Natural England wouldn't let them because would be detrimental to salmon to do that.
'If it had been dug, then maybe we wouldn't be in this mess now. 'My kitchen and living room are under about 4ft of water yesterday. My carpets, and my sofa and everything else are under water now. 'We have lost everything. 'My four-year-old Ryan, just cried and cried. 'I don't know what we are going to do. We'll have no electricity and no water, I don't know how I'm going to feed us. 'Something needs to be done. It's ridiculous. I've got not contents insurance. 'I'm so angry with the Environment Agency. They didn't contact me even though I gave them my phone numbers ages ago. I gave them that because they give you a phone call or a text to warn you your house is under threat, but obviously I never got that. 'I don't want to go back to my house.'
Maggie Robinson, Natural's England's Freshwater Advisor for the North West Region, said: 'The River Derwent has been designated as a site of special scientific interest and an important area of conservation. 'It's one of the most important rivers of its kind in Europe. 'It has some of the rarest species of fish in Europe, the river has Atlantic salmon and three different species of lamprey. 'The river, although being nutrient poor, supports some important species of moss and other river fauna.
'Digging into the bed of a river isn't always the best thing to do because it can undermine the channel and riverbed which can cause more deposition cause problems. 'Atlantic salmon are considered throughout Europe to be rare. Salmon dig into reeds in the gravel on the riverbed and they lay their eggs in the reeds.
SOURCE
Australia: Conservative politicians are "coming out" over their disbelief in global warming
The Libs' Senate leader is encouraging climate sceptics to speak out. Nick Minchin, the Liberals' Senate leader, is playing a very edgy political game as he tries - in a direct challenge to Malcolm Turnbull - to get the Opposition to vote down the emissions trading scheme. It's high risk for Turnbull, Minchin and the Liberals. Minchin is openly rejecting the science on climate and encouraging other Liberal sceptics to speak out. This is audacious behaviour by the fourth most-senior person in the Opposition, who's in the leadership group.
But it seems likely Minchin, chief of the Liberals' conservative wing, is more in tune than Turnbull with the party's grassroots. Sources report the rank and file has become more critical of the ETS in the past three months, and Minchin's outspoken comments have been getting positive feedback.
The obvious downside for Turnbull is that his pro-ETS view has become increasingly out of sync with the membership (which, of course, should not be equated with the public). However unhelpful Minchin's comments, he's reprising views he expressed in the Howard years. By 2007, the then prime minister, previously himself a sceptic, had shifted, in the desperate hope of getting some ''cred'' on climate, and the government started to look to an ETS.
But Minchin, though government Senate leader, was having none of it. Saying ''scepticism is one of the all-time great Australian attributes'', he told The Age's Katharine Murphy the science of global warming wasn't settled, and ''to have some Mickey Mouse thing in Australia might make some people feel good but will do nothing for emissions and it will hurt the Australian economy''.
If a greater cause demands, he can, however, be flexible on the issue. When in July last year Turnbull and environment spokesman Greg Hunt were trying to stop then Opposition leader Brendan Nelson moving to the right on emissions trading, Minchin backed the Turnbull-Hunt line, presumably fearing that if they were thwarted, the leadership of Nelson, who he supported, would be undermined (it was anyway, even though Nelson gave in).
Minchin is one of the most experienced and savvy Liberal MPs. He is also among the toughest factional warriors, and yesterday was accused by moderate Liberal backbencher Mal Washer of using the climate change issue to pursue the factional war between conservatives and small-l liberals in the party.
In personal style, Minchin is friendly, relaxed and open (perhaps partly because he was always around journalists - his mother was in the federal parliamentary press gallery; his wife worked in The Age's Canberra bureau before their marriage). But in views he's an ideologue, with strong stands on issues ranging well beyond climate. When Howard in 2006 was trying to reassure people he wouldn't bring in even more severe industrial relations changes after WorkChoices, Minchin was caught on tape advocating another wave of reform. He has also championed unfashionable causes such as voluntary voting.
As the emissions trading issue inches towards its dangerous climax, Minchin seems emboldened.
He said last month that even if the Government met all the Opposition's demands, there was no guarantee the party room would approve the legislation (which begged the question of why you'd bother with negotiations).
Then last week came Four Corners, where Minchin said a majority of the Liberal Party wouldn't accept the position that humans were the main cause of global warming; it would be difficult for Coalition members to vote for the scheme, he said.
Addressing the Senate yesterday, Minchin began by congratulating Nationals Senate leader Barnaby Joyce (who won't vote for the scheme in any circumstances) for his ''erudite contribution to this debate''.
In interviews this week, Minchin did not take a backward step. But he insisted it was not about Turnbull's leadership. At one level this might be correct, despite Minchin battling to keep Turnbull out of the leadership after the last election, and later attempting to prop up the failing Nelson. Joe Hockey, the most likely alternative, is a left-winger; his views on climate would be no more acceptable to Minchin than Turnbull's. Minchin would find Tony Abbott's opinions congenial, but knows Abbott lacks one vital attribute - numbers.
Minchin is not, however, going to do Turnbull any favours or worry excessively if his in-your-face campaign against the legislation undermines Turnbull, who has declared that having a credible climate policy is for him a leadership issue.
The tough line taken by Minchin is empowering other hardliners. Earlier, it was thought most critics would be inclined to roll over if they didn't have the numbers. Now their behaviour is unpredictable, which means that if Turnbull gets party support for a deal, the number of Liberals crossing the floor in the Senate could be quite large, putting up in lights how split the party has become.
The irony would be that Minchin, bound by shadow cabinet solidary, would be forced into formal lockstep with his leader.
SOURCE
***************************************
For more postings from me, see DISSECTING LEFTISM, TONGUE-TIED, EDUCATION WATCH INTERNATIONAL, POLITICAL CORRECTNESS WATCH, FOOD & HEALTH SKEPTIC, GUN WATCH, SOCIALIZED MEDICINE, AUSTRALIAN POLITICS, IMMIGRATION WATCH INTERNATIONAL and EYE ON BRITAIN. My Home Pages are here or here or here. Email me (John Ray) here. For readers in China or for times when blogger.com is playing up, there are mirrors of this site here and here
*****************************************
21 November, 2009
Floods hit UK as nation suffers heaviest rain on record
Warmists assured us for years that global warming would bring drought, so this proves ...?
The full and devastating impact of England's worst recorded day of rain was still emerging today as tributes were paid to a policeman swept away by floodwaters while trying to save others. PC Bill Barker was helping motorists stranded on a bridge over the Derwent in the Cumbrian town of Workington when it collapsed. His body was discovered hours later on a nearby beach.
The Environment Agency said that the flooding across the region was so severe that such an event was likely to happen once in 1000 years. The rainfall, on to an already saturated terrain, was the highest level measured in England since records began.
Meteorologists recorded 314mm of rain in 24 hours and flood warnings remained in place across the North West of England, parts of Wales, Scotland and Northern Ireland.
The bridge from which PC Barker fell to his death was one of at least four to be washed away. Cumbria County Council issued a warning to motorists and pedestrians to avoid using such crossings as they could be extremely dangerous. Hundreds of homes and businesses were evacuated, many of them ruined by floodwater and mud.
Emergency services continued to rescue those still trapped overnight. They urged anyone who had gone to see the destruction for themselves to leave because their vehicles were blocking roads and hampering efforts to reach the worst-hit areas.
The rescue operation continued overnight in Cockermouth, the town worst hit by the flooding, with people being winched to safety. The two rivers that run through the town burst their banks, blocking roads and forcing more than 200 people to be helped to safety.
SOURCE
Hadley hacked: warmist conspiracy exposed?
Andrew Bolt below digs in to the deliberate fraud exposed in the released emails from Britain's premier climate "science" organization. The post is a long one so I reproduce only the opening blast below. I have however also posted a copy of the whole thing here, "just in case"
8.15 PM UPDATE:
The Hadley CRU director admits
the emails seem to be genuine
:
The director of Britain's leading Climate Research Unit, Phil Jones, has told Investigate magazine's TGIF Edition tonight ..."It was a hacker. We were aware of this about three or four days ago that someone had hacked into our system and taken and copied loads of data files and emails."…

TGIF asked Jones about the controversial email discussing "hiding the decline", and Jones explained what he was trying to say….
So the 1079 emails and 72 documents seem indeed evidence of a scandal involving most of the
most prominent scientists
pushing the man-made warming theory - a scandal that is one of the greatest in modern science. I've been adding some of the most astonishing in updates below - emails suggesting conspiracy, collusion in exaggerating warming data, possibly illegal destruction of embarrassing information, organised resistance to disclosure, manipulation of data, private admissions of flaws in their public claims and much more. If it is as it now seems, never again will "peer review" be used to shout down sceptics.
This is clearly not the work of some hacker, but of an insider who's now blown the whistle. Not surprising, then, that Steve McIntyre reports:
Earlier today, CRU cancelled all existing passwords. Actions speaking loudly.
But back to the original post - and the most astonishing of the emails so far…
***************
Hackers have broken into the database of the Hadley GRU unit - one of the world's leading alarmist centres - and put
the files they stole on the Internet
, on the grounds that
the science is too important to be kept under wraps
.
The ethics of this are dubious
, to say the least
. But
the files suggest
, on a very preliminary glance,
some other very dubious practices, too
, and a lot of collusion - sometimes called "peer review". Or
even conspiracy
.
A warning, of course. We can only say with a 90 per cent confidence interval that these emails are real.
(ALTERNATIVE
link
to the files. And
another link
.)
UPDATE
Ethics alert! (my bolding - and I've update this post with the full alleged email, now):
From: Phil Jones

To: ray bradley ,mann@XXXX, mhughes@XXXX

Subject: Diagram for WMO Statement

Date: Tue, 16 Nov 1999 13:31:15 +0000

Dear Ray, Mike and Malcolm,

Once Tim's got a diagram here we'll send that either later today or first thing tomorrow.

I've just completed Mike's Nature trick of adding in the real temps to each series for the last 20 years (ie from 1981 onwards) amd from 1961 for Keith's to hide the decline. Mike's series got the annual land and marine values while the other two got April-Sept for NH land N of 20N. The latter two are real for 1999, while the estimate for 1999 for NH combined is +0.44C wrt 61-90. The Global estimate for 1999 with data through Oct is +0.35C cf. 0.57 for 1998.

Thanks for the comments, Ray.

Cheers

Phil

Prof. Phil Jones

Climatic Research Unit Telephone XXXX

School of Environmental Sciences Fax XXXX

University of East Anglia

Norwich .
Nice. This could be fun.
UPDATE 2
Surely these emails can't be genuine. Surely the world's most prominent alarmist scientists aren't secretly exchanging emails like this, admitting privately they can't find the warming they've been so loudly predicting?:


From: Kevin TrenberthTo: Michael MannSubject: Re: BBC U-turn on climateDate: Mon, 12 Oct 2009 08:57:37 -0600Cc: Stephen H Schneider , Myles Allen , peter stott , "Philip D. Jones" , Benjamin Santer , Tom Wigley , Thomas R Karl , Gavin Schmidt , James Hansen , Michael Oppenheimer

Hi all

Well I have my own article on where the heck is global warming ? We are asking that here in Boulder where we have broken records the past two days for the coldest days on record. We had 4 inches of snow. The high the last 2 days was below 30F and the normal is 69F, and it smashed the previous records for these days by 10F. The low was about 18F and also a record low, well below the previous record low.

This is January weather (see the Rockies baseball playoff game was canceled on saturday and then played last night in below freezing weather).

Trenberth, K. E., 2009: An imperative for climate change planning: tracking Earth's global energy. Current Opinion in Environmental Sustainability, 1, 19-27, doi:10.1016/j.cosust.2009.06.001. [1][PDF] (A PDF of the published version can be obtained from the author.)***

The fact is that we can't account for the lack of warming at the moment and it is a travesty that we can't. The CERES data published in the August BAMS 09 supplement on 2008 shows there should be even more warming: but the data are surely wrong. Our observing system is inadequate.***
This
has
to be a forgery, surely. Because if it isn't, we're about to see the unpicking of a huge scandal. I mean, the media
will
follow this up, right? In the meantime, use with care.
Much more
here
Meteorologists' climate change survey
Published in the October 2009 issue of "Bulletin of the American Meteorological Society" (BAMS), a new survey indicates that a significant number of professional meteorologists doubt that manmade sources of greenhouse gases are the cause of global warming. The survey was vetted by an advi­sory board of climate experts, including representatives from NOAA, the NWS, UCAR, the Environmental Protection Agency, the Pew Center for Global Climate Change, and many members of the AMS.
Meteorologists' climate change survey results:
* When asked about the UN's Intergovernmental Panel on Climate Change's (IPCC) statement that "Most of the warming since 1950 is very likely human-induced," a full 50% either disagreed or strongly disagreed. 25% were neutral and only 24% said they agreed or strongly agreed;
* 52% of the meteorologists disagreed with the statement that "Global climate models are reliable in their projections for a warming of the planet." Only 19% agreed with the statement;
* Almost a third of respondents agreed (19%) or strongly agreed (10%) that "global warm­ing is a scam";
* When the meteorologists were asked to identify the "greatest obstacle to reporting on climate change," their top answer (41%) was "too much scientific uncertainty."
The credibility of global warming theories (and fear-mongering theorists) and any international climate controls are fading with each passing day. Each day another nail is prudently driven into the coffin of proposed U.S. climate legislation such as the Waxman-Markey and Kerry-Boxer Bills.
SOURCE
Climatologists Baffled by Global Warming Time-Out
From the mainstream German magazine "Spiegel"
Climatologists use their computer models to draw temperature curves that continue well into the future. They predict that the average global temperature will increase by about three degrees Celsius (5.4 degrees Fahrenheit) by the end of the century, unless humanity manages to drastically reduce greenhouse gas emissions. However, no one really knows what exactly the world climate will look like in the not-so-distant future, that is, in 2015, 2030 or 2050.
This is because it is not just human influence but natural factors that affect the Earth's climate. For instance, currents in the world's oceans are subject to certain cycles, as is solar activity. Major volcanic eruptions can also curb rising temperatures in the medium term. The eruption of Mount Pinatubo in June 1991, for example, caused world temperatures to drop by an average of 0.5 degrees Celsius, thereby prolonging a cooler climate phase that had begun in the late 1980s.
But the Mount Pinatubo eruption happened too long ago to be related to the current slowdown in global warming. So what is behind this more recent phenomenon?
The fact is that the sun is weakening slightly. Its radiation activity is currently at a minimum, as evidenced by the small number of sunspots on its surface. According to calculations performed by a group of NASA scientists led by David Rind, which were recently published in the journal Geophysical Research Letters, this reduced solar activity is the most important cause of stagnating global warming.
Latif, on the other hand, attributes the stagnation to so-called Pacific decadal oscillation (PDO). This phenomenon in the Pacific Ocean allows a larger volume of cold deep-sea water to rise to the surface at the equator. According to Latif, this has a significant cooling effect on the Earth's atmosphere.
With his team at the Leibniz Institute of Marine Sciences, Latif has been one of the first to develop a model to create medium-term prognoses for the next five to 10 years. "We are slowly starting to attempt (such models)," says Marotzke, who is also launching a major project in this area, funded by the Federal Ministry for Research and Technology.
Despite their current findings, scientists agree that temperatures will continue to rise in the long term. The big question is: When will it start getting warmer again?
If the deep waters of the Pacific are, in fact, the most important factor holding up global warming, climate change will remain at a standstill until the middle of the next decade, says Latif. But if the cooling trend is the result of reduced solar activity, things could start getting warmer again much sooner. Based on past experience, solar activity will likely increase again in the next few years.
SOURCE
Revenge of the Climate Laymen
Global warming's most dangerous apostate speaks out about the state of climate change science
Barack Obama conceded over the weekend that no successor to the Kyoto Protocol would be signed in Copenhagen next month. With that out of the way, it may be too much to hope that the climate change movement take a moment to reflect on the state of the science that is supposedly driving us toward a carbon-neutral future.
But should a moment for self-reflection arise, campaigners against climate change could do worse than take a look at the work of Stephen McIntyre, who has emerged as one of the climate change gang's Most Dangerous Apostates. The reason for this distinction? He checked the facts.
The retired Canadian businessman, whose self-described "auditing" a few years ago prompted a Congressional review of climate science, has once again thrown EnviroLand into a tailspin. In September, he revealed that a famous graph using tree rings to show unprecedented 20th century warming relies on thin data. Since its publication in 2000, University of East Anglia professor Keith Briffa's much-celebrated image has made star appearances everywhere from U.N. policy papers to activists' posters. Like other so-called "hockey stick" temperature graphs, it's an easy sell —one look and it seems Gadzooks! We're burning ourselves up! "It was the belle of the ball," Mr. McIntyre told me on a recent phone call from Ontario. "Its dance card was full."
At least until Mr. McIntyre reported that the modern portion of that graph, which shows temperatures appearing to skyrocket in the last 100 years, relies on just 12 tree cores in Russia's Yamal region. When Mr. McIntyre presented a second graph, adding data from 34 tree cores from a nearby site, the temperature spike disappears.
Mr. Briffa denounces Mr. McIntyre's work as "demonstrably biased" because it uses "a narrower area and range of sample sites." He says he and his colleagues have now built a new chronology using still more data. Here, as in similar graphs by other researchers, the spike soars once again. Mr. McIntyre's "work has little implication for our published work or any other work that uses it," Mr. Briffa concludes.
He and his colleagues may well ignore Mr. McIntyre, but the rest of us shouldn't. While Mr. McIntyre's image may use data from fewer sites, it still has nearly three times as many tree cores representing the modern era as Mr. Briffa's original.
Yet Mr. McIntyre is first to admit his work is no bullet aimed at the heart of the theory of man-made climate change. Rather, his work —chronicled in papers co-written with environmental economist Ross McKitrick and more than 7,000 posts on his Climateaudit.org Weblog— does something much more important: It illustrates the uncertainty of a science presented as so infallible as to justify huge new taxes on rich countries along with bribes to poor ones in order to halt their fossil-fueled climbs to prosperity. Mr. McIntyre offers what many in the field do not: rigor.
It all started in 2002 when—as many might given the time and Mr. McIntyre's mathematics background —he decided to verify for himself the case for action on climate change. "It was like a big crossword puzzle," he told me. "Business was a bit slow at the time, so I started reading up."
Prior to the Briffa graph revelation, he had also caught a statistical error that undercut another exalted "hockey stick" graph prominently featured by the U.N.'s Intergovernmental Panel on Climate Change or IPCC, this one by Michael Mann, head of Pennsylvania State University's Earth System Science Center.
Alerts about review boards' seemingly lax standards litter his blog, highlighting in particular the IPCC, which has used both the Mann and Briffa graphs in its reports. In 2007, Mr. McIntyre found a technical gaffe that forced NASA to correct itself and admit that 1934, not 1998, was the warmest year recorded in the continental U.S.
"At the beginning I innocently assumed there would be due diligence for all this stuff. … So often my mouth would drop, when I realized no one had really looked into it." Even more innocently, he assumed the billion-dollar climate change industry would welcome his untrained but painstaking work. Instead, Mr. McIntyre is subjected to every kind of venom—that he must be funded by Big Oil, by Big Business, by Some Texan Somewhere. For the record, the 62-year-old declares himself "past my best-by date, operating on my own nickel."
James Hansen, the director of NASA's Goddard Institute, has dismissed him as a "court jester." Mr. Mann replied to an emailed query about Mr. McIntyre by decrying "every specious contrarian claim and innuendo against me, my colleagues, and the science of climate change itself." Others are more thick-skinned: "You mention his name in my community, people just smile. It's a one-liner to get a laugh out of a group of climate scientists," affirms Stanford University's Stephen Schneider.
One wonders what is so funny, when it is not only the Canadian hobbyist fueling skepticism, but also figures from the U.S. National Snow and Ice Data Center that now show thickening Arctic ice; from the U.K. Met (Meteorological) Office showing falling temperatures that contradict modeling predictions; and other studies that suggest natural factors in climate change are being dramatically underestimated.
Climatologists say they will only take Mr. McIntyre seriously if he creates his own temperature reconstructions and submits them for peer review. But the best science should stand up even to outside scrutiny. And if Mr. McIntyre has a credibility problem with climatologists, climatologists' predictions are increasingly viewed skeptically by the public.
A Pew report last month revealed that the number of Americans who believe humans are causing climate change has dropped 11 percentage points in the last 18 months to 36%; that the number who feel there is solid evidence that the earth is warming has fallen by 14 points to 57%; and that those who think the issue is "very serious" has sunk nine points to 35%.
Mr. McIntyre declares no interest in debunking The Theory in toto, nor in discouraging efficient energy use. His blog will disappoint those seeking anything more political than technical analyses.
In fairness, researchers are far from the loudest voices telling "skeptics" like Mr. McIntyre to sit down, shut up and surrender their lightbulbs without further question— that megaphone belongs to the politicians and activists pushing centrally-planned economies in the name of saving the Earth. Here, we see that contempt for laymen is not universal: Al Gore's ignorance is happily overlooked given his power to push billions in research funding. The same goes for Barack Obama, Leonardo DiCaprio, and everyone else declaring "the debate is over."
I asked 10 climatologists what they thought was the most reliable method of predicting climate, and got nearly as many answers. People in the field compare climate studies to health studies —another complex mechanism with uncontrollable factors, where best practices will always be debated.
Climate researchers know their prescriptions don't carry the certainty laymen assume from that which is labeled "science," yet most shy from a straightforward account of this uncertainty. "Methods certainly need to be continually refined and improved. I doubt that anyone in the paleoclimate community would disagree with that," says Rob Wilson of the University of St. Andrews's School of Geography and Geosciences. "However, can the nuances of methodological developments be communicated to the laymen —and would they want to know? I do not think this would help." Maybe not, but letting people feel duped by hyperbole is proving even more harmful to the warmers' cause.
"I never said I was proving or disproving anything…. I just don't think we should be thanking the people who make it harder to find out what's true," Mr. McIntyre says. The climate establishment will probably never thank Mr. McIntyre, much less follow his example. The rest of us should do both.
SOURCE
Australian climate change negotiations hit stumbling block
CLIMATE change negotiations between the Rudd Government and the Opposition have hit a stumbling block just days before an agreement was to be taken to the Coalition party room.
But problems at the negotiating table are being dwarfed by the groundswell of climate-change sceptics and growing speculation that Malcolm Turnbull's leadership could be challenged by Liberal frontbencher Tony Abbott.
It comes as Liberal negotiator Ian Macfarlane, who met Climate Change Minister Penny Wong twice yesterday and will again tomorrow, has admitted for the first time he was facing hurdles. "It's (the negotiations) really got complicated," Mr Macfarlane told The Courier-Mail. "We've had a setback. But I remain optimistic." Mr Macfarlane would not delve into the specifics of the negotiating hurdle, although questions have been raised within Labor and Liberal circles as to how the Carbon Pollution Reduction Scheme could afford to have expensive amendments.
Mr Macfarlane has taken to the negotiating table five "buckets" with core issues. With agriculture sorted out late last week, it leaves Coalition demands for more money for electricity generators, big polluters, small-to-medium business and coal.
D-day is approaching for the Coalition, which wanted amendments presented to shadow cabinet on Monday. Mr Turnbull has said the Coalition would support amendments only if he had the majority support of the party room. There are only four sitting days left this year and the Government has demanded a vote be taken before Parliament rises.
Former Liberal MP Bruce Baird yesterday said Mr Abbott might have his eye on the top job, but a spokesman for Mr Abbott outrightly rejected any suggestion of a leadership challenge. Mr Turnbull would not answer questions about Mr Abbott, but on the CPRS said: "Our support for the Bill will depend on the outcome of these negotiations. "The idea that you take a unilateral view and either wave it through willy nilly or knock it back willy nilly regardless of how it might be amended, I don't take that view."
SOURCE
***************************************
For more postings from me, see DISSECTING LEFTISM, TONGUE-TIED, EDUCATION WATCH INTERNATIONAL, POLITICAL CORRECTNESS WATCH, FOOD & HEALTH SKEPTIC, GUN WATCH, SOCIALIZED MEDICINE, AUSTRALIAN POLITICS, IMMIGRATION WATCH INTERNATIONAL and EYE ON BRITAIN. My Home Pages are here or here or here. Email me (John Ray) here. For readers in China or for times when blogger.com is playing up, there are mirrors of this site here and here
*****************************************
20 November, 2009
Warmist secrecy cracked by hacker
Hadley CRU has apparently been hacked – hundreds of files released. The details on this are still sketchy, we'll probably never know what went on. But it appears that Hadley Climate Research Unit has been hacked and many many files have been released by the hacker or person unknown. I'm currently traveling and writing this from an aiprort, but here is what I know so far:
An unknown person put postings on some climate skeptic websites that advertsied an FTP file on a Russian FTP server, here is the message that was placed on the Air Vent today: "We feel that climate science is, in the current situation, too important to be kept under wraps. We hereby release a random selection of correspondence, code, and documents"
The file was large, about 61 megabytes, containing hundreds of files. It contained data, code, and emails from Phil Jones at CRU to and from many people. I've seen the file, it appears to be genuine and from CRU. Others who have seen it concur - it appears genuine. There are so many files it appears unlikely that it is a hoax. The effort would be too great.
More
HERE
Galileo silenced again
The American Geophysical Union is sending science back four hundred years
By: Willie Soon and David R. Legates
Four centuries ago, "heretics" who disagreed with religious orthodoxy risked being burned at the stake. Many were the dissenting views that could send offenders to a fiery end. In 1633, the astronomer Galileo Galilei may have come within a singed whisker of the same fate, for insisting that the sun (and not the Earth) was at the center of the solar system. In the end, he agreed to recant his "heresy" (at least publicly) and submit to living under house arrest until the end of his days. Growing evidence ultimately proved Galileo was right, and the controversy dissipated. Theology gave way to nature in determining the truth about nature.
We wish that were the case today. Unfortunately, lessons learned 400 years ago have yet to be adopted where the Church of Anthro-Climatism is involved. Burning dissenters at the stake may no longer be an option – perhaps because it would send prodigious quantities of carbon dioxide into the atmosphere. However, many other ingenious punishments are often meted out, to ensure that dissent is kept within "acceptable" limits, or dissenters no longer dissent.
Just recently, as scientists who specialize in environmental science, climatology, and solar variability, we welcomed the acceptance of our scientific session, Diverse Views from Galileo's Window: Researching Factors and Processes of Climate Change in the Age of Anthropogenic CO2. The session was to be hosted at the upcoming Fall 2009 Meeting of the American Geophysical Union (AGU) in San Francisco.
Our session was to focus on "knowledge that spans an extremely diverse range of expertise" and provides "an integrated assessment of the vast array of disciplines that affect and, in turn, are affected by the Earth's climate." Our ultimate goal was to stimulate discussion at this professional meeting, prior to the upcoming UN Intergovernmental Panel on Climate Change (IPCC) fifth assessment report.
We developed this session to honor the great tradition of science and scientific inquiry, as exemplified by Galileo when, 400 years ago this year, he first pointed his telescope at the Earth's moon and at the moons of Jupiter, analyzed his findings, and subsequently challenged the orthodoxy of a geocentric universe. Our proposed session was accepted by the AGU.
In response to its acceptance, we were joined by a highly distinguished group of scientists – including members of the National Academy of Sciences of the USA, France and China, as well as recipients of the AGU's own William Bowie, Charles Whitten and James MacElwane medals. Our participants faithfully submitted abstracts for the session.
But by late September, several puzzling events left us wondering whether the AGU truly serves science and environmental scientists – or simply reflects, protects and advances the political agendas of those who espouse belief in manmade CO2-induced catastrophic global warming.
On September 14, Dr. Nicola Scafetta of Duke University contacted us, to say the AGU had cancelled his previously-approved 12-paper session on Solar Variability and Its Effect on Climate Change, since it did not have enough papers. He asked if the papers from his session could be merged into our session; since they fit our theme well, we accepted his papers.
The merger was approved by the AGU Planning Committee. Thus our Galileo session now had grown to a total of 27 papers and was approved as a poster session at the Fall Meeting.
However, a few days later, after first approving our session and after we had assigned time slots for these new papers at AGU's request, the Planning Committee revoked its approval and summarily dissolved our session. Now the committee claimed our session was "thematically divergent," and divided the papers in our original session among six different sessions.
To cover its tracks, the committee created a new session called Diverse Views from Galileo's Window: Solar Forcing of Climate Change with 15 papers – including the 12 from Dr. Scafetta's original session that it had cancelled. That reduced the focus of this session to just solar forcing of climate, and eliminated discussions of the impact of anthropogenic CO2 that we had planned for our original session. The remaining papers from our cancelled session were moved to five other sessions, thereby undermining our original intent: comparing solar variability and manmade carbon dioxide as factors in planetary climate change.
In responding to us, the Planning Committee defended its actions by asserting: "none of [the papers in our session] have to do with the Galilean moons of Saturn [sic], which have to do with climate change or solar activity." That claim reflects either a poor grasp of our purpose or a failure to read our proposal – and leads the question, Why wasn't this issue raised when they originally decided to accept our session?
Our session proposal had clearly intended to honor Galileo's observations of Jupiter's (not Saturn's) moons, which had led him to challenge the orthodoxy of the geocentric universe. We wanted to highlight how current research into the climatic effects of anthropogenic CO2 is challenging the supposed "scientific consensus" that humans are causing catastrophic climate change.
This arbitrary dissolution of our original session has serious implications for proper scientific enquiry. Our request that the session be reinstated has gone unheeded, despite the fact that the AGU has reinstated at least one cancelled session in the past. We have repeatedly been told that the decisions of the Planning Committee are final, though it has made clearly contradictory decisions regarding our session.
Reduced sunspot activity and solar energy output, stable or even cooling planetary temperatures, concerns over the high cost of proposed cap-and-trade legislation, political developments in Washington and Copenhagen, and other factors have caused more people to question manmade global warming disaster claims. This has led to consternation among scientists and organizations that have supported those claims.
However, as scientists, we are profoundly concerned by this behavior from a professional society that is supposed to serve science and its members. The AGU certainly had the right to reject our proposed session at the outset or before the solar variability session was merged with it. But given the topic of our session and the good faith approach we have taken in accepting papers from the cancelled solar variability session, it seems odd (at the very least) that our session was summarily dissolved, and that the AGU refuses to discuss the matter.
The AGU action is hardly reasonable. Indeed, it is counter-productive to the scientific method and to promoting open scientific discussions. It smacks of censorship. Something is rotten in Copenhagen, Denmark.
Scientific inquiry has once again been silenced … just as it was 400 years ago. The AGU should be ashamed. Its members should be outraged.
SOURCE
Reader's Digest responds to boycott by skeptics
Removes its name as supporter of Copenhagen Climate Treaty
Reader's Digest has responded to a boycott initiated by www.NoCapAndTrade.com by having its name removed from a list of corporate supporters of the Copenhagen Climate Treaty.
Mr. William Adler, vice president of global communications at Reader's Digest, sent an email to the No Cap-and-Trade Coalition asking that Reader's Digest be removed from a list of 20 organizations that are being boycotted due to their support of the Copenhagen Treaty. Mr. Adler stated Reader's Digest had been incorrectly listed as a supporter of the Copenhagen Treaty at www.Hopenhagen.org. A review of the Web site confirmed that Reader's Digest's name had been removed as a "friend of Hopenhagen."
"Smart organizations like Reader's Digest are starting to realize that lending their brand to radical environmental movements is bad for business," said Jeff Davis, organizer of the No Cap-and-Trade Coalition. "We hope other organizations named in the boycott wake up and recognize this fact as well."
There are a total of 19 remaining organizations targeted by the boycott, including Google, Pepsi, Nike and BP America. The complete list of boycotted companies can be seen at www.NoCapAndTrade.com/boycott/.
SOURCE
Revealed: The design flaw in energy saving lightbulbs means they become dimmer over time
Energy-saving lightbulbs being used in millions of homes could lose up to 40 per cent of their brightness over the next few years, engineers warned yesterday. A design flaw in compact florescent bulbs mean they become dimmer as they age, a report by the Institution of Engineering and Technology said. Millions could need replacing long before their advertised lifespan of five or six years is reached.
The Government is phasing out traditional bulbs in order to meet Europe's climate change targets. Although other types of low energy bulb are available - including halogen and LED lights - most households are being encouraged to use compact fluorescent lamps. The Department for Environment, Food and Rural Affairs says CFLs use a fifth of the energy of traditional bulbs, saving a typical home at least £37 a year and cutting the UK's carbon dioxide emissions by five million tons.
However, independent retailers and critics say many of the low-energy alternatives are ugly, expensive and produce poor quality light. Doctors have warned that CFLs may cause rashes in light-sensitive patients.
A report in Engineering and Technology Magazine now warns that CFLs lose 'a significant amount of brightness' over time. Even a good quality bulb could lose 20 per cent of its light over its 8,000-hour lifespan - while cheaper bulbs could dim even more. The problem is made worse because some manufacturers exaggerate how much light comes from CLFs in the first place, the report says. 'Consumers could end up with a CFL nearing the end of its life that emits just 60 per cent as much light as a supposedly equivalent incandescent bulb,' the report says. That means a CFL that begins life as bright as a traditional 100watt bulb, could become as dim as a 60watt bulbs.
CFLs give off light when a current passes through a gas-filled tube. The gas glows with ultraviolet radiation which lights up a coating of white phosphor on the inside of the tube. Over time, this coating loses some of its ability to light up.
Other low-energy bulbs don't have the same problem. A halogen light - which uses 70 per cent of the energy of a conventional bulb - remains bright throughout its life. LED bulbs - which are beginning to appear in conventional bulb shapes and brightness - are also more reliable.
Editor in chief of Engineering and Technology Dickon Ross said most people were unaware that CFLs eventually lost their brightness. 'Our article goes someway to explaining consumers' dissatisfaction with CFLs and it's interesting that the major manufacturers have switched their focus to the development of LED lighting,' he said.
The Energy Saving Trust, which is funded by the Government, confirmed CFLs did lose brightness but claimed most people would not notice the difference. Trust-approved bulbs should never fall below 76 per cent of their initial brightness, it added.
SOURCE
NZ leader puts his faith in science, not politicians in Copenhagen
John Key is probably not going to Copenhagen or entertaining much hope that other world leaders who do so will come up with a deal on climate change. Not a big, binding and lasting deal. Not one that might be called historic or that locks the United States and China, the world's two biggest greenhouse gas emitters, to solid targets and action.
No, the Prime Minister of New Zealand is ''95 per cent'' sure he'll not be pressing the flesh in Denmark next month, and reckons he will not miss much, even though Greenpeace has offered to pay his fare. ''There is not going to be a deal,'' he told the Herald. ''What you will get out of it, is you'll get a high-level political statement and work program in 2010.''
Mr Key, who marked a year in power yesterday, is no denier or sceptic. He believes the world has a ''moral obligation'' to deal with climate change, and that consumers - more to the point, voters - broadly agree that action is necessary but ''you don't necessarily write a cheque to eastern European countries because they are polluting less''.
The central question is, what do you do? On a political level, Mr Key and his conservative National Party are in the process of a delicate flip. With support of the Maori Party he is rolling back the emissions trading scheme introduced by the previous Labour government. His scheme will be less ambitious and punitive - and is being attacked from within and without New Zealand. The farmers want it scrapped and accuse Mr Key of being ''obsessed'' by carbon emissions.
At stake is the country's reputation for being clean and green. The only time Mr Key loses his smile is when mention is made of a recent opinion piece in Britain's Guardian newspaper which claimed New Zealand had offered ''two fingers to the global community'' for allowing greenhouse gases to rise 22 per cent since signing the Kyoto treaty.
Mr Key calls the article ''bollocks'' and the writer, Fred Pearce, a green activist. The truth is, he says, the growth of emissions has been completely offset by planting 600,000 more trees. But the Prime Minister is acutely aware of the influence of consumers as regulators.
Australia's decision to exempt farmers from the ETS falls has, Mr Key concedes, ''put pressure on us''. Primary production accounts for about 48 per cent of the economy (against about 16 per cent in Australia) and half of all greenhouse emissions come from agriculture.
New Zealand's efforts are being made all the trickier due to two factors: the population is growing, from 3.2 million in 1990 to about 4.4 million now; and about 70 per cent of its energy already comes from renewable sources.
Mr Key is nonetheless optimistic solutions will be found that do not compromise living standards. The answers lie in science, he believes. ''All roads lead to technological solutions.''
SOURCE
A climate scare in Trafalgar Square
Ghost Forest, a new art installation, wants to frighten us into changing our greedy, planet-wrecking ways
A twenty-first century tribute to the Royal Family? A satirical swipe at the Labour government? A mistaken delivery address? At first, it's difficult to know what to make of the large hunks of dead wood currently cutting a dash in London's Trafalgar Square.
That is, until you read the info-boards positioned around the installation or encounter the press-released promotional material. At which point Ghost Forest's meaning, or better still, its message, will become all too clear: all this modern stuff, this industrial development, has come at an environmental cost we've been able to ignore for too long. Why? Because it's always been over there, in Africa, in South America. But not any more. In the form of huge tree stumps it's been brought close, dumped in our figurative backyard. To quote its creator, the journalist-cum-artist Angela Palmer, it is an awareness-raising, visual expression of the 'connection between deforestation and climate change'.
Featuring nine huge tree trunks (plus one injured one) which have been dragged across, and then ferried over from the Suhuma forest reserve in western Ghana, Ghost Forest is perhaps not the most appropriate name. With each trunk assigned its own slab on which to lie, a more accurate one would've been 'The Tree Mortuary'. Which is certainly how it feels to walk around it. The trunks are arrayed like a body parts, their angry tangle of roots straining out like the veins and capillaries of gigantic limbs at one end, while at the other end there is just a clean, surgical, lumberjack's cut. It's as if you're being encouraged to look at the results of planetary surgery, to survey the casualities of man's open-heart conquest of nature. Palmer is clearly not insensible to the effect, judging by her anthropomorphic language. The roots are like 'nerve-endings', she says, the rainforests themselves, 'the world's "lungs"'.
This isn't to say unsuspecting visitors were entirely clear as to what the stumps mean. Speaking on Monday, Palmer seemed unconcerned: 'Many observers will see the stumps as beautiful sculptural objects; others will perhaps see the installation as a scene of devastation, others may see the tree stumps posited in the no-man's land between the past and the future. For others the installation may represent an overt piece of political activism – a call to arms. I am equally comfortable with all responses.' Beautiful sculptural objects? A no-man's land between the past and the future? The most common response, from what I could see, was to stand next to the planet's ripped-out lungs, and grin for the camera. After all, it's not everyday some kindly artist leaves nine three-metre wide trunks around central London.
This surely missed Palmer's point. Because whatever Palmer says, there was a point, a big, blunt change-your-ways point to Ghost Forest. Little wonder those reporting its opening on Monday were in no doubt as to what Ghost Forest was saying. In the words of Art Daily, 'Ghost Forest' is 'a powerful visual statement about climate change'. '[A]s a microcosm of planetary overconsumption of expendable resources', concluded the Londonist, 'it's a powerful statement'. Hence this Sunday it will leave London and head to Thorvaldsens Plads in Copenhagen to 'raise awareness' before the start of the UN climate change summit in December.
The reviewers had clearly read the promotional material. And this was the problem with Ghost Forest as art. In clued-up reports, in interviews on the Ghost Forest website, and on the 300-word-long, on-site info boards, the meaning of Ghost Forest was all too articulated. If the installation itself was ambiguous, a selection of barely worked-up Ghanaian tree stumps, its message was clear and overwrought. In fact the message could have done without its truncated embodiment in the wooden sculptures – the content here had no need of its form.
Overtly didactic art is nothing new, but what marks a project like the Ghost Forest out is the extent to which the hectoring content is liberated from the material in which it was to be represented. Little wonder that the UK foreign secretary's special representative for climate change, John Ashworth, was able to praise it before it actually existed as an installation – after all it was the message, not its formal realisation, that was valuable. 'We need to reach people in other ways as well', he told Palmer. 'Since the crisis we face is about who we are before it is about what we should do, the role of art will be critical. So I applaud what you are doing, and wish it success. You will in effect be confronting some of those who pass through Trafalgar Square with the consequence of their choices.'
Confront people with the consequence of their choices? This is art as behaviour-changing device. As Palmer explains on her website: 'Its location in Trafalgar Square is key: it is one of the world's most visited tourist sites and the epicentre of Western industrialisation over the past 200 years.' In other words, for didactic purposes, plonking it in the centre of London allows it to tell as many people off as possible, from tourists to Christmas shoppers. It's tricky to avoid The Message if you have to walk the long way round it.
Then there's the element of juxtaposition, of bringing the distant near, of shoving the natural in the face of the social. In the midst of a developed society, 'an epicentre of industrialisation', the mortified tree stumps, symbols of the underside of industrial progress, exist to discomfit, to unsettle. They are signs that something is wrong. This is a gesture premised on the perceived complacency of the public, their selfish behaviour. And as if the distaste for the lives of modern citizens wasn't writ large enough, Palmer is prepared to take her fetish for the primitive and animistic one step further: tomorrow, an Amazonian chief is going to bless the trees in a special ceremony.
Which does make you wonder. Perhaps Palmer is actually being subversive. After all, like Mark McGowan's attempt to 'raise awareness' about water wastage by leaving the tap running in his London gallery, it took Palmer a large ship, and several tonnes of heavy haulage, to drag a symbol of excessive energy consumption to its current resting place. Add to that the power expended by the electricity generators to keep the lights blazing through the night, and Palmer's carbon footprint must be at least the size of ten large Ghanaian trees. This must surely be one giant environmentalist wheeze, a satire of sanctimony, right?
Perhaps not: 'The artist considered carefully the carbon footprint which would be incurred in the project', the info-board tells us, 'but felt its potential message to millions of people on the impacts of deforestation would outweigh the carbon "spend". The carbon cost of "Ghost Forest" will be calculated and offset on a ClimateCare project which has introduced more energy efficient cooking stoves to Ghana, meaning fewer trees are needed to provide cooking fuel.'
This is straight-faced contemporary art all right. It is art for those who know the carbon price of everything and the value of nothing. And art without value is not really art at all.
SOURCE
***************************************
For more postings from me, see DISSECTING LEFTISM, TONGUE-TIED, EDUCATION WATCH INTERNATIONAL, POLITICAL CORRECTNESS WATCH, FOOD & HEALTH SKEPTIC, GUN WATCH, SOCIALIZED MEDICINE, AUSTRALIAN POLITICS, IMMIGRATION WATCH INTERNATIONAL and EYE ON BRITAIN. My Home Pages are here or here or here. Email me (John Ray) here. For readers in China or for times when blogger.com is playing up, there are mirrors of this site here and here
*****************************************
19 November, 2009
Peer-reviewed academic journal article shows that climate models don't offer even remotely accurate predictions
Comments by By Lubos Motl:
In this dose of peer-reviewed skeptical literature about the climate, we look to the Hydrological Science Journal. D. Koutsoyiannis, A. Efstratiadis, N. Mamassis, and A. Christofides wrote a text: "On the credibility of climate predictions (PDF)".
They simply compared the local predictions for temperature and precipitation by many models with the real observations and found out that: "... The results show that models perform poorly, even at a climatic (30-year) scale. Thus local model projections cannot be credible, whereas a common argument that models can perform better at larger spatial scales is unsupported.
Gavin Schmidt decided to criticize paper: RealClimate.ORG
If he has an argument against the paper, I haven't found it. I agree with Schmidt's comment that it should have been expected that the models won't reproduce the local climate - even though our expectations could have very different reasons (my reason is that I simply know that the existing climate models don't properly deal with most of the essential climatological processes; I am not sure about Gavin's reasons).
But Koutsoyiannis et al. probably agree with it, too. (Confirmed by the lead author himself in the fast comments.) However, Koutsoyiannis et al. say not only that the local predictions of the models have been falsified: they also correctly say that the statement that the predictions would work at the longer distance scales is unsupported. And it is unsupported, indeed.
What does the word "climate" mean? It is the information about the behavior of the weather in a given region at time scales longer than 30 years or so. When we talk about the climate, we may be averaging over longer time scales but we are surely not averaging over the planet. Climate is always associated with a region: that's why we can distinguish tropical, dry, moderate, continental, and polar climates. ;-)
There is no "global climate". When people talk about "global climate change", it is the whole "climate change" that is supposed to be supplemented by the adjective "global": we are surely not talking about the changes of the "global climate" because the latter doesn't exist. Even Wikipedia controlled by William Connolley seems to agree with this proposition. It is strange that Gavin Schmidt seems to disagree.
So the short-term weather signals are averaged out but as Koutsoyiannis et al. show, it is still not enough to obtain an agreement between the models and the reality. The models clearly don't reproduce many changes well, especially not the changes driven by the long term persistence (or auto-correlation) of the time series. Note that the Hurst exponents determine the "color of the noise" and because these exponents generically exceed 0.5 in climatology, the long term persistence (the "inertia" of the climate) is very important.
Even if you don't understand these words about the Hurst exponents, you should understand that the predictions of the climate models for any particular region in the world will be essentially uncorrelated with reality because the reality is dominated by effects that are not properly simulated by the models. Because every single person lives in a particular region of the world and every region of the world is more or less incorrectly predicted by the models, I think it means that no rationally thinking person should pay serious attention to the predictions of these models.
And can the models become good at long distance scales again? Maybe. But it is extremely unlikely. If you think that they do become good at the global scale, you are believing in a very contrived, fine-tuned hypothesis: all the detailed (short-term, local) data that can be tested come out incorrectly but only when you care about one number - the global long-term temperature trend - all the errors must conspire and evaporate.
So the fashionable "climate change theory" is supposed to be an effective theory that only works at distance scales T and length scales L that are longer than certain bounds. If you want to believe that Gavin Schmidt is right, you must also believe that T must be between 30 years and 100 years and L must be greater than 6,000 km or so but shorter than 40,000 km. Why? Because the theory is falsified by the observations at shorter time and distance scales (the detailed local and/or meteorological data). But for the theory to be relevant for the Earth, the distance cutoff must be shorter than 40,000 km. And for the theory to be scary enough for a few future generations, the time cutoff must be shorter than 100 years. ;-)
When you average the known data over these very long scales, you are exactly at the moment when you lose all nontrivial climate information that could have been used to validate the model. It is exactly the moment when you are supposed to start to believe the models.
I find such a belief unjustifiable and crazy. If an effective field theory only works well enough at distances longer than a cutoff scale L, there is absolutely no a priori good reason why L should be between 6,000 kilometers and 40,000 kilometers! ;-) 1,000 km is already a very long distance not only for a particle physicist :-) but also for various local atmospheric variations to average out and for a useful approximate theory of the climate to start to be relevant. However, these theories seem to break down, even in their long-term predictions. When they break down at the distance scale of 1,000 km, is sounds extremely reasonable to me to assume that they probably break at the 6,000 km scale, too.
Similarly, if a theory highly incorrectly predicts the global climate trends for 10 or 20 years, which we already know to be the case from observations (even for the global mean temperature), it seems unreasonable to expect that the theory will be very accurate for 30-year, 50-year, or 100-year predictions.
Assuming otherwise is remotely analogous to the belief that Jesus Christ was the only person who could have walked on water. It may have been true that Jesus Christ was the only person for whom some unlikely cancellations of the gravitational force took place but it doesn't seem too likely to a scientifically trained ear. OK, Christian readers are supposed to hold their belief at this point but I just think that this particular belief is not natural from a scientific vantage point.
So I prefer the common sense approach of old-fashioned science: if all the detailed predictions of the existing models have been shown incorrect, it probably means that the models themselves are incorrect or at least substantially incomplete.
SOURCE
(See the original for links)
Climate Theology: Gore's new book offers eco-salvation to his followers: 'I'm offering you the choice of life or death'
As the scientific basis for Warmism becomes vanishingly small, the religious nature of it comes to the fore
On a page by itself, we find this inside the front cover of Al Gore's latest climate fraud promotion book: "I'm offering you the choice of life or death. You can choose either blessings or curses." --Deuteronomy Chapter 30, Verse 19
Let's imagine that a Republican former vice president (say Dan Quayle or Dick Cheney) authored a similar book telling us that apocalypse was at hand unless we shoveled massive amounts of public money toward companies they've heavily invested in. Let's say the Republican-authored book also prominently featured the Bible verse above, suggesting that Quayle or Cheney was offering the reader the choice between life of death.
In the scenario above, would the mainstream media give Quayle or Cheney with the same respect and free book promotion airtime that Gore has received in recent weeks?
SOURCE
An attack on the poorest coming up? Developing nations outstrip rich on greenhouse gases
DEVELOPING countries now emit more greenhouse gas than rich countries, according to a study that will intensify demands for all countries to set targets for cutting emissions. Total emissions from burning fossil fuels in developing countries, including China, India and Brazil, have more than doubled since 1990 and are continuing to rise rapidly. By contrast total emissions from developed countries, such as the US, Japan and Britain have hardly changed over the same period. Last year developed countries were responsible for 46 per cent of global emissions, with developing countries responsible for 54 per cent.
The figures, published by an international team of scientists, will put pressure on developing countries to set stricter targets for slowing the increase in emissions. China and India are refusing to agree to any cap on their emissions and are instead offering vague targets for cutting emissions per unit of GDP. China overtook the US in 2006 as the world's biggest emitter of greenhouse gases and has extended its lead each year since then.
The study, published in the journal Nature Geoscience, compared the total emissions of 38 developed countries with those of all other countries. The study said that the increase in emissions from developing countries was in part due to their manufacture of goods for export to rich countries.
Professor Le Quere said that emissions per person remained much higher in rich countries, which supported only about a billion of the world's population of 6.7 billion. However, explosive growth in emissions in some countries, especially China, meant that the gap was slowly closing. China emitted 4.8 tonnes of CO2 per person in 2007, a rise of 138 per cent since 1991. India emitted 1.2 tonnes, up 79 per cent, and Brazil 2.1 tonnes, up 30 per cent.
The UK's emissions fell 12 per cent over the same period to 9.3 tonnes per person and US per capita emissions fell by 1 per cent to 19.9 tonnes.
Professor Le Quere said that the study did not take account of historic responsibility for greenhouse gases in the atmosphere. She said that developing countries were responsible for only 20 per cent of cumulative emissions since 1751. "Emissions in rich countries have only stabilised because they have reached a certain stage of development which other countries have yet to attain."
The study also found that the growth in global emissions from fossil fuels had accelerated from 1 per cent a year in the 1990s to an average annual rate of 3.4 per cent between 2000 and 2008. The growth continued last year during the global economic downturn, though at a reduced rate of 2 per cent.
Coal has overtaken oil as the biggest source of emissions, largely because many developing countries, including China, have vast domestic reserves of coal but have to import oil.
The study also suggested that the rise in CO2 emissions was outstripping the Earth's ability to soak up the carbon in forests and oceans. It said that the levels of global emissions that remained in the atmosphere had grown from 40 to 45 per cent over the past 50 years. This finding was disputed in a separate report, published last week, by another scientist who studied the same data. Both studies involved scientists from Bristol University's climate change research program.
Wolfgang Knorr, writing in Geophysical Research Letters, found no increase in the proportion of emitted carbon remaining in the atmosphere, suggesting that forests and oceans were more effective than previously thought at soaking up man-made emissions.
The dispute between climate scientists at the same university will be seized upon by climate change sceptics, who argue that the scientific evidence for man-made global warming remains uncertain and open to differing interpretations.
Meanwhile, President Obama tried to restore confidence in international negotiations on climate change by saying that he wanted the UN summit in Copenhagen next month to agree an "accord that covers all of the issues in the negotiations, and one that has immediate operational effect". He was speaking in Beijing two days after his officials had ruled out signing a legally binding treaty in Copenhagen (!)
SOURCE
Reducing Humans to Carbon Ash
The latest morally monstrous proposal out of the environmentalist cult comes from Lord Smith of Finsbury. He suggests that each British citizen be given a government "carbon allowance." For any transaction that increases a person's "carbon footprint" such as using gasoline or taking an airline flight, they would have to "spend" part of their allowance. Once their allowance reaches zero, they would have to pay out of pocket to purchase more credits, assuming that they are available. It is "cap and trade" for the individual.
Appallingly anti-human
The appallingly anti-human nature of this proposal is only surpassed by the appalling ignorance and intellectual laziness of a public that is not appalled by the fact that their politicians are literally leading them to suicide. An essential aspect of our lives as humans is to employ the materials in our environment for our survival and well-being: converting plants into food; trees into houses; oil into energy; metals into medical equipment, automobiles, and aircraft.
It is often too costly for us to employ carbon dioxide, one of the "outputs" of our act of living, efficiently for our use. We produce CO2 in some of our industrial activities and, indeed, every time we exhale. (As do all animals!) Plants, of course, breathe in our CO2.
The carbon allowance scheme dehumanizes us by teaching us to view ourselves merely as carbon output units, and the less output the better. The implication of this view is that every single human activity—indeed, the very act of living—a sinful indulgence, like some criminal urge for which we should be ashamed and which we should strive to suppress.
Child-haters
Just as our superstitious ancestors tortured themselves with guilt over taking joy in the things of this world, so those who accept the premises of the environmental cult do so today. The latest example is the rise of couples who refuse to have children because each new child is considered pollution on the Earth. Naturally, it is the choice of each individual whether or not to become a parent. But consider the complete depravity of what the environmental cultists peddle as morality.
There are men and women who long to have children; to cradle newborns in their arms; to hold their babies' hands as they take their first steps; to watch them play with their friends and their toys; to teach them to say "mommy" and "daddy"; to teach them to read; to play with them in the park; to help them with their studies; to attend their graduations; and to see them become responsible adults and, perhaps, parents themselves.
Now consider those men and women who would give up the challenge and the joy of becoming a parent, who would damn themselves to emptier lives of "if only it could have been" because they ingest the poisonous notion that each new child must be thought of first as a carbon unit that poisons this planet.
This is no joke. For decades eco-radicals have advocated zero population growth with government action to bring about that result. Now they have the ultimate argument for selling suicide, that carbon is bad and that to live as a human is to produce carbon.
So we now find a recent Oregon State University study that argues that the carbon impact of having a child is 20 times greater than any other environmental choice, such as driving a car. Thus it's not surprising when New York Times columnist Andy Revkin broaches the idea of giving carbon credits for those who have fewer kids.
Combine this notion with the British scheme and the clear implication is that the government will allow couples to have kids only if they can "pay" for the impact of those children out of their carbon allowance.
Totalitarians and tattoos
Like any government program, the carbon allowance idea would only grow. Its inexorable conclusion would be truly totalitarian. How would government control all human activities in the name of reducing human carbon output?
In Britain Lord Smith wants each individual assigned an identification number to keep track of their activities; how about tattooing it to our wrists? The system certainly would expand to track and thus to limit or proscribe more and more of our activities. The system likely would soon become a mechanism to meet the goal, voiced by British Prime Minister Gordon Brown's environmental adviser Jonathon Porritt, of cutting the country's population in half, by 30 million, in order to build a "sustainable" society.
To the extent that individuals accept the eco-cult's view of humans and accept guilt for living, they will acquiesce as the new puritan politicians claim the right to control and destroy their lives through a new Inquisition.
Yes, the excuse for these sorts of measures is the need to stop climate change; the term "global warming" is falling out of favor since the globe has refused to warm up much over the past decade.
Climates have changed radically throughout Earth's history before humans were around. Further, science today has not come anywhere close to establishing that the Earth's climate is dangerously warming up; that humans producing CO2 are the principal cause; that the effects will be catastrophic to human life; that draconian restrictions on human activity can prevent such warming; and that the harm done by these restrictions will not be far worse than the warming.
Yet it's not with reticence and reluctance but, rather, with recklessness and relish that eco-cultists push their Luddite proposals. In spite of occasional weak claims that such measures are meant to help future humans—those children we're not supposed to have—the logic behind them implies that in the best of all possible worlds all humans would have their carbon "sequestered," that is, would become ash in the ground.
Any given individual might back this ideology out of ignorance, ill-intent, or a combination of the two. But whatever the case, those who love their lives and who love the potential of every human being must continue to confront this anti-human ideology and those who promote it, to make clear the ideology's implications, and to refuse to allow themselves to be destroyed.
SOURCE
Russia talks the talk
But won't need to walk the walk
Stockholm - Russia has decided to cut greenhouse-gas emissions to 20-25 per cent below 1990 levels by 2020, diplomats at a summit with the European Union in Stockholm said Wednesday. Moscow's announcement of its goal should make it easier for the EU to demand emissions cuts from other key players, especially the United States and Canada, at United Nations talks on fighting global warming in Copenhagen and December, diplomats said.
The EU is keen to enlist Russian support ahead of the Copenhagen talks. The bloc's own target is to cut emissions to 20 per cent below 1990 levels by 2020, and to deepen the cut to 30 per cent if other developed economies make similar pledges.
Russia's decision to cut emissions to 20-25 per cent below 1990 levels strengthens an earlier proposal to cut emissions by some 10-15 per cent below 1990 levels by 2020. But it still means that Russia will be able to boost its emissions substantially over the next decade. This is because the country's Soviet industrial base collapsed in 1990 and has never been built back up to the same level.
Ahead of the summit, the host, Swedish Prime Minister Fredrik Reinfeldt and his guest, Russian President Dmitry Medvedev, both stressed the two sides' commitment to a deal in Copenhagen. "Our countries are among the most advanced in terms of commitments (to address climate change) and the desire to move ahead" in Copenhagen, Medvedev said.
SOURCE
GREENIE ROUNDUP FROM AUSTRALIA
Three current articles below
The usual Greenie people-hatred
Birth control should be used to cut "greenhouse gas" emissions
INVESTING in birth control to reduce population growth could be more effective in cutting greenhouse gas emissions than building wind turbines or nuclear power stations, according to a United Nations report. Taking action to prevent one billion births by 2050 would save as much carbon dioxide as constructing two million giant wind turbines.
The UN Population Fund report predicted that the global population could reach 10.5 billion by 2050, up from 6.8 billion today, unless urgent action was taken to reduce fertility rates. It said that even its medium-growth forecast of 2.3 billion more people by 2050, which assumes a fall in average fertility from 2.56 to 2.02 children per woman, would make it much harder to achieve the cuts in carbon emissions needed to prevent catastrophic climate change.
The report said that reducing population growth would allow the 2050 target for global average emissions per person to be increased significantly above the 2 tonnes recommended by Lord Stern of Brentford, the author of an influential government report on global warming in 2006. Living standards would be higher because each person would be able to emit more CO2.
The report said: "No human is genuinely carbon neutral. Therefore, everyone is part of the problem, so everyone must be part of the solution in some way. Each birth results not only in the emissions attributable to that person in his or her lifetime, but also the emissions of all his or her descendents."
The report rejected the idea of Chinese-style laws to control population but said that a similar result could be achieved by promoting contraception and better education for women. It said that 215 million women, mainly in developing countries, wanted contraception but had no access to it. Funding from donor countries for the UN's birth control program has fallen from $723 million at its peak in 1995 to $338 million in 2007.
The report also said that the longer women remained in education, the fewer babies they had. Women who had never gone to school had an average of 4.5 children. Those who completed one or two years of university had 1.7. "Dollar for dollar, investments in voluntary family planning and girls' education would, in the long run, reduce greenhouse gas emissions at least as much as investments in nuclear or wind energy," the report said.
It revealed that, contrary to received wisdom, rates of unintended pregnancies were higher in rich countries than in poor ones. In Europe, the US, Australia, Canada, Japan and New Zealand, an average of 41 per cent of pregnancies were unintended, compared with 35 per cent in developing countries.
However, most of the projected increase in population would be in developing countries. The population of Africa was expected to double to two billion by 2050. The population of all developed countries was likely to rise only 3 per cent, though this masked big differences, with the US population expected to rise by a third to 400 million and Japan's expected to decline by a fifth to 100million.
The Population Fund acknowledged that reducing population growth in developing countries would have little immediate impact on emissions because their inhabitants have relatively small carbon footprints. But it said that the savings would increase as the economies of developing countries grew and levels of consumption - and, therefore, emissions - rose.
The report said that population growth was only beginning to be recognised as an important topic in international negotiations on climate change. It will not be discussed at next month's UN summit in Copenhagen. "Fear of appearing supportive of population control has, until recently, held back any mention of 'population' in the climate debate."
A spokeswoman for Cafod, the Catholic aid agency, said it did not support the promotion of birth control in poor countries, where the "underlying causes of large families ... are lack of education of women and unequal power relationships between men and women".
SOURCE
Up to 30 conservative parliamentarians may vote against Warmist laws
UP to 30 Liberal MPs and senators are set to defy their leader Malcolm Turnbull on emissions trading, one of the party's prominent climate change sceptics said. More than a third of the party would "probably cross" the floor of Parliament to vote against the scheme even if Labor agreed to Coalition amendments, backbencher Dennis Jensen said. "I don't want to name them but there are 30 MPs," he told AAP.
Coalition MPs and senators were expected to consider the outcome of negotiations presently underway with Labor when they meet in Canberra next Tuesday. A Senate vote was expected late next week and any changes the upper house makes to the legislation would need the support of the Lower House, where Labor has a majority. In the Senate, Labor needs the support of at least seven Liberals to win parliamentary approval for its scheme.
SOURCE
Enterprise is not the enemy
A conservative political advisor looks for a middle ground below
Georges Clemenceau, the French prime minister during World War I, said that war is too serious a matter to entrust to military men. In the same vein, the environment is too important to be left to the Greens. Bob Carr made the point recently that the Greens are not the environmental movement, they are a political party.
Environmental issues are mainstream and not a luxury. They go to the heart of how we sustain our growth and living standards in the face of rising population and resource depletion pressures. Environmental costs are not always incorporated in market prices but there is now ample evidence that market approaches, including appropriate property rights, have an important role to play in conservation regimes. They can reduce pollution at lesser costs than regulatory approaches, as the acid rain cap and trade system showed.
There is no incompatibility between private enterprise or capitalism and the environment. The success of capitalism in raising living standards has been used by some Greens to equate it with environmental degradation. The poor state of the environment in Eastern Europe when the Berlin Wall fell demonstrates that there is no corollary between social and economic systems and the condition of the environment.
The Greens have often used environmental issues to peddle an anti-capitalist and populist agenda, focusing on renewable energy sources as good, soft power while rejecting nuclear energy as hard power that is the dirty product of multinational corporations. These attitudes are not shared by many of those who vote Green.
In the previous federal election Labor made a good fist of owning the environment and climate change. In the public mind concern for the environment has come to be equated with action to address climate change. Kevin Rudd focused on the Coalition's failure to sign the Kyoto treaty as evidence of its lack of credentials on environment and climate. The issue was used to define John Howard as backward-looking and not interested in the future.
So Labor now has equity in the issue. Every day that the Coalition spends discussing, and dividing on, climate change is a day lost to other issues more to the Coalition's advantage. The party should neutralise these issues and move on or risk alienating a whole constituency of voters, not restricted to the young, who genuinely feel strongly about these matters but who do not wish to embrace Stone Age living standards.
So does that mean that climate change sceptics should just shut up? No, because scientific inquiry that improves our knowledge and uncovers errors must be encouraged. Scientists should have the moral courage to change their position as ugly facts slay beautiful theories. But as a layman, how do I know who is right in the climate change debate? Is it the Intergovernmental Panel on Climate Change or the scientists who claim that the IPCC has been too timid in its projections of global warming? Is it celebrities jumping on the bandwagon or more isolated scientific voices such as that of Ian Plimer?
How is a politician to make a principled decision on such a weighty matter? The French mathematician and religious philosopher of the 17th century, Blaise Pascal, tackled a related issue. He formulated a wager to guide those wrestling with the concept of faith. Because faith was beyond reasoning he proposed that one should weigh the consequences of belief v unbelief. If you believe and hence lead a virtuous life on earth but there is no hereafter, what have you really lost (apart from a good time perhaps)? On the other hand, if you act as if there is no hereafter and God does exist, you have consigned yourself to purgatory and worse. The cost of unbelief is literally infinite compared with the cost of belief in these circumstances.
Applied to climate change, what are the costs of belief v unbelief? If you act and climate change turns out to be the new Y2K, it is true that resources will have been invested in the transition to a less carbon-intensive economy and there is the opportunity cost of locking up our remaining fossil fuel supply. But provided that there is genuine market in emissions trading the carbon price should crash and restore relativities with fossil fuels and other energy sources.
If climate change is genuine, urgent and otherwise irreversible, then early action pays off while late or no action results in mounting economic and social costs. The most rational strategy for a climate sceptic is to short the carbon market and wait for the big crash.
The recent Lowy poll picked up on a slide in the ranking of climate change as an issue of concern to Australians. Securing jobs was the No. 1 issue. This is the real challenge with polls and governing. People want climate change tackled but they want to do it without throwing the baby out with the bathwater.
Howard faced up to this dilemma in the 2004 election when he wrestled with what do about old-growth forests in Tasmania. On the eve of the election his advisers were urging him to tuck away a very substantial compensation package to pay for locking up significant forest reserves. The then-Labor leader Mark Latham had highlighted the issue during the year with a high profile visit to Tasmania and the recruitment of Peter Garrett to run in the seat of Kingsford Smith.
For the campaign, Latham put together a big forests package and according to Tim Gartrell, the then ALP national secretary, it polled well. Howard played cat and mouse with Latham during the campaign.
Early on in the campaign in the seat of Richmond on the NSW North Coast, Howard alluded to his dilemma. He was worried about sacrificing the jobs of timber workers in isolated communities with few alternative job prospects. He wanted a fair go for them and the environment. His chance came when Latham finally blinked and went down to Tasmania at the start of the last week of the campaign. The images of him being driven into an underground car park and virtually throwing his plan across the table in a "take it or leave it" attitude said it all.
Howard moved to finalise his policy in consultation with affected communities and in the middle of that week turned up at the Albert Hall in Launceston to announce it. He was rapturously received by the timber workers and their families; he had looked after them and had the courage to meet them and address their concerns. It sent a message to other affected communities on the mainland that Howard was about balancing jobs and conservation.
In a recent welcome development, Bob Brown, the leader of the Greens, and John Gay, the executive chairman of Gunns, have met to discuss the proposed paper mill that has caused no end of controversy in Tasmania. It is good that they are at least talking and perhaps will find a practical outcome to this long-running saga.
SOURCE
***************************************
For more postings from me, see DISSECTING LEFTISM, TONGUE-TIED, EDUCATION WATCH INTERNATIONAL, POLITICAL CORRECTNESS WATCH, FOOD & HEALTH SKEPTIC, GUN WATCH, SOCIALIZED MEDICINE, AUSTRALIAN POLITICS, IMMIGRATION WATCH INTERNATIONAL and EYE ON BRITAIN. My Home Pages are here or here or here. Email me (John Ray) here. For readers in China or for times when blogger.com is playing up, there are mirrors of this site here and here
*****************************************
18 November, 2009
THE ARCTIC WAS WARMER IN THE RECENT PAST -- AND THE IPCC REPORT ACCEPTED THAT
An email from George Lloyd [galloyd@bigpond.net.au] below
Chapter 15 of the Working Group 2 report in the IPCC's 4th Assessment Report (AR4) deals with the Arctic and Antarctic polar regions. It draws heavily upon the Arctic Climate Impact Assessment Report (2005) (ACIA, 2005) and, indeed, praises ACIA, 2005 in the following words: "[ACIA, 2005]... has substantially improved the understanding of the impacts of climate change in the Arctic, is a benchmark for regional impact assessments, and may become the basis for a sustainable management plan for the Arctic."
Whist the document has clearly been around for some time I have seen very few references to it and, notwithstanding the clear bias of ACIA 2005 in favour of AGW, I believe your readers will find parts of it fascinating. In particular, chapter 2 "Arctic Climate: Past and Present" and, specifically, Section 2.7 "Arctic climate variability prior to 100 years BP" (pages 46 to 54) which documents the climate changes in the region from 2 million years ago up to the recent past.
The information on the Arctic climate during the Holocene (the past approx. 11,000 years to the present), some of which is summarised below, provides an interesting contrast with the alarmist views of today:
* climatic conditions were significantly warmer than today,
* marine mammals were present far north of their present day range,
* over most of Russia forests advanced to or near the Arctic coastline between 9 and 7 thousand years ago, and retreated to their present position by between 4 and 3 thousand years ago,
* during the period of maximum forest extension, the mean July temperature along the northern coastline of Russia may have been 2.5 to 7 deg C warmer than present,
* the period from 1550 to 1900 may have been the coldest period in the entire Holocene... The Little Ice Age (LIA), during which glaciers advanced on all continents, and
* Glaciers started to retreat around 1850 but between 1880 and 1890 there were glacier advances. In the early 20th century, glacier recession continued, with interruptions by some periods of advance. The most rapid glacial retreat took place between the 1920s and 1940s.
Those of your readers interested in exploring ACIA, 2005 in greater detail will find it
HERE
In practice, wind power does NOT reduce carbon emissions
The introduction to a very long and thorough study below:
Integrating random, highly variable wind energy into an electricity system presents substantial problems that subvert wind technology's ability to offset the use of fossil fuels–and avoid air emissions, including carbon dioxide (CO2). Measuring this accurately is important because many believe that wind projects significantly reduce such emissions.
This analysis finds that natural gas used as wind back-up in place of baseload or intermediate gas (in the absence of wind) results in approximately the same gas burn and an increase in related emissions, including CO2. Extrapolating from this example to the whole, the working hypothesis is that intermittent wind (and solar) are not effective CO2 mitigation strategies because of inefficiencies introduced by fast-ramping (inefficient) operation of gas turbines for firming otherwise intermittent and thus non-usable power.
Analysis
In the absence of extensive real-time load dispatch analyses at finely grained time intervals capable of accurately and sufficiently assessing all the variables affecting electricity system behavior as wind energy penetration increases, I propose a method – a calculator – that captures a wide range of considerations. I am unaware of any previous attempt that is as inclusive as what I present here and welcome reader comments for improvements on the present framework or alternative approaches.
This model, or calculator, provides a framework for the considerations involved and an interim assessment of their effects until sufficiently comprehensive studies can be performed in the areas indicated. It shows the impact on fossil fuel consumption and CO2 emissions compared to typical claims by wind proponents and other bodies, including some government policy makers. As it is parameter driven, the calculator allows examination of the sensitivity of these considerations. The result is that the typical claims are not supported, except by ignoring most of the following considerations:
* The amount of wind mirroring/shadowing backup required.
* Inefficient operation imposed on the mirroring/shadowing backup, in terms of both the fossil fuel consumption and CO2 emissions, treated separately.
* The need to make comparisons, with respect to gas plants, of:
o Case A – The more efficient Combined Cycle plants (CCGT) operating alone, in other words without the presence of wind, versus;
o Case B – The appropriate mix of gas plant type used to balance wind's volatile output. This includes the need to introduce less efficient, but faster-reacting, Open Cycle Gas Turbine gas plants (OCGT) to mirror/shadow the wind production, especially as wind penetration increases.
* The effect of reduced wind capacity factor.
* The effect of wind output exceeding 1-2 percentage points of a total electricity system, on a country or regional basis.
The framework used is similar to that of Warren Katzenstein and Jay Apt (see citations below). It focuses on the wind/gas plant combination and has general applicability. Additional considerations involving wind's impact on other electricity system elements particular to a specific jurisdiction, such as baseload capacity as analyzed by Campbell, will have to be assessed separately and could have implications that further offset wind's claimed benefits.
Much more
HERE
Greenie madness destroys California farms
For Fresno and California's entire Central Valley, it should be the best of times. With the dollar weak and the world hungry, the exceptionally fertile fields along the Golden State highway should be producing record yields of grains, fruits, vegetables and nuts. Instead framers are struggling to keep even a third of their potential acreage in use. Mile after mile of parched land greets the approach to the city of 500,000. And angry signs along the roadside condemn the federal government that has cut off the valley's water.
The delta smelt, a small fish that makes its home in the vast Sacramento Delta, has been declared endangered. Since late last year the water lifeline from the north to the south has been reduced to a trickle.
The pumps that power the water to the farms have been stilled for months at a time so as to avoid sucking in smelt. The smelt's numbers have been reduced by many causes, but the one the federal government has decided to target is the pumps.
When Washington, D.C., ordered the water shut off, jobs went down the drain. Tens of thousands of farm jobs have been lost, and unemployment in some farming towns has hit 40 percent.
Secretary of the Interior Ken Salazar and Sen. Dianne Feinstein, D-Calif., posture about their concern (Sen. Barbara Boxer, D-Calif., can't even be bothered to meet with local officials), and the region's Democratic congressmen like Reps. Dennis Cardoza and Jim Costa pledge action, but the president, his senior officials and congressional allies have done nothing. A new, man-made dust bowl is taking shape, and the devastation is palpable.
Former Fresno Mayor Alan Autry was a guest on my broadcast from the city's downtown last week and told the audience about a food distribution day that drew 15,000 people. Pastor Jim Franklin of Cornerstone Church spoke about the growing desperation among many in his flock.
Third-generation farmers admitted on air that they couldn't imagine how they could hold on to their farms if the water wasn't turned back and with the assurance of stability so the annual cycle of preparation and planting that must begin now can proceed backed by financing that wouldn't be forthcoming unless the banks see the near certainty that the water will flow throughout 2010.
President Obama doesn't need a jobs summit or a second stimulus to create thousands of jobs overnight. All he has to do is order -- order -- his staff to insist that the Congress include relief in the appropriations bills headed his way.
Or President Obama could order -- order -- Secretary Salazar to conduct a rapid review by serious science of the deeply politicized findings that led to the water cutoff. There is much suspicion about the agency's deliberations here that a National Academy of Sciences review of the data has been promised by Salazar and Commerce Secretary Gary Locke, but it will take months and months to complete. The president could demand his team work like their jobs were in as much jeopardy as those in the valley.
Alternatively, U.S. District Judge Oliver Wanger could order that the restrictions on water delivery imposed by the U.S. Fish and Wildlife Service on Dec. 15, 2008, be lifted until an environmental impact statement is prepared by the Department of the Interior's Bureau of Reclamation that wholly and fairly assesses the consequences of the service's job-destroying diktat. The judge ruled just last week that farmers and water agencies were entitled to summary judgment on their claim that the feds had acted contrary to the National Environmental Policy Act.
The court has scheduled a hearing on potential remedies for Nov. 24, two days before Thanksgiving. If he orders the suspension of the draconian "biological opinion" that imposed the water cutoff and mandated the drought, it will be a festive Thanksgiving in the valley.
Christmas will be brighter for tens of thousands of workers and farmers and their families who have seen their livelihoods imperiled by radical environmentalists and bogus "science." (Details on the hearing are available at pacificlegal.org.) But if the judge doesn't act and President Obama continues to give speeches and hold "summits" instead of ordering relief, a grim 2009 will turn into a catastrophic 2010.
SOURCE
It was the Sun wot done it. Or was it?
Interesting to see the following article in "The Times" of London
Like it or not, it will soon be time to start placing bets for a white Christmas. If most climatologists are to be believed you are almost certainly throwing your money away.
The onward march of global warming is consigning such traditional Christmas card scenes to history. No more deep and crisp and even winters for Britain, replaced instead by damp and slush and stormy.
But, if a small group of maverick scientists are right, the chances of Yuletide snow may rise dramatically over the coming decades.
The difference of opinion hinges on what role — if any — the Sun plays in climate change. The vast majority of climate scientists maintain that the solar influence is limited or even negligible, and it is the unsustainable growth of industrialised nations that is driving the climate into chaos. The mavericks contend that the Sun's activity dwarfs the human contribution, and that there is nothing we can do except wait for the Sun to change.
The public seems to agree with the mavericks. In a recent poll for The Times, only 41 per cent of UK voters thought the case for man-made global warning had been proved. Now, by a quirk of nature, the Sun has presented us with a golden opportunity to resolve this debate once and for all.
Satellite measurements for the past 30 years show that the Sun's energy output has remained remarkably constant. What is changing is the level of solar activity. Solar activity governs the appearance of sunspots — dark blemishes on the solar surface. Sunspots form where magnetism reaches out from the Sun into space. In times of high solar activity, sunspots pockmark the solar surface for years and the Sun's magnetic field balloons outwards to shield the Earth from deep space particles called cosmic rays.
According to the mavericks, cosmic rays induce clouds to form when they strike our atmosphere and low-level clouds are thought to reflect sunlight, cooling the Earth. So, when solar activity is high, the Earth is protected from cosmic rays and fewer clouds are formed. Thus, more sunlight reaches Earth's surface and the planet heats up.
But how to prove this? During the 20th century, solar activity rose steadily, as did the amount of industrial gases being pumped into the atmosphere. With both quantities rising, it has been impossible to distinguish between them. Now, that has all changed.
In the past 12 months solar activity has fallen to levels unseen since the 1920s. Sunspots have become rare sights and for three quarters of this year the Sun has been spot-free. According to one study if the trend continues at its current rate, the Sun will lose its ability to produce sunspots by 2015. That would take it back to its condition in the latter 17th century, when hardly any sunspots appeared for 70 years — and Northern Europe underwent the worst years of the so-called Little Ice Age.
Winter scenes from this period were romanticised by artists such as Brueghel painting frost fairs and hunting scenes. But was the 17th century sunspot crash responsible for the Little Ice Age or a coincidence? Could we now find ourselves plunged into a similar freeze if the sunspots do not return?
The answer to the latter is, presumably, yes if the Sun is solely responsible for climate change; no if the mainstream is correct and solar influence is negligible. With this in mind, tonight in Bruges, I am chairing a public debate for the sixth annual European Space Weather Week between world authorities on solar variability who represent all sides of this discussion and have differing opinions about the Sun's influence on climate. Topping the agenda is the sunspot crash and the opportunity that it presents. The plunging solar activity level will effectively remove the solar influence on climate change. If we are vigilant and honest about any slowdown in warming, its amount will tell us exactly how much the Sun was contributing.
The smart money is on the level of solar contribution being somewhere between the two extremes. In other words, both solar activity and industrial gases play a role. There is credible scientific work that ascribes up to a third of current warming to solar influence. Studies show that the Earth's temperature mirrored solar activity until the 1980s. Then the number of sunspots stabilised but the temperature continued to rise. In other words, something overtook the Sun as the primary driver of the Earth's temperature. That is generally thought to be industrial gases.
Now the test can be made. It is time for all sides to put away the rivalry and begin to work together. Observations must be made, experiments performed and all data must be published, not cherry-picked. This golden opportunity to reach consensus must not be squandered.
Above all, we must not let any downturn in temperatures be used as an excuse by reluctant nations to wriggle out of pollution controls. Just as certainly as the solar activity has gone away, so it will return. If we have done nothing in the interim to curb man-made global warming, we will be in worse trouble than ever.
SOURCE
Elevating environmentalism over 'less worthy' lifestyles
The legal ruling that a belief in climate change is similar to a religious conviction seriously damages science, philosophy and democracy
Some scientists are bemused that a British judge has decided that a strong belief in alarmist climate-change scenarios ought to be awarded the status of religious faith. Following a judge's decision at a UK employment tribunal that Tim Nicholson, a sustainability officer who was sacked from a property firm, was entitled to legal protection for his 'philosophical belief' in climate change, scientists have been expressing their shock. 'As a scientist who works on climate change, I find it deeply alarming', said Myles Allen, who heads the Climate Dynamics group at the University of Oxford (1).
Allen's concerns are entirely understandable. Since the rise of the modern era, science has prided itself on its capacity to explain the world on the basis of experimentation, research and, above all, hard evidence. Science emerged, self-consciously, as an alternative to worldviews based on faith, moral conviction and other forms of a priori thought. So it is natural that a genuine scientist would feel insulted by the judge Sir Michael Burton's ruling that Nicholson's concern with climate change qualified as a 'philosophical belief' under the Religion and Belief Regulations 2003.
One reason why Allen and some of his colleagues are concerned about this decision is that it actually serves to undermine the pre-eminent authority of science today. In the twenty-first century, science has a near monopoly on authorising claims about virtually every aspect of human experience. We are far more interested in what 'science says' than in what 'God says'. Consequently, even those who are sceptical about science and the scientific method will nevertheless mobilise these things to support their arguments. Not long ago, in the 1970s and 80s, leading environmentalists insisted that science was undemocratic, that it was responsible for many of the problems facing the planet. Now, in public at least, their hostility towards science has given way to their embrace and endorsement of science. The global warming lobby depends on the legitimation provided by scientific evidence and expertise.
However, if science is recast by a legal ruling as simply a moral or religious worldview, then its pre-eminent authority is likely to be compromised. What is to distinguish science from quacks with strongly held principles?
The erosion of the line between science and moralising has not simply been brought about by one eccentric judge. In recent times more than a few scientists have found it difficult to resist the temptation to cross the line into domain of public moralising. Take the case of Professor David Nutt, the expert recently sacked from the Home Office's Advisory Council on the Misuse of Drugs. As a scientist, he is entitled to point to evidence which unequivocally calls into question the government's policy on drugs. But Nutt is not prepared to confine his role to that of a disinterested scientist; he also wants to be a moral crusader fighting against the scourge of alcohol.
'I want parents to know alcohol will kill your kids, not ecstasy', said Nutt last week, before insisting that the minimum drinking age should be increased to 21 (2). Nutt obviously has strong views on the subject of the minimum age of drinking, but these views are based on his personal moral attitude, not on science. The way in which Nutt can quite easily make a conceptual leap from scientific evidence to the domain of moral and political decision-making is symptomatic of a powerful trend today: the transformation of science into an ideology, if not a dogma.
Indeed, science often has the quality of a quasi-religious dogma these days, especially in the arena of climate-change alarmism. 'The scientists have spoken', says one British-based green campaign group, in an updated version of the religious phrase: 'This is the Word of the Lord.' 'This is what the science says we must do', many greens claim, before adding that the debate about global warming is 'finished'.
As I have argued previously on spiked, campaigners against climate change frequently prefix the term science with the definite article, 'the'. So Sir David Read, a former vice president of the prestigious scientific institution the Royal Society, stated: 'The science very clearly points towards the need for us all – nations, businesses and individuals – to do as much as possible, as soon as possible, to avoid the worst consequences of climate change.' (3) Unlike 'science', this new term – 'The Science' – is a deeply moralised and politicised category. Today, those who claim to wield the authority of The Science are really demanding unquestioning submission. The legal ruling that someone's belief in the behaviour modification demanded by climate-change activists should have the status of a religious conviction shows how much The Science now influences Britain's legal culture.
Although some scientists feel insulted that their views on climate change have been equated with a religion, there are many green activists who are more than happy to recruit the support of God to their cause. One blogger says 'thinking about environmentalism as if it were a religion is an interesting way to go'. Why? Because religion 'looks a lot more successful at achieving its aim worldwide than the environmental movement' (4). Tim Nicholson wants to have both God and Science on his team. After the judgement he noted that 'my moral and ethical values are similar to those promoted by many of the world's religions'. However, he also added that 'the difference is mine are not faith-based or spiritual, but grounded in overwhelming scientific evidence'.
Whether this 'philosophy' presents itself as science with a bit of religion, or as a religion based on science, appears to be a matter of personal opinion amongst campaigners, all of whom seem to believe that their cause is far too important for them to worry about opportunistic inconsistencies in argumentation.
Giving philosophy a bad name
When the law was changed to protect people from discrimination at work on the basis of their beliefs, many humanist and secular commentators believed this was a positive step forward. And some argued that philosophical beliefs ought to be accorded the same rights as religious beliefs. Unfortunately, what many supporters of the change in the law did not grasp was that if secular views were also transformed into 'weighty and substantial' beliefs, they would in effect become a form of pseudo-religion. This development is particularly striking in the way in which philosophy has been recast as religion-lite.
From the standpoint of Mr Justice Burton, adherence to climate-change theory is a philosophical belief because it is a view that is genuinely and deeply held. But where is the philosophy in all this? It is possible to argue that climate-change theory is inspired by a distinct epistemology and teleology and influenced by ethical and moral concerns. But in and of itself the belief in recycling and reducing consumption is not a philosophy.
Philosophy raises fundamental questions about the meaning of human existence. It engages with fundamental issues that underpin the sciences and public debate. Strictly speaking, the term 'philosophical belief' makes little sense, because philosophy is principally devoted to the task of asking questions and speculating about things, rather than providing answers. Philosophy is devoted to the quest for the truth in its quest for wisdom. It is not a secular form of religion. It does not rely on religious revelation for guidance, nor does it thrive when its search for answers is compromised by an adherence to a priori beliefs.
Such beliefs may arise out of a philosophical inquiry, but these beliefs do not constitute a philosophy as such. The term that Mr Justice Burton is really looking for to describe the beliefs and behaviour of climate-change crusaders is not philosophy or religion, but lifestyle.
The sacralisation of lifestyle
The decision to provide environmentalist arguments with the protection of the law, in a manner akin to that afforded to religion, demonstrates that the legal and political elites have lost their way. But it is important not to take too seriously the arguments used to support this decision. Strongly held moral views about the conduct of life have never been the essence of religions alone. In previous times, such sentiments informed political ideals and cultural movements. Today, the beliefs and practices advocated by Nicholson are part of his lifestyle. Yes, we take our lifestyles very seriously: what we eat, how we look or travel and whom we sleep with define many people's identities. But in a world where there are a multitude of lifestyles, all of which have assumed great significance, it is not possible to treat them all as quasi-religions.
To qualify for protection under the Equality and Employment (Religion or Belief) Regulations 2003, a philosophical belief must be 'genuinely held', be about a 'weighty and substantial' aspect of human experience, possess 'seriousness, cohesion and importance', and be 'worthy of respect in a democratic society'. This last point is most significant. Who decides which strongly held view is 'worthy of respect in a democratic society'? Certainly our legal and cultural elites have clear assumptions about which views are worthy of respect, and which are not. So last week we discovered that, under new proposals from the New Labour government, parents who are hostile to the provision of sex education in schools are not 'worthy of respect' despite the fact that their views are informed by genuine and deeply held convictions – their ability to withdraw their children from sex-education classes will be restricted.
Some forms of lifestyles are protected, or at least sacralised, by law, while others are stigmatised. So Christians who, in keeping with their beliefs, refuse to perform same-sex marriages are unlikely to gain legal protection, even though they express traditionally recognised religious convictions. However, those whose conscience does not allow them fly on Ryanair will now enjoy legal privileges and dispensation that are not accorded to their morally inferior colleagues. The sacralisation of elite-approved lifestyles creates a double standard that directly contradicts democratic norms.
Those who hold strongly held environmentalist views even have a semi-official mandate to break the law these days. Protesters against genetically modified (GM) food or nuclear power are often represented as idealist young people who are acting on 'everyone's behalf'. In truth, being part of the British political oligarchy, they have the kind of freedom to protest that is usually denied to ordinary mortals. That is why such protesters who break the law often face a sympathetic court hearing and win 'not guilty' verdicts (see State-sanctioned radicalism, by Brendan O'Neill).
So when Lord Melchett, the aristocratic former leader of Greenpeace, was arrested for criminal damage and theft after taking part in a protest against GM crops, he was genuinely shocked by his treatment. As far as he was concerned, his action was a 'direct expression of "people's power"'. Greenpeace, the self-appointed voice of the British people, described its action as an exercise in 'active citizenship' which 'keeps democracy healthy and responsive'.
Melchett, like many other leading lobbyists, has an elitist notion of democracy, one driven by a conviction that, if they believe that something is wrong, then waiting for an unresponsive political system to do something about it is a luxury that society cannot afford. Professional environmental protesters assume that they have the moral authority to take matters into their own hands, since they are acting on behalf of The People. They believe that their unique philosophical insights entitle them to special dispensation. Now, Mr Justice Burton has effectively agreed with them, elevating environmentalism over other, inferior, less 'worthy' beliefs – and democracy is all the more impoverished for it.
SOURCE
The silly prophecies never stop coming
An absurd premise leads to an absurd conclusion again: Global warming threatens to rob Italy of durum wheat used to make pasta, says leaky Jonathan. They'd be better off importing cheaper Australian durum wheat anyway
Scientists will this week warn that Italy may be forced to import the basic ingredients for pasta, its national food, because climate change will make it impossible to grow durum wheat.
In a report to be released by the Met Office tomorrow, scientists predict that Italy's durum yields will start to decline from 2020 and the crop will almost disappear from the country later this century.
The report will say: "Projected climate changes in this region, in particular rising temperature and decreasing rainfall, may seriously compromise wheat yields."
The warning is the latest example of the impact climate change could have on lifestyles and diets across Europe. It has emerged from the five-year Ensembles project, an EU-sponsored study straddling 66 research centres in 20 countries across Europe.
The project has been led by the Met Office which will host a conference to unveil its findings this week.
The aim was to combine the power of various super-computers used to predict climate by different research groups across Europe. This would enable the researchers to generate climate projections for particular countries and regions.
One element involved predicting how rising temperatures and changing rainfall might affect food production. Italy was chosen as a case study because it is a leading food producer and its southerly position means it is especially vulnerable to temperature rises.
The same report will deliver similar warnings about potato and wheat growing in Poland, which supplies other parts of the European Union. The study contradicts earlier research which suggested rising levels of CO2 might boost crop yields.
Plants use CO2 as a raw material for building the proteins and carbohydrates needed to survive and grow. The Ensembles project found that this effect would be outweighed by the damaging impact of climate change.
Paul van der Linden, director of Ensembles, who is based at the Met Office, said: "We have looked at a small number of crops but many others could experience similar declines as Europe gets hotter and drier summers."
It reinforces earlier research suggesting climate change may leave France unable to produce many of its leading wines, including champagne.
Similarly, Spain may also be unable to retain its position as a leading producer of fruit and vegetables because rising temperatures are predicted to turn much of the country into desert.
SOURCE
***************************************
For more postings from me, see DISSECTING LEFTISM, TONGUE-TIED, EDUCATION WATCH INTERNATIONAL, POLITICAL CORRECTNESS WATCH, FOOD & HEALTH SKEPTIC, GUN WATCH, SOCIALIZED MEDICINE, AUSTRALIAN POLITICS, IMMIGRATION WATCH INTERNATIONAL and EYE ON BRITAIN. My Home Pages are here or here or here. Email me (John Ray) here. For readers in China or for times when blogger.com is playing up, there are mirrors of this site here and here
*****************************************
17 November, 2009
Al Gore, the scientist
Political scientist only, it would seem
Note Al Gore's recent rant about earth's core being several million degrees...SEVERAL MILLION DEGREES!?? See
here
where Al Gore tells O'Brien (at 40 seconds): "the earth's core is "several million degrees."
Not hardly, Al, you doofus. The core of the earth is "only" about 10,000 degrees F.
(5700 K; 5400 C)
Besides, we've already been using geothermal energy for years in easily accessible places where it vents to the earth's surface; it's not new.
Regardless, Libs will forgive his pure ignorance because, after all, "he means well." Intelligent folks will further question his motivations (besides smarts) for pursuing CO2 so vigorously. (Income he gets from selling books, carbon credits and speeches on Catastrophic AGW, perhaps?)
Of course, we now we also understand his rants on supposed Manmade Global Warming/Climate Change; he really doesn't understand temperature differences.
Global warming traps icebreaker
It got stuck last year too -- in ice that was not supposed to be there
More than 100 penguin-loving tourists including dozens from Britain are trapped by ice off Antarctica aboard a Russian ice-breaker cruise ship, officials and the tour operator said on Monday. The Kapitan Khlebnikov is in a bay near Snow Hill island, located off the northeastern end of the Antarctic Peninsula, and cannot leave as the bay is sealed off with ice, the Russian transportation ministry said.
"The wind has currently slowed down in the area and the massing of the ice has ended. Everything is calm aboard the ice-breaker, nothing is threatening the passengers and crew," the ministry said in a statement. "When the wind changes to a favourable direction, the ice-breaker will head into clear water and on to the port of Ushuaia," at the extreme southern end of Argentina, the ministry predicted.
There were 105 passengers aboard the vessel and the total delay in the ship's scheduled trip could be around two days, it added. The ship has been at its current location for four days, German Kuzin, an official with the Far Eastern Shipping Company, the ship's owner, said in televised remarks. "There's nothing to worry about there," Kuzin said. "To put it plainly, the ship got stuck between an island and an ice massif."
Many of the passengers are Britons who paid more than STG10,000 ($A17,901.9) for a tour whose highlight was seeing emperor penguins on Snow Hill island, according to Exodus, a British tour operator. Around 50 mostly British passengers booked their tours through Exodus and have been well cared-for while the ship has been stuck, Rob Dixon, a spokesman for Exodus, told AFP by telephone from London. "There's a lot of entertainment on board," Dixon said. He said the weather was improving and predicted the ship would reach Ushaia by the end of this week, two or three days behind schedule. "They've certainly seen the penguins they came to see," Dixon added, noting that passengers had been able to leave the ship by helicopter.
Others aboard the ship included a three-person BBC television crew filming a documentary called The Frozen Planet, a spokeswoman for the British television network said in London. "Everyone's fit and well, there's no cause for concern, and they're filming today," she said, noting that they were filming emperor penguins for Frozen Planet, a BBC nature documentary series due to be aired in 2011.
Amenities aboard the Kapitan Khlebnikov include a swimming pool, a sauna and a bar operated by a professional bartender, according to the website of US-based tourism firm Quark Expeditions. The ship is "a polar-class icebreaker, combining power and technology with creature comforts", said Quark Expeditions, which leases the ship from Russia's Far Eastern Shipping Company.
SOURCE
Tipping points galore
Not again! Another 10-year climate 'tipping point' warning issued -- Despite fact that UN began 10-Year 'Climate Tipping Point' in 1989!
Once again, the world is being warned of a climate "tipping point." The latest bout of stern warnings comes from the UK Met Office: 'World has only ten years to control global warming, warns Met Office - UK Telegraph – November 15, 2009
Excerpt: Pollution needs to be brought under control within ten years to stop runaway climate change, according to the latest Met Office predictions. [...] "To limit global mean temperature [increases] to below 2C, implied emissions of CO2 to the atmosphere at the end of the century fall close to zero in most cases."
Inconvenient History of Climate 'Tipping Point' Warnings:
As early as 1989, the UN was already trying to sell their "tipping point" rhetoric on the public. See: U.N. Warning of 10-Year 'Climate Tipping Point' Began in 1989 – Excerpt: According to July 5, 1989, article in the Miami Herald, the then-director of the New York office of the United Nations Environment Program (UNEP), Noel Brown, warned of a "10-year window of opportunity to solve" global warming. According to the 1989 article, "A senior U.N. environmental official says entire nations could be wiped off the face of the Earth by rising sea levels if the global warming trend is not reversed by the year 2000. Coastal flooding and crop failures would create an exodus of 'eco-refugees,' threatening political chaos." (LINK) & (LINK)
NASA scientist James Hansen has been warning of a "tipping point" for years now. See: Earth's Climate Approaches Dangerous Tipping Point – June 1, 2007 – Excerpt: A stern warning that global warming is nearing an irreversible tipping point was issued today" by James Hansen.
Former Vice President Al Gore invented his own "tipping point" clock a few years ago. Excerpt: Former Vice-President Al Gore came to Washington on July 17, 2008, to deliver yet another speech warning of the "climate crisis." "The leading experts predict that we have less than 10 years to make dramatic changes in our global warming pollution lest we lose our ability to ever recover from this environmental crisis," Gore stated.
Prince Charles claimed a 96-month tipping point in July 2009. Excerpt: The heir to the throne told an audience of industrialists and environmentalists at St James's Palace last night that he had calculated that we have just 96 months left to save the world. And in a searing indictment on capitalist society, Charles said we can no longer afford consumerism and that the "age of convenience" was over.
The UN chief Ban Ki-moon further shortened the "tipping point" in August 2009, when he warned of 'incalculable' suffering without climate deal in December 2009!
Newsweek magazine waded into the tipping point claims as well. Newsweek wrote: "The longer the planners delay, the more difficult will they find it to cope with climatic change once the results become grim reality." But, Newsweek's "tipping point" quote appeared in a April 28, 1975 article about global cooling! Same rhetoric, different eco-scare.
UK Scientist Philip Stott ridiculed "tipping point" claims in 2007. Excerpt: In essence, the Earth has been given a 10-year survival warning regularly for the last fifty or so years. We have been serially doomed. [...] Our post-modern period of climate change angst can probably be traced back to the late-1960s, if not earlier. By 1973, and the 'global cooling' scare, it was in full swing, with predictions of the imminent collapse of the world within ten to twenty years, exacerbated by the impacts of a nuclear winter. Environmentalists were warning that, by the year 2000, the population of the US would have fallen to only 22 million [the 2007 population estimate is 302,824,000]. [...] In 1987, the scare abruptly changed to 'global warming', and the IPCC (the Intergovernmental Panel on Climate Change) was established (1988), issuing its first assessment report in 1990, which served as the basis of the United Nations Framework Convention on Climate Change (UNFCC).
More
HERE
(See the original for links)
CERN looking at effect of cosmic rays on clouds and hence climate
While CERN's vast Large Hadron Collider accelerator gathers all the headlines - allowing humble hacks to become Hollywood blockbuster scriptwriters - an ancient piece of atom hardware is beginning experiments that may prove to be of significance.
CERN's much-anticipated CLOUD experiment has begun, the atom lab says. Using the 50-year-old Proton Synchrotron, the experiment simulates cosmic rays passing through the earth's atmosphere, and hopes to reveal the extent to which the constant background drizzle of charged particles plays a role in cloud formation. Earlier experiments have suggested that ionisation causes clouds to "seed" - and that ionisation is influenced by the type and quantity of cosmic rays that reach the earth.
Both the sun and the earth's magnetic fields act as umbrellas, protecting the surface from the high energy particles, although two particles still reach the surface per second. But small changes in the cosmic ray flux produce significant changes in cloud cover. When fewer cosmic rays reach earth, the planet's climate is warmer, when more reach earth, the climate cools.
"So marked is the response to relatively small variations in the total ionization, we suspect that a large fraction of Earth's clouds could be controlled by ionisation," noted Danish scientist Henrik Svesmark this summer. Svensmark has pioneered the research using smaller experiments, but has waited over a decade to see it tested on such a scale.
Much of the recent interest comes from climate watchers. Clouds are one of the biggest factors in determining global surface temperature, but the UN's IPCC admits the level of scientific understanding of them is poor.
The cosmic ray effect - a factor of the background CBR bombardment itself, and the relative strength of the earth and the Sun's magnetic shields - shows a strong correlation between temperature, CBR and is extraordinary. Here's the relationship over the short term - around 2,000 years.
And here's the correlation into deep time, with CO2 as a comparison.
In addition, "deep freezes" in the Earth's temperatures have coincided with short-lived but intense bursts of cosmic ray activity. Modulation is thought to reflect the Sun's passage through spiral arms of the Milky Way, and also the Sun's oscillation in relation to the plane of the galaxy. The Sun bobs up and down 2.7 times per orbit.
CERN became involved when a visiting lecture by former
New Scientist
editor Nigel Calder was attended by Jason Kirkby - CLOUD's project leader. It's taken 12 years to fire up the particles for this major test. CERN has an interview with Kirby
here
.
SOURCE
Does Britain's Green craziness ever stop?
Greenies used to LIKE trees once
Britain is set to plunder the lungs of the world to feed its growing hunger for wood to burn in power stations. A series of biomass-fired plants are being built in the UK that will trigger a 150 per cent surge in timber imports from 20 million tonnes today to 50 million tonnes by 2015, according to the Forestry Commission. British power plants are already shipping wood from Canada, Brazil, Scandinavia and South Korea.
Just one of the new biomass plants at Port Talbot, South Wales, will consume three million tonnes of wood per year — equivalent to 30 per cent of the UK's domestic annual wood harvest of ten million tonnes. But the plant, which is due to open in 2012, will generate only 300 megawatt hours of electricity, or about 0.4 per cent of the UK's current power-generating capacity. At least four more 300-megawatt plants are planned, including three in Yorkshire that have been proposed by Drax, operator of Britain's largest coal-fired power station. Another company, MGT, plans to build one on Teesside.
A spokesman for Prenergy, which is behind the Port Talbot plant, said 90 per cent of its wood supplies would be imported, although he insisted that all of it would be sourced from proven sustainable sources.
Nevertheless, environmental campaigners have raised concerns about the carbon emissions involved in shipping the wood such large distances, while to meet UK pest control laws the timber will need to be baked before it can be shipped to the UK.
Wood industry officials have warned that British families could face soaring prices for a range of wood-based products, including furniture, wood panels and even wallpaper because of its impact on low-grade timber and wood pulp prices. "It's going to push timber prices through the roof," said Gavin Adkins, chairman of the Wood Panel Industry Federation. He is concerned that large parts of the £1 billion industry that rely on wood as its main raw material will be forced offshore.
Although wood prices have moderated during the recession, rapid growth in demand had led to a 25 per cent rise since 2007, Mr Adkins said. "We operate in a low-margin industry and our ability to absorb such increases in raw material costs is limited. Inevitably these costs will have to be passed on to the consumer. Obviously, the timing could not be worse for the construction industry, which has been seriously hit in this recession."
He said the number of jobs that may be lost was causing concerns for companies in the saw-milling, wood-panel and paper and pulp industries. The federation is lobbying for the biomass industry, which is supported by a government subsidy regime, to be given extra incentives to use waste wood instead of virgin timber for fuel. An estimated 4.5 million tonnes of waste wood are landfilled in the UK each year, according to government estimates.
A recent report from the Environment Agency stated that shipping timber from overseas could halve the potential carbon dioxide savings from biomass power.
SOURCE
Apocalypse Fatigue: Losing the Public on Climate Change
An amusing lament from Greenies Ted Nordhaus and Michael Shellenberger excerpted below. The one explanation for climate skepticism that they fail to consider is that the evidence for man-made global warming is just not there. A horse in blinkers would see more than they do
Last month, the Pew Research Center released its latest poll of public attitudes on global warming. On its face, the news was not good: Belief that global warming is occurring had declined from 71 percent in April of 2008 to 56 percent in October — an astonishing drop in just 18 months. The belief that global warming is human-caused declined from 47 percent to 36 percent.
While some pollsters questioned these numbers, the Pew statistics are consistent with the findings by Gallup in March that public concern about global warming had declined, that the number of Americans who believed that news about global warming was exaggerated had increased, and that the number of Americans who believed that the effects of global warming had already begun had declined.
The reasons offered for these declines are as varied as opinion about climate change itself. Skeptics say the gig is up: Americans have finally figured out that global warming is a hoax. Climate activists blame skeptics for sowing doubts about climate science. Pew's Andrew Kohut, who conducted the survey, says it's (mostly) the economy, stupid. And some folks have concluded that Americans, with our high levels of disbelief in evolution, are just too stupid or too anti-science to sort it all out.
The truth is both simpler and more complicated. It is simpler in the sense that most Americans just aren't paying a whole lot of attention. Between being asked about things like whether they would provide CPR to save the life of a pet (most pet owners say yes) or whether they would allow their child to be given the swine flu vaccine (a third of parents say no), pollsters occasionally get around to asking Americans what they think about global warming. When they do, Americans find a variety of ways to tell us that they don't think about it very much at all.
Three years after it seemed that "An Inconvenient Truth" had changed everything, it turns out that it didn't. The current Pew survey is the latest in a series of studies suggesting that Al Gore probably had a good deal more effect upon elite opinion than public opinion.
Public opinion about global warming, it turns out, has been remarkably stable for the better part of two decades, despite the recent decline in expressed public confidence in climate science. Roughly two-thirds of Americans have consistently told pollsters that global warming is occurring. By about the same majority, most Americans agree that global warming is at least in part human-caused, with this majority roughly equally divided between those believing that warming is entirely caused by humans and those who believe it to be a combination of human and natural causes. And about the same two-thirds majority has consistently supported government action to reduce greenhouse gas emissions since 1989.
This would be good news for action to address climate change if most Americans felt very strongly about the subject. Unfortunately, they don't. Looking back over 20 years, only about 35 to 40 percent of the U.S. public worry about global warming "a great deal," and only about one-third consider it a "serious personal threat." Moreover, when asked in open-ended formats to name the most serious problems facing the country, virtually no Americans volunteer global warming. Even other environmental problems, such as air and water pollution, are often rated higher priorities by U.S. voters than global warming, which is less visible and is experienced less personally than many other problems.
What is arguably most remarkable about U.S. public opinion on global warming has been both its stability and its inelasticity in response to new developments, greater scientific understanding of the problem, and greater attention from both the media and politicians. Public opinion about global warming has remained largely unchanged through periods of intensive media attention and periods of neglect, good economic times and bad, the relatively activist Clinton years and the skeptical Bush years. And majorities of Americans have, at least in principle, consistently supported government action to do something about global warming even if they were not entirely sold that the science was settled, suggesting that public understanding and acceptance of climate science may not be a precondition for supporting action to reduce greenhouse gas emissions.
The more complicated questions have to do with why. Why have Americans been so consistently supportive of action to address climate change yet so weakly committed? Why has two decades of education and advocacy about climate change had so little discernible impact on public opinion? And why, at the height of media coverage and publicity about global warming in the years after the release of Gore's movie, did confidence in climate science actually appear to decline?
Political psychology can help us answer these questions. First, climate change seems tailor-made to be a low priority for most people. The threat is distant in both time and space. It is difficult to visualize. And it is difficult to identify a clearly defined enemy. Coal executives may deny that global warming exists, but at the end of the day they're just in it for a buck, not hiding in caves in Pakistan plotting new and exotic ways to kill us.
Second, the dominant climate change solutions run up against established ideologies and identities. Consider the psychological concept of "system justification." System justification theory builds upon earlier work on ego justification and group justification to suggest that many people have a psychological need to maintain a positive view of the existing social order, whatever it may be. This need manifests itself, not surprisingly, in the strong tendency to perceive existing social relations as fair, legitimate, and desirable, even in contexts in which those relations substantively disadvantage the person involved.
Many observers have suggested that Gore's leading role in the global warming debate has had much to do with the rising partisan polarization around the issue. And while this almost certainly has played a part, it is worth considering that there may be other significant psychological dynamics at play as well.
Dr. John Jost, a leading political psychologist at New York University, recently demonstrated that much of the partisan divide on global warming can be explained by system justification theory. Calls for economic sacrifice, major changes to our lifestyles, and the immorality of continuing "business as usual" — such as going on about the business of our daily lives in the face of looming ecological catastrophe — are almost tailor-made to trigger system justification among a substantial number of Americans.
Combine these two psychological phenomena — a low sense of imminent threat (what psychologists call low-threat salience) and system justification — and what you get is public opinion that is highly resistant to education or persuasion. Most Americans aren't alarmed enough to pay much attention, and efforts to raise the volume simply trigger system-justifying responses. The lesson of recent years would appear to be that apocalyptic threats — when their impacts are relatively far off in the future, difficult to imagine or visualize, and emanate from everyday activities, not an external and hostile source — are not easily acknowledged and are unlikely to become priority concerns for most people. In fact, the louder and more alarmed climate advocates become in these efforts, the more they polarize the issue, driving away a conservative or moderate for every liberal they recruit to the cause.
These same efforts to increase salience through offering increasingly dire prognosis about the fate of the planet (and humanity) have also probably undermined public confidence in climate science. Rather than galvanizing public demand for difficult and far-reaching action, apocalyptic visions of global warming disaster have led many Americans to question the science. Having been told that climate science demands that we fundamentally change our way of life, many Americans have, not surprisingly, concluded that the problem is not with their lifestyles but with what they've been told about the science. And in this they are not entirely wrong, insofar as some prominent climate advocates, in their zeal to promote action, have made representations about the state of climate science that go well beyond any established scientific consensus on the subject, hyping the most dire scenarios and most extreme recent studies, which are often at odds with the consensus of the Intergovernmental Panel on Climate Change.
These factors predate but appear to have been exacerbated by recession. Pew's pollster Kohut points to evidence indicating that the recession has led many Americans to prioritize economic over environmental concerns...
Perhaps we should give the American public a little more credit. They may not know climate science very well, but they are not going to be muscled into accepting apocalyptic visions about our planetary future — or embracing calls to radically transform "our way of life" — just because environmentalists or climate scientists tell them they must. They typically give less credit to expert opinion than do educated elites, and those of us who tend to pay more attention to these questions would do well to remember that expert opinion and indeed, expert consensus, has tended to have a less sterling track record than most of us might like to admit....
More
HERE
***************************************
For more postings from me, see DISSECTING LEFTISM, TONGUE-TIED, EDUCATION WATCH INTERNATIONAL, POLITICAL CORRECTNESS WATCH, FOOD & HEALTH SKEPTIC, GUN WATCH, SOCIALIZED MEDICINE, AUSTRALIAN POLITICS, IMMIGRATION WATCH INTERNATIONAL and EYE ON BRITAIN. My Home Pages are here or here or here. Email me (John Ray) here. For readers in China or for times when blogger.com is playing up, there are mirrors of this site here and here
*****************************************
16 November, 2009
Another Warmist assumption shattered
None of their models predict this sort of thing. They predict gradual warming. BUT: "Ice Age 'took six months to freeze Europe'
It took just six months for a warm and sunny Europe to be engulfed in ice, according to new research. Previous studies have suggested the arrival of the last Ice Age nearly 13,000 years ago took about a decade - but now scientists believe the process was up to 20 times as fast.
Geological sciences professor William Patterson, who led the research, said: 'It would have been very sudden for those alive at the time. It would be the equivalent of taking Britain and moving it to the Arctic over the space of a few months.'
Professor Patterson's findings emerged from one of the most painstaking studies of climate changes ever attempted and reinforce the theory that the earth's climate is unstable and can switch between warm and cold incredibly quickly.
[Which makes ALL prophecies based on current knowledge useless]
His conclusions, published in New Scientist, are based on a study of mud deposits extracted from a lake in Western Ireland, Lough Monreagh - a region he describes as having the 'best mud in the world in scientific terms'. Professor Patterson used a precision robotic scalpel to scrape off layers of mud just 0.5mm thick. Each layer represented three months of sediment deposition, so variations between them could be used to measure changes in temperature over very short periods. He found that temperatures had plummeted, with the lake's plants and animals rapidly dying over just a few months. ... The subsequent mini Ice Age lasted for 1300 years....
More
HERE
(I have not reproduced the speculation added on to the above factual report -- JR)
World Leaders Agree to Delay Global Warming Deal
I mentioned this yesterday but it is such good news for the planet that it desrves a re-run. Prosperity is very good for the environment and Warmist laws would be a frontal attack on prosperity
World leaders meeting in Singapore have decided to punt on reaching any firm agreement at next month's global warming conference in Copenhagen.
The decision represents a huge setback to the Obama administration's goal of passing a cap and trade bill this year, which conversely is great news for virtually every company in America that has been worried about the higher cost of doing business that would come from the enactment of such legislation.
As the New York Times reported:
"President Obama and other world leaders have decided to put off the difficult task of reaching a climate change agreement at a global climate conference scheduled for next month, agreeing instead to make it the mission of the Copenhagen conference to reach a less specific "politically binding" agreement that would punt the most difficult issues into the future. [...]

"There was an assessment by the leaders that it is unrealistic to expect a full internationally, legally binding agreement could be negotiated between now and Copenhagen, which starts in 22 days," said Michael Froman, the deputy national security adviser for international economic affairs. "I don't think the negotiations have proceeded in such a way that any of the leaders thought it was likely that we were going to achieve a final agreement in Copenhagen, and yet thought that it was important that Copenhagen be an important step forward, including with operational impact." [...]

The agreement on Sunday codifies what negotiators had already accepted as all but inevitable: that representatives of the 192 nations in the talks would not resolve the outstanding issues in time. The gulf between rich and poor countries, and even among the wealthiest nations, was just too wide.

Among the chief barriers to a comprehensive deal in Copenhagen was Congress's inability to enact climate and energy legislation that sets binding targets on greenhouse gases in the United States. Without such a commitment, other nations are loath to make their own pledges.

Administration officials and Congressional leaders have said that final legislative action on a climate bill would not occur before the first half of next year".
All together now -- aaaawwwww!
SOURCE
COP15 and the Shameless Manipulation of Children
The United Nations Climate Summit in Copenhagen is fast approaching, and with cap and trade legislation languishing in Congress, developing nations averse to binding regulations, and the public preoccupied with a faltering economy, hopes by climate treaty advocates that a climate agreement will be reached this December are diminishing. Nevertheless, advocates for a sovereignty-usurping, economically-devastating, wealth-redistributing and environmentally-fraudulent treaty are tirelessly churning out materials meant to sway the public and assert pressure on leaders to reach an enforceable agreement.
The World Wildlife Fund (WWF) provides an example. Agitating for a "green industrial revolution," the WWF is a vociferous advocate for global warming legislation and environmental activism - regardless of the practical consequences. Last month, for example, the outfit came out with the breathless pronouncement that the world has less than five years to drastically cut carbon emissions or, it claims, climate catastrophe will be inevitable. (To be fair, this was less absurd than British Prime Minister Gordon Brown's October 19 prediction that the global community had only 50 days to avert disaster.)
Several days ago the WWF crossed a line, releasing a propagandistic video of children of WWF staffers parroting the illogical doomsday scenarios the group works to propagate. The WWF explained the video's objective:
"To urge the President to lead us in Copenhagen and outline what we'd like to see in the agreement, we invited children of WWF staffers to tape a personal message to the President asking for his support... We hope you'll be inspired to send an email or write a letter to the White House that tells President Obama that you want him to go to Copenhagen to protect our planet."
Child welfare officials have investigated the now infamous parents of "Balloon Boy" for allegedly coaching him to lie in a publicity scheme. These WWF parents coerced their children for political influence, and, should their efforts succeed, a thoroughly destructive climate treaty.
Which is worse?
SOURCE
(See the original for video)
An Alarmist Modeler's History of Climate Change
Behind the persistent global warming scare is the hypothesis and assertion that increasing atmospheric carbon dioxide levels are causing Earth to warm dangerously. The thesis is espoused most prominently by Al Gore, James Hansen, modelers and other alarmists. It is the fundamental assumption behind the computer models that consistently conjure up headline-grabbing climate change disaster scenarios.
A basic principle of geology and other sciences is that the same natural processes we observe today – erosion, plant growth, species adaptation and so on – occurred in a similar manner throughout Earth's history. Therefore, if carbon dioxide and other greenhouse gases are causing global warming today, they must have done so in the past, and certainly in the recent historic past.
The challenge, then, is to discover the sources of those climate villains throughout history. This brief summary of key events is intended to aid in that quest, and explain how the Gore-Hansen thesis worked through the ages.
Sea levels have risen 400 feet since the last Ice Age ended, melting mile-thick Pleistocene glaciers, drowning land bridges and creating new coral reefs. The repeated glacial and interglacial epochs were caused by rising and falling levels of mammoth flatulence and emissions from cave man fires, the only sources of substantial greenhouse gases (GHG) at the time.
In northern Africa, green river valleys were once home to contented hippopotami and happy human villagers. Then, 4,000 years ago, the region metamorphosed into the Sahara Desert, as Egyptian slaves cooked over open fires and breathed heavily, while building pyramids for pharaohs.
Earth warmed further during the Roman and Medieval Warm Periods, as fires from constant warfare and sacked cities dramatically increased GHG. The burning of English and Irish villages by Viking raiders raised global temperatures even further, enabling Eric the Red to colonize Greenland. As the Vikings swapped raiding for farming, however, atmospheric CO2 levels declined, and the Little Ice Age set in.
For centuries, peaceable Anasazi Indians built cliff dwellings and farmed the land in Arizona and New Mexico. But then other tribes began setting forest fires to create farmland, and lightning started prairie fires. GHG levels rose, causing a prolonged drought that finally made life unbearable for the Anasazi, who abandoned their magnificent stone villages on the Colorado Plateau.
In more recent times, American families tamed and farmed the Great Plains. But then the automobile, airplane and World War I drove CO2 and GHG previously unheard of levels. The resultant Dust Bowl devastated the region, forcing millions to leave their homesteads.
Fortunately, World War II intervened, and even higher concentrations of carbon dioxide, methane, dust, and particulates from burning oil and cities ended the warming and droughts, and ushered in a new era of global cooling. It was marked by snows and freezing cold at Stalingrad and the Battle of the Bulge, and later by the "new Little Ice Age" scare headlined by Newsweek in 1975.
As GHG levels continued to "soar," all the way from 0.0280% of Earth's atmosphere to 0.0350% (250-350 ppm), global cooling gave way to a new bout with global warming. Finally, as CO2 and GHG climbed even higher (all the way to 0.0380% of the atmosphere, equivalent to 38 cents out of $1000), planetary temperatures mysteriously stabilized around 1998 and then began to decline slightly. The world entered the age of "climate change," or more accurately "manmade catastrophic climate change," in which every weather anomaly is blamed on emissions from human use of hydrocarbons.
This brief recounting of human history is admittedly incomplete, and fails to address events in Asia and Sub-Saharan Africa. However, historians can certainly fill in those gaps.
Alternatively, scientists, journalists, academics, modelers and politicians could begin to examine the climate change issue from a more scientific, less ideological perspective. They could worry less about perpetuating or expanding the one-track $89-billion (1989-2009) gravy train of federal government grants for breathless studies of how "manmade climate change" causes frightening increases in everything from house cats and hurricanes to malaria, rainfall, droughts and suicides. (An online search under "everything is caused by global warming," will locate a complete list.)
Gore, Hansen, Stephen Schneider, and Senators Boxer and Kerry could actually engage in a few debates about global warming/catastrophic climate change science and economics.
They might be surprised to learn that climate change has actually brought benefits to mankind and planet Earth, including a greening of the Sahara Desert over the last twenty years, due to increased rainfall and CO2 levels. Even trees and animals are coming back to a region once devastated by Egyptian slaves.
They might be stunned to find that ice core and other data demonstrate that temperatures warmed first during past climate changes, and then atmospheric CO2 levels increased, as warming ocean waters released some of the carbon dioxide that they sequestered during colder periods.
They might be amazed to discover that our ancestors, who were even more dependent on agriculture than we are – and even less technologically advanced – somehow managed to cope with climate change. They adapted! As James Burke, Brian Fagan and other historians have noted, they responded to the Little Ice Age by modifying their houses, heating systems, clothing and farming practices. (Optimists might suppose that our far more advanced technologies will make us even better able to adapt to whatever climate changes nature, or man, might visit upon us in the future.)
Alarmists might be shocked to think the causes of past climate changes were the same natural forces and influences that drive changes in Earth's complex, chaotic, unpredictable weather and climate today: continental movements and volcanoes, and periodic shifts in water vapor and cloud cover, evaporation and precipitation, ocean currents and jet streams, planetary alignments and the shape of the Earth's orbit, the tilt and wobble of Earth's axis, solar energy output, and cosmic rays hitting the planet.
Meanwhile, hard-pressed consumers and taxpayers might finally figure out that the fear-mongering over global warming has little to do with scientific "evidence" to back up the speculation, assumptions and assertions that mankind faces a climate cataclysm. (Models are not evidence.) It has everything to do with money, prestige, careers, power and control over energy use and economic opportunity – and an abiding distaste for hydrocarbons, personal freedom, modern living standards, and real environmental justice.
But don't hold your breath for a debate. Climate alarmists are scared to death to debate. They prefer to dismiss and intimidate climate realists, assert "consensus," and assiduously ignore both Earth's history of natural climate change and the 31,000 "Oregon Petition" natural scientists who vigorously contest their claims of manmade Climate Armageddon.
SOURCE
Al Gore Heckled During Global Warming Speech In Boca Raton
Nobel Laureate Al Gore was heckled during a global warming speech he gave Saturday in Boca Raton, Florida. Addressing a crowd of a thousand people at the Mizner Park Amphitheater, Gore was repeatedly booed by about 200 protesters stationed outside the open-air facility. As reported by the Sun Sentinel Saturday:
"Stationed outside the Mizner Park Amphitheater, the protesters jeered at Gore as he took the podium and at those walking into the open-air venue to listen to the speech.

"This is the most dangerous crisis we've ever faced," Gore said of climate change. He spoke over a chorus of boos from protesters, who were monitored by at least a dozen uniformed city police officers.

Many of the protesters were with the groups Collegians for a Constructive Tomorrow and South Florida Tea Party, the latter of which feels that Gore's views will eventually lead to increased taxes and flawed business legislation. The protesters carried drums, bullhorns and posters. One read "Practice what you preach," accusing Gore of not living a green lifestyle. Another poster read "The masses follow the asses," depicting the protesters' opinion that Gore's message is not backed by scientific evidence.
SOURCE
Bacteria turn carbon dixoide into fuel
US researchers have genetically modified bacteria to eat carbon dioxide and produce isobutyraldehyde - a precursor to several useful chemicals, including isobutanol, which has great potential as a fuel alternative to petrol. The modified bacteria are highly efficient and powered by sunlight, so a future goal is to set up colonies near to industrial plants. This would allow greenhouse gases to be recycled into useful chemical feedstock - supplying several hydrocarbons that are typically obtained from petroleum.
Liao and his team used genetically modified cyanobacteria to produce isobutyraldehyde from carbon dioxide. Cyanobacteria and microalgae that consume CO2 have been identified for a long time, but none produce any liquid molecules that can easily be used as fuel. In the past, attempts have been made to engineer these organisms to produce hydrogen or ethanol, but making the process efficient is a challenge.
'Here, we were successful in engineering CO2-eating bacteria to produce isobutyraldehyde very efficiently,' says James Liao, who led the work at the University of California, Los Angeles, US. 'Our process is around 10 times faster than hydrogen production and about 100 times faster than genetically engineered ethanol production.'
Liao's team modified the genome of the cyanobacteria Synechococcus elongatus by incorporating four genes from other bacteria into the structure. These genes, which come from L. lactis, B. subtilis and E. coli, produce enzymes that hijack the metabolism of the microbes - turning them into miniature reaction vessels.
The synthetic pathway begins with the photosynthetic conversion of CO2 to pyruvic acid by the bacteria. Next, the reaction continues in the bacteria as the added genes trigger three further steps to make isobutyraldehyde.
Importantly, extracting the final product from the mix is a simple process. 'The fuel vaporises to the gas phase easily, making separation extremely simple. Afterwards, we can liquefy it again by simple condensation,' Liao told Chemistry World. This process helps keep the bacteria alive longer, as they are not exposed to large amounts of chemicals. 'The bacteria are very stable, and in our flasks without much environmental control, the bacteria continued to produce for about 10 days,' Liao says.
But there are still much work to be done before the process can be commercialised, Liao notes, particular with scaling up the process.
SOURCE
***************************************
For more postings from me, see DISSECTING LEFTISM, TONGUE-TIED, EDUCATION WATCH INTERNATIONAL, POLITICAL CORRECTNESS WATCH, FOOD & HEALTH SKEPTIC, GUN WATCH, SOCIALIZED MEDICINE, AUSTRALIAN POLITICS, IMMIGRATION WATCH INTERNATIONAL and EYE ON BRITAIN. My Home Pages are here or here or here. Email me (John Ray) here. For readers in China or for times when blogger.com is playing up, there are mirrors of this site here and here
*****************************************
15 November, 2009
More about 'Scientific Consensus'
By S. Fred Singer
According to
the UK Met Office
, the core climate science from the Intergovernmental Panel on Climate Change (IPCC) was written by 152 scientists from more than 30 countries and contributed to and/or reviewed by some 600 experts. Not mentioned, however, is the fact that many of the reviewers disagreed with the IPCC conclusion that most of the observed increase in global average temperatures since the mid-20th century is "very likely" (>90% sure) due to the observed increase in man-made greenhouse gas concentrations.
Also unmentioned is the fact that most of the science of the IPCC report is not controversial. The only crucial chapter is Chapter 9 (on "Attribution"), in which the IPCC attempts to show that 20th century warming was anthropogenic. It was written by only 9 scientists and is dominated by a tightly controlled clique whose members referee each others' papers and consider 'attribution studies' as their private fiefdom.
The NIPCC was set up to break down this monopoly. The NIPCC Summary (2008) and full report (2009) demonstrate that there is no real evidence backing the IPCC conclusion www.NIPCCreport.org.
The following letter, signed by senior physicists, was sent to all 100 U.S. senators on October 29, 2009:
A GAGGLE IS NOT A CONSENSUS

You have recently received a letter from the American Association for the Advancement of Science (AAAS), purporting to convey a "consensus" of the scientific community that immediate and drastic action is needed to avert a climatic catastrophe.

We do not seek to make the scientific arguments here (we did that in an earlier letter, sent a couple of months ago), but simply note that the claim of consensus is fake, designed to stampede you into actions that will cripple our economy, and which you will regret for many years. There is no consensus, and even if there were, consensus is not the test of scientific validity. Theories that disagree with the facts are wrong, consensus or no.

We know of no evidence that any of the "leaders" of the scientific community who signed the [AAAS] letter to you ever asked their memberships for their opinions, before claiming to represent them on this important matter.

We also note that the American Physical Society (APS, and we are physicists) did not sign the letter, though the scientific issues at stake are fundamentally matters of applied physics. You can do physics without climatology, but you can't do climatology without physics.

The APS is at this moment reviewing its stance on so-called global warming, having received a petition from its membership to do so. That petition was signed by 160 [by now well over 200] distinguished members and fellows of the Society, including one Nobelist and 12 members of the National Academies. Indeed a score of the signers are Members and Fellows of the AAAS, none of whom were consulted before the AAAS letter to you.
SEPP Science Editorial #36-2009 (11/14/09)
NOTE: Fred Singer is headed for Europe at the moment -- for lectures/briefs/debates. He invites you to come by if you are close. Get detailed schedule and contacts from Ken@Haapala.com but here is the outline: Brussels (EU Parliament) Nov 18-19. London (IEA) Nov 20-24. Zurich Nov 25. Stuttgart (DLR) Nov 26. Heidelberg, Mainz Nov 27-28. Brussels Nov 30-Dec 2. Berlin Dec 4. CPH Dec 6 –11.
"No fixed target" for emissions say Asian leaders
ASIA-Pacific leaders will drop a fixed target for halving greenhouse gas emissions in a final summit statement, a Chinese official said, ahead of a breakfast meeting on climate issues organised by Australian Prime Minister Kevin Rudd. "On the 50 per cent reduction target (from 1990 levels) by 2050, yes, it did appear in the draft," said Yi Xianliang, a Chinese foreign ministry official who is part of the country's negotiating team at world climate talks. "However, it is a very controversial issue in the world community... if we put it in this (final) statement, I think it would disrupt the negotiation process," he told reporters on the sidelines of the Asia-Pacific Economic Cooperation (APEC) summit.
Leaders from 21 APEC members including US President Barack Obama and Chinese President Hu Jintao are in Singapore for an annual summit ending today. The meeting is one of the last international gatherings ahead of world climate change talks opening in Copenhagen on December 7.
Chinese officials said Mr Hu would attend a breakfast meeting called by Mr Rudd dedicated to the climate change issue, and would give a speech outlining steps China has taken to battle global warming. Mr Obama is also expected to attend Mr Rudd's climate breakfast, other officials said.
A rift has widened between rich nations such as the United States and developing ones like China over who should bear the most responsibility for reducing the emissions blamed for global warming. The United States wants China to commit to aggressive steps to curb its rapidly rising emissions. China, however, says the West bears historical responsibility for the build-up of carbon levels in the atmosphere and must shoulder most of the burden for cutting emissions. The United States and China are the two largest sources of such emissions.
Mr Yi declined to comment on which nations pushed for the removal of the emission cut target from the draft APEC statement, which was obtained by AFP last week. "We believe that global emissions will need to peak over the next few years, and be reduced to 50 per cent below 1990 levels by 2050, recognising that the time frame for peaking will be longer in developing countries," it had said.
The Chinese official said the excision of the 50 per cent target was a "collective decision" by the APEC members. Mr Yi added that rich nations were increasingly showing a tendency to back away from tough action on climate change. "It is fair to say that the biggest obstacle to climate change negotiations is the bloc of developed nations," he said.
SOURCE
Propaganda failure: Global warming is not our fault, say most British voters
Less than half the population believes that human activity is to blame for global warming, according to an exclusive poll for The Times.
The revelation that ministers have failed in their campaign to persuade the public that the greenhouse effect is a serious threat requiring urgent action will make uncomfortable reading for the Government as it prepares for next month's climate change summit in Copenhagen.
Only 41 per cent accept as an established scientific fact that global warming is taking place and is largely man-made. Almost a third (32 per cent) believe that the link is not yet proved; 8 per cent say that it is environmentalist propaganda to blame man and 15 per cent say that the world is not warming.
Tory voters are more likely to doubt the scientific evidence that man is to blame. Only 38 per cent accept it, compared with 45 per cent of Labour supporters and 47 per cent of Liberal Democrat voters.
The high level of scepticism underlines the difficulty the Government will have in persuading the public to accept higher green taxes to help to meet Britain's legally binding targets to cut carbon emissions by 34 per cent by 2020 and 80 per cent by 2050.
The recession appears to have made tackling climate change less of a priority for many people. Only just over a quarter (28 per cent) think that it is happening and is "far and away the most serious problem we face as a country and internationally", while just over half (51 per cent) think it is "a serious problem, but other problems are more serious".
Vicky Pope, head of climate change advice at the Met Office, said that growing awareness of the scale of the problem appeared to be resulting in people taking refuge in denial. "Being confronted with the possibility of higher energy bills, wind farms down the road and new nuclear power stations encourages people to question everything about climate change," she said. "There is a resistance to change and some people see the problem being used as an excuse to charge them more taxes."
Ed Miliband, the Energy and Climate Change Secretary, said: "The overwhelming body of scientific information is stacked up against the deniers and shows us that climate change is man-made and is happening now. We know that we still have a way to go in informing people about climate change and that is why we make no apologies about pushing forward with our new Act on CO2 campaign."
SOURCE
Beach alarmism comes unglued
Hawaii's famed white sandy beaches are shrinking so the "global warming" shriek arose -- but some pesky Prof. stymied that by pointing out that sea levels have been rising for over a century. It's not a recent rise, as the Warmists would have you believe. And there are still untold miles of beautiful deserted sandy beaches in Northern Australia so the sea level has got a ways to go yet. If you get on a flight to Cairns International airport in Australia, you will have ready access to beaches that you can only dream of in Hawaii
Jenn Boneza remembers when the white sandy beach near the boat ramp in her hometown was wide enough for people to build sand castles. "It really used to be a beautiful beach," said the 35-year-old mother of two. "And now when you look at it, it's gone."
What's happening to portions of the beach in Kailua — a sunny coastal suburb of Honolulu where President Barack Obama spent his last two family vacations in the islands — is being repeated around the Hawaiian Islands. Geologists say more than 70 percent of Kauai's beaches are eroding while Oahu has lost a quarter of its sandy shoreline. They warn the problem is only likely to get significantly worse in coming decades as global warming causes sea levels to rise more rapidly. "It will probably have occurred to a scale that we will have only been able to save a few places and maintain beaches, and the rest are kind of a write-off," said Dolan Eversole, a coastal geologist with the University of Hawaii's Sea Grant program.
The loss of so many beaches is an alarming prospect for Hawaii on many levels. Many tourists come to Hawaii precisely because they want to lounge on and walk along its soft sandy shoreline. These visitors spend some $11.4 billion each year, making tourism the state's largest employer.
Disappearing sands would also wreak havoc on the environment as many animals and plants would lose important habitats. The Hawaiian monk seal, an endangered species, gives birth and nurses pups on beaches. The green sea turtle, a threatened species, lays eggs in the sand.
Chip Fletcher, a University of Hawaii geology professor, says scientists in Hawaii haven't yet observed an accelerated rate of sea level rise due to global warming. Instead, the erosion the islands are experiencing now is caused by several factors including a steady historical climb in sea levels that likely dates back to the 19th century. Other causes include storms and human actions like the construction of seawalls, jetties, and the dredging of stream mouths. Each of these human actions disrupts the natural flow of sand.
But a more rapid rise in sea levels, caused by global warming, is expected to contribute to erosion in Hawaii within decades. In 100 years, sea levels are likely to be at least 1 meter, or 3.3 feet, higher than they are now, pushing the ocean inland along coastal areas. Fletcher says between 60 to 80 percent of the nation's shoreline is chronically eroding. But the problem is felt particularly acutely in Hawaii because the economy and lifestyle are so dependent on healthy beaches.
The state is doing everything it can to keep the sand in Waikiki, for example, joining with hotels in the state's tourist hub on a plan to spend between $2 million and $3 million pumping in sand from offshore.
Sam Lemmo, administrator of the state's Office of Conservation and Coastal Lands, says the state would need a variety of adaptation strategies for different beaches. It would likely have to abandon hope for beaches in posh Lanikai and suburban Ewa Beach on Oahu because they're already lined with seawalls and are badly eroded. The same probably goes for shoreline next to highways or other critical public infrastructure, where seawalls already exist or may have to be built. Seawalls protect individual properties from encroaching waters but they exacerbate erosion nearby by preventing waves from reaching the sand needed to replenish the beach.
For undeveloped shoreline, the state wants to make sure these areas stay pristine. This happened recently when a Florida-based developer announced plans to build luxury homes on sand dunes in Kahuku on Oahu's North Shore. "We just kind of went nuts, pulled out all the guns on that one, basically got them to back off," Lemmo said. "We're working pretty hard to keep any new development away from these areas."
SOURCE
Corn Ethanol: A "Slow-Motion Train Wreck"
On Monday, Pavel Molchanov, a Houston-based analyst with Raymond James & Associates issued a report that should be required reading for every member of Congress. The first few lines of Molchanov's report, "Corn Ethanol's Slow-Motion Train Wreck: What Will Follow In Its Wake?" are classic examples of both sharp thinking and razor-sharp writing: "Finito. Kaputt. Sayonara. However you say it, we think there is no denying the fact that America's corn ethanol industry is finished… the industry is finished in the sense of no longer being seen as a 'game-changing,' long-term solution to the structural imbalance between oil supply and demand."
Molchanov goes on, saying that as other alternative fuels, like compressed natural gas get more political support, "it is likely that corn ethanol will be increasingly relegated to the big grain elevator in the sky."
This kind of plain talking from a Wall Street analyst like Molchanov about the corn ethanol scam is long overdue. The ongoing robbery of US taxpayers via the corn ethanol mandates has achieved the one thing that the ethanol boosters promised. Specifically, it has not resulted in a reduction in US oil imports. For more on that, read Robert Rapier's killer analysis which we published last month. Or, also see my piece, published in Slate, in November 2008 on the same subject.
Despite the facts about the corn ethanol, Congress continues to give political cover to the corn ethanol scammers, a point that Molchanov makes very clearly:
Notwithstanding all the controversies surrounding ethanol in recent years – its impact on global food prices, to name just one – Washington continues to provide Midwestern farmers (many of whom live, amazingly enough, in electoral swing states) with lots of goodies. The three big ones are the blenders' tax credit, the ethanol import tariff (helping keep out Brazilian sugar ethanol), and most importantly, a guaranteed floor for demand via the Renewable Fuel Standard (RFS). Originally enacted in 2005, the RFA was upsized in the December 2007 energy bill by a Democratic Congress and a Republican president – showing that if there is one thing the parties can agree on, it's pandering to farmers.
Ah yes, pandering to farmers – one of the oldest of the Washington professions. For a classic example of that pandering, recall that the Waxman-Markey cap-and-trade bill which passed the House in June included a provision – which was reportedly inserted at the behest of Minnesota Democratic Rep. Collin Peterson -- that exempts the corn ethanol scam from any oversight by the EPA on its total greenhouse gas emissions. That's important because a number of studies have shown that when compared with conventional gasoline, corn ethanol is actually worse in terms of greenhouse gases. In 2008, a study led by Princeton academic Tim Searchinger found that corn ethanol nearly doubles greenhouse gases over a 30-year time period. Another study by Searchinger, published last month in Science, also underscored the need for more rigorous accounting when it comes to biofuels and their total greenhouse gas emissions. (See here for an interview I did with Searchinger in March 2008.)
The US now has 202 ethanol distilleries with a total nameplate capacity of 13.1 billion gallons per year (about 850,000 barrels per day). But according to Ethanol Producer magazine, 23 of those distilleries – with a total capacity of 1.27 billion gallons of alcohol – are now sitting idle. In other words, nearly 10% of total US corn ethanol production capacity is now sitting idle because the economics of the business are lousy. The investors who rushed to build new production capacity back in 2007 now are wondering what to do with their expensive machinery. Of course, the industry has rebounded somewhat in recent months. Back in February, about 16% of total US ethanol production capacity was idle.
But looking forward, Molchanov doesn't see much relief for the corn ethanol scam. He points out that investment capital is scarce and that the industry may not have enough capacity by 2015 to meet the Congressional mandates, which require US motor fuel suppliers to be blending at least 15 billion gallons of ethanol into gasoline supplies by 2015. "Even if the EPA allows ethanol blending at 12% or 15% rather than 10% – as the industry is aggressively lobbying for – the industry's poor economics," will still hamper any new investment in additional distilleries.
And what about cellulosic ethanol, that wonder fuel that everyone talks about but no one ever sees? Here's Molchanov's take: As the pitfalls of corn ethanol have become increasingly apparent, cellulosic ethanol developers will have an opportunity to provide a better alternative, but it's still years away from commerciality, with significant financing and execution risks in the meantime." Now there's an understatement. Despite decades of hype from various media darlings including Amory Lovins, cellulosic ethanol still has not achieved anything close to commercial levels of production. And it's doubtful that it will achieve commerciality at any time over the next few decades.
What does that mean? Well, it means that Congress is going to have to rethink the rules that it laid out in the 2007 energy bill which require fuel suppliers to be blending 21 billion gallons of cellulosic ethanol into the US fuel supply by 2022.
Molchanov's look the ethanol train wreck is a welcome bit of truth amid an energy debate that is increasingly detached from any semblance of reality.
SOURCE
Australia: Prime Minister Rudd buys off the farmers. He wants a climate deal at any price
Agriculture now to be exempt from Warmist laws but that blows a huge hole in any effect the laws might have. Rudd is showing his Chinese influences: He is now just trying to save face. He cares about global warming about as much as I do
In a shock move, the Federal Government has decided to exempt all agriculture from its proposed emissions trading scheme, turning up the heat on Malcolm Turnbull's Opposition leadership. The Coalition has been calling for the exemption – and the Government's surprise move dramatically raises the stakes for Mr Turnbull to close a deal with Climate Change Minister Penny Wong to pass the ETS in the next two weeks of Parliament.
Yet sections of the Opposition Leader's Liberal Party and the Nationals are likely to remain opposed to any such deal regardless, leaving Mr Turnbull's authority in shreds.
The surprise concession by the Government will be announced by Senator Wong today ahead of the resumption of Parliament this week. The initiative will also isolate the Nationals, who have been using the inclusion of agriculture in the proposed scheme by 2015 to spearhead its opposition to the package.
Senator Wong's announcement is likely to get backing for the scheme from key Nationals constituencies such as the National Farmers Federation, which has been lobbying heavily for such a decision. In another concession, Senator Wong will also announce the Government will develop plans to give farmers carbon credits for any efforts to capture and store carbon as part of their farm practices.
Opposition climate change spokesman Ian Macfarlane has been locked in talks with Senator Wong trying to negotiate a deal to get the scheme through the Senate. By announcing the exemption of agriculture, the Government will be able to say it has made major concessions and Mr Turnbull should now secure the backing of his party room to pass the scheme.
But Mr Turnbull is still likely to face a revolt. A number of Liberals, including Senate Leader Nick Minchin and senators Cory Bernardi and Julian McGauran, along with WA backbenchers Dennis Jensen and Wilson Tuckey, remain sceptical of the idea of man-made global warming and the Nationals are continuing to oppose the ETS outright. A refusal by the joint party room to back a compromise that includes the exemption of agriculture could make Mr Turnbull's leadership untenable. He has previously said he does not want to lead a party that does not embrace the idea of climate change.
The exclusion of agriculture had been presented by Mr Macfarlane as a "deal-breaker" in the ongoing talks. The move by the Government means farmers now will not have to buy permits for their carbon emissions, substantially reducing farm costs.
The exemption is likely to be attacked by economists, who argue that to be effective a carbon emissions system must be broadly based to share the huge costs. If one sector is exempted it increases costs on other sectors, such as energy-producing industries.
The Wentworth Group of Concerned Scientists has estimated Australia has the potential to store up to a billion tonnes of carbon a year for the next 40 years through improved pasture management and farm practices. The group says if Australia were to capture just 15 per cent of this capacity, it would offset the equivalent of 25 per cent of our current annual greenhouse emissions over that period. Under the new concessions farmers will be compensated for such carbon offsets, opening up new sources of income.
SOURCE
***************************************
For more postings from me, see DISSECTING LEFTISM, TONGUE-TIED, EDUCATION WATCH INTERNATIONAL, POLITICAL CORRECTNESS WATCH, FOOD & HEALTH SKEPTIC, GUN WATCH, SOCIALIZED MEDICINE, AUSTRALIAN POLITICS, IMMIGRATION WATCH INTERNATIONAL and EYE ON BRITAIN. My Home Pages are here or here or here. Email me (John Ray) here. For readers in China or for times when blogger.com is playing up, there are mirrors of this site here and here
*****************************************
Saturday, November 14, 2009
Friday, November 13, 2009
Thursday, November 12, 2009
Wednesday, November 11, 2009
Tuesday, November 10, 2009
Monday, November 09, 2009
Sunday, November 08, 2009
Saturday, November 07, 2009
Friday, November 06, 2009
Thursday, November 05, 2009
Wednesday, November 04, 2009
Tuesday, November 03, 2009
Monday, November 02, 2009
Sunday, November 01, 2009