There is an "ascetic instinct" (or perhaps a "survivalist instinct") in many people that causes them to delight in going without material comforts. Monasteries and nunneries were once full of such people -- with the Byzantine stylites perhaps the most striking example. Many Greenies (other than Al Gore and his Hollywood pals) have that instinct too but in the absence of strong orthodox religious committments they have to convince themselves that the world NEEDS them to live in an ascetic way. So their personal emotional needs lead them to press on us all a delusional belief that the planet needs "saving".
The blogspot version of this blog is
HERE
. The
Blogroll
. My
Home Page
. Email John Ray
here
. Other mirror sites:
Dissecting Leftism
. For a list of backups viewable at times when the main blog is "down", see
here
. (Click "Refresh" on your browser if
background colour
is missing) See
here
or
here
for the archives of this site
****************************************************************************************
31 March, 2017
U.S. House Committee on Science, Space & Technology, 29 Mar 2017, Testimony of John R. Christy
John Christy's Congressional testimony today on data vs climate models: cogent and forcefully presented
Summary
Science" is not a set of facts but a process or method that sets out a way for us to discover information and which attempts to determine the level of confidence we might have in that information. In the method, a "claim" or "hypothesis" is stated such that rigorous tests might be employed to test the claim to determine its credibility. If the claim fails a test, the claim is rejected or modified then tested again. When the "scientific method" is applied to the output from climate models of the IPCC AR5, specifically the bulk atmospheric temperature trends since 1979 (a key variable with a strong and obvious theoretical response to increasing GHGs in this period), I demonstrate that the consensus of the models fails the test to match the real-world observations by a significant margin. As such, the average of the models is considered to be untruthful in representing the recent decades of climate variation and change, and thus would be inappropriate for use in predicting future changes in the climate or for related policy decisions. The IPCC inadvertently provided information that supports this conclusion by (a) showing that the tropical trends of climate models with extra greenhouse gases failed to match actual trends and (b) showing that climate models without extra greenhouse gases agreed with actual trends. A report of which I was a co-author demonstrates that a statistical model that uses only natural influences on the climate also explains the variations and trends since 1979 without the need of extra greenhouse gases. While such a model (or any climate model) cannot "prove" the causes of variations, the fact that its result is not rejected by the scientific method indicates it should be considered when trying to understand why the climate does what it does. Deliberate consideration of the major influences by natural variability on the climate has been conspicuously absent in the current explanations of climate change by the well-funded climate science industry. One way to aid congress in understanding more of the climate issue than what is produced by biased "official" panels of the climate establishment is to organize and fund credible "Red Teams" that look at issues such as natural variability, the failure of climate models and the huge benefits to society from affordable energy, carbon-based and otherwise. I would expect such a team would offer to congress some very different conclusions regarding the human impacts on climate.
More
HERE
Interpreting the polls
Most Americans really aren't sure what to think about climate change. Yes, levels of concern are high right now, but that seems to be in large part a partisan reaction to who is in the White House. Just as climate-change skeptics grew in number in the early years of Barack Obama's presidency, climate worriers are coming out of the woodwork with Trump.
Over the past couple of decades, about 25 percent of Americans have consistently worried about climate change, and about 15 percent consistently dismissed it. The other 60 percent of the adult populace appears to be open to persuasion. Also, very few Americans see addressing climate change as their top priority. It shows up nowhere on Gallup's regular tally of what people think is the most important issue facing the country, while environmental and pollution-related topics were named by only 2 percent of those polled in February.
Here's another interesting polling result, from the Pew Research Center: Only 27 percent of U.S. adults agree with the statement that "almost all climate scientists agree that human behavior is mostly responsible for climate change." Now I guess we could quibble a little over the meaning of "almost all," but it is a well-established fact that about 97 percent of active climate scientists believe that human activity is the cause of recent global warming. This is in part testimony to the success of Ebell and his allies in deliberately sowing doubt. But it could also be a sign that the "scientific consensus" framing just intrinsically isn't all that persuasive. I'll admit, I'm biased here: I wrote a book about a scientific consensus that has largely unraveled, and I have watched with fascination (and eaten with satisfaction) as the scientific consensus over the merits and demerits of carbohydrates and fats has pretty much reversed itself. So the fact that 97 percent of the scientists in a field believe something is not in itself all that persuasive to me.
More
HERE
Lawmakers Can Make America Great Again by Unlocking Our Oil and Gas Supply
American lawmakers would be wise to embrace the ongoing energy revolution. The Baker Hughes oil rig count for the United States increased on Friday for the 10th consecutive week to 809 operating rigs, resulting in a 20-rig increase from the week before and a 345-rig addition in the past 12 months.
While OPEC countries have done their best to keep oil prices high by cutting back on production, America's energy wealth and free markets have frustrated these efforts. The Energy Information Administration pegs current gasoline prices at $2.32 per gallon—down 36 percent from the 2014 high of $3.64 per gallon.
At the Nov. 30 OPEC meeting, member countries agreed to production cuts of 1.2 million barrels per day with the goal of decreasing global inventories and increasing prices.
However, the biggest obstacle between OPEC and its goal of higher prices is American oil production. American producers have taken advantage of elevated oil prices, bringing more rigs online. As a result, American oil inventories have increased by over 41 million barrels since the OPEC announcement.
Greater oil supplies induce downward pressure on prices, which is OPEC's greatest nightmare as doing so severely limits its ability to raise prices while holding onto market share. In fact, the American shale revolution has fundamentally changed the scene for oil price changes as well as the economy as a whole.
Horizontal drilling and hydraulic fracturing have unlocked vast resources locked up in tight formations, such as shale.
In addition to reducing average production costs, the shale revolution is a classic example of the free market at its best. It is creating work not only for people directly associated with extraction—including engineers and data scientists, among many others—but also for people not directly associated with the work; in industries such as manufacturing, restaurants, repair, travel, and more.
Heritage Foundation research has estimated that unlocking substantial portions of federal land to industry development will create a peak employment differential of 1.5 million jobs by 2035.
The most advantageous effect of the shale revolution is the stimulus to American energy consumption. Stephen Moore, a Heritage Foundation fellow in economics, writes with Kathleen White, a senior fellow at the Texas Public Policy Foundation, in their new book, "Fueling Freedom": "The rule of thumb is that a 1-cent reduction in the price of gas at the pump saves consumers $1 billion a year."
As energy is the fundamental building block of civilization, a reduction in energy costs would be evident all across the country. These cost reductions coupled with the vast job creation described above, would result in a stronger economy and a significantly higher standard of living.
Washington policymakers should, therefore, embrace the prominence of the American oil and gas industry in the world market and enable American ingenuity to take advantage of our immense resources.
SOURCE
Judicial Watch Sues for Records between Key Obama Administration Scientists Involved In Global Warming Controversies
Judicial Watch today announced it filed a Freedom of Information Act (FOIA) lawsuit in the United States District Court for the District of Columbia asking the court to compel the U.S. Department of Commerce to turn over all records of communications between a pair of federal scientists who heavily influenced the Obama administration's climate change policy and its backing of the Paris Agreement (Judicial Watch v. Department of Commerce (No. 1:17-cv-00541)).
The suit was filed after the National Oceanic and Atmospheric Administration ("NOAA"), a component of the Department of Commerce, failed to respond to a February 6 FOIA request seeking
All records of communications between NOAA scientist Thomas Karl and Director of the Office of Science and Technology Policy John Holdren.
The FOIA request covers the timeframe of January 20, 2009 to January 20, 2017.
Karl, who until last year was director of the NOAA section that produces climate data, the National Centers for Environmental Information (NCEI), was the lead author of a landmark paper that was reported to have heavily influenced the Paris Agreement.
Holdren, a former director of the White House Office of Science and Technology Policy, director of the President's Council of Advisors on Science and Technology, and long-time proponent of strong measures to curb emissions.
According to The Daily Mail, a whistleblower accused Thomas Karl of bypassing normal procedures to produce a scientific paper promoting climate alarmism:
A high-level whistleblower has told this newspaper that America's National Oceanic and Atmospheric Administration (NOAA) breached its own rules on scientific integrity when it published the sensational but flawed report, aimed at making the maximum possible impact on world leaders including Barack Obama and David Cameron at the UN climate conference in Paris in 2015.
The report claimed that the 'pause' or 'slowdown' in global warming in the period since 1998 - revealed by UN scientists in 2013 - never existed, and that world temperatures had been rising faster than scientists expected. ...
But the whistleblower, Dr. John Bates, a top NOAA scientist with an impeccable reputation, has shown The Mail on Sunday irrefutable evidence that the paper was based on misleading, 'unverified' data.
It was never subjected to NOAA's rigorous internal evaluation process - which Dr. Bates devised.
His vehement objections to the publication of the faulty data were overridden by his NOAA superiors in what he describes as a 'blatant attempt to intensify the impact' of what became known as the Pausebuster paper.
"This new lawsuit could result in the release of emails that will help Americans understand how Obama administration officials may have mishandled scientific data to advance the political agenda of global warming alarmism," said Judicial Watch President Tom Fitton.
Separately, Judicial Watch is suing for records of communications from NOAA officials regarding methodology for collecting and interpreting data used in climate models to justify the controversial findings in the "Pausebuster" study. The data documents had also been withheld from Congress. (Judicial Watch v. U.S. Department of Commerce (No 1:15-cv-02088)).
SOURCE
Riders protest as EPA gravy train is derailed
Six nonprofit groups that criticized President Donald Trump's proposed budget cuts failed to mention the nearly $179 million in Environmental Protection Agency (EPA) grants they've received since 2009, according to a Daily Caller News Foundation Investigative Group (TheDCNF) analysis of federal spending data.
The agency has funded thousands of such groups since former President Barack Obama's 2009 inauguration, but TheDCNF focused only on six of the largest nonprofit recipients in its analysis of grant data compiled by the watchdog Open The Books.
Those nonprofits also received additional funding from other federal agencies across the government. It's possible some or all of these groups will see their federal funding slashed or eliminated all together if Trump's budget proposal is approved.
The six nonprofits have varying missions and represent EPA's widespread use of taxpayer funds to advance the environmental agency's legislative, public relations and regulatory agenda. For example, the largest recipient – Senior Service America Inc. – provides low-paying jobs to senior citizens.
Not surprisingly, Trump's proposed budget cuts "would be absolutely devastating," Senior Service America research manager Bob Harootyan told NBC News on March 16. The group has taken more than $533 million from federal agencies, including EPA, since 2009, mostly through a Department of Labor program Trump has proposed to eliminate.
Additionally, 99.6 percent of Senior Service America's revenue in 2015 was government funded, according to the group's 990 tax form.
The remaining five groups analyzed advocate for aggressive EPA regulatory action to ensure clean water, clean air, conservation and support for environmental science research. They, like Senior Service America, railed against Trump's proposed budget cuts, but omitted the fact that they received millions in federal funding.
"Rather than making public health a priority, it places the health and safety of all Americans at risk," American Lung Association President and CEO Harold P. Wimmer claimed in a statement, for example.
Wimmer listed ways he believes the budget cuts would hurt the country, but hid the fact that his organization and its local affiliates have taken $16.3 million in EPA funding since Obama's inauguration, TheDCNF's analysis found.
The remaining four nonprofits made similar criticisms in statements while neglecting to publicize their financial stake in the budget cuts.
Meanwhile, it's likely that state agencies – typically among the largest EPA grant recipients – gave the nonprofits and their state and regional affiliates additional funds, which were not included in TheDCNF's analysis.
The American Lung Association of the Southwest, for example, received just over $386,000 from federal agencies in fiscal year 2015. But the group reported that it received more than $1.9 million in government grants, according to its 990 tax form, meaning more than $1.5 million likely came from state and local grants.
SOURCE
***************************************
For more postings from me, see DISSECTING LEFTISM, TONGUE-TIED, EDUCATION WATCH INTERNATIONAL, POLITICAL CORRECTNESS WATCH, FOOD & HEALTH SKEPTIC and AUSTRALIAN POLITICS. Home Pages are here or main.html or here. Email me (John Ray) here.

Preserving the graphics: Most graphics on this site are hotlinked from elsewhere. But hotlinked graphics sometimes have only a short life -- as little as a week in some cases. After that they no longer come up. From January 2011 on, therefore, I have posted a monthly copy of everything on this blog to a separate site where I can host text and graphics together -- which should make the graphics available even if they are no longer coming up on this site. See here or here
*****************************************
30 March, 2017
CO2 was not cause of Global Warming between 1979-1993
I've been examining how global planetary temperature can be predicted from various things like pressure and tropospheric height. The reason for this is that planets appear to have their tropopause at a constant 0.1bar pressure. And like a thermometer as the temperature of the atmosphere increases, the "bulb" of the atmosphere should expand. And if the tropopause is at a fixed pressure with increasing temperature, the tropopause should rise in height – but at the same pressure because the weight of atmosphere above it remains the same.
This paper: "Behavior of tropopause height and atmospheric temperature in models", reanalyses, and observations: Decadal changes. Most of the paper is the standard revolting non-science of regurgitating the output from failed climate model – which tell us nothing except the failure of those involved to model the real climate.
But hidden away there was a section of a graph which shows actual measurements as shown to the right. (originally the graphic was much bigger – but I removed all the misleading dross).
The key figure is the top value from which we see the tropopause pressure has dropped by about 4mb from 1979–1993.
WHAT IT MEANS
This either means the tropopause is at the same height and pressure dropped (which would occur with cooling of the atmosphere) or it means the troposphere has moved up with no change in global temperature (or a mixture of both).
What it does not show is global warming!!
This is because the signature of global warming would be either:
The tropopause stayed at the same physical height but pressure INCREASES because due to gas expansion there is more weight of air above this height
The tropopause would move up physically with the expanding atmosphere and be at the same pressure but this pressure level would be further from the ground (due to expansion).
From this we can conclude that between 1979-1993 there was:
? No global warming
So, we now have fairly strong evidence that there was no net global warming in the period of this research (1979–1993). Instead, this seems to support overall net cooling of the atmosphere. But how could this happen when measurements on the ground and particularly 3-8 days downwind of major 1970s polluting areas shows warming?
The most likely answer is that there must have been warming, but that warming occurred in only the very lowest portions of the atmosphere. In the rest it must have cooled.
Is this Consistent with the REDUCTION in low level pollution?
In order to get overall cooling in of the troposphere in this period when the ground warmed, the majority of the troposphere must have experienced cooling. Half the bulk of the troposphere lies below 4.7km so if the cooling were a similar magnitude to the warming, the warming would be below 4.7km. Typically rain clouds form up to about 6500feet or 2000m.
Therefore this change in the tropopause together with apparent increased ground temperature particularly downwind of major 1970s polluting areas suggests that we have seen an increase in these areas below 2000 or the cloud forming region.
This is consistent with EAIW (Environmental Action Induced Warming) stemming from reducing low-level pollution after the 1970s clean air acts. Because this only warms the very lowest parts of the atmosphere (in the hot spots shown)
It is not compatible with CO2 warming which would be much more widely spread throughout the atmosphere and would not be localised.
SOURCE
It's done: Trump signs order ditching Obama's curbs on carbon
Vowing to end the "war on coal", President Trump signed an executive order last night that will dismantle American efforts to combat climate change.
The order scrapped curbs on carbon emissions from American power plants, which had been a cornerstone of President Obama's environmental legacy and a critical part of America's plan to meet its commitments under the Paris climate accord.
It rescinds a ban on leasing federal lands for coal production, reverses rules to limit methane emissions from oil and gas production and reverses a policy that forced federal agencies to weigh the likely effect on climate change when drafting regulations.
SOURCE
If Global Warming Is Real, Why Do Government Scientists Have To Keep Cheating?
A few decades back, an upstanding member of the global warming alarmist community said that if the public was going to take the threat of man-caused climate change seriously, the alarmists were going to have to exaggerate the evidence.
It was in 1989 that Stephen Schneider wrote in Discover magazine that in order "to capture the public's imagination . . . we have to offer up scary scenarios, make simplified, dramatic statements, and make little mention of any doubts we might have."
Let's not forget that the late climatologist was first a believer in global cooling in the 1970s. He was worried that a new ice age was coming.
Of course the alarmist community has followed Schneider's script. It's spent much of the last three decades trying to spook the public into a panic.
One example of this agenda to drive fright into our brains was the ClimateGate scandal at Britain's University of East Anglia. A series of email threads between climate scientists showed that they were torturing the temperature data to produce evidence of warming that wasn't occurring.
Who can forget their conspiracy to "hide the decline"?
Don't think this is an isolated incident. News out of the United Kingdom over the weekend tells us that "world leaders were duped into investing billions over manipulated global warming data."
"A high-level whistleblower has told this newspaper that America's National Oceanic and Atmospheric Administration (NOAA) breached its own rules on scientific integrity when it published the sensational but flawed report, aimed at making the maximum possible impact on world leaders including Barack Obama and David Cameron at the United Nations climate conference in Paris in 2015," the Daily Mail reports.
"The report claimed that the 'pause' or 'slowdown' in global warming in the period since 1998 — revealed by U.N. scientists in 2013 — never existed, and that world temperatures had been rising faster than scientists expected."
The Daily Mail identifies the whistleblower as "John Bates, a top NOAA scientist with an impeccable reputation." His strong objections to the publication "of the faulty data were overridden by his NOAA superiors in what he describes as a 'blatant attempt to intensify the impact.' "
Bates blames Thomas Karl, the paper's lead author, whom he said insisted "on decisions and scientific choices that maximized warming and minimized documentation . . . in an effort to discredit the notion of a global warming pause."
Please don't be surprised. Government-paid researchers are desperate to perpetuate the climate shock. They know that if there is no warming as they have predicted, the generous public funds that support their work will eventually dry up.
It is in their financial interest to keep the public tied up in knots of anxiety and to dupe politicians, who are eager to assume the posture of caring guardians of the environment so they'll to continue to hand them money
And it fits right in with the other evidence problems that undermine the global warming narrative, such as the hopelessly flawed temperature record, the unreliable models that can't even predict the past, and the possibility that as many half of the alarmist research papers could be wrong.
Instapundit Glenn Reynolds is fond of saying that he'll believe there's a warming crisis when the people who are saying it's a crisis start acting like it is. Maybe we'll start believing there's a warming problem when government scientists quit cheating to make it look like a problem exists.
SOURCE
Coal hatred behind South Australian blackout
Windmills are given huge subsidies but a small subsidy for a much more useful generator was denied
The owner of the now-defunct Port Augusta power station made a secret offer to keep generating electricity until mid-2018 in return for $25 million from the State Government — 22 times less than its $550 million power plan.
Extensive details of Alinta Energy's bid to subsidise the 520 megawatt Northern plant's operation are revealed in a May, 2015, letter from the company to the Government.
The Port Augusta power station. Picture: Kelly Barnes
Seizing on the explosive revelations, Opposition Leader Steven Marshall branded the rejection of an affordable deal to keep power prices down and prevent blackouts as the State Government's biggest failure since the 1991 State Bank disaster.
In the six-page letter supplied to The Advertiser by the Liberals, Alinta warns of significant risk to the security of South Australia's power supply and a surge in electricity prices — costing the state $56 million to $112 million a year — if the power station and associated Leigh Creek brown coal mine were to close.
Other sources have told The Advertiser that Alinta made another bid for $30 million to the government, which made a rejected counter-offer of only $8 million. Alinta then announced in June 2015 that it would close the station.
The secret Alinta letter revealed also warned that closure of Flinders Power, which included the Northern power station and Leigh Creek, would trigger a $150 million annual blow to regional GDP and cost 450 jobs.
The bulk of Alinta's demand was for a 70 per cent subsidy of maintenance costs for the 250km Leigh Creek railway, which supplied brown coal to the power plant — equivalent to about $8 million over three years.
SA has been hit by three major blackouts, including a statewide outage last September, since the closure last May of Alinta's Flinders Power operation.
Businesses across the state took an estimated $450 million hit because of the statewide blackout and mining giant BHP Billiton has said that outages at Olympic Dam cost it $137 million.
The Port Augusta power station on a clear day, in 2008. Picture: Supplied
Electricity prices for forward contracts in SA have jumped from about $80 per megawatt hour in mid-2016 to about $140MW/h.
Premier Jay Weatherill this month branded the Port Augusta plant a "clunky, old, coal-fired power station", declared Alinta's temporary offer did not secure SA's energy future
SOURCE
***************************************
For more postings from me, see DISSECTING LEFTISM, TONGUE-TIED, EDUCATION WATCH INTERNATIONAL, POLITICAL CORRECTNESS WATCH, FOOD & HEALTH SKEPTIC and AUSTRALIAN POLITICS. Home Pages are here or main.html or here. Email me (John Ray) here.

Preserving the graphics: Most graphics on this site are hotlinked from elsewhere. But hotlinked graphics sometimes have only a short life -- as little as a week in some cases. After that they no longer come up. From January 2011 on, therefore, I have posted a monthly copy of everything on this blog to a separate site where I can host text and graphics together -- which should make the graphics available even if they are no longer coming up on this site. See here or here
*****************************************
29 March, 2017
New study shows that the human contribution to CO2 in the atmosphere is trivial (4.3%) -- and it goes away after 4 years anyway
Scrutinizing the carbon cycle and CO2 residence time in the atmosphere
Hermann Harde
Abstract
Climate scientists presume that the carbon cycle has come out of balance due to the increasing anthropogenic emissions from fossil fuel combustion and land use change. This is made responsible for the rapidly increasing atmospheric CO2 concentrations over recent years, and it is estimated that the removal of the additional emissions from the atmosphere will take a few hundred thousand years. Since this goes along with an increasing greenhouse effect and a further global warming, a better understanding of the carbon cycle is of great importance for all future climate change predictions. We have critically scrutinized this cycle and present an alternative concept, for which the uptake of CO2 by natural sinks scales proportional with the CO2 concentration. In addition, we consider temperature dependent natural emission and absorption rates, by which the paleoclimatic CO2 variations and the actual CO2 growth rate can well be explained. The anthropogenic contribution to the actual CO2 concentration is found to be 4.3%, its fraction to the CO2 increase over the Industrial Era is 15% and the average residence time 4 years.
Global and Planetary Change Volume 152, May 2017, Pages 19–26
Trump takes aim at Obama climate efforts
President Donald Trump will sign an executive order on Tuesday that will suspend, rescind or flag for review more than a half-dozen measures that were part of Barack Obama's sweeping plan to curb global warming.
It includes a review of the Clean Power Plan, which restricts greenhouse gas emissions at coal-fired power plants.
The president's order will also lift a 14-month-old moratorium on new coal leases on federal lands.
Trump, who has called global warming a "hoax" invented by the Chinese, has repeatedly criticised the power-plant rule and others as an attack on American workers and the struggling US coal industry.
The contents of the order were outlined to reporters in a sometimes tense briefing with a senior White House official, whom aides insisted speak without attribution, despite President Trump's criticism of the use of unnamed sources.
Trump accused his predecessor of waging a "war on coal" and boasted in a speech to Congress that he has made "a historic effort to massively reduce job-crushing regulations," including some that threaten "the future and livelihoods of our great coal miners".
The order will also chip away at other regulations, including scrapping language on the "social cost" of greenhouse gases.
The administration is still in discussion about whether it intends to withdraw from the Paris Agreement on climate change.
But the moves to be announced Tuesday will undoubtedly make it more difficult for the US to achieve its goals.
SOURCE
The Northeast's carbon trading system works quite well. It just doesn't reduce much carbon
The danger of climate change has been understood for decades, but the US still has no coherent national climate policy. That has left climate-friendly states to fend for themselves amidst an inconsistent patchwork of federal subsidies and regulations. It's a daunting task given the scope and complexity of the problem.
One of the oldest and most enduring state efforts is the Regional Greenhouse Gas Initiative (RGGI, pronounced "reggie"), a carbon cap-and-trade system operating in nine Northeastern states: Connecticut, Delaware, Maine, Maryland, Massachusetts, New Hampshire, New York, Rhode Island, and Vermont. (New Jersey was also involved, but dropped out in 2011 at the insistence of Gov. Chris Christie.)
RGGI is currently undergoing a thorough review and evaluation, which will shape its course from 2020 forward, so it's a good time for everyone interested in state carbon policy to get to know the program and its considerable virtues and limitations. (There will, ahem, be no federal carbon policy for a while.)
The bad news: RGGI isn't reducing carbon emissions much, if at all
What RGGI does, it does well. But the sad truth is that it doesn't do the main thing carbon policy is supposed to do. It raises money to fund good programs, but the relatively small carbon price it imposes on a relatively narrow slice of the economy does not, in and of itself, drive many (or possibly any) carbon reductions that wouldn't have otherwise occurred.
As the MJB&A report notes, during the policy development process, a modeling exercise was run to assess the economic impacts of various design choices. It showed "generally within two-hundredths of 1 percent change in economic indicators." It is not a knock on RGGI to say that a program with 0.02 percent impact on the economy is not going to spark a new industrial revolution.
The amount of carbon emissions covered by RGGI is relatively small. A 2016 report from the Congressional Research Service found that "the total CO2 emissions from the nine RGGI states account for approximately 7% of U.S. CO2 emissions" and "the CO2 emissions from covered entities in the RGGI states account for approximately 20% of all GHG emissions in the RGGI states."
Twenty percent of 7 percent is 1.4 percent of US emissions — not nothing, but modest.
What's more, while carbon emissions from the electricity sector in the Northeast have indeed been falling, there's little evidence that RGGI had much to do with it. Instead, as happened across the country, coal was replaced by natural gas, while renewable energy and energy efficiency also grew. (Northeast states also got a big boost in hydro.)
When they first set the cap, regulators completely underestimated these trends. They capped emissions based on 2005 estimates of what 2009 emissions would be.
By the time 2009 rolled around, emissions were already well under the cap. They remained under the cap until 2014, when RGGI states agreed to reduce the cap by 45 percent, from 165 mtCO2 to 91 mtCO2, from whence it will decline by 2.5 percent each year between 2015 and 2020.
The cap itself didn't force any emission reductions between 2009 and 2014. It was way above actual emissions! The auction reserve price — "originally set at $1.86 per allowance for the first RGGI auction in 2008, increasing 2.5 percent annually, standing at $2.10 in 2016," according to MJB&A — acted as a small carbon tax, but not one large enough to shape broader market dynamics.
CRS's somewhat dismal conclusion is that "from a practical standpoint, the RGGI program's contribution to directly reducing the global accumulation of GHG emissions in the atmosphere is arguably negligible."
SOURCE
The Warmist wet dream require huge disruptions
Back in 2015, the world's governments met in Paris and agreed to keep global warming below 2°C, to avoid the worst risks of a hotter planet. See here for background on why, but that's the goal. For context, the planet's warmed ~1°C since the 19th century.
One problem with framing the goal this way, though, is that it's maddeningly abstract. What does staying below 2°C entail? Papers on this topic usually drone on about a "carbon budget" — the total amount of CO2 humans can emit this century before we likely bust past 2°C — and then debate how to divvy up that budget among nations. There's math involved. It's eye-glazing, and hard to translate into actual policy. It's also a long-term goal, easy for policymakers to shrug off.
So, not surprisingly, countries have thus far responded by putting forward a welter of vague pledges on curbing emissions that are hard to compare and definitely don't add up to staying below 2°C. Everyone agrees more is needed, but there's lots of uncertainty as to what "more" means. Few people grasp how radically — or how quickly — we'd have to revamp the global economy to meet the Paris climate goals.
Surely there's a better, more concrete way to think about this. So, in a new paper for Science, a group of European researchers try to do just that — laying out in vivid detail what would have to happen in each of the next three decades if we want to stay well below 2°C. Fair warning: It's unsettling.
They start with the big picture: To hit the Paris climate goals without geoengineering, the world has to do three broad (and incredibly ambitious) things:
1) Global CO2 emissions from energy and industry have to fall in half each decade. That is, in the 2020s, the world cuts emissions in half. Then we do it again in the 2030s. Then we do it again in the 2040s. They dub this a "carbon law." Lead author Johan Rockström told me they were thinking of an analogy to Moore's law for transistors; we'll see why.
2) Net emissions from land use — i.e., from agriculture and deforestation — have to fall steadily to zero by 2050. This would need to happen even as the world population grows and we're feeding ever more people.
3) Technologies to suck carbon dioxide out of the atmosphere have to start scaling up massively, until we're artificially pulling 5 gigatons of CO2 per year out of the atmosphere by 2050 — nearly double what all the world's trees and soils already do.
"It's way more than adding solar or wind," says Rockström. "It's rapid decarbonization, plus a revolution in food production, plus a sustainability revolution, plus a massive engineering scale-up [for carbon removal]."
So, uh, how do we cut CO2 emissions in half, then half again, then half again? Here, the authors lay out a sample "roadmap" of what specific actions the world would have to take each decade, based on current research. This isn't the only path for making big CO2 cuts, but it gives a sense of the sheer scale and speed required:
2020-2030: Now the hard stuff begins! In this decade, carbon pricing would expand to cover most aspects of the global economy, averaging around $50 per ton (far higher than seen almost anywhere today) and rising. Aggressive energy efficiency programs ramp up. Coal power is phased out in rich countries by the end of the decade and is declining sharply elsewhere. Leading cities like Copenhagen are going totally fossil fuel free. Wealthy countries no longer sell new combustion engine cars by 2030, and transportation gets widely electrified, with many short-haul flights replaced by rail.
In addition, spending on clean energy research increases by "an order of magnitude" this decade, with a sustained focus on developing new batteries, drastically reducing the cost of carbon capture and storage (CCS), and perfecting low-carbon processes for producing steel and concrete, plus improving smart grids, greener aircraft systems, and sustainable urbanization techniques.
Meanwhile, efforts to start pulling carbon dioxide out of the air start this decade. That means reforesting degraded land and deploying technologies such as direct-air capture or bioenergy with CCS to pull CO2 out of the atmosphere. By 2030, we'd need to be removing 100 to 500 megatons of CO2 each year and have a sense of how to scale up.
Finally, by 2050, we'd need to be removing more than 5 gigatons of CO2 per year from the atmosphere. It's possible this is simply impractical — if we tried to do that all by burning biomass for energy and sequestering the resulting carbon (a "negative emissions" process), we might well run into serious land constraints that hinder agriculture. If, in the 2020s, we realize this will be the case, then we'll have to revamp the road map to cut CO2 emissions from energy and industry even faster.
This road map is staggering. That's the point.
More
HERE
A Handy Primer for Deluded Warmists
We all have them, friends who believe the planet is on a CO2-fuelled collision course with a catastrophe that can only be averted by directing large sums to rent-seeking wind farmers and the like. If you know someone like that, here's a simple, handy guide to the climate scam
A school teacher I know tells his pupils that 'Saying does not make it so', that facts are the key to knowledge, not opinions. Nowhere is this truer today than in the so-called 'climate debate'. Here, much fails the facts test. Topping the list are claims of unprecedented warming from increasing atmospheric carbon dioxide (CO2). Resultant droughts, rising sea levels, more frequent and severe storms and other catastrophes are assumed. A switch from CO2-producing fossil fuels to renewable energy, especially wind and solar, is deemed essential.
Similar dire climate predictions have been around since the late 1970s. And in all that time, none has come true. None at all. Undeterred, the climate soothsayers ignore their failures and carry on as if nothing had happened. The fact that good science should produce good predictions, and this is not happening, is also largely ignored. Instead, impending climate doom, and what must be done to avoid it, is orthodox thought in much of government, academia and environmental groups everywhere. This thinking is much at odds with key facts.
A most important fact is that Earth's four and a half billion year history tells us we are now cooler than average, not warmer. Indeed, for 80% of that history Earth had no ice caps and dinosaurs lived near the South Pole for millions of years. There were ice ages, too, with thick ice down to the Canadian border and across northern Eurasia. Indeed, this was the norm for the last 800 000 years, with ice ages, separated by warmer interglacial periods, coming and going each 100 000 years or so.
We are in the Holocene inter-glacial period now. It officially began 11 700 years ago, but not in a clear-cut way. Gradual warming followed the ice age peak about 25,000 years ago until a cold spell 14,000 years ago chilled things down again and temperatures swung wildly by 5C or so until the current warmer times began about 12,000 years ago.
During the last ice age, sea levels were some 130 metres lower than today, thanks to water locked-up in ice caps. With warmer times, some ice melted and seas rose to near current levels in just a few thousand years. Today, they are rising by only 16cm or so per century; a tiny change compared with the rapid changes in the early Holocene days and some contrary claims today. The lower sea levels exposed our continental shelf, joined Australia to Tasmania and PNG and left the Great Barrier Reef (GBR) high and dry for tens of thousands of years. Then, as the ice melted, Tasmania and PNG became islands and the GBR re-generated some 8,000 years ago in its previous position.
Similar things happened throughout the world. Rising Holocene waters separated England from Europe, formed the Dardanelles and the Black Sea and remade the world map. Humans flourished in the warmer climate, with 60% of the Holocene averaging 2C higher than today. The hottest time was some 7 000 years ago, with other peaks at 4000, 2000 and 1000 years back. Although there were no thermometer readings in these times, reliable proxies are available using lake sediments, pollen fossils and such, and evidence of what crops grew where and tree-lines on hills and in marginal areas. Indeed, the old joke that the Roman Empire went only as far north as wine grapes would grow has some truth to it. In fact, they grew grapes and citrus in parts of England that until recently would not support either crop. The Chinese too grew crops along the Yellow River in those times that won't grow there today. And, for history buffs, Hadrian's route across the Alps could not be used today as it is permanently closed with ice and snow.
Thus, we know that Holocene temperatures were often warmer than now and varied constantly – and wild temperature swings occurred just prior to the Holocene period. When we take this longer view, the recent temperature increase of about 0.8C since 1880 falls well within the limits of previous natural change, and is neither unprecedented nor dangerous.
We also know another vital fact: CO2 levels were steady during these wild swings and throughout the Holocene at roughly 280 parts per million (ppm) until 130 years ago when a stuttering increase to 400 ppm today began. In other words, Holocene temperature changes, and the wild variations that preceded them, were not linked to CO2 changes. This prompts the question: if CO2 changes did not drive these temperature shifts, why all the fuss about CO2 emissions?
The answer owes much to the complexity of the climate system and the wish for simple explanations to explain its variability and with which to make predictions. But climate is not simple. There are many interacting parts that make it a 'coupled non-linear chaotic system' in which small variations of any part can create big, unpredictable changes. In the search for something simple to blame, like increasing CO2 levels, this 'coupled non-linear, chaotic' nature of climate is often played-down, overlooked or ignored. Things like solar variations, ocean heat transfers, cloud cover and the like – things that may well be the main drivers of climate – seldom get the respect they deserve.
The effect of the sun, the sea and clouds on climate is known and accepted – the Gulf Stream being a well known example – but more precise knowledge suitable for computer models is a different thing altogether. But what can be said for sure, is that the sun, the sea and the clouds are all very important and CO2 is only one player in a big game, not the control knob on the Earth's thermostat. It is true that CO2 contributes to the greenhouse effect, but its heating effect is small (when compared with water vapour, the main contributor) and drops off logarithmically as its concentration increases. The more there is, the less additional heating effect it has.
The generally warmer history of the Earth, the serious shortcomings of climate models and the minor role of CO2 in climate are not well known in the community and frequently ignored by climate alarmists in government, academia, the media and the wider public. As a result, many Australians still feel 'something must be done' to curb CO2 emissions, and believe that 'something' is renewable energy, mainly from solar and wind. These beliefs have caused much debate, for while we all know the sun doesn't shine at night, or the wind blow on demand, just what that means for wind and solar energy is not agreed.
Reliable, on-demand power from intermittent wind and solar requires storage (usually batteries) or back up power – a fact all agree on. But here again, facts take second place to wild claims for future storage potential and denial of serious problems with back-up power. Batteries are now available for household solar systems (panels, inverters and batteries) costing twenty thousand-or-so dollars. But even if the cost is ignored – which it can't be – batteries are still way, way short of providing the capacity needed to power a large town, let alone a city. Consequently, the biggest problem with wind and solar today is the need for back-up power, mostly from coal and gas. This greatly increases the number of power sources needed, and with it cost. The efficiency of back-up coal and gas plants designed to run full-time, but used only intermittently, is also seriously degraded.
In Germany, intermittent use made back-up power stations so unprofitable they are now subsidised along with renewables. South Australian may well be heading the same way. With the unprofitable local coal plant closed, the gas plant partly closed and the interstate power link unreliable, subsidised gas or coal is now the main option. And the problem would spread though out the eastern states if the very high state and federal renewables targets are applied. With all power generation subsidised, much increased power costs and lower reliability would inevitably result.
Also, integration of wind and solar into the grid is not simple. Phasing and voltages must be matched precisely and power surges can unbalance the grid. These are not minor problems and need considerable effort and expertise to manage.
But perhaps the most important fact – seldom admitted but very real – is that in total power system terms, few if any CO2 savings result. Energy is needed to make, transport and install windmills and solar systems and connect them to the existing grid, adding CO2 to the overall total. Intermittent running of fossil fuel back-up plants adds more CO2, and total savings over efficient, full-time, modern coal or gas plants are few if any – despite the much greater cost. These facts are almost never mentioned when 'clean energy' claims are made.
The developing world knows all this. Like my teacher friend they know that: 'saying does not make it so' and look at the facts. They know the influence of CO2 on climate has been greatly exaggerated and other possible contributors played down or dismissed. Not fearing their people will overheat, they happily look to cheap coal as their main power generator. India is buying into Australian coal mines to ensure supplies and China recently approved construction of up to 200 super-efficient coal plants. Vietnam and the Philippines too are turning to coal and a 2016 study by Calgary University showed Asian coal consumption now greatly exceeds that in the West and will keep increasing until mid-century.
The International Energy Agency 2015 report shows renewables – biofuels, solar and wind – supplied only 1.2% of world power in 2013. Fossil fuels – oil, coal and gas – produced 81.4%. This tells us that most of the world knows the facts, and is acting accordingly. It also tells us that our energy policies are not only mistaken, but futile. Nothing we do will change the climate. Increasing atmospheric CO2 is not a problem – and if it was, wind and solar would not fix it. It's time we followed the Asian example and acted according to facts instead of fears and fantasies.
SOURCE
***************************************
For more postings from me, see DISSECTING LEFTISM, TONGUE-TIED, EDUCATION WATCH INTERNATIONAL, POLITICAL CORRECTNESS WATCH, FOOD & HEALTH SKEPTIC and AUSTRALIAN POLITICS. Home Pages are here or main.html or here. Email me (John Ray) here.

Preserving the graphics: Most graphics on this site are hotlinked from elsewhere. But hotlinked graphics sometimes have only a short life -- as little as a week in some cases. After that they no longer come up. From January 2011 on, therefore, I have posted a monthly copy of everything on this blog to a separate site where I can host text and graphics together -- which should make the graphics available even if they are no longer coming up on this site. See here or here
*****************************************
28 March, 2017
Analysis finds NOAA satellite data is incompatible with theory of man-made global warming
Previous posts by Dr. Noor van Andel have demonstrated that the theory of anthropogenic global warming [AGW] is falsified by observations over the past 62 years which show outgoing radiation from greenhouse gases has significantly increased, rather than decreased as predicted by the AGW theory. The observations instead show the 'greenhouse effect' has decreased over the past 62 years instead of increased due to an exponential rise in greenhouse gases.
In a new post at Australian biologist Jennifer Marohasy's site, spectroscopist and engineer Michael Hammer comes to the same conclusion finding the last 30 years of NOAA satellite data is incompatible with AGW theory:
ANTHROPOGENIC Global Warming (AGW) theory claims the earth is warming because rising CO2 is like a blanket, reducing Earth's energy loss to space. However, data from the US National Oceanic and Atmospheric Administration (NOAA) shows that at least for the last 30 years, Earth's energy loss to space has been rising.
The last 30 years of NOAA data is not compatible with the theory of AGW. It would appear that either 30 years of NOAA data is wrong or the theory of AGW is flawed. This is Michael Hammer's conclusion following analysis of the official outgoing long wave radiation
The research uncovers some interesting trends and most importantly highlights that:
1. Earth can only warm if the rate of energy input exceeds the rate of energy loss;
2. Thus earth would warm if energy absorbed from the sun increased or energy loss to space (outgoing longwave radiation or OLR for short) decreased – or of course both;
3. The theory of AGW claims that Earth is warming because rising CO2 is reducing the energy loss to space i.e. is causing OLR to decrease;
4. Thirty years of experimental data published by NOAA (one of the prime AGW reference sites) shows OLR has been rising progressively between 1980 and 2010 and is now 2.5 watt/sqM higher than in 1980; and
5. The period between 1980 and 2010 is when almost all the CO2 induced warming is supposed to have taken place.
"If the corner stone of AGW theory says earth is warming because outgoing long wave radiation is decreasing yet 30 years of experimental data shows OLR is rising (remember 30 years is the time AGW proponents claim is the interval necessary to separate climate from weather) it would seem the theory of AGW is as a minimum extremely seriously compromised."
SOURCE
'BIGGEST OIL DISCOVERY IN UK WATERS THIS CENTURY'
Wot? No Hubbert's peak?
Hurricane Energy has made a further oil discovery west of the Shetland Islands days after Royal Dutch Shell and BP won exploration licences in an area the UK is counting on to breathe new life into its struggling oil and gas industry.
The latest find adds to a series of successful wells drilled by Hurricane in a geological formation that analysts say looks likely to be the biggest new oil discovery beneath UK waters this century.
Shell and BP were last week awarded licenses to drill in nearby exploration blocks in a sign of renewed interest among large oil and gas groups in the west of Shetland region even as they withdraw from more mature parts of the North Sea.
Hurricane is expected to announce that initial data from its Halifax well indicates the presence of a 1km-deep oil column and that, crucially, it appears to be part of "a single large hydrocarbon accumulation" connected to the company's adjacent Lancaster field.
This would increase confidence behind the London-listed explorer's claim to be sitting on the largest undeveloped discovery on the UK continental shelf and aid efforts to attract investment in the field from international oil majors.
SOURCE
Are the Climate Change People Right?
The Environmental Community is apoplectic over Scott Pruitt becoming the head of the EPA and the proposed Trump budget cuts. They tell us 97 percent of all scientists believe that climate change is real. And the point is? A few years back I read a rather long list of these scientists and most of them had no tie to climate science. This was one of the major issues of the Women's March the day after President Trump's Inauguration.
Let's look at some of the facts and ask some questions:
1. Climate Change Deniers – That is one of the statements I love to hear from supporters. It is itself an ad hominem attack since there really are not any of consequence. As previously discussed, the climate is always changing so the name in itself is quite silly. When discussing this with supporters I always ask why they keep using that term. The Climatologists that I have read or interviewed have been consistent. They state the climate is changing and add that man has some portion of that effect, but we just cannot prove the models that are used by climate change supporters to back up their claims of projecting out decades from now and man's effect on the climate.
One would think if legitimate climate scientists come forth and state they cannot verify the models then others would question the models. But that is a no.
2. Global Warming vs. Climate Change – When all this attention started to happen, it was referred to as "global warming." Now it is "climate change." Why the change in nomenclature? Try to get a coherent answer from supporters. That is not possible. I think it was because they were being brutalized because there had been a cooling trend from 1940 through the mid-70s.
3. Discrediting Opponents – One of the things that brings into question the creditability of the supporters of this movement is their need to denigrate the people who express a non-conforming opinion. It starts with point one above, but there are multiple cases of scientists who varied from the orthodoxy who were attacked and belittled:
Lennart Bengtsson, a Swedish Meteorologist, came out and questioned Global Warming in 2014. Fifteen days after he joined the Global Warming Policy Foundation he quit because he was being harassed. Bengtsson stated he had come under "an enormous group pressure. I see no limit and end to what will happen. It is a situation that reminds me about the time of McCarthy. I would never have expecting anything similar in such an original peaceful community as meteorology. Apparently it has been transformed in recent years. I had not expecting such an enormous world-wide pressure put at me from a community that I have been close to all my active life."
Judith Curry is an American climatologist and former chair of the School of Earth and Atmospheric Sciences at the Georgia Institute of Technology. She recently quit her position fed up with the tribal nature of the climate-science community and the stonewalling over the release of data and its analysis for independent review.
This is just two examples, but if the strength of your case is there then why would you need to take actions against people like these to suppress legitimate questioning or peer review.
4. Settled Science – Yes, gravity is settled science; this is not. The Theory of Relativity was something we lived with all our lives. Who does not know Einstein's theory? We accepted it as is, but it was just recently proven. The entire idea of using this term questions the scientific basis of the arguments being made and is just another way to browbeat the opponents.
5. Funding Sources – The supporters frequently question the veracity of the opponents because of their funding sources. The implication is that the scientists supporting the climate change orthodoxy are pure of heart and wallet. That could not be any further from the truth. They do their own back flips to receive funding and the creditability of their sources are just as questionable as the ones who don't support the orthodoxy.
6. Hottest Years on Record – I am sure you recently heard that 2016 was the hottest year on record. They will cite 16 of the 17 warmest years have been in this century. But did you know that the survey they cite goes back a total of 136 years. And the earth is 4.5 billion years old. I don't know about you, but I really don't trust the temperature measurements done in the 19th century. In fact, I trust them very little until after 1950. Stating these are the hottest years on record means exactly what? And did you know that the increase last year, which was affected by El Nino, was .04 degrees Celsius. That means if everything continued on with similar increases it would take 25 years to increase one degree.
7. The Climate Models – The scientists who question the orthodoxy of climate change often cite they cannot prove the models that are used by the supporters. But you don't even need to be a famous climatologist to question this. Do you believe that these people can predict the weather at the end of this century – 83 years from now? La Nina was supposed to hit in Southern California in 2016. It appears to have shown up this year. They cannot even get that right. Yet they want to significantly reorient the energy sources in our society. And what happens 83 years from now if they are wrong – do they just say "sorry"?
8. Rigged Numbers - The recent revelation by a whistleblower that the head of the National Oceanic and Atmospheric Administration (NOAA) provided rigged numbers to the people behind the Paris Accord shocked everyone except for those who blindly believe all regarding climate change. This validated that the supporters have ulterior motives that drive their interests beyond good science.
This isn't to say that man has not had some effect on the atmosphere or that we are not going through a period of global warming. These are just some points to bring in to question the militant orthodoxy of the current climate change universe.
SOURCE
Greenwire reports on Heartland conference
The most important message to send the Trump administration and Capitol Hill right now: The 2009 finding that carbon dioxide endangers public health "must go."
Advisers to the Trump administration's transition team at U.S. EPA and other long-established climate contrarians repeated that mantra for the past 36 hours at the Heartland Institute's 12th annual International Conference on Climate Change.
"You need to contact your members of Congress, and you need to make noise and — particularly the scientists here — that the endangerment finding needs to be reopened," said Myron Ebell, director of the Center for Energy and Environment at the Competitive Enterprise Institute and former head of President Trump's EPA transition team.
"President Trump said that he would do it," Ebell told the crowd, after listing about a dozen Trump campaign promises related to energy. Ebell also explained some of the hurdles he believes are holding Trump back, including a shortage of staff in his personnel office.
With Trump expected to take action next week on an executive order that will begin the process of unwinding parts of the Obama administration's climate agenda, the energy industry, environmental community and conservative activists are gearing up for legal and legislative action.
"We need to make it possible to go in and litigate every bit of science — I don't care how long it takes," said Steve Milloy, an attorney and longtime legal foe of EPA, who participated in the Trump transition (Greenwire, Feb. 24).
Milloy urged the "cowards" in Congress to get busy working to "overrule the terrible decision" made in Massachusetts v. EPA, one of three Supreme Court decisions that now have affirmed EPA's authority to regulate greenhouse gases under the Clean Air Act.
EPA Administrator Scott Pruitt's conclusion in a widely panned interview with CNBC that carbon dioxide is not the main driver behind climate change encouraged some GOP lawmakers who want the agency to revisit the finding (E&E News PM, March 10).
Those include Rep. John Shimkus (R-Ill.), head of the House Energy and Commerce Subcommittee on Environment; Senate Environment and Public Works Subcommittee on Clean Air and Nuclear Safety Chairwoman Shelley Moore Capito (R-W.Va.); and, most recently, Rep. Kevin Cramer (R-N.D.), who served as an energy adviser to Trump during last year's campaign.
House Science, Space and Technology Chairman Lamar Smith (R-Texas) may also join the list of gavel-wielding members of Congress keen on examining the endangerment finding.
Smith was asked yesterday during the conference whether he would hold a hearing on the topic.
"Probably, but it hasn't been set yet. ... We can add that to our list. It will be about 14 or 15 on the ideas that we have coming up that we think are good ones," Smith said.
Long-established climate contrarian Pat Michaels of the Cato Institute rallied the like-minded audience yesterday around vacating the finding, alleging major flaws in the models that support the finding authored by former EPA Administrator Lisa Jackson.
"When the president eviscerates the Clean Power Plan ... it has to go," Michaels said, warning that otherwise every "tentacle" of the "green blob" would be petitioning the courts for a stay of the White House's expected executive action.
"There are people I have heard that are trying to finesse their way around it. There is no way to finesse around a monster, so let's go forward," Michaels said in his keynote address to the two-day conference.
Ebell speculated that lawyers from the right-of-center Federalist Society, who are said to have affected Trump's pick for the Supreme Court vacancy, are pressuring the administration against reopening the endangerment finding.
Ebell speculated those lawyers are advising: "It's too much work, and you don't really need to do it."
Environmental attorneys are girding for defense of President Obama's initiatives, with a multipronged strategy in the works (E&E News PM, March 7).
"It was certainly a revealing moment when Scott Pruitt confessed or slipped up and said what he really thought on CNBC," said David Doniger, director of the Natural Resources Defense Council's climate and clean air program, on a panel earlier this week previewing climate action under Trump.
"I know that certain gadflies from think tanks and [others] have been urging that EPA during his tenure revisit the endangerment determination," Doniger said, but a "mountain of evidence, thousands of peer-reviewed studies stretching back over now several decades," and courts support it, he said.
Whether EPA chooses the administrative route or Congress revisits the Clean Air Act amendments, Doniger predicted the chances of overturning the finding are "nil."
He sounds like those who predicted that Trump would never be President
"That is a doomed effort, but that isn't to say it won't be attempted," he said.
SOURCE
Australia's conservatives looking to Asia to build new coal-fired power station in north
The Turnbull government has opened talks with Asian investors to build a coal-fired power station backed by its $5 billion northern Australia fund, as half the nation's voters endorse the use of taxpayer funds to develop the project and improve energy security.
Resources Minister Matt Canavan is fast-tracking the plan amid a growing fight with Labor and the Greens over support for coal power, as cabinet ministers prepare to decide how to encourage big investors into the market.
Senator Canavan told The Australian there was a "high ­degree of interest" from Asia helping to develop the new power station in northern Queensland, arguing that finance from the Northern Australia Infrastructure Fund would be needed to give the project long-term certainty.
A special Newspoll, conducted exclusively for The Australian, ­reveals that 47 per cent of voters favour the use of federal government funds to help construct a new coal-fired power station to improve energy security, while 40 per cent are opposed and 13 per cent undecided.
Amid a push by environmental groups to block new coalmines and coal-fired power stations, the national survey finds that 35 per cent of Labor voters and 15 per cent of Greens voters support using public funds to ­develop more coal-fired power.
It also shows that 59 per cent of Coalition voters favour public ­financial support for the new power station, lending weight to Malcolm Turnbull's declaration that coal must be one of the options in a "technology neutral" approach to fixing energy ­security.
The findings come as the Prime Minister and Scott Morrison crack down on electricity ­retailers in a new move to act on fears about rising prices, ordering the Australian Competition & Consumer Commission to review the sector in order to get a better deal for consumers.
The Prime Minister and Treasurer will announce today that their response to the ACCC's ­review will consider new measures to improve "reliability, security and pricing" across the sector.
As the imminent close of the ageing Hazelwood power station reignites debate about electricity shortages and price spikes, Labor climate change spokesman Mark Butler has declared there is no support from industry to build new coal-fired power stations in Australia.
The Australian Energy ­Council, which represents companies supplying electricity to 10 million homes, warns it has become "very difficult" to finance coal-fired power stations when investors are ramping up wind and solar projects as well as gas generators that provide baseload power with lower greenhouse gas emissions than coal.
But the government is determined to keep the coal proposal on the agenda by raising the prospect of funding from the northern Australia fund, which is also a potential source of support for the controversial coalmine planned for central Queensland by Indian company Adani.
Senator Canavan said there was "no doubt" of the rudimentary economic and commercial case for a coal-fired power station in northern Queensland but that the government's challenge was to set the energy market rules to offer certainty.
"There's clearly a risk of government policy changes in this area, and I think that's a risk that's been created by the Labor-Green(s) movement," he said.
"Until last year there was bipartisan support for the future of coal in Australia but it was last year when Labor supported the Senate inquiry that said we should shut down all coal-fired power stations in Australia. That wasn't the position of Kevin Rudd or Julia Gillard.
"The decision by Labor and the Greens to move to the radical fringes of our energy debate and turn their back completely on coal, on our second-biggest export, has introduced an element of risk to potential new coal-fired power stations.
"It's now a sovereign risk and the only people who can get rid of sovereign risks are the sovereigns."
A Senate inquiry led by a Labor and Greens majority last year argued for an "orderly retirement" of the nation's coal-fired power stations but the government believes there is strong support in northern Queensland for a new coal project at a time of rising electricity prices.
Senator Canavan is examining options for a new power station near the Adani coalmine in the Galilee Basin, in Collinsville, to add to an existing power station or in Gladstone near an existing power station and taking advantage of transmission lines that are already in place.
The Resources Minister, who is also the Minister for Northern Australia and oversees the infrastructure fund, rejected suggestions that the help for a coal-fired power station would be a "subsidy" that meddled with the market.
"I wouldn't characterise it as a subsidy, it's an investment. Governments for decades have invested in energy infrastructure; all the energy infrastructure in Queensland is owned by the state government,'' Senator Canavan said.
"It's not unusual and generally those investments have paid off very well. I think most Australians see the central role of government as being investing in infrastructure — roads, rail and energy."
Senator Canavan said the investment would be comparable to Mr Turnbull's decision 10 days ago to offer government support for a $2bn expansion of the Snowy Mountains Hydro-Electric Scheme.
The energy security committee of cabinet is waiting on a report into the electricity market from Chief Scientist Alan Finkel before deciding any changes to the sector, with energy security expected to gain a priority so that baseload power generators — including coal-fired ones — are assured a long-term return.
Senator Canavan is talking to Japanese companies that believe they could transfer their "high efficiency, low emissions" technology to the northern Queensland project.
Mr Butler is warning against the use of taxpayer funds for the rail line to the Adani mine or a new power station, claiming the long-term future for coal is one of decline.
"This is something the coal industry needs to deal with. We've said as a federal Labor Party we will not support taxpayers' money going in to support infrastructure or pay for infrastructure around this (Adani) mine," he said last week.
SOURCE
***************************************
For more postings from me, see DISSECTING LEFTISM, TONGUE-TIED, EDUCATION WATCH INTERNATIONAL, POLITICAL CORRECTNESS WATCH, FOOD & HEALTH SKEPTIC and AUSTRALIAN POLITICS. Home Pages are here or main.html or here. Email me (John Ray) here.

Preserving the graphics: Most graphics on this site are hotlinked from elsewhere. But hotlinked graphics sometimes have only a short life -- as little as a week in some cases. After that they no longer come up. From January 2011 on, therefore, I have posted a monthly copy of everything on this blog to a separate site where I can host text and graphics together -- which should make the graphics available even if they are no longer coming up on this site. See here or here
*****************************************
27 March, 2017
Greenie writer for hire is full of vitriol but neglects the underlying facts
Graham Readfearn is a "freelance" writer who earns his keep by writing scary stories for Left-leaning publications. And he gets a lot of gravy from "The Guardian". The article below is just one of his typical hit-pieces that treat as gospel all that Warmists have said and sedulously avoids real critical thinking. He criticies James Delingpole only. He shows no signs of critical thinking about what Warmists say. He protects his funding.

So it's all rather a riot below. It sounds great if you don't know what he leaves out. Green/Leftists always leave things out. It is their modus operandi. They take the facts and utterances that seem to support their conclusions and ignore the rest. They would have no case if they considered all the facts. So let me give an example of that. Comrade Readfearn says:

"The Great Barrier Reef has suffered mass coral bleaching three times – in 1998, 2002 and 2016"

That's true as far as it goes but it creates the false impression that those were the ONLY bleaching events. The fact of the matter is that there have ALWAYS been bleaching events on the reef. I grew up in and near Cairns, the main access point to the reef, and for 60 years I have been hearing that the reef is damaged and in danger. Yet the tourist operators are still having no difficulty taking people out to see coral in all its glory. Comrade Readfearn lies by omission. Reef tourism is in fact booming in Cairns.

And here's something else you would never guess from comrade Readfearn's report. It is from a recent report by three prominent reef scientists:

"The bleaching, and subsequent loss of corals, is very patchy."

If the bleaching events were due to global warming you would think that the bleaching would be uniform. Or is global warming sometimes not global?

Such cynicism is in fact well justified. Here are some VERY awkward facts for comrade Readfearn:
Cape Grim tells us that CO2 levels have been plateaued on 401ppm since last July (midwinter) So anything that has happened in the recent summer is NOT due to a rise in CO2.

And NASA/GISS tell us that the December global temperature anomaly is back to .79 -- exactly where it was in 2014 before the recent El Nino event that covered the second half of 2015 and most of 2016. So there has been no global warming in the recent Southern summer and there was no CO2 rise to cause anything anywhere anyway.

The claim that this summer's bleaching was an effect of global warming is a complete crock for both reasons. The data could not be clearer on that. The seas around Northeast Australia may or may not be unusually warm at the moment but if they are it is some local effect of air and ocean currents etc. The warming in NOT a part of global warming

So that takes all the excitement away for comrade Readfearn. He has told us at great length what a bad state the reef is in -- and a few parts ARE apparently stressed -- but his only explanation for it is false
Breitbart's James Delingpole says reef bleaching is 'fake news', hits peak denial
A claim like this takes lashings of chutzpah, blinkers the size of Trump's hairspray bill and more hubris than you can shake a branch of dead coral at
It takes a very special person to label the photographed, documented, filmed and studied phenomenon of mass coral bleaching on the Great Barrier Reef "fake news".
You need lashings of chutzpah, blinkers the size of Donald Trump's hairspray bill and more hubris than you can shake a branch of dead coral at.
It also helps if you can hide inside the bubble of the hyper-partisan Breitbart media outlet, whose former boss is the US president's chief strategist.
So our special person is the British journalist James Delingpole who, when he's not denying the impacts of coral bleaching, is denying the science of human-caused climate change, which he says is "the biggest scam in the history of the world".
Delingpole was offended this week by an editorial in the Washington Post that read: "Humans are killing the Great Barrier Reef, one of the world's greatest natural wonders, and there's nothing Australians on their own can do about it. We are all responsible."
Delingpole wrote:
Like the thriving polar bear, like the recovering ice caps, like the doing-just-fine Pacific islands, the Great Barrier Reef has become a totem for the liberal-left not because it's in any kind of danger but because it's big and famous and photogenic and lots and lots of people would be really sad if it disappeared. But it's not going to disappear. That's just a #fakenews lie designed to promote the climate alarmist agenda.
Now before we go on, let's deal with some language here.
When we talk about the reef dying, what we are talking about are the corals that form the reef's structure – the things that when in a good state of health can be splendorous enough to support about 69,000 jobs in Queensland and add about $6bn to Australia's economy every year.
The Great Barrier Reef has suffered mass coral bleaching three times – in 1998, 2002 and 2016 – with a fourth episode now unfolding. The cause is increasing ocean temperatures.
"Is the Great Barrier Reef dying due to climate change caused by man's selfishness and greed?" asks Delingpole, before giving a long list of people and groups who he thinks will answer yes, including "the Guardian" and "any marine biologist".
"Have they been out there personally – as I have – to check. No of course not," says Delingpole.
Yes. James Delingpole has been out there "personally" to check, but all those other people haven't. He doesn't say when he went but he has written about one trip before. It was back in late April 2012. Everything was fine, he said, based on that one visit. I can't find any times when he has mentioned another trip since.
So here's the rhetorical question – one that I can barely believe I'm asking, even rhetorically.
Why should there not be equivalence between Delingpole's single trip to the reef (apparently taken 10 years after a previous severe case of bleaching and four years before the one that followed) at one spot on a reef system that spans the size of Italy [takes breath] and the observations of scientists from multiple institutions diving at 150 different locations to verify observations taken by even more scientists in low-flying aircraft traversing the entire length of the reef?
I mean, come on? Why can those two things – Delingpole making a boat trip with mates and a coordinated and exhaustive scientific monitoring and data-gathering exercise – not be the same?
So it seems we are now at a stage where absolutely nothing is real unless you have seen it for yourself, so you can dismiss all of the photographs and video footage of bleached and dead coral, the testimony of countless marine biologists (who, we apparently also have to point out, have been to the reef ) and the observations made by the government agency that manages the reef.
Senator Pauline Hanson and her One Nation climate science-denying colleagues tried to pull a similar stunt last year by taking a dive on a part of the reef that had escaped bleaching and then claiming this as proof that everything was OK everywhere else.
This is like trying to disprove to a doctor that you have two broken legs by showing him an MRI scan of your head (which may or not reveal the presence of a brain), and then being annoyed when he doesn't accept your evidence.
It's as though we've reached peak denial.
Last year's bleaching on the reef was the worst episode recorded to date. The current fourth mass bleaching has scientists again taking to the field.
This month a study published in Nature, and co-authored by 46 scientists, found these three episodes had impacted reefs "across almost the entire Great Barrier Reef marine park". Only southern offshore reefs had escaped.
Corals bleach when they are exposed to abnormally high ocean temperatures for too long. Under stress, the corals expel the algae that give them their colour and more of their nutrients.
Corals can recover but, as the study explains, even the fastest growing and most vigorous colonisers in the coral family need between 10 and 15 years to recover.
After the 2016 bleaching, a quarter of all corals on the reef, mostly located in the once "pristine" northern section, died before there was a chance for recovery.
In a further blow, the study looked at factors such as improving water quality or reducing fishing pressure and asked if these had helped corals to resist bleaching. In each case, they found they did not (although they do give reefs that survive a better chance to recover).
Essentially, the study found the only measure that would give corals on the reef a fighting chance was to rapidly reduce greenhouse gas emissions.
The lead author of the study, Prof Terry Hughes of James Cook University (who is this week carrying out aerial surveys of the current bleaching episode), told my Positive Feedback podcast:
We can't climate-proof reefs. Sure, there's stuff we need to do be doing locally around water quality and fisheries management, but doing these two things alone is not going to protect the reefs in the long term. The elephant in the room here is climate change.
Some commentators have suggested a key cause of the 2016 bleaching was the El Niño weather pattern that tends to deliver warmer global temperatures.
But Hughes says that before 1998, the Great Barrier Reef went through countless El Niños without suffering the extensive mass bleaching episodes that are being seen, photographed, filmed and documented now.
Dr Mark Eakin, head of Coral Reef Watch at the US National Oceanic and Atmospheric Administration, said the cause of the modern-day mass bleaching episodes on reefs across the world was the rise in ocean temperatures.
This, says Eakin, is "being driven largely by humans and our burning of fossil fuels".
SOURCE
New Maine anti-discrimination bill would protect. climate change skeptics
If you live in Maine you already enjoy the normal complement of protections against discrimination based on religion, race, gender, sexual orientation and all the usual demographic pigeonholes. But if a new bill being introduced next month manages to be passed into law you can also be protected from the government based on your position on the subject of climate change. This sounds like satire, but apparently it's not. (Yahoo! News)
Rep. Larry Lockman has introduced a bill that would limit the attorney general's ability to investigate or prosecute people based on their political speech, including their views on climate change. It would also prohibit the state from discriminating in buying goods or services or awarding grants or contracts based on a person's "climate change policy preferences."
Lockman, an independent business consultant, said there is a "faith-based ideology of climate change hysteria and anybody who is a skeptic is immediately labeled a heretic who must be silenced," the Portland Press Herald reported.
In his bill, Lockman says that the Supreme Court's decision in Citizens United "continued the protection of protected political speech, no matter the source or message." That case allowed corporations and unions to make unlimited independent expenditures in U.S. elections.
I suppose the first question to ask is, protection from what? The author of the bill is bringing up some investigations launched by the state attorney general into whether or not Exxon Mobil "misled" people on the possible consequences of climate change. It sounds as if that's where this bill is heading, but isn't that already covered under the general concept of free speech?
It doesn't seem to me as if the government can really discriminate against you based on the position you take in an ongoing scientific debate. If that were the case we probably could have locked up all the flat earth people by now. And if you can't show some actual damages to someone it becomes difficult to get a law approved to protect them. Granted, the amount of taxpayer money which has been flushed into environmentally sensitive initiatives put in place by the EPA under Brock Obama might certainly be considered "damages." But again, that's really not discrimination so much as just bad policy.
But what the heck. We can let the state of Maine be the test bed for this particular experiment. If this manages to fly, who knows what might be next? I've been endorsing some form of protection for proper martini drinkers for years. Perhaps we could turn this thing around 180 degrees and start penalizing people who insist on calling drinks made with vodka "martinis."
SOURCE
Earth Hour: A Dissent by Ross McKitrick
In 2009 I was asked by a journalist for my thoughts on the importance of Earth Hour. Here is my response.
I abhor Earth Hour. Abundant, cheap electricity has been the greatest source of human liberation in the 20th century. Every material social advance in the 20th century depended on the proliferation of inexpensive and reliable electricity. Giving women the freedom to work outside the home depended on the availability of electrical appliances that free up time from domestic chores. Getting children out of menial labour and into schools depended on the same thing, as well as the ability to provide safe indoor lighting for reading.
Development and provision of modern health care without electricity is absolutely impossible. The expansion of our food supply, and the promotion of hygiene and nutrition, depended on being able to irrigate fields, cook and refrigerate foods, and have a steady indoor supply of hot water.
Many of the world's poor suffer brutal environmental conditions in their own homes because of the necessity of cooking over indoor fires that burn twigs and dung. This causes local deforestation and the proliferation of smoke- and parasite-related lung diseases. Anyone who wants to see local conditions improve in the third world should realize the importance of access to cheap electricity from fossil-fuel based power generating stations. After all, that's how the west developed.
The whole mentality around Earth Hour demonises electricity. I cannot do that, instead I celebrate it and all that it has provided for humanity. Earth Hour celebrates ignorance, poverty and backwardness. By repudiating the greatest engine of liberation it becomes an hour devoted to anti-humanism. It encourages the sanctimonious gesture of turning off trivial appliances for a trivial amount of time, in deference to some ill-defined abstraction called "the Earth," all the while hypocritically retaining the real benefits of continuous, reliable electricity.
People who see virtue in doing without electricity should shut off their fridge, stove, microwave, computer, water heater, lights, TV and all other appliances for a month, not an hour. And pop down to the cardiac unit at the hospital and shut the power off there too.
I don't want to go back to nature. Travel to a zone hit by earthquakes, floods and hurricanes to see what it's like to go back to nature. For humans, living in "nature" meant a short life span marked by violence, disease and ignorance. People who work for the end of poverty and relief from disease are fighting against nature. I hope they leave their lights on.
Here in Ontario, through the use of pollution control technology and advanced engineering, our air quality has dramatically improved since the 1960s, despite the expansion of industry and the power supply. If, after all this, we are going to take the view that the remaining air emissions outweigh all the benefits of electricity, and that we ought to be shamed into sitting in darkness for an hour, like naughty children who have been caught doing something bad, then we are setting up unspoiled nature as an absolute, transcendent ideal that obliterates all other ethical and humane obligations.
No thanks. I like visiting nature but I don't want to live there, and I refuse to accept the idea that civilisation with all its trade-offs is something to be ashamed of.
Ross McKitrick
Professor of Economics
University of Guelph
U.S. Energy Boom Depends On Team Trump Continuing To Deregulate
Across the country, oil and gas production is gaining momentum, thanks to innovative technologies and practices that have led to ongoing reductions in costs, dramatic improvements in productivity — and a resurgence in U.S. manufacturing.
Yet oil and gas producers are encumbered by some long-running legal roadblocks that, by many measures, have barely changed over the last century, if at all. Examples of these outdated regulatory barriers include a ban on exports of crude oil, regulatory constraints on access to federally controlled lands, and the 1920 Merchant Marine Act's absurd restrictions on transporting domestic products by ship.
The maritime law — known as the Jones Act — puts the scope of the regulatory problems into clear focus. It nonsensically mandates that any products, including oil, shipped between U.S. ports must be transported on a U.S.-built, U.S.-flagged, and at least 75%-U.S.-crewed vessel.
The Jones Act keeps otherwise uncompetitive elements of the American shipping industry afloat, but it carries a stiff price. The Jones Act harms the U.S. economy by driving up shipping costs, stifles competition, and hampers energy production by making it more difficult and costly for producers to send crude oil to refineries.
The Trump administration can do something about this archaic statute. Its focus on regulatory reform — resurrecting the Keystone pipeline, allowing the Dakota Access pipeline to continue, and repealing Obama's rules for hydraulic fracturing on federal land — is an opportunity for the administration to take further significant steps to ensure the U.S. derives full benefit from its enormous oil and natural gas resources.
The Jones Act is the epitome of an outdated protectionist measure. Originally legislated to sustain the Merchant Marine fleet after World War I, the Jones Act has become the support system for domestic commercial shipping.
Repealing the statute would reduce the cost of transporting oil by vessel because foreign-flagged ships can currently transport oil for an estimated one-third of the cost of U.S.-flagged vessels. Open competition is a critical component of any efficient marketplace. By being denied access to competitive shipping, American consumers pay higher prices for many goods, including gasoline.
Next, lifting the ban on U.S. exports of crude oil is long overdue. The Energy Policy and Conservation Act of 1975 signed by President Ford blocked exports of U.S. crude oil at a time when the country was becoming increasingly dependent on imported oil.
But with the continuing surge in domestic oil production resulting from the shale revolution (daily crude production is now back above 9 million barrels and will reach 10 million barrels by the end of next year), the export ban is no longer in our national interest. The ban is a vestige from a price-controls system that ended in 1981.
In contrast, there are no limits on U.S. exports of refined energy products such as gasoline and diesel fuel that are made from crude oil, so a ban on crude oil exports makes no sense.
With such deregulation and changes in policy, there would be an opportunity for U.S. oil and gas production to reach its full potential. There would be greater incentives for more domestic exploration and production. Some studies say that allowing U.S. crude oil exports could generate up to $15 billion in annual revenue for oil producers.
And if conducted in tandem with increased investments in infrastructure and the repeal of the Jones Act, unrestricted exports would provide a boon for domestic oil development, generating economic growth, income, jobs and revenue along the production chain.
SOURCE
The Problem With Climate Catastrophizing: The Case for Calm
Climate change may or may not bear responsibility for the flood on last night's news, but without question it has created a flood of despair. Climate researchers and activists, according to a 2015 Esquire feature, "When the End of Human Civilization is Your Day Job," suffer from depression and PTSD-like symptoms. In a poll on his Twitter feed, meteorologist and writer Eric Holthaus found that nearly half of 416 respondents felt "emotionally overwhelmed, at least occasionally, because of news about climate change."
For just such feelings, a Salt Lake City support group provides "a safe space for confronting" what it calls "climate grief."
Panicked thoughts often turn to the next generation. "Does Climate Change Make It Immoral to Have Kids?" pondered columnist Dave Bry in The Guardian in 2016. "[I] think about my son," he wrote, "growing up in a gray, dying world-walking towards Kansas on potholed highways." Over the summer, National Public Radio tackled the same topic in "Should We Be Having Kids In The Age Of Climate Change?" an interview with Travis Rieder, a philosopher at Johns Hopkins University, who offers "a provocative thought: Maybe we should protect our kids by not having them." And Holthaus himself once responded to a worrying scientific report by announcing that he would never fly again and might also get a vasectomy.
Such attitudes have not evolved in isolation. They are the most intense manifestations of the same mindset that produces regular headlines about "saving the planet" and a level of obsession with reducing carbon footprints that is otherwise reserved for reducing waistlines. Former U.S. President Barack Obama finds climate change "terrifying" and considers it "a potential existential threat." He declared in his 2015 State of the Union address that "no challenge-no challenge-poses a greater threat to future generations." In another speech offering "a glimpse of our children's fate," he described "Submerged countries. Abandoned cities. Fields that no longer grow. Political disruptions that trigger new conflict, and even more floods of desperate peoples." Meanwhile, during a presidential debate among the Democratic candidates, Vermont Senator Bernie Sanders warned that "the planet that we're going to be leaving our kids and our grandchildren may well not be habitable." At the Vatican in 2015, New York Mayor Bill de Blasio shared his belief that current policy will "hasten the destruction of the earth."
And yet, such catastrophizing is not justified by the science or economics of climate change. The well-established scientific consensus that human activity is causing the climate to change does not extend to judgments about severity. The most comprehensive and often-cited efforts to synthesize the disparate range of projections-for instance, the United Nations' Intergovernmental Panel on Climate Change (IPCC) and the Obama administration's estimate of the "Social Cost of Carbon"-consistently project real but manageable costs over the century to come. To be sure, more speculative worst-case scenarios abound. But humanity has no shortage of worst cases about which people succeed in remaining far calmer: from a global pandemic to financial collapse to any number of military crises.
What, then, explains the prevalence of climate catastrophism? One might think that the burgeoning field of climate psychology would offer answers. But it is itself a bastion of catastrophism, aiming to explain and then reform the views of anyone who fails to grasp the situation's desperate severity. The Washington Post offers "the 7 psychological reasons that are stopping us from acting on climate change." Columbia University's Center for Research on Environmental Decisions introduces its guide to "The Psychology of Climate Change Communication" by posing the question:"Why Aren't People More Concerned About Climate Change?" In its 100-page report, the American Psychological Association notes that "emotional reactions to climate change risks are likely to be conflicted and muted," before considering the "psychological reasons people do not respond more strongly to the risks of climate change." The document does not address the possibility of overreaction.
Properly confronting catastrophism is not just a matter of alleviating the real suffering of many well-meaning individuals. First and foremost, catastrophism influences public policy. Politicians regularly anoint climate change the world's most important problem and increasingly describe the necessary response in terms of a mobilization not seen since the last world war. During her presidential campaign, Democratic candidate Hillary Clinton promised a "climate map room" akin to Roosevelt's command center for the global fight against fascism. Rational assessment of cost and benefit falls by the wayside, leading to questions like the one de Blasio posed in Rome: "How do we justify holding back on any effort that may meaningfully improve the trajectory of climate change?"
Catastrophism can also lead to the trampling of democratic norms. It has produced calls for the investigation and prosecution of dissenters and disregard for constitutional limitations on government power. In The Atlantic, for example, Peter Beinart offered climate change as his first justification for an Electoral College override of the election of Donald Trump as U.S. president. The Supreme Court has taken the unprecedented step of halting implementation of the Clean Power Plan, Obama's signature climate policy, before a lower court even finished considering its constitutionality; his law-school mentor, professor Larry Tribe, likened the "power grab" of his star pupil's plan to "burning the Constitution."
The alternative to catastrophism is not complacency but pragmatism. Catastrophists typically condemn fracked natural gas because, although it results in much lower greenhouse-gas emissions than coal, it does not move the world toward the zero-emissions future necessary to avert climate change entirely. Yet fracking has done more in recent years to reduce carbon-dioxide emissions in the United States than all renewable energy investments combined. It has boosted U.S. economic growth as well.
The idea that humanity might prepare for and cope with climate change through adaptation is incompatible with catastrophists' outlook. Yet if the damage from climate damage can be managed, anticipating challenges through research and then investing in smart responses offers a more sensible path than blocking the construction of pipelines or subsidizing the construction of wind turbines. Catastrophists countenance progress only if it can be fueled without carbon-dioxide emissions. Yet given the choice, bringing electricity to those who need it better insulates them from any climate threat than does preventing the accompanying emissions.
The cognitive fault lines separating catastrophists from others cause both sides to reach radically different conclusions from the same information. Catastrophists assume that their interpretation is correct, and so describe other thinking as distorted. But if the catastrophists have it wrong, perhaps the distortions are theirs.
CLIMATE CHANGE COSTS
A strong scientific consensus holds that human activity is producing climate change. But from that starting point, scientists have produced a range of estimates in response to a variety of complicated questions: How quickly will greenhouse gases accumulate in the atmosphere? What amount of warming will any given accumulation cause? What effect will any given level of warming have on ecosystems and sea levels and storms? What effect will those changes in the environment have on human society? The answers to all of these questions are much debated, but broad-based efforts to synthesize the best research in the physical and social sciences do at least offer useful parameters within which to assess the nature of the climate threat.
On scientific questions, the gold-standard summary is the Assessment Report created every few years by thousands of scientists under the auspices of the United Nations' Intergovernmental Panel on Climate Change (IPCC). By averaging widely varying projections and assuming no aggressive efforts to reduce greenhouse-gas emissions, they estimate an increase of three to four degrees Celsius (five to seven degrees Fahrenheit) by the year 2100. The associated rise in sea levels over the course of the twenty-first century, according to the IPCC, is 0.6 meters (two feet).
Most of the rise in sea levels results not from melting glaciers, but from the thermal expansion of ocean water as it becomes warmer. Melting ice from Greenland and Antarctica, which may eventually threaten a dramatic increase in sea levels, will barely begin in this century-in the IPCC analysis, the Antarctic ice sheet will have almost no effect and may even slow sea level rise as increased precipitation adds to its snowpack. Meanwhile, melting from Greenland's ice sheet will contribute 0.09 meters (3.5 inches). In fact, "the near-complete loss of the Greenland ice sheet," which could raise sea levels by seven meters, the IPCC reports, "would occur over a millennium or more."
What about ecology? Predicting or quantifying damage to vulnerable ecosystems and specific species is notoriously difficult, but the IPCC offers a helpful heuristic for the likely magnitude of damage from climate change: "With 4øC warming, climate change is projected to become an increasingly important driver of impacts on ecosystems, becoming comparable with land-use change." In other words, the impact should be similar to that which human civilization has imposed on the natural world already. Substantial and tragic, to be sure; but not something that modern society deems intolerable or a threat to human progress.
Economic tools called "integrated assessment models" attempt to convert the potential effects of climate change-on sea level and ecosystems, storms and droughts, agricultural productivity, and human health-into tangible cost estimates. This exercise is as much art as science, but it represents the best available exploration of how the impacts of climate change will likely stack up against society's capacity to cope with them. Three of these models form the basis of the Obama administration's analysis of the "Social Cost of Carbon"-the U.S. government's official estimate of how much climate change will cost and thus what benefits come from combatting it. Economists and policymakers who want to place a price (that is, a tax) on carbon-dioxide emissions to force emitters to pay for potential damage resulting from climate change typically embrace the analysis as well.
According to the assessment models, a warming of three to four degrees Celcius by 2100 will cost the world between one and four percent of global GDP in that year. To put the high end of that range concretely, the Dynamic Integrated Climate-Economy (DICE) model developed by economics professor William Nordhaus at Yale University estimates that in a world without climate change, the global economy's GDP would grow from $76 trillion in 2015 to $510 trillion in 2100 (an annual growth rate of 2.3 percent). A rise in temperatures of 3.8 degrees Celcius would cost 3.9 percent of GDP ($20 trillion) that year, effectively reducing GDP to $490 trillion.
Twenty trillion dollars is a very large number-representing a cost greater than the entire annual economic output of the United States in 2016. But from the perspective of 2100, such costs represent the difference between the world being 6.5 times wealthier than in 2015 or 6.7 times wealthier. In the DICE model, moreover, the climate-change-afflicted world of 2105 is already more prosperous than the climate-change-free world of 2100. And because the impacts and costs of climate change emerge gradually over the century-0.3 percent of GDP in 2020, 1.0 percent in 2050-in no year does the model foresee a reduction in economic growth of even one-tenth of a percentage point. Average annual growth over the 2015-2100 period declines from 2.27 percent to 2.22 percent.
To be sure, economic estimates are incomplete. They cannot incorporate the inherent value to a community of remaining in its ancestral lands or any obligation humanity might have to protect other species and habitats. Even within the economic sphere, the assessment models depend on subjectively chosen inputs and averages across disparate forecasts; they rest atop numerous other models, each with their own subjectively chosen inputs and averages. Among the three models the Obama administration picked for its analysis alone, the range of outputs is enormous: the DICE model's four percent-of-GDP estimate is near the 95th percentile of the projections from the middle-case model, while the low-case model's one percent-of-GDP estimate is below the middle-case's 5th percentile. But nowhere is catastrophe to be found.
Limitations and all, such estimates remain the best available. Further, the shortcomings of the integrated assessment models have little to do with their lack of support for catastrophism. The gap between what the models describe and what catastrophists fear does not emerge because the models disregard the heritages of indigenous cultures or the intangible value of every species. Nor do catastrophists disagree with particular inputs or outputs, expecting that tweaks to certain assumptions might validate their views. Rather, the societal collapse that catastrophists envision-one that poses an "existential" threat beyond the scope of other human problems, one that makes procreation an ethically dubious proposition-is simply irreconcilable with the outlook the science and economics offers.
Indeed, the logic of catastrophism seems to run backward: from the conclusion that significant human influence on the climate must portend unprecedented danger to the search for facts to support that narrative. But forecasts on these scales of time and magnitude exceed common experience and thus defy intuition, which facilitates misinterpretation and frustrates self-correction.
Placing the problem in proper perspective requires appreciating the long-term costs in the context of the distant future when they will arise, distinguishing costs spread over long time periods from those borne all at once and, finally, applying separate analyses to expected outcomes and worst case scenarios. Catastrophists get these things wrong.
More
HERE
***************************************
For more postings from me, see DISSECTING LEFTISM, TONGUE-TIED, EDUCATION WATCH INTERNATIONAL, POLITICAL CORRECTNESS WATCH, FOOD & HEALTH SKEPTIC and AUSTRALIAN POLITICS. Home Pages are here or main.html or here. Email me (John Ray) here.

Preserving the graphics: Most graphics on this site are hotlinked from elsewhere. But hotlinked graphics sometimes have only a short life -- as little as a week in some cases. After that they no longer come up. From January 2011 on, therefore, I have posted a monthly copy of everything on this blog to a separate site where I can host text and graphics together -- which should make the graphics available even if they are no longer coming up on this site. See here or here
*****************************************
26 March, 2017
Media Touts A New Study Blaming Diabetes Epidemic On Global Warming
The findings below may be totally correct -- though I wouldn't believe them until they are replicated -- but they are an attempt to make a general case from one observation. You can "prove" anything that way. There is no doubt that global warming would have some bad effects -- and increased diabetes may be one of them. But it would have good effects too. So where is the balance? I think the higher incidence of illness and death in winter tells us all we need to know about that
The media is touting a new study claiming global warming could be, at least in part, to blame for the "diabetes epidemic" sweeping the globe.
"When it gets warmer, there is higher incidence of diabetes," Lisanne Blauw, a Ph.D. candidate at the Netherlands-based Einthoven Laboratory and the study's lead author, told The Huffington Post Tuesday.
"It's important to realize global warming has further effects on our health, not only on the climate," Blauw said.
Blauw and her colleagues wrote "the diabetes incidence rate in the USA and prevalence of glucose intolerance worldwide increase with higher outdoor temperature" based on a meta-analysis of 14 years of data on diabetes and temperature in U.S. states.
Researchers hypothesize "the global increase in temperature contributes to the current type 2 diabetes epidemic" since warmer weather could inhibit brown adipose tissue (BAT) that turns food into energy for the body.
That could reduce the body's ability to metabolize glucose, making Type 2 diabetes more likely.
"Hot weather can be more difficult for people with diabetes," Mona Sarfaty, director of the Consortium on Climate Change and Health, told Popular Science.
"The heat keeps people from being active, which means they expend less calories, which can lead to more weight gain," Sarfaty said. "Also, people with diabetes often have kidney problems. Dehydration?-?which comes with heat?-?can worsen kidney problems when people are dehydrated."
HuffPo, of course, mentioned climate scientists declared 2016 the hottest year on record.
"On the basis of our results, a 1øC rise in environmental temperature would account for over 100?000 new diabetes cases per year in the USA alone, given a population of nearly 322 million people in 2015," Blauw and her colleagues wrote.
Sounds terrifying, until you get into the data. Blauw and her colleagues even state that causality between temperature and diabetes can't be drawn from their meta-analysis.
"The associative design of our study does not allow us to draw conclusions on causality," the researchers wrote.
Also, the way the study measured diabetes prevalence is based on "self-reported" surveys collected by the U.S. government. That survey asks people if a doctor told them they had diabetes in the last year - it does not get actual diagnosis data from medical professionals.
Blauw's study examines self-reported diabetes in the U.S.from 1996 to 2009, but right at the beginning of the study period medical professionals relaxed the definition of what constitutes diabetes.
The National Institutes of Health noted in 1998 that "these changes are likely to lead to an increase in the prevalence of diagnosed diabetes as it would become practically much easier to detect the large number of people whose disease is currently undiagnosed."
On a more basic level, though, Blauw's meta-analysis masks a confounding phenomenon. Many states actually showed a decrease in diabetes incidence rate as temperatures rose.
How can warm weather cause more incidents diabetes in South Carolina, but fewer in Louisiana? Not all researchers agreed with the study's findings.
"I think calorie consumption and weight are probably the biggest by a country mile," Adrian Vella, an endocrinologist who was not involved in the new study, told CNN.
"I think the general message always should be that association studies do not actually imply causation," Vella said.
SOURCE
Trump approves Keystone pipeline
The Trump administration gave the Keystone XL pipeline its key federal permit Friday, clearing a major hurdle for the project that former President Obama rejected in 2015.
The State Department announced Friday morning that its undersecretary for political affairs, Tom Shannon, issued the permit, two months after President Trump signed a memorandum to revive the project after Obama's rejection.
"In making his determination that issuance of this permit would serve the national interest, the under secretary considered a range of factors, including but not limited to foreign policy; energy security; environmental, cultural, and economic impacts; and compliance with applicable law and policy," State said.
The decision closes a significant chapter in the long-running saga over the controversial oil sands pipeline, which has been a flashpoint in the debate surrounding climate change and dependence on foreign oil.
Obama rejected the application in November 2015, arguing, in part, that it would harm the United States' standing in the world as a leader in fighting climate change.
The approval fulfills a major campaign promise of Trump's and a top priority that congressional Republicans and the oil industry have had for years.
"This is a significant milestone for the Keystone XL project," Russ Girling, president of Keystone's developer, Canada-based TransCanada Corp., said in a statement. "We greatly appreciate President Trump's Administration for reviewing and approving this important initiative and we look forward to working with them as we continue to invest in and strengthen North America's energy infrastructure."
The 875-mile line would carry up to 830,000 barrels a day of heavy oil sands petroleum from Alberta, Canada, to Nebraska. From there, the oil would continue through existing lines to the Gulf Coast to be refined.
Despite the president's promises, the $8 billion project is not subject to Trump's promise that oil pipelines built in the United States would have to use American steel. The White House announced earlier this month that that would only apply to pipelines with new applications.
TransCanada has already bought the pipe for the project. About half came from an Arkansas plant owned by an Indian company, a quarter from a plant in Canada owned by a Russian company and the remainder from Italy and India.
TransCanada needed a presidential permit to build the line because it is planned to cross an international border.
The company first started applying to build Keystone XL in 2008. But in the ensuing years, it became a central point in the debate between weaning the United States off fossil fuels and increasing the use of energy from friendly allies.
Trump's permit is not the final hurdle for the project. State officials in Nebraska still have to approve the line's route through that state, something that could take another six months.
Environmentalists might also sue to stop the construction.
"The Keystone XL tar sands pipeline was a terrible idea when it was first proposed nearly ten years ago, and it's an even worse idea today. This dirty and dangerous export pipeline would run right through America's heartland, threatening our water, our land, and our climate — all to pad the profits of a foreign oil company," said Tiernan Sittenfeld, senior vice president of government affairs at the League of Conservation Voters.
"This pipeline is all risk and no reward, and we will continue to fight it every step of the way," she said.
The business community welcomed the approval. "After many years of unfortunate delays and partisan posturing, Keystone XL pipeline finally got the green light it has long deserved," U.S. Chamber of Commerce President Thomas Donohue said in a statement. "This pipeline, and countless other projects around the nation, will improve America's energy security, create jobs, and help get the economy back on track."
The State Department previous estimated that the project would create 42,100 jobs. The vast majority of them would be temporary jobs related to Keystone's construction, and about 35 would be permanent jobs operating it.
Secretary of State Rex Tillerson would usually have been in charge of considering the permit. But he recused himself from the process, due to his previous position as the CEO of Exxon Mobil Corp., the country's largest oil company.
SOURCE
Earth's worst-ever mass extinction of life holds 'apocalyptic' warning about climate change, say scientists
Typical Warmist grab at anything that might support their dotty theory. The extinction event actually happened during an ICE AGE, not a warm period
Some 250 million years ago, life on Earth nearly died out completely. Researchers studying the largest-ever mass extinction in Earth's history claim to have found evidence that it was caused by runaway global warming – and that the "apocalyptic" events of 250 million years ago could happen again.
About 90 per cent of all the living things on the planet were wiped out in the Permian mass extinction – described in a 2005 book called When Life Nearly Died – for reasons that have been long debated by scientists.
Competing theories have been put forward, including meteor strikes, huge volcanic eruptions and climate change.
Now a team of researchers from Canada, Italy, Germany and the US say they have discovered what happened and that their findings have "an important lesson for humanity" in how we deal with current global warming.
According to a paper published in the journal Palaeoworld, volcanic eruptions pumped large amounts of carbon dioxide into the air, causing average temperatures to rise by eight to 11°C.
This melted vast amounts of methane that had been trapped in the permafrost and sea floor, causing temperatures to soar even further to levels "lethal to most life on land and in the oceans".
"Based on measurements of gases trapped in [the mineral] calcite, the release of methane … is deemed the ultimate source and cause for the dramatic life-changing global warming … observed at the end Permian.
"Global warming triggered by the massive release of carbon dioxide may be catastrophic, but the release of methane from hydrate [its frozen state] may be apocalyptic.
"The end Permian holds an important lesson for humanity regarding the issue it faces today with greenhouse gas emissions, global warming, and climate change."
SOURCE
The World's First State Of The Climate Survey Based on Observations Only
A report on the State of the Climate in 2016 which is based exclusively on observations rather than climate models is published today by the Global Warming Policy Foundation (GWPF).
Compiled by Dr Ole Humlum, Professor of Physical Geography at the University Centre in Svalbard (Norway), the new climate survey is in sharp contrast to the habitual alarmism of other reports that are mainly based on computer modelling and climate predictions.
Among the key findings of the survey are:
While 2016 was one of the warmest years on record, global temperatures dropped back at the end of the year to levels prior to the strong 2015/16 El Ni¤o. This fact suggests that much of the global 2015-16 temperature peak was caused by a one of the strongest El Ni¤os on record.
Since 2003, the global temperature estimate based on surface station measurements has consistently drifted away from the satellite-based estimate in a warm direction, and is now about 0.1?C higher.
Much of the heat given off during the 2015-16 El Ni¤o appears to have been transported to the polar regions, especially to the Arctic, causing severe weather phenomena and unseasonably high air temperatures.
Data from tide gauges all over the world suggest an average global sea-level rise of 1-1.5 mm/year, while the satellite-derived record suggests a rise of more than 3 mm/yr. This noticeable difference between the two data sets still has no broadly accepted explanation.
Arctic and Antarctic sea-ice extents since 1979 have developed in opposite directions, decreasing and increasing, respectively. In the Arctic, a 5.3-year periodic variation is important, while for the Antarctic a cycle of about 4.5 years duration is important. Both these variations reached their minima simultaneously in 2016, which explains the recent minimum in global sea-ice extent.
Prof Humlum said: "There is little doubt that we are living in a warm period. However, there is also little doubt that current climate change is not abnormal and not outside the range of natural variations that might be expected."
SOURCE
SOURCE
GREENIE ROUNDUP FROM AUSTRALIA
Three current reports below
Another sawmill becomes a victim of Greenie policies
Victoria's Heyfield timber mill, Australia's largest hardwood mill, will close in 2018 -- which will close down the whole town around it. Heyfield is totally dependent on the mill. It will become a ghost town, greatly disrupting the lives of most people in the town
Victoria's Heyfield timber mill is to close, putting 250 people out of work, after the owners rejected a government lifeline.
Australian Sustainable Hardwood chief executive Vince Hurley says the Gippsland-based mill will close in September 2018 after the state government cut its timber supply.
The mill, Australia's largest hardwood mill, is now looking to relocate to northwestern Tasmania to process plantation hardwood, he told AAP.
The company rejected Victoria's offer of a three-year contract of one year's timber supply at 80,000 cubic metres and two years at 60,000 cubic metres as well as a $4.75 million, three-year operational subsidy.
ASH maintains it needs at least 130,000 cubic metres of saw logs a year to continue operations - a number the government says is not environmentally sustainable.
Premier Daniel Andrews offered to buy the mill if ASH didn't want to run it any longer because he said the business had a strong future.
Mr Andrews said the government would offer a reasonable price if another buyer could not be found. "This is a fair offer and a reasonable offer as we have had a look at the books of the company and we believe it is viable even at those lower volumes," he told ABC radio.
But Mr Hurley says ASH hadn't heard of the offer until the premier's statement was released on Friday morning and is "disgusted" staff had to find out through the media. "We were expecting the premier to honour a commitment that things should have been heard from us first," he said.
If the government did buy the mill, it would have to substantially change operations to be viable on just 60,000 cubic metres of logs, Mr Hurley said. "Not only would you have to buy it, you would have to refit it. It would be a huge risk," he said.
The company is backing a CFMEU and Committee for Gippsland campaign to get the government to change its mind about timber supply. The CFMEU says it does not accept VicForest's decision on the availability of wood.
Nationals leader Peter Walsh said there was enough supply to give ASH the timber it wants and he doubted the government's ability to buy the mill.
"As I understand it the mill's not necessarily for sale and it doesn't matter who owns the mill, it still needs timber," he told reporters.
ASH says it will now restart negotiations with the Tasmanian government about moving the mill to the island state.
SOURCE
Two quit Australian climate authority blaming government 'extremists'
Quiggin is a big-mouth Leftist from way back
Two members of the Climate Change Authority have resigned, with one accusing the government of being beholden to rightwing, anti-science "extremists" in its own party and in the media.
John Quiggin told Guardian Australia he informed the federal minister for environment and energy, Josh Frydenberg, of his resignation on Thursday. It follows the resignation of fellow climate change authority member, Danny Price, who quit on Tuesday.
"The government's refusal to accept the advice of its own authority, despite wide support for that advice from business, environmental groups and the community as a whole, reflects the comprehensive failure of its policies on energy and the environment," Quiggin said.
"These failures can be traced, in large measure, to the fact that the government is beholden to rightwing anti-science activists in its own ranks and in the media. Rather than resist these extremists, the Turnbull government has chosen to treat the vital issues of climate change and energy security as an opportunity for political point-scoring and culture war rhetoric."
Quiggin said his immediate reason for resigning was the government's failure to respond to the authority's third report of the special review into potential climate policies, which the government had requested and which it was legally required to respond to.
"The government has already indicated that it will reject the key recommendations of the review, particularly the introduction of an emissions intensity scheme for the electricity industry."
Quiggin said he didn't believe there was anything to be gained "by giving objective advice based on science and economic analysis to a government dominated by elements hostile to both science and economics".
Price told Guardian Australia he had resigned because he "didn't think it was appropriate for a member of a government agency to be openly critical of government policy".
"I think the authority does really good work, but I didn't think I could stay if I was going to continue to criticise the government's policy making and I didn't see any chance that it would get any better," he said.
"I really hate the complete ad hocery of it all … the idea that anything at all can be thrown out by a government in a political panic."
Quiggin was appointed to the authority in 2012, and Price in 2015. Both were appointed for five-year terms.
The Climate Change Authority's special review was undertaken last year, and recommended the government institute two emissions trading schemes and strengthen regulations if it was to meet Australia's 2030 emission reduction targets.
The report was criticised by the Climate Institute, the Greens, and other climate groups and experts criticised elements of the report, and in August Guardian Australia revealed a split in the ranks of the authority, with three members writing a dissenting report.
However many groups – including the Business Council of Australia, Energy Networks Australia, retailer Energy Australia, electricity provider AGL, the Climate Change Authority, the National Farmers Federation and the CSIRO – have also called for the introduction of an emissions intensity trading scheme.
Frydenberg had canvassed a trading scheme following the release of the Finkel review into energy security in December, but the policy was dumped after three days following objections by senior government ministers.
The government's openness to a scheme has also been cited as a reason for Cory Bernardi's resignation from the party in February.
The Climate Change Authority was set up in 2011 as an independent statutory agency, and the Coalition has maintained that it should be abolished after failing to get its legislation to do just that through the Senate.
Frydenberg told Guardian Australia: "the government thanks both Danny Price and John Quiggin for their service and the government will continue to engage constructively with the authority".
The Greens climate and energy spokesman, Adam Bandt, said the government's "dangerous pandering to climate change deniers" had left it friendless. "When added to previous resignations, this exodus is the equivalent of half the reserve bank board resigning over the government's economic policies."
SOURCE
Tony Abbott: Hazelwood Power Station should stay open
IF WE are serious about tackling Australia's looming energy crisis, the last thing we should be doing is closing 20 per cent plus of Victoria's (and 5 per cent of Australia's) base load power supply.
Yet that's what's scheduled to happen next week unless there is an eleventh hour intervention by government or a last-minute change of heart by the station's operator.
Sure, brown coal is more emissions-intensive than gas.
Yes, coal lacks the "big new thing" allure of pumped hydro.
Still it's given Victoria and South Australia cheap, reliable base load power, making those states our country's manufacturing hubs.
And until equally cost effective and reliable alternative supplies can be established, having Hazelwood close is sheer, avoidable folly.
Keeping Hazelwood open would make a lot more difference than pumped hydro which is trying to solve today's problem in some years' time.
Still the Prime Minister's Snowy Scheme 2.0, plus the South Australian commitment to a new gas-fired base load power station, shows that our leaders are finally thinking about what might be done to keep the lights on.
So far, though, no one in authority is talking about the one thing that could boost base load power by almost 2000 megawatts immediately: not closing Hazelwood next week.
If we want secure and affordable power supplies, we can't lose the ones we currently have, even if they involve burning coal.
The past few months, with the statewide blackout in South Australia and the blackout which badly damaged the Portland aluminium smelter in Victoria, have shown the damage that intermittent and unreliable wind and solar energy is doing to our power supply.
There's no doubt that climate change obsessions have played havoc with Australia's energy policy.
Fifteen years ago, thanks to a largely privatised and deregulated energy market, our power prices were among the world's lowest.
With the world's largest readily available reserves of coal, gas and uranium, we were an affordable energy superpower.
Since then, climate-induced political fiddling has put prices through the roof and removed Australian manufacturing's one big comparative advantage.
It's damaged our standard of living and it's destroyed thousands of jobs.
My government scrapped the carbon tax and reduced the renewable energy target but the preference given to wind and solar power continues to drive coal and gas fired power stations out of business and to put security of supply at risk.
Depending on conditions, wind varies between providing nothing and everything that South Australia needs.
Because of wind's preferential status and minimal marginal cost, more reliable and cheaper-overall forms of power generation simply can't compete.
SA's private Pelican Point gas-fired power station is currently mothballed because policy-driven market distortion and Greens-driven restrictions on gas supply have made it uneconomic. Meanwhile, renewable energy-obsessed Labor governments, dramatically increased coal royalties, and political risk have made coal-fired power unbankable here even though it's still the most affordable and reliable source of energy.
If price rises are to moderate and if jobs are to be preserved, energy policy needs a complete rethink.
The renewable energy target, in particular, needs to be reconsidered so that unreliable power is no longer shutting down the reliable power everyone needs.
As always, it's the unintended, unanticipated consequences of well-intentioned policy that turn out to be the most significant.
The dream of "clean, green" wind and solar power over "dirty, dangerous" coal — and the subsidies to bring it about — has led us to the verge of catastrophe.
Once Hazelwood is gone, the plant mothballed and the workforce dispersed, it will be almost impossible to reopen.
Meanwhile, all the other schemes to produce large amounts of coal-free base load power are years and years from fruition.
At least until Snowy 2.0 can produce 2000 megawatts of cost-effective and droughtproof hydro power, Hazelwood should stay open.
That wouldn't be bailing out a failing business. It would be securing the services that Australians need until market forces are once more driving the system.
Keeping Hazelwood open would be a good way for Prime Minister Malcolm Turnbull to show that energy policy in Australia won't be hijacked by ideological fixations in France.
One of the factors in its looming closure — not the only one but an important one — is the French socialist government (which part owns Engie, which part owns Hazelwood) wanting to boast that it has closed down one of the world's "dirtiest" power stations.
Keeping Hazelwood open would cap off a good week for the Prime Minister.
He's fought for free speech, announced a new crack down on union corruption, and released an "Australia First" citizenship statement.
Stopping next summer's looming blackouts with bold action now is a chance to keep the momentum.
SOURCE
***************************************
For more postings from me, see DISSECTING LEFTISM, TONGUE-TIED, EDUCATION WATCH INTERNATIONAL, POLITICAL CORRECTNESS WATCH, FOOD & HEALTH SKEPTIC and AUSTRALIAN POLITICS. Home Pages are here or main.html or here. Email me (John Ray) here.

Preserving the graphics: Most graphics on this site are hotlinked from elsewhere. But hotlinked graphics sometimes have only a short life -- as little as a week in some cases. After that they no longer come up. From January 2011 on, therefore, I have posted a monthly copy of everything on this blog to a separate site where I can host text and graphics together -- which should make the graphics available even if they are no longer coming up on this site. See here or here
*****************************************
24 March, 2017
The New York Times goes full Duranty on CO2 Scaremongering
Duranty was the lying Soviet-era reporter for the NYT.

What makes a newspaper take it upon itself to foist propaganda on to children? This recent article in the New York Times contains lesson-plan instructions on how to indoctrinate youngsters in Climate Alarm Orthodoxy. It hardly needs Fisking, the bias is so blatant, the intention so obvious. When will it ever end?

Comment from Lubos Motl:

"In the 1980s, we thought that some of our Communist-era education was biased and manipulative. But it has never reached more than 1% of what these two individuals propose - which is a full Orwell 1984. It's just incredible if Trump is paying teachers who are actually willing to do things like that. They should hear "You're Fired" within minutes"

Excerpt from the article:
The New York Times recently published an eight-part series exploring how climate change is displacing people around the world. This series travels from a lake that disappeared in Bolivia, to a Pacific island nation slowly being swallowed by the ocean, to an Alaska town threatened by increased flooding and erosion. Other articles detail climate change's effects in China, Africa and the mainland United States.
Working in pairs or small groups, students can examine different articles and report back to the class, either through a jigsaw activity or class presentations. To prepare, they can take notes on and discuss the following questions:
* How has global climate change affected the local climate and geography of the region discussed in your article?
* How have these changes affected the people living there?
* How have the people tried to adapt to climate change's effects?
* All of these articles include images which were selected to have an impact on the reader. What do these images show? Which image is the most powerful? Describe it and discuss what makes it an effective image.
* Why is this story important for the world to know?
Here's the home page for the Carbon's Casualties series, and you can see links to the individual articles below.
Carbon's Casualties
Articles in this series explore how climate change is displacing people around the world.
You might consider including one additional article, not in the series, as part of the activity. In "Flooding of Coast, Caused by Global Warming, Has Already Begun," Justin Gillis reports on the pressure that increased flooding is placing on communities in the United States, from Virginia to Florida.
After students have presented what they learned from their article, you can encourage them to make connections between the various articles by posing the following prompts, either in writing or verbally:
* What are some links or connections that you heard between the various articles in terms of the impact of climate change?
* What do you know now about climate change that you didn't know before?
SOURCE
The social cost of carbon regulations
Anti-fossil fuel SCC relies on garbage models, ignores carbon benefits and hurts the poor
Paul Driessen and Roger Bezdek
"If you could pick just one thing to reduce poverty, by far you would pick energy," Bill Gates has said. "Access to energy is absolutely fundamental in the struggle against poverty," World Bank VP Rachel Kyte and Nobel Prize Laureate Dr. Amartya Sen agree.
The UN Development Program also calls energy "central to poverty reduction." And International Energy Agency Executive Director Dr. Fatih Birol notes that "coal is raising living standards and lifting hundreds of millions of people out of poverty." In fact, all fossil fuels are doing so.
Indeed, fossil fuels created the modern world and the housing, transportation, other technologies and living standards so many of us take for granted. They are essential for electricity and life, and over the past 250 years they more than doubled average life expectancy in countries that took advantage of them.
But the Obama Administration and radical environmentalists despise fossil fuels and used every tactic they could devise to eliminate them. One of their most important schemes was the "social cost of carbon."
Federal agencies used the SCC to calculate the "hidden costs" of carbon dioxide emissions associated with fossil fuel use, by assigning a dollar value to every ton of CO2 emitted by power plants, factories, homes, vehicles and other sources. However, the entire process was little more than junk science and Garbage In-Garbage Out forecasting.
First, each ton of U.S. emissions averted would initially have prevented a hypothetical $25/ton in global societal costs allegedly resulting from dangerous manmade climate change: less coastal flooding and tropical disease, fewer droughts and extreme weather events, for example. But within three years regulators arbitrarily increased the SCC to around $40/ton.
That made it easier to justify the Clean Power Plan, Paris climate agreement, and countless Obama Era actions on electricity generation, fracking, methane, pipelines, vehicle mileage and appliance efficiency standards, livestock operations, carbon taxes, and wind, solar and biofuel mandates and subsidies.
Second, the supposed bedrock for the concept is the now rapidly shifting sands of climate chaos theory. New questions are arising almost daily about data quality and manipulation, the degree to which carbon dioxide affects global temperatures, the complex interplay of solar, cosmic ray, oceanic and other natural forces, and the inability of computer models to predict temperatures, sea level rise or hurricanes.
Meanwhile, as the 2015-16 El Nino dissipated, average global temperatures rapidly fell back almost to their 1998-2014 level, according to Britain's Met Office and other experts. That means there has been no measurable planetary warming for 18 years. Nor are other predicted disasters happening in the real world.
That means the very notion that U.S. emissions impose major climate costs is increasingly indefensible. Moreover, developing nations are burning fossil fuels and emitting carbon dioxide at many times the U.S. rate; that means even eliminating their use in America would have no effect on atmospheric CO2 levels.
Third, the SCC scheme blames American emissions for supposed costs worldwide (even though U.S. CO2 emissions are actually declining). It incorporates almost every conceivable cost of oil, gas and coal use on crops, forests, coastal cities, property damage, "forced migration," and human health, nutrition and disease. However, it utterly fails to mention, much less analyze, tremendous and obvious carbon benefits.
That violates a 1993 Bill Clinton executive order requiring that federal agencies assess both benefits and costs of proposed regulations. It is also irrational, and completely contrary to human experience.
Fossil fuels created the modern world and lifted billions out of destitution and disease. They supply over 80% of the energy that powers United States and other modern civilizations; they will continue doing so for decades to come. They generate up to $70 trillion in annual global GDP.
Using readily available data on global living standards, economies, disease, nutrition, life spans and other benefits – and the government's own SCC cost figures and methodologies – we estimate that carbon benefits exceed costs by orders of magnitude: at least 50 to 1 and as much as 500 to 1!
The U.S. Energy Information Administration forecasts that fossil fuels will provide 75-80% of worldwide energy through 2040 – when the total amount of energy consumed will be at least 25% greater than today. That means these notable benefit-cost ratios will continue. The Obama Era SCC ignores all of this, too.
Fourth, SCC schemes likewise impute only costs to carbon dioxide emissions. However, as thousands of scientific studies verify, rising levels of this miracle molecule are "greening" the Earth – reducing deserts, and improving forests, grasslands, drought resistance, crop yields and human nutrition. No matter which government report or discount rate is used, asserted social costs of more CO2 in Earth's atmosphere are infinitesimal compared to its estimated benefits.
Fifth, government officials claim they can accurately forecast damages to the world's climate, economies, civilizations, populations and ecosystems from U.S. carbon dioxide emissions over the next three centuries. They say we must base today's energy policies, laws and regulations on those forecasts.
The notion is delusional and dangerous. The rate of change in energy generation and other technologies has become exponential over the past several decades, with forecasting ability declining at an equal rate. Uncertainties over man and nature-driven climate changes during the next 300 years are equally colossal. Combining all the SCC assumptions, methodologies, fabrications and omissions, and injecting its absurd predictions into high-speed computer models, just means bogus forecasts are generated more quickly.
Finally, the most fundamental issue isn't even the social cost of carbon. It is the costs inflicted on society by anti-carbon regulations. Those rules replace fossil fuel revenues with renewable energy subsidies; reliable, affordable electricity with unreliable power that costs two to three times as much; and mines, drill holes, cropland and wildlife habitats with tens of millions of acres of wind, solar and biofuel "farms."
Anti-carbon rules are designed to drive energy de-carbonization and modern nation de-industrialization. Perhaps worst, their impacts fall hardest on poor, minority and blue-collar families. Those families spend proportionately three to ten times more of their incomes on energy than families earning $50,000 to $250,000 a year. They have little discretionary income and face the greatest risk of having their electricity cut off – as happened to 330,000 families during 2015 in ultra-green Germany. Worldwide, billions of people still do not have electricity – and the SCC would keep them deprived of its benefits.
Bureaucrats, activists, scientists and corporate rent-seekers certainly welcome the SCC mumbo-jumbo. They have profited the most from the countless billions that Obama regulatory agencies lavished on them every year, and from the tens of billions that Mr. Obama stashed in dozens of agencies, programs and crannies throughout the government, so they couldn't easily be found or cut.
Above all, they would profit massively from the $93 trillion that the Financial Stability Board's climate task force says the world must spend in low-carbon infrastructure programs over the next 15 years, as part of the Obama-UN-FSB-Climate Crisis, Inc. plan to de-carbonize and de-industrialize the planet.
Taxpayers, consumers and families would be hammered if the Climate Cabal got even more power over energy policies, economic growth, livelihoods and living standards. Thankfully, eliminating the social cost of carbon and programs implemented under it requires little more than applying the same rules and standards that government regulators have imposed on Volkswagen, Fiat and Wall Street dishonesty.
That is why the Trump Administration is challenging the SCC, climate cataclysm deception, and the bloated EPA budget behind so much of it. It's why the House Science Committee's Environment and Oversight Subcommittees held a hearing on the SCC, and why we and other experts will eviscerate it during the upcoming Heartland Institute 12th International Climate Conference in Washington, DC.
It's time to rescind and defund the SCC – and replace it with honest, objective cost-benefit analyses.
Via email
How Leonardo DiCaprio Can Persuade Me on Climate Change
You probably know that actor Leonardo DiCaprio is a climate activist, and he is trying to persuade the world that climate change is both real and serious. Someone asked me on Twitter what it would take for DiCaprio (for example) to persuade a person like me.
I'll take a swing at that.
For starters, you must separate the questions of real and serious. The real part refers to the climate models. The serious part refers to economic models. Those are different topics.
If you want to convince me that climate change is real, the best approach is to abandon the current method that packages climate models in a fashion that is identical to well-known scams. (Or hoaxes, if you prefer.)
Let me say this doubly-clear. When I say climate models are packaged in a fashion that is identical to known scams, I am not saying they are scams. I'm saying they are packaged to look exactly like scams. There is no hope for credibility with that communication plan.
To make my point visual, imagine walking into your kitchen and finding an intruder wearing a ski mask and holding a gun. You assume this person is not your friendly neighbor because he is packaged exactly like an armed burglar. If you shoot that intruder, and it turns out to be your neighbor playing a prank, you probably won't go to jail because it isn't your fault. The problem was that your neighbor packaged himself to look exactly like an armed burglar.
Climate scientists tell us that there are hundreds of climate models, all somewhat different. I assume that most of them do a good job predicting the past (hindcasting) because otherwise they would not be models at all. Hindcasting is one minimum requirement for being a model in this field, I would assume.
Then science ignores the models that are too far off from observed temperatures as we proceed into the future and check the predictions against reality. Sometimes scientists also "tune" the models to hindcast better, meaning tweaking assumptions. As a non-scientists, I can't judge whether or not the tuning and tweaking are valid from a scientific perspective. But I can judge that this pattern is identical to known scams. I described the known scams in this post.
And to my skeptical mind, it sounds fishy that there are dozens or more different climate models that are getting tuned to match observations. That doesn't sound credible, even if it is logically and scientifically sound. I am not qualified to judge the logic or science. But I am left wondering why it has to sound exactly like a hoax if it isn't one. Was there not a credible-sounding way to make the case?
Personally, I would find it compelling if science settled on one climate model (not dozens) and reported that it was accurate (enough), based on temperature observations, for the next five years. If they pull that off, they have my attention. But they will never convince me with multiple models. That just isn't possible.
If climate scientists want their climate predictions to be believed, they need to vote on the best model, and stick with it for a few years. If they can't do that, all I will see is lots of blind squirrels in a field of nuts. Some squirrels will accidentally find some nuts. But it won't look like science to me because of the way it is packaged.
I do realize that picking one model as the "best" is not something science can do with comfort. It would feel dishonest, I assume, since they don't know which one will perform best. But if science wants to be persuasive, they need to pick one model. And it needs to be accurate(ish) for the next five years. Nothing else would be persuasive to me.
On the second point, about how serious the alleged problem of climate change is, we have to rely not on scientists but on economists. And economists have zero credibility for long-term forecasts of that type. So the serious part is beyond the reach of persuasion. You can't get there from here because economic models are no more credible than astrology.
By the way, my educational background is in economics and business. And for years, my corporate jobs involved making complex financial projections about budgets. In other words, I was perpetuating financial fraud within the company, by order of my boss. He told me to pretend my financial projections were real, and I did. But they were not real. My predictions were in line with whatever my boss told me they would be. I "tuned" my assumptions until I got my boss's answer.
When I tell you it would be hard to convince me that a stranger's economic model is credible, keep my experience in mind. I've seen lots of economic models. I've built economic models. In my experience, they are nothing but guesses, bias, and outright fraud.
The only way to convince me that climate change is bad for the economy is to wait until it starts breaking things. If I see it, and scientists agree I am seeing it, I might believe it. But long-term economic predictions can't get me there.
I remind you that my topic is about persuasion, not the underlying truth of climate change. I don't have access to the underlying truth because I am not a scientist working in the field. My information comes from strangers that tell me their interpretation of what the scientists are saying. I am as far from science as you can get.
The people who are hallucinating the hardest on this topic are the non-scientists who believe they have done a deep dive into the scientific papers and the climate models and arrived at a rational conclusion. The illusion here is that getting information from other humans is the same as "science."
Another group of hallucinators believe that they can determine the scientific truth of climate change by counting the number of scientists on each side. But that ignores the fact that science often has the majority on the wrong side. That happens every time a new idea is starting to replace an old one. Darwin did not agree with the consensus when he introduced evolution. Einstein's ideas were slow to catch on, etc.
When the majority of scientists are on one side, what matters most is the flow rate from one side to the other, not the raw numbers. I need to know which direction the scientists are moving. Are more climate scientists moving toward climate skepticism or away from it? Give me that data and I'll have something useful. But counting the number on each side during one slice of time is meaningless for persuasion.
My point is that Leonardo DiCaprio would have a tough time persuading me that climate science is both real and serious. But it isn't his fault, because science has packaged climate science to look like a hoax, and sent him out to sell it. I respect and admire DiCaprio for his heart on this matter, and his effort on behalf of the planet. But science has failed him by giving him hoax-looking sales collateral.
SOURCE
Trump Lays Plans to Reverse Obama's Climate Change Legacy
President Trump is poised in the coming days to announce his plans to dismantle the centerpiece of President Barack Obama's climate change legacy, while also gutting several smaller but significant policies aimed at curbing global warming.
The moves are intended to send an unmistakable signal to the nation and the world that Mr. Trump intends to follow through on his campaign vows to rip apart every element of what the president has called Mr. Obama's "stupid" policies to address climate change. The timing and exact form of the announcement remain unsettled, however.
The executive actions will follow the White House's release last week of a proposed budget that would eliminate climate change research and prevention programs across the federal government and slash the Environmental Protection Agency's budget by 31 percent, more than any other agency. Mr. Trump also announced last week that he had ordered Scott Pruitt, the E.P.A. administrator, to revise the agency's stringent standards on planet-warming tailpipe pollution from vehicles, another of Mr. Obama's key climate change policies.
While the White House is not expected to explicitly say the United States is withdrawing from the 2015 Paris Agreement on climate change, and people familiar with the White House deliberations say Mr. Trump has not decided whether to do so, the policy reversals would make it virtually impossible to meet the emissions reduction goals set by the Obama administration under the international agreement.
In an announcement that could come as soon as Thursday or as late as next month, according to people familiar with the White House's planning, Mr. Trump will order Mr. Pruitt to withdraw and rewrite a set of Obama-era regulations known as the Clean Power Plan, according to a draft document obtained by The New York Times. The Obama rule was devised to shut down hundreds of heavily polluting coal-fired power plants and freeze construction of new coal plants, while replacing them with vast wind and solar farms.
The draft also lays out options for legally blocking or weakening about a half-dozen additional Obama-era executive orders and policies on climate change.
At a campaign-style rally on Monday in the coal-mining state of Kentucky, Mr. Trump told a cheering audience that he is preparing an executive action that would "save our wonderful coal miners from continuing to be put out of work."
Experts in environmental law say it will not be possible for Mr. Trump to quickly or simply roll back the most substantive elements of Mr. Obama's climate change regulations, noting that the process presents a steep legal challenge that could take many years and is likely to end up before the Supreme Court.
Economists are skeptical that a rollback of the rules would restore lost coal jobs because the demand for coal has been steadily shrinking for years.
The policy reversals also signal that Mr. Trump has no intention of following through on Mr. Obama's formal pledges under the Paris accord, under which nearly every country in the world submitted plans detailing actions to limit global warming over the coming decade.
Under the accord as it stands, the United States has pledged to reduce its greenhouse pollution about 26 percent from 2005 levels by 2025. That can be achieved only if the United States not only implements the Clean Power Plan and tailpipe-pollution rules, but also tightens them or adds more policies in future years.
"The message clearly is, 'We won't do what the United States has promised to do,'" Mr. Molina said.
In addition to directing Mr. Pruitt to withdraw the Clean Power Plan, the draft order instructs Attorney General Jeff Sessions to request that a federal court halt consideration of a 28-state lawsuit against the regulation. The case was argued before the United States Court of Appeals for the District of Columbia Circuit in September, and the court is expected to release a decision in the coming months on whether to uphold or strike down the rule.
According to the draft, Mr. Trump is also expected to announce that he will lift a moratorium on new coal mining leases on public lands that had been announced last year by the Obama administration.
He is also expected to order White House economists to revisit an Obama-era budgeting metric known as the social cost of carbon. Economists and policy makers used the metric to place a dollar cost on the economic impact of planet-warming carbon dioxide pollution: about $36 per ton. That measure formed the Obama administration's economic justification for issuing climate change regulations that would harm some industries, such as coal mining, noting that those costs would be outweighed by the economic benefits of preventing billions of tons of planet-warming pollution.
Eliminating or lowering the social cost of carbon could provide the Trump administration the economic justification for putting forth less-stringent regulations.
The draft order would also rescind an executive order by Mr. Obama that all federal agencies take climate change into account when considering any form of environmental permitting.
Unlike the rollback of the power plant and vehicle regulations, which could take years and will be subject to legal challenges, Mr. Trump can make the changes to the coal mining ban and undo Mr. Obama's executive orders with the stroke of a pen.
White House staff members and energy lobbyists who work closely with them say they have been expecting Mr. Trump to make the climate change announcements for weeks, ever since Mr. Pruitt was confirmed to head the E.P.A. on Feb. 17, but the announcement has been repeatedly rescheduled. The delays of the one-page announcement have largely been a result of disorganization and a chaotic policy and planning process, said people familiar with that process who asked to speak anonymously to avoid angering Mr. Trump.
"To undo the rule, the E.P.A. will now have to follow the same procedure that was followed to put the regulations in place," said Mr. Lazarus, pointing to a multiyear process of proposing draft rules, gathering public comment and forming a legal defense against an expected barrage of lawsuits almost certain to end up before the Supreme Court.
But he can suspend application of the rule while the lawsuits go on -- JR
SOURCE
Look out when science and politics tell us the future
Comment from Australia
A growing mood of catastrophism is enveloping our more serious newspapers as the cost of anthropogenic change to the business climate bites.
A decade of ill-judged environmental and energy policy has exacted a terrible toll on the national economy. There is little chance of the investment needed to rid South Australia of its basket-case status while the government is unable to guarantee a stable power supply. Across the country, household electricity prices have more than doubled in less than a decade, and gas is running out on the eastern seaboard.
A decade ago, Australia enjoyed an efficient and reliable energy market and some of the cheapest power in the world. Hubristic government intervention has changed that and the damage could take decades to repair.
The politicisation of the global warming debate began almost 30 years ago with the 1988 climate change conference in Toronto. It was the start of a series of international gatherings, each larger than the last, with escalating apocalypticism and ever more strident demands for action.
The hyper-dramatisation of the millennial drought and the release of Al Gore's An Inconvenient Truth set the stage for Kevin Rudd to declare climate change our greatest moral challenge.
"There are two stark choices," Rudd said in an extraordinary speech in late 2009, "action or inaction." A pedant might describe it as a single choice constructed around a false dilemma, but his rhetorical point was made.
His government, naturally, would choose action since in modern progressive politics the urge to do something is stronger than the imperative to assess the likely consequences of the thing they are intending to do.
Time has helped illuminate the dewy-eyed naivety of the climate change policy Rudd took to the 2007 election. Ineffectiveness is one thing; the damage caused by the unintended consequences is quite another.
By setting a 20 per cent renewable energy target for 2020, the government privileged the suppliers of intermittent energy — wind and solar — over sources of energy capable of producing a reliable supply.
The costs of the scheme were seriously underestimated. The myth was allowed to percolate that renewable energy was free.
If we thought we'd been let off the hook when the Abbott government scrapped the carbon tax, we were wrong. The collective weight of government interventions, large and small, driven by compassion for the planet, has made us poorer than we would otherwise be. The Garnaut report in 2008 spoke of the massive economic transformation required to adapt to a carbon-constrained future but greatly underestimated the cost.
Its logic was obscure and its economic modelling so ambitious that it was frankly unbelievable. Treasury had forecast Australia's gross national product for the next 92 years, yet one has only to read old budget papers to realise that their modelling breaks down over four.
Today the Garnaut report, with its lofty, theoretical arguments, reads like a brilliant postgraduate thesis. As a blueprint for government policy, however, it is dangerously flawed.
Yet by 2008 science and politics had become indistinguishable. Science provided the justification for political action; politics provided the grants that sent science heading along a single track.
Some say the politicisation of climate change picked up where the Cold War left off. There are certainly parallels: Marxism, according to Friedrich Engels, was scientific socialism; its theories supposedly held to an empirical standard, based on the methodical observation of history.
Once you understood — or thought you understood — the rules according to which human beings operated, you could build a perfect society and create economic order from chaos. There was no room for dispute because the science was settled; authoritarianism was its natural consequence.
The science of global warming offered the intellectuals another chance to organise the world as they wanted it to be, to take charge of human affairs and to bypass the irksome process of democracy. It was a global problem that called for global action.
It was an opportunity to settle old scores by re-fighting the lost battle of the Cold War: the fight against free markets. It justified a new technocratic world order, constructed in the spirit of Thomas Paine: "We have it in our power to begin the world over again." And they weren't shy to admit it. As Christine Figuerres, executive secretary of the UN's Framework Convention on Climate Change, put it in 2015: "This is first time in the history of mankind that we set ourselves the task of intentionally, within a defined period of time, to change the economic development model that has been reigning for at least 150 years, since the Industrial Revolution."
From the perspective of free-market liberals, this is bound to end in tears. The massive collective interventions that have distorted the energy market are choking the economy in the 21st century, as surely as socialist interventions did in the 1990s.
An ideological commitment to address market failure has resulted in something worse: non-market failure. Australia is running short of baseload electrical power, but the disincentives for investing are large.
So the South Australian government now talks of taking electricity generation back into public ownership. Others talk about subsidising baseload power plants from the public purse, falling back on the industrial welfare habit.
It all makes perfect sense to the technocrats and central planners.
SOURCE
***************************************
For more postings from me, see DISSECTING LEFTISM, TONGUE-TIED, EDUCATION WATCH INTERNATIONAL, POLITICAL CORRECTNESS WATCH, FOOD & HEALTH SKEPTIC and AUSTRALIAN POLITICS. Home Pages are here or main.html or here. Email me (John Ray) here.

Preserving the graphics: Most graphics on this site are hotlinked from elsewhere. But hotlinked graphics sometimes have only a short life -- as little as a week in some cases. After that they no longer come up. From January 2011 on, therefore, I have posted a monthly copy of everything on this blog to a separate site where I can host text and graphics together -- which should make the graphics available even if they are no longer coming up on this site. See here or here
*****************************************
23 March, 2017
The oceans are COOLING
We have seen lots of claims about the temperature records for 2016 and 2015 proving dangerous man made warming. At least one senator stated that in a confirmation hearing. Now that HadSST3 data is complete through February 2017, let's see how obvious is the ocean's governing of global average temperatures.
The best context for understanding these last two years comes from the world's sea surface temperatures (SST), for several reasons:
* The ocean covers 71% of the globe and drives average temperatures;
* SSTs have a constant water content, (unlike air temperatures), so give a better reading of heat content variations;
* A major El Nino was the dominant climate feature the last two years.
HadSST is generally regarded as the best of the global SST data sets, and so the temperature story here comes from that source, the latest version being HadSST3.
The chart below shows the last two years of SST monthly anomalies as reported in HadSST3, along with the first two months of 2017.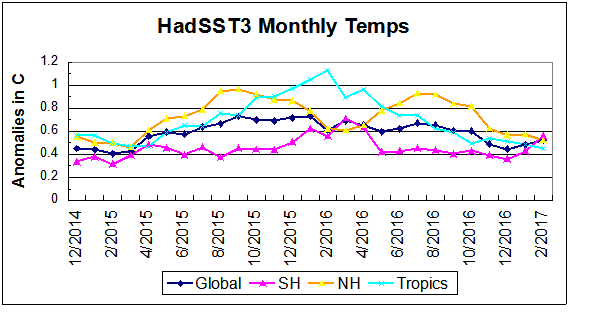 Note that higher temps in 2015 and 2016 are first of all due to a sharp rise in Tropical SST, beginning in March 2015, peaking in February 2016, and steadily declining back to its beginning level. Secondly, the Northern Hemisphere added two bumps on the shoulders of Tropical warming, with peaks in August of each year. Also, note that the global release of heat was not dramatic, due to the Southern Hemisphere offsetting the Northern one.
Finally, the oceans are starting 2017 only slightly lower than a year ago, but this year with much cooler Tropics. Notice that both the Tropics and also the Northern Hemisphere continue to cool. The Global average warmed slightly, pulled upward by the Southern Hemisphere which reaches its summer peak at this time.
March may repeat 2016 when NH bottomed and SH peaked, or maybe both will rise or both will drop. In the latter case, perhaps we will see the long-awaited La Nina.
SOURCE
The silver-tongued liars' playbook
Coal ash scare stories are the latest tactic in their long war on coal-fueled electricity generation
Paul Driessen
Coal-fired power plant scrubbers now remove 80-90 % of airborne particulate, mercury, sulfur dioxide, nitrogen oxide and other pollutants. But that means "fly ash" and noncombustible residues (what we used to call clinkers) must be sent to landfills. That's opened a new front for anti-energy activists, who use accidents, "detectable" pollutants in water, and scary stories about health threats to advance their agenda.
In 2008, a Tennessee Valley Authority earthen retainer dam near Knoxville ruptured, sending 5.4 million cubic yards of rain-soaked fly ash into a nearby river, lake and neighborhood. Twelve homes were damaged by the muck, which contained low levels of arsenic, cadmium and other metals. The TVA's cleanup efforts were less than exemplary, as were its measures to prevent the accident in the first place.
Companies and regulators clearly must do more to prevent accidents and pollution – and more to educate people about the actual risks involved. With a new fly ash playbook being tested in North Carolina, Virginia and other states, as part of the war on coal and the keep-fossil-fuels-in-the-ground campaign, those informational efforts are vital.
Duke Energy operates 14 coal-fired electricity generating plants in North Carolina – and several large fly ash facilities. Like coal itself, the ash contains trace amounts of hexavalent chromium (chromium-6 or Cr-6) and other metals that can be toxic to humans in high doses. Blazing temperatures bond the vast majority tightly in glassy vitrified ash, and well maintained impoundments ensure that few seep out.
However, tiny amounts can still escape into nearby surface waters and groundwater. Highly sensitive scientific instruments can now detect parts per trillion – the equivalent of a few seconds in 3,300 years. In 2016, an NC state toxicologist ruled that metallic levels detected in surface and ground water around the state were dangerously high. He blamed ash from coal-fired power plants and persuaded Tar Heel health officials to send "do not drink" letters to several hundred families living near coal ash disposal sites.
In his view, there is "no safe level" for exposure to Cr-6, and the state should slash its allowable level from 100 parts per billion down to 0.07 ppb (1,428 times lower). Other health officials reviewed the scientific literature, determined that amounts detected pose no health risk, noted that Cr-6 often seeps from natural rock formations into surface and ground water, and rescinded the warning letters. But the resulting controversy continues, and the company, regulators and politicians are trying to resolve it.
Duke Energy and many health experts maintain that Cr-6 levels found near the ash facilities (and miles away, from natural sources) are far below what cause health risks. But it wants to assuage concerns among families closest to the ash facilities. So the company offered to provide alternatives to their well water, by giving them access to public water sources or installing state-of-the-art home filtration systems.
In January 2017, the NC Department of Environmental Quality (NCDEQ) granted preliminary approval to these company plans for homes within one-half-mile of a coal ash impoundment. Final approval is contingent on state health and environmental departments certifying that water provided via these systems meets "applicable" or "appropriate" standards for each location.
Now activists say Duke and other companies should move millions of tons of ash from multiple depositories. Not only would that involve hundreds of thousands of dump truck loads, millions of gallons of fuel, and huge trucks lumbering through towns and along back roads and highways. A far more basic question is: Take it where, exactly? Who would want it? Activists certainly offer no viable alternatives.
Companies previously proposed turning fly ash into cement blocks or gravel, for construction projects. Activists quickly nixed that option, even though it would involve virtually no contamination risks. It's becoming increasingly apparent that the real reason for all the vocal consternation is that these agitators simply want to drive coal out of business. Indeed, the same unaccountable, silver-tongued agitators also detest natural gas-generated electricity … and drilling and fracking to produce the gas. They oppose nuclear energy, and even want hydroelectric dams and power plants removed. They claim to support wind and solar, by conveniently ignoring the huge downsides pointed out here, here, here, here and elsewhere.
Forcing utility companies to spend billions relocating huge ash deposits to "lined, watertight landfills" (in someone else's backyard) will bring no health or environmental benefits. But it will bankrupt companies, send electricity prices soaring, and hurt poor, minority and working class families the most.
If rates double from current costs in coal-reliant states like North Carolina and Virginia (9 cents per kilowatt-hour or less) to those in anti-coal New York or Connecticut (17 cents), families will have to pay $500-1,000 more annually for electricity. Hospitals, school districts, factories and businesses will have to spend additional thousands, tens of thousands or millions. Where will that money come from?
Virginia's 665,000-square-foot Inova Fairfax Women's and Children's Hospital pays about $1,850,000 per year for electricity at 9 cents/kWh, but would pay $3,500,000 at 17 cents: a $1.6-million difference.
Will businesses have to lay off dozens or hundreds of employees, or close their doors? If they pass costs on to patients or customers, where will families find the extra cash? What will the poorest families do?
The war on coal, petroleum, nuclear and hydroelectric power is a callous, eco-imperialist war on reliable, affordable electricity, on jobs, and on poor and minority families. Policies that drive energy prices up drive people out of jobs, drive companies out of business, drive families into green-energy poverty.
Preventing ruptures and spills means selecting, building and maintaining the best possible ash landfill facilities. Safeguarding public water and health means properly addressing actual, proven toxicity risks.
The US Environmental Protection Agency and North Carolina set allowable Cr-6 limits at 100 ppb for drinking water (equivalent to 100 seconds in 33 years or 4 cups in 660,000 gallons of water). The state also applies a 10 ppb standard for well water. No one applies a 0.07 ppb standard (70 parts per trillion).
In 2015, the NCDEQ tested 24 wells two to five miles from the nearest coal plant or coal ash deposit; 20 had Cr-6 levels above 0.07 ppb but far below 100 ppb, underscoring its diverse origins. May 2016 tests could not even detect the chemical in Greensboro water, the News & Record reported.
A 2016 Duke University study found that hexavalent chromium is prevalent in many North Carolina surface and ground waters. Some comes from coal ash deposits, but much is leached from igneous and other rocks found throughout the Piedmont region of Virginia, the Carolinas and Georgia. Other health experts note that Cr-6 is found in 70% to 90% of all water supplies in the United States. Applying a 0.07 ppb would mean telling hundreds of millions of Americans not to drink their water!
Moreover, studies have found that Cr-6 in water is safe even at 100 ppb or higher. A 2012 paper in the Journal of Applied Toxicology concluded that regularly drinking water with 210 ppb of Cr-6 poses no health risks. (The real health problems involve airborne Cr-6.) Journal of Occupational and Environmental Medicine, US EPA and other studies buttress those findings.
Equally important, an ability to detect a substance does not mean it poses a risk. Cancer is certainly scary, but the risk of getting cancer is not the same as dying from it. And people routinely accept risks of dying from activities they happily engage in daily. For example, the National Safety Council puts the lifetime risk of dying in a motor vehicle crash at 1 in 113; that's 8,850 times greater than the alleged lifetime risk of contracting cancer from 0.07 ppb Cr-6 in water. Drinking and smoking fall into the same category.
However, all too many people seem easily terrified by "detectable" levels of strange-sounding chemicals. 100% clean is not necessary, not possible, not found in nature and not a sound basis for public policy.
Coal and chemical controversies like these offer our nation, states and communities excellent opportunities to find novel solutions that recognize sound science, hidden agendas, often limited options, and undesirable repercussions of poorly informed policy decisions. Let's hope they are up to the task.
Via email
Reassessing Obama's CAFE Mandates
Last week, President Donald Trump announced his administration will reassess the Corporate Average Fuel Efficiency (CAFE) mandates the Obama administration's EPA tried to lock in before the Jan. 20 transition of power. "We're going to work on the CAFE standards so you can make cars in America again," Trump told a cheering crowd of auto workers in Ypsilanti, Michigan. "We're going to help companies so they are going to help you. We're going to be the car capital of the world again."
New EPA chief Scott Pruitt promised his agency will coordinate with the Department of Transportation's (DOT) National Highway Traffic Safety Administration (NHTSA) to decide whether the Obama administration mandates will remain in place. The deadline for making the decision is April 2018.
Why the reassessment? "In 2012 the EPA set ambitious mileage standards that required auto makers to achieve an average of 54.5 miles per gallon by 2025, nearly twice the 2011 mandate," the Wall Street Journal explains. "The increases were backloaded such that manufacturers had to hit 36.6 miles a gallon by 2017 and 46.8 miles a gallon by 2022. In the last three years, car makers would need to squeeze an additional eight miles out of each gallon."
In a letter sent to Pruitt in February, the Alliance of Auto Manufacturers (AAM) insisted no government agency "had ever set emissions standards so far into the future," and that the final determination engendered by Obama's EPA was "riddled with indefensible assumptions, inadequate analysis, and failure to engage with contrary evidence."
The AAM further explained meeting those standards would cost far more than the $200 billion originally estimated by Obama's EPA because the "electrified technologies" needed to meet them would raise the price of vehicles and depress auto sales. As the Journal notes, the onerous standards might have been feasible when gas cost $3.60 per gallon and passenger cars comprised more than half of all vehicle sales. But when the price of gas dropped, sales of trucks and SUVs skyrocketed, with trucks gaining a 61% market share in 2016. Moreover, the decline in gas prices mitigated the benefits of customer fuel savings the EPA used to justify the increased CAFE standards.
Those standards also increased vehicle production costs, driving vehicle manufacturers to Mexico in search of cheaper labor.
The Obama administration knew all of this and originally promised the incoming administration would get a "midterm review" of the CAFE standards to be completed by April 2018.
Make that an incoming Clinton administration. When Trump was elected, Obama's EPA set the 2012 standards in stone, even though their own projections revealed fewer than 1% of gas-burning cars would comply with the 2022 mandate, and none would meet the standards set for 2025.
Trump's having none of it. "We are going to restore the originally scheduled midterm review and we are going to ensure that any regulations we have protect and defend your jobs, your factories. We're going to be fair," Trump said. "That is why I'm proud to say I followed through on my promise."
Predictably, Democrats and their eco-zealot allies are furious. Sen. Chuck Schumer (D-NY) characterized the review as "all-out assault" to "dismantle important environmental protections." Kristin Igusky, Climate Program Associate at the World Resources, declared "the administration is creating more uncertainty and blocking progress toward cleaner, more efficient vehicles for America."
Christian Science Monitor columnist Zack Coleman joins the chorus. "Transportation is now the leading sector for greenhouse gas emissions in the United States," he writes. "The lower the so-called Corporate Average Fuel Economy (CAFE) standard, the smaller will be the reductions carbon dioxide emissions from vehicles."
Not quite. The expansion of the aforementioned "electrified technologies" necessary to meet the Obama EPA standards have environmental problems of their own as onerous, if not more so, than vehicles themselves. "So we're chasing the car that is fueled solely by the electricity that comes out of our walls," writes columnist Rich Cromwell. "That electricity is apparently generated by magic, never coal, so battery-powered options would reduce cars' carbon footprint and create a more sustainable future."
Cromwell also eviscerates the catalytic converter, an ostensible pollutant-eliminating device that's been around since the 70s and became government required for vehicles in 2010. "Catalytic converters, you see, are made in variety of ways, but all those ways include precious metals," he reveals. "You know how you get precious metals? By mining them from deep under the surface of the earth." Cromwell cites an article from MIT that "examines all the ways this kind of mining is abjectly horrible, including its carbon footprint."
In other words, while environmentalists and their Democrat allies in Congress are quick to tout the transparent benefits of electric cars or CAFE standards, they are rather myopic regarding the unforeseen — or is that conspicuously ignored — deleterious tradeoffs that accompany them.
And not just environmental tradeoffs. As Robert Tracinski explains, one would have to drive a $90,000 electric-powered Tesla for 30 years to equalize the costs between it and a $45,000 gas-powered Lexus, based on the average number of miles most Americans drive, coupled with slightly higher gas costs than they're currently paying. Thus, many "green energy products" are a long way from being economically viable. On the other hand, Tracinski adds, they remain "very much a plaything or status symbol for the wealthy and upper middle class, the sort of people who uniformly believe in man-made global warming and who can afford to spend tens of thousands of extra dollars just to feel good about themselves."
One suspects ordinary Americans who can't afford a Tesla or a Lexus and struggle to make ends meet are less "high-minded."
And what if CAFE standards are solely about holier-than-thou self-aggrandizement? "Under the Obama Administration, CAFE standards have become a tool for combatting global warming, at which they are utterly ineffective," Heritage Foundation writers Salim Furth and David Kreutzer declare. "Americans are paying excessively for regulations that fail any reasonable cost-benefit test."
The benefit touted by the Obama administration — a "decrease global temperatures by 0.007 degrees to 0.018 degrees Celsius in 2100" — would be more than offset by "massive losses" imposed on consumers who would increase the number of miles they drive with more fuel-efficient cars offsetting carbon reductions. Many would also eschew higher-priced new car purchases and "delay upgrades, leaving older vehicles on the road longer."
Pruitt has assured the nation his review of CAFE standards will engender a program that is "good for consumers and good for the environment." Such balance is a refreshing change from the Obama administration's "kill the economy to save the planet" mindset.
Nonetheless, he will face resistance. As columnist Ned Barnett reveals, the EPA is still infested with careerists who "believe their own views on global warming and a host of other environmental issues are the only 'true' positions. The president, for his part, is clearly preparing to take the challenge directly to the EPA's permanent staff."
Hopefully under a swamp-draining Trump administration, there's no such thing as administrative permanence.
SOURCE
Spying Out EPA Waste, Fraud and Abuse
President Trump wants to cut the budget of the federal Environmental Protection Agency by 31 percent, from $8.2 billion to about $5.7 billion, a reduction of $2.6 billion and more than 3,000 positions. The proposed cuts have drawn attacks from politicians, the old-line establishment media, and regulatory zealots. For their part, taxpayers might keep a few realities in mind.
As an inspector general testified in 2013, the powerful EPA displays "an absence of even basic internal controls," as confirmed by the case of EPA "policy advisor" John Beale. Beale claimed he also worked for the CIA, but nobody at the EPA bothered to check. That enabled Beale to take more than two years off, with full pay, claiming to be in London, India and Pakistan when he was actually kicking back at his vacation home. Beale pulled off his CIA ruse for nearly 20 years and also falsely claimed to have worked for Sen. John Tunney of California and served in Vietnam. Investigators found little evidence that the fraudster's management produced anything of value, but the EPA eagerly ponied up retention bonuses. The EPA also continued to pay Beale for 19 months after his retirement dinner cruise. All told, the faker bilked taxpayers of nearly $1 million.
As we previously noted, the EPA has not exactly been forthcoming about what it does with the $6.3 billion it has collected from lawsuits and settlements since 1990. Taxpayers may also recall that in 2015 EPA contractors released three million gallons of contaminated wastewater into the Animas River. This unleashed 880,000 pounds of lead, arsenic and other toxic materials for dozens of miles through southwest Colorado and northern New Mexico. The EPA's alleged vigilance also did nothing to prevent the Flint water crisis, but despite both disasters EPA boss Gina McCarthy kept her job.
Meanwhile, John Beale served 32 months in federal custody and last year gained release. He still collects his generous federal retirement, so in one sense the fake secret agent man got away it. Patrick Sullivan of the EPA inspector general's office told reporters, "I'm quite confident that it would be almost impossible for someone like Beale to replicate his fraud." Taxpayers have good reason to doubt it. On the other hand, taxpayers have plenty of evidence that the EPA deserves a cut of more than 31 percent.
SOURCE
There is a consensus but it is not a scientific one
A few days ago I had a conversation with a very smart university professor of history and somehow the climate change subject came up. Almost instantly he responded to my thoughts by saying: "You must be one of those deniers who rejects the science consensus."
This is the new form of intellectual bullying and it's intentionally designed is to stop the conversation not advance it. In the academies it is a technique to close off scientific inquiry.
When the liberals talk of ?consensus, what consensus are they talking about? Of whom? About what? Here is John Kay of the? Financial Times on the so-called consensus:
"Science is a matter of evidence, not what a majority of scientists think…. The notion of a monolithic "science," meaning what scientists say, is pernicious and the notion of "scientific consensus" actively so. The route to knowledge is transparency in disagreement and openness in debate. The route to truth is the pluralist expression of conflicting views in which, often not as quickly as we might like, good ideas drive out bad. There is no room in this process for any notion of "scientific consensus."
Richard S. Lindzen, the Alfred P. Sloan Professor of Atmospheric Science at MIT, has noted that too many environmentalists "ignore the fact that the earth and its climate are dynamic; they are always changing even without any external forcing. To treat all change as something to fear is bad enough; to do so in order to exploit that fear is much worse."
Then he adds: "… there is a clear attempt to establish truth not by scientific methods but by perpetual repetition.… The consensus was reached before the research was even begun…"
Kay and Lindzen are not alone. In an open letter to the Canadian Prime Minister, 60 scientists urged caution when it comes to any policy with regard to climate:
While the confident pronouncements of scientifically unqualified environmental groups may provide for sensational headlines, they are no basis for mature policy formation.… There is no "consensus" among climate scientists about the relative importance of the various causes of global climate change.… "Climate change is real" is a meaningless phrase used repeatedly by activists to convince the public that a climate catastrophe is looming and humanity is the cause. Neither of these fears is justified. Global climate changes all the time due to natural causes and the human impact still remains impossible to distinguish from this natural noise.
Patrick Moore, a Ph.D. in ecology, is a fallen-away founder of Greenpeace. The following is from his 2015 lecture, "Should We Celebrate Carbon Dioxide?"
"There is no definite scientific proof, through real-world observation that carbon dioxide is responsible for any of the slight warming in the global climate that has occurred during the past 300 years, since the peak of the Little Ice Age.… The contention that human emissions are now the dominant influence on climate is simply a hypothesis, rather than a universally accepted scientific theory. It is therefore correct, indeed verging on compulsory in a scientific tradition, to be skeptical of those who express certainty that "the science is settled" and "the debate is over."
The world's top climate body, the Intergovernmental Panel on Climate Change, is hopelessly conflicted by its makeup and its mandate from the United Nations. It is required only to focus on "a change of climate which is attributed directly or indirectly to human activity that alters the composition of the atmosphere, and which is in addition to natural climate variability." So if the IPCC found that climate change was not being affected by human alteration of the atmosphere or that it is not "dangerous," there would be no need for it to exist. It is virtually mandated to find on the side of apocalypse.
The IPCC states that it is "extremely likely" that human emissions have been the dominant cause of global warming "since the mid-20th century," that is since 1950. It claims that "extremely" means 95% certain, even though the number 95 was simply plucked from the air like an act of magic. And "likely" is not a scientific word but rather indicative of a judgment, another word for opinion.
"Perpetual repetition." "Unqualified environmental groups." "Sensational headlines." This is what mass movements are all about. From his book, The True Believer, here is Eric Hoffer on mass movements:
"Hatred is the most assessable and comprehensive of all the unifying agents.… Mass movements can rise and spread without the belief in God but never without the belief in evil."
By the way, isn't this what the left accuses the Trump movement to be all about?
Hoffer then goes on to cite the historian F.A. Voigt's account of a Japanese mission to Berlin in 1932 to study the National Socialist Movement. Voigt asked a member of the mission what he thought. He replied, "It is magnificent. I wish we could have something like it in Japan, only we can't, because we haven't got any Jews." This brought a bit of clarity as to why the mass movement, rather brilliantly, wants to label those of us who have questions as "deniers."
There are two things necessary for a mass movement to succeed: true believers and a well-defined enemy. The enemy of the climate change mass movement is fossil fuels and the Industrial Age, with the "deniers" being the enablers of planetary destruction.
In the past, the term "denier" has been associated with that extreme group who denies the existence of the horrible, tragic historical fact, the Holocaust. Many climate change true believers want the public to put anyone who questions or disagrees with climate change projections in the same category as the Holocaust deniers. But one is a fact, the other a contested projection. Nevertheless, they have been quite successful.
Here is one of the definitions of "denier" found on the Internet: "a person who denies something, especially someone who refuses to admit the truth of a concept or proposition that is supported by the majority of the scientific or historical evidence: a prominent denier of global warming."
Here is Hoffer's warning on the role of the true believer: "where mass movements can either persuade or coerce, it usually chooses the latter."
Something we are seeing in spades.
The last paragraph of Friedrich Hayek's 1974 Nobel Prize address, The Pretense of Knowledge, puts the climate change mass movement and its true believers into frightening perspective:
"There is danger in the exuberant feeling of ever growing power which the advance of the physical sciences has engendered and which tempts man to try, "dizzy with success," to use a characteristic phrase of early communism, to subject not only our natural but also our human environment to the control of a human will."
It has always been worrisome to me that every so-called solution to global warming subverts rather than enhances human freedom and advances the power of the state to regulate energy, industrial activity, and individual behavior That seems to me, a denier, or whatever term you want to use, a potentially greater threat to the future of human welfare than even climate change. Václav Klaus, the former president of the Czech Republic, made this same point when he declared: "What is at risk is not the climate but freedom."
SOURCE
***************************************
For more postings from me, see DISSECTING LEFTISM, TONGUE-TIED, EDUCATION WATCH INTERNATIONAL, POLITICAL CORRECTNESS WATCH, FOOD & HEALTH SKEPTIC and AUSTRALIAN POLITICS. Home Pages are here or here or here. Email me (John Ray) here.

Preserving the graphics: Most graphics on this site are hotlinked from elsewhere. But hotlinked graphics sometimes have only a short life -- as little as a week in some cases. After that they no longer come up. From January 2011 on, therefore, I have posted a monthly copy of everything on this blog to a separate site where I can host text and graphics together -- which should make the graphics available even if they are no longer coming up on this site. See here or here
*****************************************
22 March, 2017
Where are the tree huggers? Why are we doing nothing to help our forests?
Even though healthy forests are a CO2 sponge, Greenies never mention them. Clearly they are not concerned about trees at all. All they care about is how best to f**k up other people's lives
Greg Walcher
For years, politicians have waged war on coal, stifled oil and gas production, and advocated carbon taxes and other extreme measures to reduce carbon dioxide, while ignoring one of the most important things they could do to help.
It reminds me of my own lifelong battle with weight and the associated health issues. I get so frustrated that I sometimes swear I would do anything – anything! – to lose weight. Well, anything except eat less and exercise. But anything else.
That same kind of hypocrisy surrounds rants about our carbon dioxide emissions. Even people who are "deeply concerned" about dangerous manmade climate change drive cars, heat their homes, and sometimes even turn on lights. They embrace modern living standards, while also embracing faddish environmental claims and policies that contribute mightily to problems they insist disturb them greatly.
A popular bumper sticker screams, "TREES ARE THE ANSWER." Yet when it comes to managing our national forests, many of those same advocates look away, while millions of acres of once healthy trees die, fall down, rot or burn up.
It's ironic, because those forests provide the world's greatest resource for cleaning carbon dioxide out of the atmosphere; because the rotting and fires themselves emit greenhouse gases; and because atmospheric carbon dioxide makes all plants grow faster and better and with improved tolerance to drought.
As Colorado State Forester Mike Lester testified recently before a state legislative committee, "When so many trees die and large wildfires follow, our forests quickly turn from a carbon sink into a carbon source." Trees absorb carbon dioxide as people absorb oxygen, and that balance is critical to sustaining life, as we all learned in grade school.
Yet instead of doing everything in our power to make sure we have abundant thriving forests of healthy trees, we allow them to die and burn and thus belch millions of tons of carbon dioxide into the air.
Lester's excellent testimony accompanied the release of the Colorado State Forest Service's annual Report on the Health of Colorado Forests. This year's assessment is the worst ever, and hardly anybody noticed. There was no outcry from global warming alarmists around the world, as there should have been. In fact, their silence on this issue is deafening. And it's not just Colorado. It's every state, and beyond.
The more concerned people are about climate change, the more they should be interested in active management to restore forest health. Yet many of the groups pushing urgent climate policies are the same groups that continue to fight logging, tree thinning and other management necessary for healthy forests. The result is more of the same disasters we have seen unfolding for over 20 years: dead and dying forests, catastrophic wildfires, habitat devastation, loss of human property and lives, and destruction of wildlife.
The new forest health report shows that over the last seven years, the number of dead standing trees in Colorado forests increased almost 30 percent, to an estimated 834 million dead trees. There are billions across the other Rocky Mountain States.
The report makes clear that this continuing trend of tree mortality can lead to large, intense wildfires that totally incinerate and obliterate forests, soils and wildlife. In fact, it is only a matter of time before this happens, if the U.S. Forest Service does not act.
Ironically, the most productive forest health restoration projects in Colorado have been partnerships of the State Forester with water providers like Denver Water, Northern Water Conservancy District and Colorado Springs Utilities. That's because 80 percent of Colorado's population depends on water that comes from the national forests.
However, the U.S. Forest Service, which owns almost all of the forestland in the State, continues to work with its hands tied behind its back, its timber programs woefully underfunded and vast sums syphoned off every year for fire suppression. Fire control ought to be funded separately, so that active management of healthy forests is not the perpetually lowest priority.
The Forest Service spends a fortune on planning, writing reports, and defending itself against environmental lawsuits, leaving few funds for what it is really supposed to be doing.
What a golden opportunity for the new Congress and Trump Administration. Reversing this demoralizing trend would restore forests, protect and increase wildlife, bring back thousands of forest products jobs, revitalize rural economies, and do more to reduce carbon dioxide than any previous policy.
The previous Administration created the Office of Sustainability and Climate Change, and Regional Climate Change Hubs, maintained a Climate Change Adaptation Library, mapped drought frequency and intensity, and created massive reports blaming humans for climate change. One study was a vulnerability assessment for the Southwest and California, titled "Southwest Regional Climate Hub and Climate Subsidiary Hub Assessment of Climate Change Vulnerability and Adaptation and Mitigation Strategies."
All this activity is impressive, and scientific study will always play a role. But none of it actually affects climate change. Growing healthy trees would. Can we get back to that?
Or like me and my weight problem, are we willing to do anything to address climate change and improve our forests and wildlife habitats, except the one thing that might help the most?
Via email
The War on Affordable Electricity
Safe, reliable, and affordable power is a crucial partof a strong and growing economy. The dependability and general affordability of electricity here in U.S. is a significant component of our historically robust economy. But recently, a vocal and active few here in New Mexico are part of a coordinated, nationwide effort to severely restrict our ability produce economical and reliable power.
Earlier this summer, the state of California's GDP passed that of France to become the sixth largest in the world. Just for comparison, the country just ahead of California is the United Kingdom, where last year's GDP totaled about $2.85 trillion according to the International Monetary Fund.
Due to its sheer size, California is the battleground for most public policy debates, and the current debate on energy is no exception. Both here and in California, environmentalists have made it their mission to increase the use of renewable sources (solar and wind) while shutting down our most affordable, reliable, and carbon-free source of electricity: nuclear power. California policymakers' anti-nuclear stance is partially blamed for the use of fossil fuels to increase from 47 percent of in-state electric generation in 2011 to 61 percent in 2013.
Since renewables constantly fluctuate due to changes in weather and we expect electricity to be available 24/7, some source of power must fill that gap in generation. Currently, the only sources of electricity capable of covering that gap are fast-ramping natural gas plants. A new study of over 26 separate countries spanning over two decades reports that "all other things equal, a 1% percent increase in the share of fast reacting fossil technologies is associated with a 0.88% percent increase in renewable generation capacity in the long term". In other words, gas plants can be seen as "an enabling factor" which allow for the integration of additional renewable sources of power. There is no economical method to store power on an industrial scale, so you cannot add renewable energy sources without a corresponding increase in gas generation to make up the difference and balance the grid.
California policymakers' anti-nuclear stance is partially blamed for the use of fossil fuels to increase from 47 percent of in-state electric generation in 2011 to 61 percent in 2013.
In New Mexico, the Public Regulation Commission regulates all public utilities including PNM, which provides electricity to most of the state (full disclosure: I am currently employed by PNM as a wholesale power marketer). In August 2015, PNM filed a rate case with the PRC, requesting an increase in rates to help offset some of the costs associated with the environmental gains agreed to last fall (including cutting carbon emissions in half). In its latest recommendation, the case hearing examiner issued a recommendation for a rate increase of $41.3 million, roughly one third of the $123.5 million PNM had asked for in its original request.
As part of her recommendation, the hearing examiner did not allow for any cost recovery for the purchase of a percentage of the generating capacity of Palo Verde Nuclear Generating Station. Make no mistake about it: this decision was due in large part to an effective PR campaign waged by local and out-of-state environmentalists demonizing nuclear energy. Unfortunately, they do not see the contradiction in advocating for cheap and carbon-free energy while simultaneously demanding PNM get rid of "expensive, toxic nuclear power".
In the end, the real tragedy is that if the environmentalists had their way, the cost of electricity would substantially increase, and those hurt the most would be those very same people they claim to advocate for: the poor, the elderly, and others on a fixed income. I urge the PRC commissioners to do the right thing for the people of New Mexico by allowing PNM to recover all or a majority of the costs associated with Palo Verde, the most safe, reliable, and cost-effective power source in PNM's generating fleet.
SOURCE
Are investigations by the 'Green 20' an effort to intimidate scientific dissenters?
By Lamar Smith
Transparency for thee, but not for me—that seems to be the motto of New York Attorney General Eric Schneiderman and Massachusetts Attorney General Maura Healey. Last year they led a group of their colleagues—dubbed the "Green 20"—in a sweeping initiative to target dissenting views on climate change. Exxon Mobil, for instance, was asked to turn over decades of documents.
The Green 20 investigations have been criticized as blatantly political. Last year a federal judge overseeing Ms. Healey's suit against Exxon expressed concern that she may be conducting it in "bad faith."
For nearly a year, the congressional committee I lead has been trying to understand the effects of these investigations on scientific research. Unfortunately, the attorneys general have obstructed our inquiry at every turn. Last July, after two months of unanswered requests for information, the committee issued subpoenas to Mr. Schneiderman and Ms. Healey.
The subpoenas asked for communications between Green 20 offices and environmental activists. This would show the level of coordination in this campaign to harass and silence scientists who challenge prevailing climate-change orthodoxies. The attorneys general have refused to comply, hiding behind vague excuses.
The committee has not sought information about the investigations of Exxon. Instead, our interest is in discovering how this attempt at intimidation affects federally funded scientific research. Then we may consider changing the law to allow this research to continue.
The hypocrisy of the attorneys general here is evident—though perhaps understandable. Mr. Schneiderman has accepted nearly $300,000 in campaign donations from environmentalist donors, including members of the Soros family. He has also used the investigation as a way to curry favor with anti-Exxon billionaire Tom Steyer for a potential gubernatorial run, according to the New York Post.
Perhaps Mr. Schneiderman is afraid of what the House committee might confirm in the course of its investigation. Is he using his public office to advance the priorities of interest groups that support his personal political ambitions?
The American people deserve to know how Mr. Schneiderman's and Ms. Healey's actions affect the nation's scientific community. By refusing to comply with congressional subpoenas, they have shown they have something to hide.
To borrow their premise, this obstruction is a coverup—and they must be held accountable for their hypocrisy. On Feb. 16, the House committee reissued the subpoenas, as is customary at the beginning of a new Congress. Although the attorneys general have not yet made any effort to cooperate, I remain hopeful that they will act in accordance with their public statements about transparency and accountability and will comply with the committee's investigation.
SOURCE
Japan, India and China still turning to more coal throughout the 2020s which means more CO2 and air pollution
Coal is undergoing a renaissance in emerging and developed countries in Asia, buoyed by technical breakthroughs and looming questions about squaring development with energy security. Japan, India and China will try to blunt the air pollution effects from the use of coal which cause millions of premature deaths in India and China and tens of thousands in Japan. However the "low emissions" coal technology is still 30% worse than natural gas for CO2 emissions even though "low emissions" is improved over several decades old coal plants.
BTW- the economic and technological forces in the USA are causing an increase in natural gas power generation in the USA. Any political rhetoric or shutting down of the EPA may slow the decline of the US coal industry but coal power in the US will still decline. US coal mines will then ship more coal to Asia. For the full year of 2016 in the USA, coal made up 30.4% of total US power generation, which is the lowest annual total since EIA records started for the calculation in 1950. For comparison, coal made up 33.2% of US generation in 2015 and 49% of US generation in 2006. Gas plants produced 33.9% of US power in 2016, which was the highest total yet for the fuel, after contributing 32.7% of US power generation in 2015 and 20.1% in 2006.
US electricity generation was 4300 TWh in 2016. This is 40% less than China 5920TWh. India is at about 1400 TWh and Japan at 1000 TWh.
For Japan, coal has emerged as the best alternative to replacing its 54 nuclear reactors, which are deeply unpopular with the population and seen as symbols of devastation after the Fukushima Daiichi nuclear disaster six years ago. Mindful of the public mood, the government of Shinzo Abe has completely given up on the country's dream of nuclear self-sufficiency, and pulled the plug in December on the $8.5 billion experimental reactor project at Monju. On February 1, the government pledged to decommission all reactors and replace them with 45 new coal-fired power plants equipped with the latest clean coal technology.
Japan is turning to coal power due to attempts to transition the country away from nuclear power. Officials promised to replace nuclear power with wind or solar, but this caused the price of electricity to rise by 20 percent. Japan's government currently aims to restart at least 32 of the 54 reactors it shut down following the Fukushima disaster, and wants nuclear power to account for 20 percent of the nation's total electricity generated by 2030.
Japan will use high energy, low emissions (HELE) technology that use high-quality black coal.
Japan plans to build ultra-super-critical plants in the 650 MW range. 45 new coal-fired power-generation units with total capacity of as much as 20,884 MW, would come online in the next decade or so. Japan had a total 90 coal-fired units at the end of March 2015, with total capacity of 40,695 MW. Coal power already made up 31 percent of Japan's energy mix in 2015 but under the current plan, the fossil fuel will become the country's primary power source by 2019.
Japan is the largest overseas market for Australian coal producers, taking more than a third of all exports.
In the wake of the Tsunami which caused the Fukushima nuclear accident in 2011, Japan started importing more liquefied natural gas (LNG) from Australia. The move to more coal fired power was because coal was cheaper than LNG, and the energy security was priority for the government.
India's current energy plan calls for reducing India's carbon emissions by replacing aging thermal power plants with energy-efficient "supercritical" ones that will (much like their Japanese counterparts) maximize the energy produced from coal burned, while also curtailing CO2 emissions. This supercritical technology has already had tangible effects on the nation's plan to cut pollution levels as the 51 units currently installed have saved 6 million tons of CO2 — the equivalent of taking 1,267,000 cars off the road for one year. A few Indian companies and entrepreneurs have been even more ambitious, pioneering local carbon-capture solutions that could keep even more emissions out of the air.
India needs to grow power but is has paused in building new coal plants because of a massively inefficient economic and planning system.
India has power plants with capacity to generate 300 GW. These are operating at 64% capacity because of inability of state distribution utilities to purchase electricity and sluggish economic growth. About a tenth of the total capacity is stranded due to lack of power purchase agreements while another 50 GW is under various stages of construction.
One third of the Indian population has no power.
If India grows at 7 to 9% GDP each year then they will need 3.5-5% more energy each year. If solar power can scale 10 to 30 times beyond what we see today and at costs of about half what we see today then maybe India will not build so much coal power to meet their development needs. If it comes to choice between development or using coal, clearly India will choose to use coal.
China power
China recently announced the cancellation of over 100 coal plant projects. However, China still added 48GW of coal power plants in 2016 and will likely add a total of 150GW by 2020.
The cancellations were partially due to concerns about air pollution, but also mainly about China's planners finally admitting that they would not be able to increase GDP growth to justify the new coal power.
China's annual construction level is higher than Japan's 15 year energy plan. China used just short of 6000 TWh of power in 2016. China had 5920 TWh of power generation in 2016.
SOURCE
Australia: Closure of big brown-coal generator raises threats of East coast blackouts and manufacturers moving overseas
The head of the Food and Grocery Council says manufacturers will quit Australia if affordable, reliable energy cannot be guaranteed, as concern grows about the cost of power and the stability of the electricity grid with Victoria's Hazelwood power station due to close in a fortnight.
The ageing brown-coal-fired generator in the Latrobe Valley will begin the staged shutdown of its eight units from March 27. The final boiler will go cool on April 2.
With it will go 22 per cent of Victoria's power supply and just over 5 per cent of the energy on a grid that runs from Port Douglas in far north Queensland to Port Lincoln on South Australia's Eyre Peninsula.
The wholesale price of power spiked across the National Electricity Market in November on news that Hazelwood would shut.
Retail prices will follow the rise.
Food and Grocery Council chair Terry O'Brien said his industry had been caught in a pincer movement, unable to pass on power price hikes because of discounting by the two major supermarkets chains.
As many local manufacturers were arms of international companies, pressure was mounting for some to quit the country.
"The decision to stay or go gets more and more marginal as the days go on," Mr O'Brien said. "And there's not a heck of a lot of sentiment in these internationally managed companies. They go where it makes sense. And if it's not going to make sense here, they leave."
The closure of Hazelwood raises an even larger threat: blackouts. "To stop production through a lack of energy is just a disaster," Mr O'Brien said.
The threat of east coast blackouts is now real because of the disorganised disconnection of coal-fired generation without any new investment in base-load power.
Hazelwood will be the ninth power plant to close in five years, removing a combined 5,400 megawatt of generation from the grid. The Australian Energy Market Operator is now predicting electricity reserve shortfalls in Victoria and South Australia from December.
SOURCE
***************************************
For more postings from me, see DISSECTING LEFTISM, TONGUE-TIED, EDUCATION WATCH INTERNATIONAL, POLITICAL CORRECTNESS WATCH, FOOD & HEALTH SKEPTIC and AUSTRALIAN POLITICS. Home Pages are here or here or here. Email me (John Ray) here.

Preserving the graphics: Most graphics on this site are hotlinked from elsewhere. But hotlinked graphics sometimes have only a short life -- as little as a week in some cases. After that they no longer come up. From January 2011 on, therefore, I have posted a monthly copy of everything on this blog to a separate site where I can host text and graphics together -- which should make the graphics available even if they are no longer coming up on this site. See here or here
*****************************************
21 March, 2017
A Greenie moron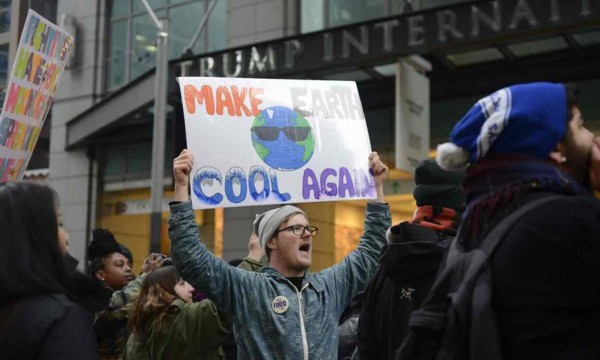 Like during the Little Ice Age when famine, pestilence and disease spread across Europe?
James Inhofe: EPA Brainwashes Children With Propaganda
Sen. James Inhofe piled on the EPA as it faces a 31 percent cut in President Donald Trump's first budget, charging on Thursday that the agency was "brainwashing" children with "propaganda."
The Republican Oklahoma senator, and supporter of current Environmental Protection Agency head Scott Pruitt, made the comments to anchor Poppy Harlow during an appearance on CNN's "New Day."
"We are going to take all this stuff that comes out of the EPA that is brainwashing our kids, that is propaganda, things that aren't true, allegations," Inhofe said, though at the time he did not point to any specific examples.
Inhofe, a frequent climate change skeptic, made similar comments to conservative talk show host Eric Metaxas after the senator said that one of his grandchildren asked why he was a climate change denier, according to Newsweek.
"You know, our kids are being brainwashed? I never forget because I was the first one back in 2002 to tell the truth about the global warming stuff and all of that," Inhofe said.
"And my own granddaughter came home one day and said, … 'Popi, why is it you don't understand global warming?' I did some checking, and Eric, the stuff that they teach our kids nowadays, you have to un-brainwash them when they get out."
SOURCE
Climate Models Fail So Often Because Climate Science Is So Incomplete
Jeff Jacoby
"Do you believe," CNBC's Joe Kernen asked Scott Pruitt, the Environmental Protection Agency's new director, in an interview last Thursday, "that it's been proven that CO2 is the primary control knob for climate?"
Replied Pruitt: "No. I think that measuring with precision human activity on the climate is something very challenging to do, and there's tremendous disagreement about the degree of impact. So no — I would not agree that it's a primary contributor to the global warming that we see. But we don't know that yet. We need to continue the debate and continue the review and the analysis."
It was an accurate and judicious answer, so naturally it sent climate alarmists into paroxysms of condemnation. The Washington Post slammed Pruitt as a "denier" driven by "unreason." Senator Brian Schatz of Hawaii called Pruitt's views "extreme" and "irresponsible" — proof of his unfitness to head the EPA. Gina McCarthy, who ran the agency under President Obama, bewailed the danger global warming poses to "all of us who call Earth home," and said she couldn't "imagine what additional information [Pruitt] might want from scientists" in order to understand that.
Yet for all the hyperventilating, Pruitt's answer to the question he was asked — whether carbon dioxide is the climate's "primary control knob" — was entirely sound. "We don't know that yet," he said. We don't. CO2 is certainly a heat-trapping greenhouse gas, but hardly the primary one: Water vapor accounts for about 95 percent of greenhouse gases. By contrast, carbon dioxide is only a trace component in the atmosphere: about 400 ppm (parts per million), or 0.04 percent. Moreover, its warming impact decreases sharply after the first 20 or 30 ppm. Adding more CO2 molecules to the atmosphere is like painting over a red wall with white paint — the first coat does most of the work of concealing the red. A second coat of paint has much less of an effect, while adding a third or fourth coat has almost no impact at all.
There is a popular theory that atmospheric CO2 amplifies the creation of water vapor, thereby increasing warming through a "positive feedback loop." But that theory so far is mostly speculative; climate projections using models based on it have consistently failed, nearly always predicting far more warming than has occurred. It should go without saying that if scientists cannot yet make accurate predictions about future climate change, then their understanding of climate science remains highly incomplete.
Earth's climate system is unfathomably complex. It is affected by innumerable interacting variables, atmospheric CO2 levels being just one. The more variables there are in any system or train of events, the lower the probability of all of them coming to pass. Your odds of correctly guessing the outcome of a flipped coin are 1 in 2, but your odds of guessing correctly twice in a row are only 1 in 4 — i.e., ½ x ½. Extending your winning streak to a third guess is even less probable: just 1 in 8.
Apply that approach to climate change, and it becomes clear why the best response to the alarmists' frantic predictions is a healthy skepticism.
The list of variables that shape climate is very long. It includes cloud formation, topography, altitude, proximity to the equator, plate tectonics, sunspot cycles, volcanic activity, expansion or contraction of sea ice, conversion of land to agriculture, deforestation, reforestation, direction of winds, soil quality, El Niño and La Niña ocean cycles, prevalence of aerosols (airborne soot, dust, and salt) — and, of course, atmospheric greenhouse gases, both natural and man-made. A comprehensive list would run to hundreds, if not thousands, of elements, none of which scientists would claim to understand with absolute precision.
But for the sake of argument, say there are merely 15 variables involved in predicting global climate change, and assume that climatologists have mastered each one to a near-perfect accuracy of 95 percent. What are the odds that a climate model built on a system that simple would be reliable? Less than 50/50. (Multiplying .95 by itself 15 times yields 46.3 percent.) Is it any surprise that climate-change predictions in the real world — where the complexities are exponentially greater and the exactitude of knowledge much less — have such a poor track record?
Pruitt got it right: Measuring human impacts on climate is indeed "very challenging." The science is far from settled. That is why calls to radically reduce carbon emissions are so irresponsible — and why dire warnings of what will happen if we don't are little better than reckless fearmongering.
SOURCE
Puerto Rico Is Full Of 'Open Dumps' Ripe For Spreading Zika, And EPA is Ignoring Them
One is inexorably led to wonder if the Obama Environmental Protection Agency (EPA) ignored for years an environmental nightmare mess in Puerto Rico – so as to make the case for even more government control
"The Environmental Protection Agency (EPA) has ignored numerous reports that most of Puerto Rico's landfills are out of compliance with federal law, and some could even become breeding grounds for mosquitoes carrying the Zika virus, according to a new report….(Puerto Rican attorney Hiram Torres) Montalvo's hard-pressed to find a reason why the EPA, which is generally so eager to regulate every other aspect of life, has done nothing to enforce existing laws for Puerto Rico's landfills."
Is there evidence the Obama EPA's incompetence was in fact willful? But of course: "My organization, Puerto Rico Limpio, has uncovered a treasure trove of documents and official correspondence that confirm Obama's EPA purposefully ignored the law even when their own experts called the crisis an 'imminent threat to human health and the environment.'"
Now, thankfully, mercifully, the Obama era is over. Enter the Donald Trump Administration and its EPA head – Scott Pruitt. Whom the Left loathes: "'Every American should be appalled that President-elect Trump just picked someone who has made a career of being a vocal defender for polluters to head our Environmental Protection Agency,' Earthjustice President Trip Van Noppen said in an emailed statement….'Scott Pruitt running the EPA is like the fox guarding the henhouse,' League of Conservation Voters President Gene Karpinski said in a statement. 'The League of Conservation Voters strongly opposes this nomination and urges senators to vote against Scott Pruitt's confirmation.'"
Obama EPA officials – loathe Pruitt: "'It is clear that [Pruitt] will launch an unprecedented attack on basic environmental protections that will result in more pollution and illnesses for the American people,' said…Judith Enck…EPA Regional Administrator for New York and New Jersey from 2010 until last month….'He will do permanent damage to the work of the EPA.'"
Let's hope "he will do permanent damage to the work of the EPA" – given the Obama EPA's willful, wanton neglect of Puerto Rico (and its turning whole rivers day-glow orange, and its serial assaults on farmers and ranchers, and…).
Won't it be ironic and highly amusing when Pruitt – the Left's Arch-Nemesis – uses the Trump EPA to clean up the Obama EPA's intentional Puerto Rico mess? About which the Left for years said nothing – before exploding into unified chorus screeching in protest of Pruitt.
At his confirmation hearing, Pruitt pledged: "If confirmed, I expect to make cleanup of contaminated (Puerto Rican) land one of my priorities."
Given the Trump Administration's relentless adherence to keeping its word – we have much evidence to warrant confidence in Pruitt keeping his.
Pruitt absolutely should. Because it's the right thing to do. Because it would countermand the Obama Administration's attempt to use the EPA to undermine the private sector and expand government power – Obamacare-and-Fast-and-Furious-style.
And because it would be yet another slap to the face of Leftists everywhere. Win-win-win.
SOURCE
Trump must Dump Paris agreement
The International Clexit Coalition today joined the growing chorus urging President Trump to keep his election promises and dump every climate treaty "agreed" in Kyoto, Paris and the UN/IPCC.
The Secretary of Clexit (Climate Exit Coalition), Mr Viv Forbes of Australia, said that Clexit could call on over 190 well-qualified climate realists from 26 countries to provide scientific, business, legal and political support and advice.
Mr Forbes said it was obvious from the Brexit vote in Britain, the election of President Trump in USA, the rise of Marine la Pen in France and Geert Wilders in Holland and the election of Senator Malcolm Roberts in Australia that the general population no longer trusts the globalists controlling the UN, the EU, and the UN/IPCC.
"The whole war on carbon is merely a grab for power using a world tax on energy to fund global government. Voters of the world are waking up and unless their politicians trim their sails to the new sceptical gale they will be swept from office."
Senator Malcolm Roberts from Queensland, a member of Clexit, said just last week: "We call for an AusExit – getting out of the Paris Agreement and the UN."
Dr Tim Ball of Clexit Canada said: "Even if fully implemented, the Paris Climate Agreement won't change atmospheric CO2 levels or stop global warming. However, it will devastate economies and hurt poor people the most."
Mr Mark Duchamp of Clexit Spain is also opposed to the Paris Agreement: "The recurrent climate event "El Niño" has caused warmth in 2015 and 2016. However temperatures are now back to their usual natural fluctuations, no matter how much tampering with data is done by NOAA, NASA-GISS and politically correct "scientists."
Viv Forbes concludes "The Paris Agreement will destroy industries and jobs and make electricity more expensive and unreliable. One bad winter blackout will be enough to cure the EU heartland of climate alarmism and green energy. Soon the only Paris supporters will be third world and Pacific Island mendicants hoping for climate handouts (but getting energy handcuffs)."
"This stupidity will surely end, but energy costs will rise for every day's delay."
SOURCE
Australia: State Premier lies to cover up Greenie folly
His manic anti-coal hatred caused several major blackouts in South Australia
Business leaders have been left stunned after Jay Weatherill, during a debate a year out from the next state election, claimed that Alinta Energy had made no offer to keep the state's last coal-fired power station open.
This is despite The Australian in August revealing correspondence between Alinta Energy and state Treasurer Tom Koutsan­tonis, obtained under Freedom of Information laws, in which the government rejected a transition plan to keep the Northern power station in Port Augusta open until 2018. The plant permanently shut in May, with immediate price ­surges of ­almost 75 per cent and a wind-reliant grid that has led to a spate of blackouts.
The government is continuing to deny access to 12 documents sought under FOI by the opposition, which are being reviewed by the ombudsman, and will not reveal how much financial assistance was sought by Alinta.
Yesterday, during a pre-election leaders' debate hosted by Business SA and the Property Council, Mr Weatherill was asked by Opposition Leader Steven Marshall to "tell the 650 people here today" how much Alinta wanted to keep its baseload power station open to help with the transition to renewable power.
"It was put to you, it was put to cabinet, and it was rejected — tell us now whether it was much higher than the $550 million energy plan you're now putting on the people of South Australia."
As the audience applauded, the Premier shook his head. "They (Alinta) were never offering to do that, simple as that," he said. Pressed by the debate moderator, the Premier insisted there was "absolutely" no offer on the table, but later said he would not reveal what Alinta had asked for.
FOI documents show Alinta took a firm transition plan seeking financial support to the government on May 6, 2015. A fortnight later, Mr Koutsantonis rejected the approach, advising chief executive Jeff Dimery that "the support requested would not be forthcoming".
In a follow-up letter to Mr Dimery, the Treasurer said: "The government considered Alinta Energy's revised proposal and is unable to accommodate the ­significantly increased funding request."
Mr Dimery said in June 2015 that despite talks with the government to stay open, its policies to promote high levels of renewable energy generation had forced the power station's closure.
Mr Weatherill this week recommitted SA to its 50 per cent renewable energy target, saying it had almost been achieved.
Opposition energy spokesman Dan van Holst Pellekaan last night said voters had the right to know what it would have cost to keep the Northern power station operating. He said it was understood the support requested by Alinta was less than 10 per cent of the $550m cost of the Weatherill government's energy strategy.
"If there was no offer then why is a confidentiality gag in place and why is the government fighting 12 Freedom of Information applications?" he said.
The debate came a day after Mr Weatherill traded insults with federal Energy Minister Josh Frydenberg at an AGL announcement in Adelaide. Mr Frydenberg labelled the state's new energy policy as the Premier's "$550m admission of failure".
Mr Weatherill on Tuesday said the state would "go it alone" and released a six-point energy plan.
SOURCE
***************************************
For more postings from me, see DISSECTING LEFTISM, TONGUE-TIED, EDUCATION WATCH INTERNATIONAL, POLITICAL CORRECTNESS WATCH, FOOD & HEALTH SKEPTIC and AUSTRALIAN POLITICS. Home Pages are here or here or here. Email me (John Ray) here.

Preserving the graphics: Most graphics on this site are hotlinked from elsewhere. But hotlinked graphics sometimes have only a short life -- as little as a week in some cases. After that they no longer come up. From January 2011 on, therefore, I have posted a monthly copy of everything on this blog to a separate site where I can host text and graphics together -- which should make the graphics available even if they are no longer coming up on this site. See here or here
*****************************************
20 March, 2017
Papal adviser Schellnhuber: 'Scientists have to take to the streets' to counter climate denial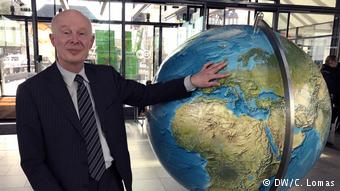 The worm himself, looking weird as usual. He's off his rocker. He makes most Warmists look moderate. Sadly, Schellnhuber is advisor to Angela Merkel as well.

Comment from Dick Lindzen: "He makes Holdren sound almost rational. Schellnhuber is the embodiment of green totalitarianism. He knows nothing about climate, and he doesn't care. His job is to scare".

The interview below is with DW, which in a faroff day was known as "Die Deutsche Welle" (The Voice of Germany), German government media
DW: Where are we at with the world's carbon budget - how much have we spent and how much have we got left?
Hans Joachim Schellnhuber: If we want to hold the 1.5 degrees [Celsius; 3.6 degrees Fahrenheit] line, which is the ambitious goal of the Paris agreement, we have maybe 300 billion tons left - more or less the budget of 10 years - if we do business as usual. If we want to hold the 2 degrees line, which is more realistic, we have another 20 to 30 years to go, but no more actually. So it's a very tight budget.
DW: And in order to meet this tight budget, what do you see as being the major things that need to happen between now and then?
HJS: It's quite mind-boggling - for example, by 2030, we have to phase out the combustion engine. And we have to completely phase out the use of coal for producing power. By 2040 we will probably have to replace concrete and steel for construction by wood, clay and stone.
DW: We now have an international climate agreement signed and ratified. Are we on track to meet our emissions reduction targets?
HJS: Germany actually has the more ambitious goal - here within the European Union - a 40 percent reduction by 2020. It looks fairly bleak actually, with the current policies in place we will not even meet our own target. Something fairly disruptive needs to happen, like closing down some of the operating coal-fired power stations.
The European Union is underambitious - it should have raised its ambition immediately after Paris, but that did not happen So it's a very sluggish process.
Globally, there is some good news.
China has probably already peaked its emissions now, which is amazing. India has an extremely ambitious solar energy program - [and is] now investing a lot. So, the only black horse in the race is the US.
DW: US President Donald Trump has threatened to pull out of the Paris accord. How big an impact would this have on the international climate action we've achieved so far?
HJS: That's the one-billion-dollar-question. First of all, it's not clear whether Trump will pull the US out of the Paris Agreement. I don't think he will. Like other laggards and obstructers, in the past - like Saudi-Arabia - I think the US will just stay on-board and try to slow down all the processes.
What effect will it have? 10 years ago this would have been a complete disaster for climate policy. Now with China - the biggest emitter and also the biggest investor in renewables - and with the Asian economies now slowly changing, I think the world could achieve climate protection even without the US.
DW: Scott Pruitt, who now heads the US Environmental Protection Agency, recently denied carbon dioxide was a major contributor to global warming. His comments go against the 97 percent consensus of the world's scientists. Scientists generally tend to stay out of politics, but do you think given the current political climate there, scientists will become more politicized and outspoken?
HJS: I have the big privilege to work in the office where Albert Einstein worked. He's one of the greatest geniuses and physicists of all time. And he was a very political animal actually.
I think if the very system of the scientific method and the scientific research is in doubt, then scientists have to take to the streets in the end and have to demonstrate and say: "Hey we are doing a job for you!"
We scientists love to sit in our ivory towers, untainted by the dirt of the real world and so on, [but] we have to take to the streets, we have to speak up. We have to leave our ivory towers, and we have to communicate to everybody that we want to be part of the solution.
SOURCE
Ya gotta laugh. Warmist site now worried about cold winters
Anything to attack Trump. Below is the latest wisdom from Think Progress. These are the guys who want to make electricity prices skyrocket, in order to help the poor heat their homes. What a bunch of total scumbags! Also see here how OBAMA regulations could mean fatally cold winters for some of America's poor
Last winter, you helped six million American households?—?all of them poor and most of them home to a senior citizen, young child, or disabled adult?—?keep the heat on through the winter.
You didn't do it on purpose. The government did it for you, through a program American lawmakers created in 1980 in hopes that no one in the world's richest country would have to choose between buying groceries and avoiding hypothermia.
Since the dawn of the Reagan era, the Low-Income Home Energy Assistance Program (LIHEAP) has subsidized the utility bills of tens of millions of Americans through hoary northern winters and blistering southern summers.
That nearly four-decade legacy would end forever under President Donald Trump's first budget proposal. The plan's broader fiscal irresponsibility is clear?—?it hands wealthy people hundreds of millions of dollars in tax breaks while paring back or outright canceling scores of public services and investments in the nation's future?—?but its true cruelty is easier to spot down in the details.
Trump's budget deems LIHEAP "a lower-impact program…unable to demonstrate strong performance outcomes" and calls for its extinction. Yet the small chunks of cash LIHEAP doles out to eligible families change the way people live?—?and keep some alive who would otherwise have died.
"Look at what happened before LIHEAP. People used kerosene heaters. People left their stoves on. And people died," said Mark Wolfe, head of the National Energy Assistance Director's Association. "We created LIHEAP to stop that."
I've used a kerosene heater myself. I didn't die. They're pretty effective in a bedroom -- JR
SOURCE
G20 leaders roll back commitment to free trade and climate change following US pressure
The G20 financial leaders dropped a decade-long pledge to reject protectionism on Saturday after opposition from the US, raising fears the Trump administration could upset the global economic order.
The annual meeting of 20 finance ministers closed on Saturday afternoon without a statement voicing the bloc's longstanding opposition to "all forms" of tariffs and rules favouring one economy over another, after it failed to find a suitable compromise with Donald Trump's administration.
After leaders failed to draft new measures that would satisfy the US, they opted for just a fleeting reference to strengthening trade in their statement.
The free trade change comes as a surprise and blow to many of the representatives at the summit including China, Japan and European countries that have supported the policy for many years. It is set to pave the way for increasing protectionism from the new US Government.
Steven Mnuchin, the US treasury secretary, dismissed the group's traditional economic playbook of opposing protectionism as "not really relevant" any longer, and said the US now prioritised "balanced trade" over low border tariffs.
As well as the free trade agreement falling apart, the deal to prevent climate change was also undermined. But the G20 leaders did agree to stabilise the foreign exchange and stop competitive currency devaluation.
In a major international clash, the new US administration also teamed up with Saudi Arabia to condemn the reference to climate change funding in the agreement.
After the two countries took umbrage with the environmental commitments, a reference to the Paris deal from 2015 was also watered down.
Donald Trump's administration is mulling a new border tax that could curb imports as a boost to US workers.
But as an offer of some reassurance, Mr Trump and Steven Mnuchin, the US trade secretary, said this week that they don't want to start a trade dispute and that the US is not pursuing isolationist goal.
There is less room for interpretation on climate change, which Trump has called a "hoax" and "waste of money".
SOURCE
To Protect Climate Money, Obama Stashed It Where It's Hard to Find
Obama's aides spread money across the government, eluding cuts
Most recent estimate puts tab at $77 billion from 2008-2013
President Donald Trump will find the job of reining in spending on climate initiatives made harder by an Obama-era policy of dispersing billions of dollars in programs across dozens of agencies -- in part so they couldn't easily be cut.
There is no single list of those programs or their cost, because President Barack Obama sought to integrate climate programs into everything the federal government did. The goal was to get all agencies to take climate into account, and also make those programs hard to disentangle, according to former members of the administration. In some cases, the idea was to make climate programs hard for Republicans in Congress to even find.
"Much of the effort in the Obama administration was to mainstream climate change," said Jesse Keenan, who worked on climate issues with the Department of Housing and Urban Development and now teaches at Harvard University. He said all federal agencies were required to incorporate climate-change plans into their operations.
The Obama administration's approach will be tested by Trump's first budget request to Congress, an outline of which is due to be released Thursday. Trump has called climate change a hoax; last November he promised to save $100 billion over eight years by cutting all federal climate spending. His budget will offer an early indication of the seriousness of that pledge -- and whether his administration is able to identify programs that may have intentionally been called anything but climate-related.
The last time the Congressional Research Service estimated total federal spending on climate was in 2013. It concluded 18 agencies had climate-related activities, and calculated $77 billion in spending from fiscal 2008 through 2013 alone.
But that figure could well be too low. The Obama administration didn't always include "climate" in program names, said Alice Hill, director for resilience policy on Obama's National Security Council.
"Given the relationship that existed with Congress on the issue of climate change, you will not readily find many programs that are entitled 'climate change,'" Hill, who is now a research fellow at the Hoover Institution, said in an interview. At the Department of Defense, for example, anything with the word climate would have been "a target in the budget process," she said.
The range of climate programs is vast, stretching across the entire government.
The Department of Agriculture created "climate hubs" to help farmers and ranchers cope with extreme weather. The Department of Health and Human Services began analyzing the effects of climate change on occupational safety. The Bureau of Reclamation started a program called "West-Wide Climate Risk Assessments," measuring changes to water supply and demand. The Bureau of Indian Affairs created the Tribal Climate Resilience Program. The Agency for International Development created a program to help "glacier-dependent mountain areas" deal with the risk of those glaciers melting.
In other cases, agencies expanded existing programs to account for global warming. In 2012, the Federal Highway Administration made climate-adaptation projects eligible for federal aid. Last year, the Department of Housing and Urban Development awarded $1 billion through its Community Development Block Grant program to projects protecting against climate change-related natural disasters.
Meanwhile, a handful of lesser-known offices saw their funding increase while Obama was in office. The budget for NASA's Earth Science program increased 50 percent, to $1.8 billion. Funding for the U.S. Global Change Research Program, which is mandated by Congress to report every four years on the state of climate change, rose 45 percent to $2.6 billion. At the National Science Foundation, the geosciences program almost doubled to $1.3 billion.
Republican Demands
Republicans noticed, and tried to force the administration to offer a tally of climate funding. Last December, senior House Republicans sent a letter to Obama's budget director, demanding that his office report how much federal money had gone toward climate programs in fiscal years 2015 and 2016.
Any cuts may face opposition in Congress, as Democrats and some Republicans support the spending, especially that to help communities withstand floods, hurricanes or droughts associated with climate change. Wednesday, a group of 17 Republicans announced their support for climate science -- and policy measures to address it.
"Budget cuts to programs -- or elimination of entire agencies -- designed to help stem the costs of climate change will only hurt ranchers, agriculture producers, and coastal communities already experiencing the impacts of this global challenge," Christy Goldfuss, managing director of the Council on Environmental Quality in Obama's White House, said by email.
'Gravy Train'
Some in Trump's party now urge him to use his authority to find those programs, and take them apart.
"The Trump Administration needs to defund the entire apparatus of the climate change federal funding gravy train," said Marc Morano, a former Republican staffer for the Senate Environment and Public Works Committee. "In order to dismantle the climate establishment, agencies and programs throughout the federal government need to be targeted."
"The climate funding has spread to almost every aspect of the federal government with sometimes wacky results," said Morano, who doubts global warming and runs the website climatedepot.com. He cited one example of a Department of Transportation query about the link between climate change and fatal car crashes.
Others argue that the spread of climate programs throughout the federal government simply reflects the evolving nature of the risk.
"It is irresponsible not to examine the possibilities and understand our sensitivity to them," said Ed Link, a former director of research and development for the U.S. Army Corps of Engineers who led the forensic analysis of Hurricane Katrina's effect on New Orleans. If federal agencies stop doing that work, he said by email, "shame on them."
SOURCE
The sun has set on Australians Greens' dreams - and they may not be renewable
By GRAHAM RICHARDSON (They've taken most of his insides out but Richo's brain still seems to be working as well as ever. He was always a realist)
Twenty years ago, the Greens were forming governments in Europe and were on the rise. In Australia, they even entertained dreams of winning power, state or federally. In all the words written and said about the election in Western Australia barely a sentence has been about the Greens. The Greens' dream has well and truly faded. Their vote has hovered about 10 per cent for all of those two decades and they have been utterly useless when it comes to convincing Australians to support them. They continue to run up their flag and they continue to see only that loyal 10 per cent prepared to salute.
During those two decades Australians have moved further to the right and the Greens, our only genuinely left-wing political party, are stuck on 10 per cent with almost no hope of ever seeing their support increase. It is disappointing that the Greens, like Labor, never seem to try to convince voters that man-made climate change is a big problem. They seem to assume that a big majority here believes in climate change. That may have been the case a decade ago but now the sceptics and the non-believers are able to argue the lack of evidence to support the onset of climate change without any real effort to defeat their arguments.
The blind pursuit of ridiculous renewable energy targets is a Greens push adopted by Labor and now works against them both.
I felt almost sorry for Jay Weatherill this week when he announced the building of this useless, mega-expensive battery farm. Flim-flam won't replace solid policy. The Greens led the South Australian Premier down the road to ruin and he acquiesced too quickly. The lights have gone out on South Australians several times now and the state Liberals, as pathetic as they appear to be, will no doubt turn the lights out on the Weatherill government at the next election.
Meanwhile, as if to reaffirm their vote of no confidence in the electorate, the Greens go further and further to the left. The bleatings of Sarah Hanson-Young served only to alienate ordinary Australians. The Greens' spend-up-big policies on every form of government endeavour frightens the horses. Then this week their leader, Richard Di Natale, scaled new heights of madness suggesting a four-day week. While the rest of us try to find ways to make this country more productive, the good old Greens want to take us backwards.
No party of the left can do well in Australia in today's electoral climate so the Greens are guaranteed to remain fringe players in the game of winning real power. Sure, they will win the odd inner-city seat and each time this occurs they will tell us that this is the dawn of a new era. The false dawns have come and gone before but the Greens are destined to be cellar dwellers for a very long time.
The goals of the Greens in some cases are absolutely right but time is never adequately allocated to achieve them. Renewable energy makes sense and I congratulate Malcolm Turnbull for seeking to increase by 50 per cent the output of the Snowy River Hydroelectric Scheme. This is real forward thinking, a commodity in short supply in our nation. It won't be enough on its own to solve our energy crisis but it is a giant stride in the right direction.
Let us all hope that it may embolden the Prime Minister to push for the building of other dams around Australia. We don't build dams any more on a continent infamous for its lack of water. Usually the Greens can find an endan-gered toad or rat that needs to be protected and judge its needs as much more important than the aspirations of a country looking for a drink or for some irrigation.
SOURCE
***************************************
For more postings from me, see DISSECTING LEFTISM, TONGUE-TIED, EDUCATION WATCH INTERNATIONAL, POLITICAL CORRECTNESS WATCH, FOOD & HEALTH SKEPTIC and AUSTRALIAN POLITICS. Home Pages are here or here or here. Email me (John Ray) here.

Preserving the graphics: Most graphics on this site are hotlinked from elsewhere. But hotlinked graphics sometimes have only a short life -- as little as a week in some cases. After that they no longer come up. From January 2011 on, therefore, I have posted a monthly copy of everything on this blog to a separate site where I can host text and graphics together -- which should make the graphics available even if they are no longer coming up on this site. See here or here
*****************************************
19 March, 2017
Natural factors shown as a big influence on Arctic warming
The Arctic is the only place where there seems to have been some warming in recent times. So Warmists are constantly cheering it. But is the warming there part of anthropogenic global warming? Hard to see how when the globe overall is not warming. So what IS causing Arctic warming? The authors below have traced a lot of it to natural factors. The balance of the warming may be due to subsurface vulcanism. There are some huge undersea volcanoes in the Arctic, particularly along the Gakkel ridge
Influence of high-latitude atmospheric circulation changes on summertime Arctic sea ice
Qinghua Ding et al.
Abstract
The Arctic has seen rapid sea-ice decline in the past three decades, whilst warming at about twice the global average rate. Yet the relationship between Arctic warming and sea-ice loss is not well understood. Here, we present evidence that trends in summertime atmospheric circulation may have contributed as much as 60% to the September sea-ice extent decline since 1979. A tendency towards a stronger anticyclonic circulation over Greenland and the Arctic Ocean with a barotropic structure in the troposphere increased the downwelling longwave radiation above the ice by warming and moistening the lower troposphere. Model experiments, with reanalysis data constraining atmospheric circulation, replicate the observed thermodynamic response and indicate that the near-surface changes are dominated by circulation changes rather than feedbacks from the changing sea-ice cover. Internal variability dominates the Arctic summer circulation trend and may be responsible for about 30–50% of the overall decline in September sea ice since 1979.
Nature Climate Change (2017) doi:10.1038/nclimate3241
Skeptics are cheering: White House says Climate funding is 'a waste of your money'
The White House on Thursday defended a proposal to slash federal funding for climate change programs, calling it "a waste of your money."
"I think the president was fairly straightforward on that: We're not spending money on that anymore," Office of Management and Budget Director Mick Mulvaney said at a White House briefing on Thursday.
"We consider that to be a waste of your money to go out and do that. We consider that a basic tie to his campaign."
The Trump administration released a budget blueprint on Thursday that proposes a 31 percent cut the Environmental Protection Agency (EPA), including a $100 million cut to climate change programs under its purview.
The budget proposal takes aim at climate change programming throughout the budget. It zeros out funding for State Department climate change programs, including American contributions to international climate change accounts, and the budget also reduces funding for advanced energy and renewable power research.
Environmentalists and greens have slammed the budget, saying lawmakers should not cut funding for climate change during a period of increasing global temperatures and the greenhouse gas emissions that cause that.
Congress will ultimately write the appropriations bills that fund the government. Members of both parties have raised concerns about the level of EPA spending cuts in President Trump's proposal, though many in the GOP support reducing funding for the agency's regulatory effort on climate change.
Trump — who doubts the scientific consensus on climate change — often said in his presidential campaign that he would roll back much of the climate work advanced by President Obama. Beyond its budget request, the White House is still working on an executive order to undo several key climate rules from the previous administration.
SOURCE
Warmer Winters REDUCE Mortality in Europe
Paper Reviewed: Ballester, J., Rodó, X., Robine, J.-M. and Herrmann, F.R. 2016. European seasonal mortality and influenza incidence due to winter temperature variability. Nature Climate Change 6: 927-931.
Seeking to add understanding to the impact of temperature on human mortality, Ballester et al. (2016) analyzed a host of climate variables against daily regional counts of mortality from 16 European countries (Austria, Belgium, Croatia, the Czech Republic, Denmark, France, Germany, Italy, Luxembourg, the Netherlands, Poland, Portugal, Slovenia, Spain, Switzerland and the United Kingdom) over the period 1998-2005.
In discussing their findings, the four European researchers report that their analyses "highlight the strong association between year-to-year fluctuations in winter mean temperature and mortality, with higher seasonal cases during harsh winters." Exceptions, however, were noted for the United Kingdom, Belgium and the Netherlands, which lack of correlation was likely explained by socioeconomic factors (e.g., higher housing efficiency, better healthcare, reduced economic and fuel poverty, etc.).
Nevertheless, upon further analysis, Ballester et al. say that, despite the lack of mortality association in these three countries, "it can be concluded that warmer winters will contribute to the decrease in winter mortality everywhere in Europe." And that is great news for citizens of these countries with a combined population of over 400 million persons.
SOURCE
Financial Stability Board climate deceit
FSB, Climate Cabal expand power and wealth, by targeting financial and insurance industries
Paul Driessen
The $1.5-trillion Climate Crisis industry is not about to go quiet into that dark night, or to strut but an hour upon the stage, to then be heard no more. In these desperate times, it is unleashing even more sound and fury, and assaulting new targets, in a frantic effort to expand its heavily subsidized global empire.
The Donald Trump Administration and Scott Pruitt EPA continue to emphasize fossil fuels, job creation and economic growth, and deemphasize the Obama obsession with climate change. News headlines hail the shale revolution's new world order, a huge oil discovery in Alaska and declining OPEC clout. As German industries head to foreign shores and 330,000 Deutsch households cannot afford electricity due to soaring prices, its Chancellery Minister announced to thundering applause that Germany would no longer pursue its unilateral climate, CO2-reduction, energy efficiency and renewable energy policies.
Britain and Australia are also second-guessing their wind, solar, biofuel and climate commitments. China, India and a hundred other emerging economies continue to build more coal-fueled power plants, expand vehicle fleets, and import more oil and gas, to modernize and improve living standards. The future of the Paris climate semi-treaty and Global Climate Fund wealth redistribution scheme are increasingly in doubt.
That's why, as the July 2017 G20 economic summit in Hamburg, Germany draws near, the Climate Cabal is in overdrive. Alarmist scientists, politicians, activists, industrialists and financiers are ramping up their rhetoric about the massive, imminent climate crisis allegedly facing our planet, unless we slash our carbon dioxide emissions, by keeping centuries of oil, gas and coal reserves locked up in the ground.
That means companies that own those reserves, finance or insure fossil fuel projects, or hold investment interests in those reserves or projects will end up with trillions of dollars in "stranded assets" – energy that will be made permanently off limits, once the world has shifted to a totally "decarbonized" global economy. In fact, selling off holdings in fossil fuel enterprises will not be nearly enough. "The freed-up assets must be redirected to more sustainable businesses."
At least that is the view of AXA Insurance climate and sustainability director Christian Thimann – who also serves as vice-chair of the international Financial Stability Board's Task Force on Climate-Related Financial Disclosure. He intends to harness the FSB's significant power and influence to advance his ideologies and investments – doing so in league with an unbelievable army of like-minded interests, all of whom have enormous political and financial stakes in the outcome of this global policy battle.
Among them are UBS Financial Services and the $5-trillion BlackRock global financial management firm, which now has an index fund for people and organizations that want to divest from companies that BlackRock, AXA and the Cabal have targeted with their anti-carbon campaigns. The tax-exempt anti-carbon pressure group Natural Resources Defense Council has put $70 million into the fund.
Former NYC mayor Michael Bloomberg – having given millions to tax-exempt anti-fossil fuel agitator groups – is now chairman of the FSB's Climate Financial Disclosure Task Force. Not surprisingly, it is allied with the state attorneys general who spearheaded the nasty campaign to silence and punish energy companies and think tanks that dared to question the "97% consensus" on manmade climate chaos.
Also onboard are state and city comptroller and treasurer offices (CA, CT, NY, PA, RI, VT), various state and city employee pension funds, the Ceres Investor Network on Climate Risk, and numerous radical environmentalist groups like the Rainforest Action Network, Sierra Club, Union of Concerned Scientists and Interfaith Center on Corporate Responsibility, notes E&E Legal senior fellow Chris Horner.
They will all "profit off environmental policies that they advocate with very close friends in government," while "amassing wealth in large part through government contracts," Horner observes – adding that his organization will "work aggressively to reveal the unethical actions" of every party involved.
The unethical behavior begins with claims about climate cataclysms that are not happening in the real world. Dangerous, unprecedented, runaway warming is not occurring. Seas are rising at seven inches a century, not 20 feet. Hurricanes and tornadoes, floods and droughts have not increased in frequency or intensity. There is no proof that manmade CO2 drives climate change or that it will be catastrophic.
Equally deceptive are claims that the technologies and business interests advocated by the FSB, Climate Cabal and their political comrades are in any way "sustainable." As any rational analysis demonstrates, the metals and other raw materials required, human rights affected, cropland, habitat, wildlife and human health impacts involved, and massive taxpayer and consumer subsidies needed for wind and solar power, ethanol, biodiesel, wood pellets, anaerobic digesters and other "renewable" energy schemes make one thing absolutely clear: the entire sustainability concept is politicized, agenda-driven and unsustainable.
All these inconvenient truths notwithstanding, the FSB has announced that it is going to establish protocols that will supposedly improve the financial sector's ability to "incorporate climate-related issues in financial reporting" and "enable stakeholders to understand concentrations of carbon-related assets in the financial sector and the financial system's exposures to climate-related risks."
Translated into plain English, this means the FSB will help pressure groups with a political/financial stake in the outcome to identify, target, stigmatize, harass and intimidate any entities that they deem are too involved in fossil fuels or insufficiently invested in renewable energy and sustainable businesses. It plans to work with the above-identified activists to secure "voluntary disclosures" and other compliance.
In practice, this means relying less on the federal government and more on friendly international, state and local governing bodies, agitator groups, organizations like the Climate Accountability Scorecard, and the so-called "Equator Principles" that financial institutions "should follow" in energy investing. Their primary targets for these "name and shame" campaigns will likely include the World Bank, private banks, insurance providers, institutional investors and their advisors, pension funds and universities.
The California Insurance Commission has helpfully launched a Climate Risk Carbon Initiative, a searchable database that will make it easy for attack groups to develop target hit lists. A primary tactic will be accusing targets of having inadequate "plans on climate change preparedness and sustainability," to justify efforts to damage stock portfolio values and demand defunding or divestment.
Meanwhile, major financial and debt issues are growing for numerous nations, states and cities. The FSB and Climate Cabal want us to ignore them, focus on climate change – and have the G20 do likewise.
Even though it is already overly complex, the current financial reporting system works. It deals with real, measurable, familiar risks, and helps countries address and overcome those risks. Politicizing the system, and forcing it to refocus on conjectural, exaggerated and fabricated climate and sustainability risks would upend the entire international energy, insurance and financial system. It would bring disastrous results for jobs and families – but no climate, environmental or sustainability benefits. And it would do absolutely nothing about the unreliable energy, health risks, environmental impacts, child labor and other problems embedded in the renewable and sustainable schemes the Cabal promotes so passionately, and deceitfully.
But the rewards of this FSB/Climate Cabal deceit are enormous – incomprehensible to normal people. Says Thimann: "Over the next 15 years, an estimated $93 trillion will be needed for investments in low-carbon infrastructure." That's five times the size of the entire 2015 US economy!
Perhaps worst of all, these FSB and other government officials, unelected bureaucrats, industrialists, and tax-exempt pressure groups are colluding to enrich and empower themselves … and fundamentally transform the global economy – to our detriment, and especially the detriment of the world's poorest families – using our taxpayer, consumer, and investment, retirement, insurance and pension fund money!
Congress, the Trump Administration and responsible state officials need to investigate, terminate and punish this deception, self-dealing, extortion, and incalculable harm to businesses, workers and families that rely on reliable, affordable carbon-based energy (and will for decades to come).
Via email
The only way to save coral reefs: A war on global warming (?)
This utter BS first came out in Australian newspapers and I commented on it then. I found the article below in the Boston Globe, however, so the nonsense has spread. In the circumstances, I think I should repeat and amplify my earlier comments.

Cape Grim tells us that CO2 levels have been plateaued on 401ppm since last July (midwinter) So anything that has happened in the recent summer is NOT due to a rise in CO2.

And NASA/GISS tell us that the December global temperature anomaly is back to .79 -- exactly where it was in 2014 before the recent El Nino event that covered the second half of 2015 and most of 2016. So there has been no global warming in the recent Southern summer and there was no CO2 rise to cause anything anywhere anyway.

The claim that this summer's bleaching was an effect of global warming is a complete crock for both reasons. The data could not be clearer on that. The seas around Northeast Australia may or may not be unusually warm at the moment but if they are it is some local effect of air and ocean currents etc. The warming in NOT a part of global warming
Reducing pollution and curbing overfishing won't prevent the severe bleaching that is killing coral at catastrophic rates, according to a study of Australia's Great Barrier Reef. In the end, researchers say, the only way to save the world's coral from heat-induced bleaching is with a war on global warming.
Scientists are quick to note that local protection of reefs can help damaged coral recover from the stress of rising ocean temperatures. But the new research shows that such efforts are ultimately futile when it comes to stopping bleaching in the first place.
"We don't have any tools to climate-proof corals," said Terry Hughes, director of the ARC Center of Excellence for Coral Reef Studies in Australia and lead author of the study being published on Thursday in the journal Nature. "That's a bit sobering. We can't stop bleaching locally. We actually have to do something about climate change."
Across the world, scores of brilliantly colored coral reefs once teeming with life have in recent years become desolate, white graveyards. Their deaths due to coral bleaching have grown more frequent as ocean temperatures rise, mainly due to increasing greenhouse gases in the atmosphere. The hot water stresses corals, forcing them to expel the colorful algae living inside them, which leaves the corals vulnerable to disease and death. Given enough time, bleached coral can recover if the water cools, but if the temperature stays too high for too long, the coral will die.
Preserving coral reefs is crucial, given we depend on them for everything from food to medical research to protection from damaging coastal storms. Scientists and policymakers have thus been scrambling to find ways to prevent bleaching. Last year, for example, Hawaiian officials proposed several measures they hoped would fight bleaching on the state's reefs, such as limiting fishing, establishing new marine protected areas, and controlling polluted runoff from land. The question was whether such efforts could provide the corals any resistance to bleaching, or just help them recover.
The researchers conducted aerial and underwater surveys of the Great Barrier Reef, which has experienced three major bleaching events, the worst of which occurred last year. The scientists found that the severity of bleaching was tightly linked to how warm the water was. In the north, which experienced the hottest temperatures, hundreds of individual reefs suffered severe bleaching in 2016, regardless of whether the water quality was good or bad, or whether fishing had been banned. That means even the most pristine parts of the reef are just as prone to heat stress as those that are less protected.
Prior exposure to bleaching also did not appear to provide any protective benefit to the coral. The scientists found that the reefs that were highly bleached during the first two events, in 1998 and 2002, did not experience less severe bleaching last year.
Ultimately, the study concluded, saving reefs from the ravages of bleaching requires urgent action to reduce global warming.
"I think it's a wake-up call," Hughes said. "We've been hoping that local interventions with water quality and fishing would improve the resistance of the corals to bleaching. We found no evidence that that's actually true, at least during a very severe event."
The study shows that older ways of thinking about reef management, such as reducing river runoff, are now moot points when it comes to preventing bleaching, said Kim Cobb, a climate scientist and coral researcher at the Georgia Institute of Technology in Atlanta.
"It all seems so quaint now, really," said Cobb, who wasn't part of the study. "A future that we thought was decades coming is basically here."
The research also illustrated the gravity of the situation facing the 1,400-mile Great Barrier Reef. The team found 91 percent of the reef has been bleached at least once during the three bleaching events. Even more alarming, Hughes said, is that a fourth bleaching event is already underway. Corals need years to recover from bleaching, so back-to-back events increase the possibility that the bleached coral will die.
The study shows that very intense coral bleaching events are no longer isolated and are happening more regularly, said coral reef scientist Julia Baum of Canada's University of Victoria. That assertion has been further bolstered by the Great Barrier Reef's latest bleaching event, which began a few weeks ago and which Baum says has stunned scientists.
"None of us were expecting the water to be heating up again right now," Baum said. "I think it's beyond what any of us could have imagined. It's our worst nightmare."
SOURCE
***************************************
For more postings from me, see DISSECTING LEFTISM, TONGUE-TIED, EDUCATION WATCH INTERNATIONAL, POLITICAL CORRECTNESS WATCH, FOOD & HEALTH SKEPTIC and AUSTRALIAN POLITICS. Home Pages are here or here or here. Email me (John Ray) here.

Preserving the graphics: Most graphics on this site are hotlinked from elsewhere. But hotlinked graphics sometimes have only a short life -- as little as a week in some cases. After that they no longer come up. From January 2011 on, therefore, I have posted a monthly copy of everything on this blog to a separate site where I can host text and graphics together -- which should make the graphics available even if they are no longer coming up on this site. See here or here
*****************************************
17 March, 2017
Greenies clutching at straws in endeavour to discredit Monsanto weedkiller
It's the most common domestic weedkiller there is -- billions of gallons of it have been used. If there were any problem with it, such problems would then by now be glaringly obvious. But hundreds of millions of people have used it without complaint. But compared with a few unverifiable complaints, all those millions count for naught in the strange world of the Green/Left.

The lawsuit below seems to be based on something Monsanto discussed doing but did not actually do. How flimsy is that?

Monsanto are to be commended for continuing to supply us with useful agricultural products despite unremitting attacks from Greenie fanatics
Yolanda Mendoza makes the most of time spent with her children after battling stage 4 non-Hodgkins lymphoma for more than a year. "I have nerve damage, I don't feel the tips of my fingers, my jaw, its still, I still can't feel it," she said.
Mendoza blames glyphosate, the main chemical ingredient in the weed killer Roundup, which she used on her lawn every weekend.
"I had a backpack that held two gallons of water and I would strap it on and I would just walk around spraying," she said.
Mendoza is one of hundreds of people around the country suing Monsanto, Roundup's parent company. Their lawyers cite a 2015 World Health Organization study that says glyphosate is "probably carcinogenic" and damages DNA in human cells.
"The data that they look at, they cherry pick it," said Dr. Donna Farmer, a Monsanto scientist who spoke with CBS News last summer. "There is no data indicating that we should change any recommendations on how this product should be used. Glyphosate, the data is clear, doesn't cause cancer," Farmer said then.
But now, the data is in question.
Newly released court documents in a federal lawsuit suggest Monsanto planned to ghostwrite a positive report on glyphosate and get experts to back it up. A scientist wrote in an email "...we would be keeping the cost down by us doing the writing and they would just edit & sign their names."
Court documents also reveal conversations between Monsanto executives and an EPA director about a federal glyphosate review. "I doubt EPA and Jess can kill this, but it's good to know they are going to actually make the effort," a Monsanto executive wrote.
In a statement to CBS News, Monsanto said "These allegations are false. Monsanto scientists did not ghostwrite the paper." The company reiterated "No regulatory body in the world considers glyphosate to be a carcinogen."
But in California, a judge recently ruled the state can legally require them to warn customers the main ingredient for Roundup has the potential to cause cancer.
SOURCE
Trump targets Obama's global warming emissions rule for cars
President Trump will ask federal regulators Wednesday to formally evaluate the Obama administration's landmark greenhouse gas emissions standards for cars.
The action, a top request from the automaker lobby to the new president, is the first step toward potentially weakening the aggressive standards that set a goal of a 54.5 mile-per-gallon auto fleet in 2025.
Trump will make the announcement during a trip to Michigan, the center of the domestic auto industry. He is expected to frame the action as a way to help auto industry jobs and consumer choice.
While automakers and congressional Republicans have pushed hard for the review and rollback, environmentalists and consumer advocates say former President Barack Obama's standards protect the climate while saving consumers money.
A senior White House official told reporters Tuesday that the review of the Environmental Protection Agency's (EPA) greenhouse gas standards would fulfill a promise Obama made in 2012 to the industry. The EPA developed the standards as a single program alongside the Department of Transportation's fuel economy rules, popularly known as Corporate Average Fuel Efficiency (CAFE) standards.
Automakers agreed to comply with the standards — which get stronger through the 2025 model year — in exchange for a formal review in 2018 into whether they're still feasible for 2022 to 2025.
But the EPA under Obama completed that review in January, days before Trump's inauguration, an action that automakers said violated their agreement.
"We're going to pull back the EPA's determination, because we don't think it's right," the White House official said.
"And we're going to spend another year looking at the data in front of us, making sure everything is right, so that when we come to 2018, we can set standards that are technologically feasible, economically feasible, that allow the auto industry to continue to grow and create jobs, which is very important to the president."
The official called the previous administration's process "very short-circuited," and accused those regulators of ignoring "a voluminous record of data" about the shortcomings of the standards.
But the official cautioned that the Trump administration is not committing to roll back the standards at this point. Any changes would require a formal rulemaking process, which would likely take a year or more and could be subject to lawsuits from environmentalists and other opponents.
The order will be the latest in a line of orders and actions from Trump to repeal or weaken Obama environmental regulations.
Trump last month ordered the EPA to begin the process of repealing Obama's Clean Water Rule. EPA head Scott Pruitt has canceled a regulation on chemical plant safety and an effort to gather data for a potential methane emissions rule for oil and natural gas drilling.
Trump has proposed cutting a quarter of the EPA's budget, and is expected to sign an order as soon as this week to start undoing the Clean Power Plan, the coal leasing moratorium on federal land and other climate change programs.
SOURCE
Scum protesters
The U.S. Army Corps of Engineers wrapped up its $1.1 million cleanup of the Dakota Access pipeline protest camps on federal land in North Dakota, hauling away 835 dumpsters of remaining trash and debris. The site, once occupied by thousands of environmental demonstrators, is now vacant.
The federal cleanup at the last of the three camps, Sacred Stone, was declared finished Thursday.
A Florida sanitation company completed work that began Feb. 23 to hasten the massive restoration project started in late January by the Standing Rock Sioux.
Meanwhile, a local animal shelter rescued four more dogs found at the North Dakota encampment, bringing the total number of dogs found after the last of the protesters evacuated to 12.
"We are happy to report that all animals have been accounted for throughout the Dakota Access Pipeline protest sites," Furry Friends Rockin' Rescue of Bismarck-Mandan said in an online post.
The tribe, aided by state and local agencies as well as some protest volunteers, launched the cleanup over concerns that snowmelt would inevitably wash tons of garbage and waste left by protesters into the Cannonball River.
Corps Capt. Ryan Hignight said a total of 8,170 cubic yards of debris was removed from the three camps — Sacred Stone, Oceti Sakowin and Rosebud — all within the flood plain on federally managed land. "In total, there were 835 roll-off dumpsters of trash and debris removed from the three camps together," Capt. Hignight said in an email.
Some items, including propane tanks and lumber, were set aside for recycling, The Associated Press reported.
The crew cleaned up only garbage on federal land. Sacred Stone, where 2,160 cubic yards of debris were removed, is partially on tribal land. "I am unable to confirm if the camp not located on corps-managed land is clean," said Capt. Hignight.
The protesters descended on the area by the thousands last year in a show of opposition to the Dakota Access pipeline, a 1,172-mile, four-state project expected to be completed and ready to flow oil as early as this week.
Two tribes, the Standing Rock and Cheyenne River Sioux, filed an appeal Monday of a federal judge's decision last week denying their request for a preliminary injunction to stop the project and asked the judge to block the delivery of oil until the appeal is heard.
Volunteers with Furry Friends rescued six puppies and two adult dogs shortly after the evacuation and picked up another four dogs March 5. "Thank you to Fort Yates Game and Fish for holding the four dogs until FFRR could bring them into our care," said the shelter. "Another thank you goes to Morton County Sheriff Department for allowing us to use their animal impound facility for quarantine.
SOURCE
Doctor groups take up global warming advocacy
These people are just political prostitutes. Doctors of all people should know that COLD weather is the danger to health. Have they not noticed that they are busier during winter?
Under a political advocacy campaign launched Wednesday, a coalition of physician groups will tell the public that their health is threatened by catastrophic man-made global warming, also called climate change.
Participating doctors will also urge government action to reduce the damage believed to be caused by human emissions of greenhouse gases.
Skeptics of global warming say climate models have failed to predict the current hiatus in global warming. Global warming believers say that when properly adjusted for accuracy, temperature trends show no hiatus.
The Medical Society Consortium on Climate & Health is led by Dr. Mona Sarfaty, Director of the Program on Climate and Health in the Center for Climate Change Communication at George Mason University.
The consortium said in a press release that it represents more than half of American physicians. Its members include the American Academy of Allergy, Asthma, Immunology; American Academy of Family Physicians); American Academy of Pediatrics (AAP); American College of Physicians (ACP); ecoAmerica, and Physicians for Social Responsibility.
On Wednesday, the consortium issued a report titled, "Medical Alert! Climate Change Is Harming Our Health."
The consortium pointed to a recent study by Abt Associates, a group that works on environmental sustainability and global warming issues. The study said reducing greenhouse gas emissions in the Northeastern states has prevented from 300 to 830 early adult deaths.
The study also said reducing greenhouse gas emissions in those states has averted, 39,000-47,000 lost work days, 35-390 non-fatal heart attacks, 8,200-9,900 asthma flare-ups, 180-220 hospital admissions, as well as saving money.
"Here's the message from America's doctors on climate change: it's not only happening in the Arctic Circle, it's happening here," Sarfaty said in the press release. "It's not only a problem for us in 2100, it's a problem now. And it's not only hurting polar bears, it's hurting us."
Sarfaty has made numerous political contributions, nearly all to Democratic groups or candidates. These include former president Barack Obama, 2016 presidential candidate Hillary Clinton and Massachusetts Senator Elizabeth Warren, according to the Federal Election Commission's website.
The consortium is run by The George Mason University Program on Climate & Health.
SOURCE
Australian Prime Minister announces plans for $2 billion hydro scheme that will need no new dams
This looks like being a very clever way of bypassing Greenie protest but it is very expensive. You could build several coal-fired stations for the same cost
Prime Minister Malcolm Turnbull has revealed plans for a $2 billion expansion of the iconic Snowy Hydro scheme that could power up to 500,000 homes through a new network of tunnels and power stations.
The surprise intervention, a potential game-changer in the political brawl over flaws in the nation's electricity system, will increase the scheme's 4100 megawatt capacity by as much as 50 per cent.
The four-year project would massively increase the amount of renewable energy storage capacity in Australia through pumped hydro technology, which involves using cheap electricity to pump water uphill so it can be later released downhill through turbines, creating electricity when demand is high.
No new dams would be built, but a fresh series of tunnels and power stations are on the agenda, at an estimated cost of $1.5 to $2 billion. A feasibility study should be completed by the end of 2017 and the search for expansions sites will led by the Australian Renewable Energy Agency. The Tantangara Dam is understood to be an early area of interest.
The Snowy Hydro Scheme as seen from the air. © Supplied The Snowy Hydro Scheme as seen from the air. The Snowy Hydro scheme was instigated under Labor prime minister Ben Chifley in 1949 and completed in 1974. About 100,000 men and women from more than 30 countries helped build a network of nine power stations, 16 dams, 145 kilometres of tunnels, and 80 kilometres of aqueducts.
The Commonwealth owns 13 per cent of the scheme, NSW 58 per cent and the Victorian government 29 per cent. Those state governments could also be asked to assist with funding the expansion.
Mr Turnbull said the Snowy Hydro had been built with the capability to be expanded and his government planned to maximise its capacity.
"The unprecedented expansion will help make renewables reliable, filling in holes caused by intermittent supply and generator outages. It will enable greater energy efficiency and help stabilise electricity supply into the future," Mr Turnbull said.
"By supercharging the Snowy Hydro precinct, we can ensure affordable and reliable electricity for Australian households and businesses."
"It will enable greater energy efficiency": Prime Minister Malcolm Turnbull has said of the Snowy Hydro expansion. © Andrew Meares "It will enable greater energy efficiency": Prime Minister Malcolm Turnbull has said of the Snowy Hydro expansion. Mr Turnbull said the expansion would create thousands of engineering and construction jobs and have no impact on water supplied water to irrigators in New South Wales, South Australia and Queensland.
It would also effectively kill off any short or medium-term to privatise the scheme, which was raised by the Coalition's Commission of Audit in 2014. The Howard government considered privatisation in 2006, but later dropped it.
The proposed expansion could, in one hour, produce 20 times the 100 megawatts of power from the proposed battery farm announced by the South Australian government earlier this week.
Mr Turnbull will make the announcement in the heart of the Snowy Mountains on Thursday morning, a day after meeting the chief executives of major east coast companies and securing guarantees of additional supply for the domestic market during peak periods.
Earlier this week, Mr Turnbull was also briefed by ARENA chief executive Ivor Frischknecht on pumped hydro storage.
Australia currently has 2.5 gigawatts of pumped hydro power capacity, with most of it from three projects: the Tumut 3 plant in the Snowy, the Wivenhoe Dam near Brisbane and the Shoalhaven scheme south of Sydney. All three projects are used for electricity generation, water storage and irrigation and if all operated at full capacity, they could power 3.3 million homes
SOURCE
***************************************
For more postings from me, see DISSECTING LEFTISM, TONGUE-TIED, EDUCATION WATCH INTERNATIONAL, POLITICAL CORRECTNESS WATCH, FOOD & HEALTH SKEPTIC and AUSTRALIAN POLITICS. Home Pages are here or here or here. Email me (John Ray) here.

Preserving the graphics: Most graphics on this site are hotlinked from elsewhere. But hotlinked graphics sometimes have only a short life -- as little as a week in some cases. After that they no longer come up. From January 2011 on, therefore, I have posted a monthly copy of everything on this blog to a separate site where I can host text and graphics together -- which should make the graphics available even if they are no longer coming up on this site. See here or here
*****************************************
16 March, 2017
Yet more reason to be skeptical about the results of scientific research
Just out in JAMA is the latest article by John Ioannidis, the man who first blew the whistle on "non-reproducibility" in scientific research. Read it
here
.
It makes doleful reading. New, absolutely scrupulous efforts to repeat the results of previous studies failed 3 out of 5 times. There was actually no trace of the previous findings. See the operational paragraph below: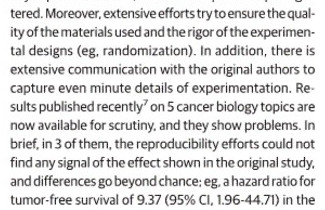 Note that the research concerned was in the field of cancer studies. In such a critical area, one would expect the greatest level of care from the word Go. Yet, despite that, subsequent findings completely contradict the initial findings.
Such a result undermines confidence in all scientific research results. What, then, are we to conclude? I think Ioannidis draws the only possible conclusion: That trying to apply apparent lessons from the research to real-life situations is a very shaky enterprise indeed. Scientific results cannot confidently be translated into public or clinical policy. Attempts to "apply" the results of research are built on sand and are therefore mostly bound to fail.
If that is true in clinical research, how much more so is it applicable in climate research? Climate researchers actually hide details of their research, making it impossible to examine its repeatability. On precedent, however, we have to conclude that it is almost 100% rubbish. It is basically not science at all.
Even on the details Warmists do give of their research, what they find is often on the hilarious side. See
here
, for instance. How much more risible would the research be if we had full details of it? -- JR.
Global warming: Fake news becomes no news
For decades, we've heard the Chickens Little cry that the sky is warming. Then, in 2009, a hack of climate researchers' emails at the University of East Anglia indicated that things weren't quite on the up-and-up, science-wise. Climatologists had massaged global temperature records to bolster their claims of man-made global warming, and they had destroyed emails to skirt FOIA requests. "Climategate," as it came to be called, suggested that many of the alarming reports about global warming had been fake news.
It happened again about a month ago. On February 4, Dr. John Bates, "senior scientist" at NOAA's temperature data center (until his retirement in late 2016), reported that his own organization had not quite been on the up-and-up, science-wise. He alleged that Thomas Karl, director of the temperature data center (until his own retirement earlier last year), had "breached [NOAA's] own rules on scientific integrity when [he] published [a] sensational but flawed report" and rushed it into print in order to influence global leaders at the U.N. Climate Conference in Paris in 2015.
That paper, called the "Pausebuster," cited new data purporting to show that the hiatus in global warming since 1998 had not occurred. According to Dr. Bates, however, Dr. Karl had put his "thumb on the scale" by releasing new data that were "misleading" and "unverified." Furthermore, it is unlikely ever to be verified: Dr. Bates also reported that the computer used to process the data "had suffered a complete failure." Hello, Climategate 2.0!
Oh, you'd never heard of it? I bet you've heard a lot about the 2015 Paris Climate Accords that were agreed to in part because of the fake "Pausebuster" data. But the mainstream media have little interest writing stories that refute liberal assumptions, so fake news becomes no news. To hear about Climategate 2.0, you'd have to follow alternative sources like Manhattan Contrarian (where I first learned of it), or Judith Curry, or Watt's Up with That?, or the U.K.'s Daily Mail.
This pattern of fake news followed by no news has been repeated throughout the era of climate change fabulist fear-mongering. In 1989, according to the Associated Press, a director of the United Nations Environmental Program (UNEP) predicted that "entire nations could be wiped off the face of the earth by rising sea levels ... by the year 2000." This was followed by no news about no nations being covered by the sea in 2001.
In 1990, Michael Oppenheimer, Princeton professor and Al Gore adviser, predicted that by 1995, the greenhouse effect would be "desolating the heartlands of North America and Eurasia with horrific drought, causing crop failures and food riots." No news in 1996 brought Oppenheimer's error to public attention.
In 2005, UNEP warned that by 2010, some 50 million "climate refugees" would be fleeing low-lying Caribbean and Pacific islands inundated by rising seas. No news in 2011 calmed islanders' fears.
In 2007, Al Gore predicted that the North Pole would be ice-free by the summer of 2013. No news in the fall of 2013 reminded readers that the North Pole was covered in snow that summer.
I could continue at length. Every pseudo-scientist who puts a thumb on the scales of the research he pretends to revere finds cover from agenda-driven news editors who give thumbs down to any story that challenges their liberal presumptions. (The Washington Post was offered but declined to print Dr. Bates's report.) There seems no end in sight for fake news and no news.
But then there is the fact that the Congressional Committee on Science, Space, and Technology is following this story. The committee has subpoenaed NOAA for the data that supported the Pausebuster paper, and NOAA has refused to comply. Fireworks may ensue.
SOURCE
Europe's Lesson Teaches Us: Don't Go Green
If you listen to the media narrative on climate change and "clean energy," you'd think that the rest of the world has moved smartly and seamlessly toward 21st century green energy while the U.S. is the high-polluting laggard that just won't get with the program to save the planet.
Think again. The green energy revolution around the world has turned into a big green meltdown, with many nations sprinting away from "renewable" energy with the speed of Usain Bolt.
Here are a few of the latest news flashes from Europe and Asia. In Germany, the world leader in green energy, electricity prices have now reached a level triple those paid in the United States. Imagine the anger here if middle-class Americans saw a tripling of their utility bills each month.
In Britain, to comply with renewable energy requirements, power stations are burning hundreds of millions of pounds of wood pellets (pellets imported from the U.S.). Environmental experts confirm that burning wood is much worse for the environment than burning natural gas or even coal.
Australia, another "green energy" leader, saw its electricity prices skyrocket this past winter. According to an analysis by the Institute for Energy Research, power costs surged unbelievably — from $100 per megawatt hour to $10,000 per megawatt hour. This was because of heavy dependence on an unreliable renewable energy program. The government had to reopen one of its shuttered natural-gas plants to keep prices from further exploding.
Sweden announced a decade ago that it was all-in on green energy, and the government launched a wind-power program. Embarrassingly, Swedish politicians now have had to acknowledge the program has become so expensive and inefficient that the government will phase out the subsidies lavished on the industry.
In each of these cases, the economies and local factories have taken a big hit. According to the Institute for Energy Research analysis of Australia: "The government has found that its electric system that is heavily reliant on wind power (40 percent comes from intermittent renewable sources) cannot cope without reliable power from traditional generation sources. The fallout is that Australia is finding that its energy-intensive businesses are relocating to Asian countries that provide stable regulation and costs, lower taxes, cheaper wages, and less red tape."
So, very quietly, Europe and other nations aren't going so green anymore. The European Union spent an estimated $750 billion on green-energy handouts over the past decade, and all it's bought them is a doubling of power costs. This has given American steel, auto manufacturers, light manufacturers, agriculture businesses and technology firms a big competitive edge in world markets.
It's no wonder that European nations and Australia are desperate for the U.S. to move to the same dimwitted green energy policies that they have adopted.
What would that mean for America? One study by the U.S. Chamber of Commerce estimated that if America were to adopt the same mandates for renewable energy, the total cost to American consumers would be more than $600 billion and our industries would pay out at least $30 billion more.
By the way, the U.S. already provides subsidies to wind and solar power. And according to a 2016 American Action forum study, these subsidies are five times greater per unit of energy produced than subsidies given to nuclear power and 20 times more generous than those given to fossil fuels. Yet despite all the money spent on them, wind and solar power still account for less than 5 percent of American energy output. Why not just eliminate all American energy subsidies and let the free market decide?
Thankfully, Donald Trump has made it known that adopting more of the policy quackery of Europe — at a time when the U.S. has more recoverable shale oil and gas and more clean coal than any other nation on the planet — is no way to make America great again. Europe is running away from the fantasy of green energy, and this is one rare instance when America may want to follow their lead.
SOURCE
"I simply don't care' about climate change
An interesting letter to the editor from Shane Traveller
Because I'm the expert on pretty much everything, people ask me my opinion on "global warming" or "global climate change" or whatever I'm supposed to call it now. I've thought long and hard about the subject. I've listened to the scientists, read the studies and decided that I simply don't care. I'm not being trite — I honestly don't care.
I've seen the map that shows the projected land mass if all the ice caps melted. I'm OK with it. There's nothing lost that I can't live without and nothing we can't build inland. Yes, many areas of productive farm land may become deserts. But that just means it will be perfect weather somewhere else. Maybe it's time for Siberia to finally get a chance to grow something besides gulags and vodka. But I'm not really sure what the "right temperature" for the earth really is.
Over the past few billion years the planet has warmed and cooled fairly often. In fact, we had a "ice age" from 1300-1850 and 10,000 years earlier ice was everywhere. In the 1970s scientists claimed we were all going to freeze and now we're all going to fry. Yawn. A few degrees either way isn't going to stress me out much. Definitely not enough to drive a Prius.
My biggest issue is that there is no room for a dissenting opinion. Scientists are CERTAIN of global warming and insist it's manmade. No alternative opinions, data and research are even tolerated. Scientists also once thought the world was flat and that the sun revolved around the earth. Galileo was jailed for disagreeing. My point is that
valid science can withstand a dissenting opinion
. Scientific advancement happens when the status quo is challenged.
I'm all for breathing clean air. And I applaud reasonable measures to protect the environment. Coal scrubbers, wind power, solar—all nice. But frankly I'd rather endure a little fracking and the possibility of an occasional pipeline leak rather than throw more money at the Middle East. Unless your home is off grid and made of mud, you ride a bike, never fly, and grow your own veggies, you're part of the problem. You've sacrificed the environment for the sake of convenience just like me. Our planet is an amazing organism. It's perfectly capable of shrugging its shoulders once in a while to rid itself of any pesky dandruff.
Remember that, my friends. We've been the apex for a few thousand years. Dinosaurs ruled for a hundred million. Earth will eventually tire of us and one good plague, eruption, asteroid, corona mass ejection, polarity flip later "climate change" will be the last thing we're worried about.
SOURCE
Battery storage may have its place but this isn't it
South Australia's emergency power plan proves that battery storage is a fringe response rather than a durable solution to the state's electricity woes.
Silicon Valley billionaire Elon Musk has milked South Australia's problems for plenty of publicity to coincide with the launch of his new Powerwall 2 battery in Australia.
But Musk's money-back guarantee always was on meeting a 100-day installation deadline rather than actually fixing South Australia's problems caused by its over-reliance on intermittent wind and solar.
To the dismay of armchair electrical engineers, Premier Jay Weatherill yesterday confirmed the solution to South Australia's blackout problems would overwhelmingly be gas.
Showing the hide of a rhinoceros, Weatherill cast the blame for South Australia's predicament far and wide.
But the cost of the latest instalment in a decade of electricity adventurism will be paid by South Australian taxpayers and long-suffering electricity users.
Sure, South Australia will deploy a big bank of batteries to smooth out the peaks in demand — equal to several minutes of total state requirements, but the heavy lifting will be done by a new taxpayer-owned peaking gas plant and a raft of state impositions. Electricity consumers will be forced to buy a set ­portion of state-generated gas-fired power rather than cheaper coal-fired power from Victoria.
This is supposed to encourage private investment in more gas-fired power in the state.
To get the gas, South Australia will give a share of taxpayers' royalties to landholders where the gas is drilled.
More state regulation will mandate that new gas stays in South Australia.
This all adds up to an expensive fix and slippery slope to further ­nationalisation.
With the heavy emphasis on peaking power, it still begs the question of what will happen when doldrum conditions again strand wind turbines for long periods over summer?
Batteries may have their place, but this is not it.
The incredulity shown by a new army of battery fetishists to the South Australian plan's emphasis on gas shows how tough it will be to find a durable fix for energy ­policy nationally.
SOURCE
***************************************
For more postings from me, see DISSECTING LEFTISM, TONGUE-TIED, EDUCATION WATCH INTERNATIONAL, POLITICAL CORRECTNESS WATCH, FOOD & HEALTH SKEPTIC and AUSTRALIAN POLITICS. Home Pages are here or here or here. Email me (John Ray) here.

Preserving the graphics: Most graphics on this site are hotlinked from elsewhere. But hotlinked graphics sometimes have only a short life -- as little as a week in some cases. After that they no longer come up. From January 2011 on, therefore, I have posted a monthly copy of everything on this blog to a separate site where I can host text and graphics together -- which should make the graphics available even if they are no longer coming up on this site. See here or here
*****************************************
15 March, 2017
More "corrections"
Warmists never stop "correcting" the raw temperature record. Such corrections may be justifiable in theory but it is curious that all the corrections tend towards showing more warming. And, with old diehard warmists like Kevin Trenberth and John Abraham involved, it is no surprise the way the corrections went in the study below.

Whether or not the corrections were done in a biased manner, however, it hardly matters. The temperature changes they document on this occasion are given in THOUSANDTHS of one degree Celsius. Everything they record is therefore mind-numbingly minute, trivial and of no importance for anything
Improved estimates of ocean heat content from 1960 to 2015
Lijing Cheng, Kevin E. Trenberth, John Fasullo, Tim Boyer, John Abraham and Jiang Zhu
Abstract
Earth's energy imbalance (EEI) drives the ongoing global warming and can best be assessed across the historical record (that is, since 1960) from ocean heat content (OHC) changes. An accurate assessment of OHC is a challenge, mainly because of insufficient and irregular data coverage. We provide updated OHC estimates with the goal of minimizing associated sampling error. We performed a subsample test, in which subsets of data during the data-rich Argo era are colocated with locations of earlier ocean observations, to quantify this error. Our results provide a new OHC estimate with an unbiased mean sampling error and with variability on decadal and multidecadal time scales (signal) that can be reliably distinguished from sampling error (noise) with signal-to-noise ratios higher than 3. The inferred integrated EEI is greater than that reported in previous assessments and is consistent with a reconstruction of the radiative imbalance at the top of atmosphere starting in 1985. We found that changes in OHC are relatively small before about 1980; since then, OHC has increased fairly steadily and, since 1990, has increasingly involved deeper layers of the ocean. In addition, OHC changes in six major oceans are reliable on decadal time scales. All ocean basins examined have experienced significant warming since 1998, with the greatest warming in the southern oceans, the tropical/subtropical Pacific Ocean, and the tropical/subtropical Atlantic Ocean. This new look at OHC and EEI changes over time provides greater confidence than previously possible, and the data sets produced are a valuable resource for further study.
Keywords
Science Advances 10 Mar 2017: Vol. 3, no. 3, e1601545. DOI: 10.1126/sciadv.1601545
The dream has died. "Green" South Australia returns to "fossil fuels"
Natural gas is a "fossil fuel" (a hydroCARBON)
THE South Australian government has unveiled ambitious new plans to build a gas power station and battery storage facility to try and fix its power problems.
Premier Jay Weatherill announced the $550 million six-point plan during a press conference this morning.
He said the events of February 8 were a powerful indication of a broken national electricity market.
"On that occasion, we had a private national electricity market that chose to black-out South Australians rather than turn on a power station," Mr Weatherill said. "This is a totally unacceptable state of affairs."
Mr Weatherill's plan involves the state government building Australia's largest battery facility to store renewable energy and a new 250 megawatt gas-fired power plant.
According to The Advertiser, the new power plant is expected to cost $360 million and would deliver close to 10 per cent of the state's peak demand.
Mr Weatherill said the government would own the plant but it had not just established who would run and maintain it.
The battery storage would be funded as part of a new $150 million renewable technology fund.
The government would also encourage the construction of a new privately-owned power station using a government bulk buy power contract.
Other elements of the strategy include legislation to give the Energy Minister direct power to intervene in the electricity market and force power stations to fire up in times of need.
The government will also set an "energy security target" to force electricity retailers to buy 36 per cent of their power from locally-generated baseload sources in SA.
Mr Weatherill said he wanted to put South Australian gas ahead of Victorian coal, and to ensure South Australian power was reserved for South Australians.
"We have expert advice that this will reduce the price of electricity when competitive pressures are returned to the market, which this plans to achieve," he said.
Mr Weatherill said he couldn't guarantee that South Australia would never be blacked out again but expert advice said the plan would help reduce the risk.
"I can't guarantee what happens with the weather. If a tree falls on a power line it will black-out a suburb. I can't guarantee that won't happen," he said.
"Without this, we are at risk of increased blackouts and load shedding. That is why this plan is essential."
When asked whether it would have been cheaper to pay the Port Augusta coal-fired power station to fire up, Mr Weatherill said it didn't offer what the state needed.
"What we have here is an ageing coal-fired power station that couldn't guarantee its capacity to gain the fuel necessary at an economic price to secure its future," he said. "That is the past. We are talking about the future."
Mr Weatherill said he hadn't told Prime Minister Malcolm Turnbull yet about the state's plan but hoped to do so soon.
He said that the government-owned gas power plant would be there provide for peak demand and emergency responses.
"In the long term it also sits there as an investment in new generation capacity here in SA," he said.
"The private sector is not building new generation. That is why government is stepping up and taking control of our energy future by investing in new generation."
SOURCE
US shale surge overwhelms oil market as Opec splits deepen
Another blow to the "shortages" that Greenies predict
Oil prices have plunged to the lowest level this year as US shale producers boost output at an astonishing pace and crude inventories keep rising, triggering a wave of selling by hedge funds with record speculative positions.
The US surge threatens to neutralise cuts agreed by the Opec cartel and a Russia-led group of producers last November, potentially delaying a full recovery of the market until 2018 or even later.
Texas light crude fell to $48.90 a barrel on Thursday after yet another surprise jump in US stocks. Prices have slid 8pc in three days and have broken through key levels of technical support, dousing enthusiasm for commodities across the board.
America's shale frackers have slashed cost so far that they can now produce large volumes at a break-even price of $35 or lower in the prolific Permian Basin, the twelve-layered 'crown jewel' of West Texas.
SOURCE
Pruitt's Right: The Science Isn't Settled
New EPA Administrator Scott Pruitt is being lampooned for downplaying the extent of carbon dioxide's alleged effects on the climate. According to Pruitt, "I think that measuring with precision human activity on the climate is something very challenging to do and there's tremendous disagreement about the degree of impact, so no, I would not agree that [CO2 is] a primary contributor to the global warming that we see." You can imagine the uproar that ensued.
Critics responded with a slew of scientific "information" on the greenhouse gas effect and how scientists collectively agree that human-induced fossil fuels are most assuredly to blame for our warming climate. On the EPA's own website it stipulates that "the primary human activity affecting the amount and rate of climate change is greenhouse gas emissions from the burning of fossil fuels." And Forbes's Alex Knapp says, "We can get one thing clear — climate change is complicated," but he goes on to confidently argue "the amount of carbon dioxide being emitted every year by humans is … happening faster than nature can take care of it."
This ridicule, of course, is an effort to smear Pruitt and portray him as an anti-science rube. But pay close attention to what Pruitt also said in the same interview: "But we don't know that yet. We need to continue the debate and continue the review and the analysis." What he's trying to say is that the climate debate is not etched in stone, which is what the ecofascist lobby so desperately asserts. Yes, we know that the greenhouse effect is real, but scientists are gravely mistaken if they think they've discovered all there is to know about how the climate operates. (For example, how consequential is water vapor, a much more potent GHG?) The same ones who told us that the California and Texas droughts were permanent and that the Arctic sea ice would be gone by now want to lecture us on "what the science says." Pruitt has a different approach: Let's see what the facts say, which takes time. And that's exactly why he's the right man to lead the EPA.
SOURCE
Richard Lindzen is the Alfred P. Sloan Professor of Meteorology at MIT, recently retired
.
Professor Lindzen recently wrote a letter to President Donald Trump explaining, briefly and cogently, why he and many other scientists are skeptical of the catastrophic anthropogenic global warming theory–which, despite tens of billions of dollars in government subsidies, has failed to generate significant empirical support. The letter was reproduced by the Science and Environmental Policy Project. It has the virtue of being easily read and understood:
For far too long, one body of men, establishment climate scientists, has been permitted to be judges and parties on what the "risks to the Earth system associated with increasing levels of carbon dioxide" really are.
Let me explain in somewhat greater detail why we call for withdrawal from the UNFCCC [United Nations Framework Convention on Climate Change].
The UNFCCC was established twenty-five years ago, to find scientific support for dangers from increasing carbon dioxide. While this has led to generous and rapidly increased support for the field, the purported dangers remain hypothetical, model-based projections. By contrast, the benefits of increasing CO2 and modest warming are clearer than ever, and they are supported by dramatic satellite images of a greening Earth.
* The UN's Intergovernmental Panel on Climate Change (IPCC) no longer claims a greater likelihood of significant as opposed to negligible future warming,
* It has long been acknowledged by the IPCC that climate change prior to the 1960's could not have been due to anthropogenic greenhouse gases. Yet, pre-1960 instrumentally observed temperatures show many warming episodes, similar to the one since 1960, for example, from 1915 to 1950, and from 1850 to 1890. None of these could have been caused by an increase in atmospheric CO2,
* Model projections of warming during recent decades have greatly exceeded what has been observed,
* The modelling community has openly acknowledged that the ability of existing models to simulate past climates is due to numerous arbitrary tuning adjustments,
* Observations show no statistically valid trends in flooding or drought, and no meaningful acceleration whatsoever of pre-existing long term sea level rise (about 6 inches per century) worldwide,
* Current carbon dioxide levels, around 400 parts per million are still very small compared to the averages over geological history, when thousands of parts per million prevailed, and when life flourished on land and in the oceans.
Calls to limit carbon dioxide emissions are even less persuasive today than 25 years ago. Future research should focus on dispassionate, high-quality climate science, not on efforts to prop up an increasingly frayed narrative of "carbon pollution." Until scientific research is unfettered from the constraints of the policy-driven UNFCCC, the research community will fail in its obligation to the public that pays the bills.
SOURCE
***************************************
For more postings from me, see DISSECTING LEFTISM, TONGUE-TIED, EDUCATION WATCH INTERNATIONAL, POLITICAL CORRECTNESS WATCH, FOOD & HEALTH SKEPTIC and AUSTRALIAN POLITICS. Home Pages are here or here or here. Email me (John Ray) here.

Preserving the graphics: Most graphics on this site are hotlinked from elsewhere. But hotlinked graphics sometimes have only a short life -- as little as a week in some cases. After that they no longer come up. From January 2011 on, therefore, I have posted a monthly copy of everything on this blog to a separate site where I can host text and graphics together -- which should make the graphics available even if they are no longer coming up on this site. See here or here
*****************************************
14 March, 2017
A men's fashion magazine reports on CPAC
Under the cheery heading: "It's the Golden Age of Climate Denial", "Esquire" has a long article that actually gives a fair bit of information about what climate skeptics are saying. But they report it in a sneering tone. They start out sneering about the claim that more CO2 is good for plants. That claim seems to have really caught the attention of the writer

Later we also read about the claim, however: "It's true as far as it goes, but it ignores the broader, complicated interactions that vegetation will face under a changing climate," said Jason Smerdon of Columbia's Earth Institute. "It ignores the fact that agriculture in the tropics, for instance, is much more sensitive to increased temperatures than to drought."

That is standard Warmist stuff but it is quite wrong. Both plant and animal life thrives most in the tropics. If ever you have lived there you would know. So a warm climate is good for plants, not bad.

Aside from goofishness like that, however, the article does quite a good job of covering skeptical thinking. It describes such thinking in a disbelieving way but the information is there. And there is no real refutation of skeptical claims either
On the Friday afternoon of this year's Conservative Political Action Conference, inside the hulking Gaylord National Resort & Convention Center in National Harbor, Maryland, a pair of men besuited in various shades of olive and brown discussed how the increased levels of carbon dioxide in the atmosphere (which they granted were up 40 percent since the Industrial Revolution) had led to a phenomenon called "global greening." Plants need CO2 to grow, they told a captivated audience of a couple dozen people, and when there's more of it, they grow faster, larger, and—since they need less water—in drier areas.
CPAC has long been a place for the outlandish and the absurd to make its way from the ideological bayou to the mainstream. This year, multiple seminars made the case that Actually, More CO2 in the Atmosphere Is Good. Because of increased CO2 levels, "the Earth is in a far better place today," Craig Idso of CO2Science and the board of directors of the CO2 Coalition told his interviewer, James Delingpole of Breitbart, in a seminar sponsored by the coalition. Most of those assembled nodded vigorously. Later, they showcased a satellite map demonstrating the increased surface area of plant life in recent years.
Taken by itself, the greening argument is solid enough. In fact, it does not contradict the scientific consensus on climate change, which holds that higher carbon dioxide levels lead to warmer temperatures and, in turn, among other things, to melting sea ice and rising sea levels. Both can be true at once. Except the CO2 Coalition's shtick is effectively a red herring; these guys also don't believe in man-made climate change.
"Temperatures have not risen very much, and most of the temperature rise is probably completely natural, and has nothing to do with increasing CO2," William Happer, the coalition's president, told me over the phone. "Industrialization probably played a small role, but I think it's very hard to tell how much." This directly contradicts the scientific consensus. Happer is a former Princeton physics professor who co-founded the group in 2015. Before that, he chaired the George Marshall Institute—dissolved around the same time of the CO2 Coalition's founding—and developed a reputation as one of the nation's premier climate skeptics. (GMI did not advocate for the benefits of CO2—it simply disputed man-made climate change.) He even testified at a Ted Cruz-speared congressional hearing on climate "dogma" in December 2015.
This is a golden moment for the skeptic movement. Two weeks after CPAC, the Trump administration's new EPA administrator, Scott Pruitt, appeared on CNBC's Squawk Box to explain his stance on climate change: "I think that measuring with precision human activity on the climate is something very challenging to do, and there's tremendous disagreement about the degree of impact," the former Oklahoma attorney general said. "So no, I would not agree that it's a primary contributor to the global warming that we see." At his last gig, Pruitt initiated, signed onto, or filed briefs in 14 different lawsuits challenging the EPA's climate regulations. He once fielded a letter from one of Oklahoma's largest energy companies criticizing one of those regulations, which he tweaked a few words in, put his own letterhead on, and promptly sent to the EPA. Now he'll be in charge of regulating the environmental impact of the nation's energy companies.
So now that the fringe theorists are in charge, who is left for them to convince? "We're sleeping much better now," said Marc Morano, the executive director of the Committee for a Constructive Tomorrow. Morano, a former aide to Senator James Inhofe—of snowball infamy—has for decades disputed the scientific consensus on climate change in various capacities. He denies that the Earth is warming, that we could know for sure humans are predominantly causing it, and that we could do anything about it even if we did. (It's important to cover your bases.) "We are grinning ear-to-ear, climate skeptics," Morano said. "We have a rational, scientific approach coming to Washington under the Trump administration."
Morano, who has a B.A. in political science from George Mason University, is more of a traditionalist climate skeptic: Happer's group takes a more proactive approach, but its message is still a distortion of the science.
"It's a misrepresentation of the basic fact that plants both on land and in the ocean need some CO2 to photosynthesize and grow," Robert Tripati, of UCLA's Institute of Environment and Sustainability, told me of "greening" via email. "Of course, these plants already have CO2, and scientists have developed lots of evidence that rapid accumulation of CO2 in both the atmosphere and ocean will generate a large number of negative effects that will be much more severe as a whole. The bad effects will outweigh the good."
"It's true as far as it goes, but it ignores the broader, complicated interactions that vegetation will face under a changing climate," said Jason Smerdon of Columbia's Earth Institute. "It ignores the fact that agriculture in the tropics, for instance, is much more sensitive to increased temperatures than to drought." He added that the insect pests that decimate some plant species also thrive in hotter conditions, when their larvae don't freeze in winter, citing the bark beetle infestation in the western United States. And then, of course, there's the fact that none of this addresses the other consequences of rising temperatures due to CO2, like rising sea levels.
At the CPAC seminar, that threat was dismissed out of hand. "Almost everything you read in the mainstream media, everything you learn in school, is wrong," said Idso, who has a PhD in geography from Arizona State. The mountains of peer-reviewed findings from hundreds of climate scientists from dozens of countries are just the product of "a multi-billion-dollar industry," they said gravely, funded by governments and groups like Greenpeace. At an earlier meeting sponsored by CO2Science—Idso was again in attendance—climate science was described as a "machine" that a "few small non-profits" like these are going up against.
Of course, some of the largest multinational corporations in the history of the world have spent decades disputing the effects of carbon dioxide production to protect vested interests.
ExxonMobil, for instance, first became aware of the threat in 1981, but spent 27 years funding denial of it. That climate science is the real big business, crushing the little guy whose work just happens to help the fossil fuel industry, is the kind of delusion that pervaded the seminars at CPAC, and that infects this movement generally.
In our conversations, both Happer and Morano said Secretary of State Rex Tillerson, who left his post as CEO of ExxonMobil to take the job, could be the biggest obstacle to their agenda in the White House. (That ExxonMobil has donated over half a million dollars to Morano's organization over the years doesn't seem to complicate things for him. Happer, whose organizations have also received funding from large fossil fuel companies and prominent conservative donor networks like the Bradley Foundation, described a "David and Goliath" scenario where the Sierra Club is Goliath.) Happer also identified ExxonMobil as an enemy of his movement. If you're keeping score at home, the former CEO of the world's fourth largest oil and gas corporation is now, in the estimation of some skeptics, the most prominent advocate for combatting climate change in the executive branch.
Back at the CPAC seminar, it was time to attack more recent findings that climate change leads to the acidification of our oceans. Idso and Delingpole ridiculed those as the left's latest excuse to keep funding climate research (something echoed by Morano, who characterized environmentalism as a series of trumped-up scare campaigns). Meanwhile, the seminar hosts spoke at length about the expanded range of Juniper trees and the use of CO2 in commercial greenhouses, in what amounts to just the newest iteration of a tried-and-true climate denial tactic: distraction and information deluge.
After all, these are already difficult concepts. If you can reroute the conversation, or bury them in enough information, most people will struggle to keep things in focus. The seminar was full of science-like objects, such as Idso's discussion of the "CO2 enrichment studies" his father conducted, that provided a veneer of authority. To bolster his argument that governments fund climate research to aggrandize their own power, he offered a deep observation:
"We are carbon-based life forms," he said knowingly, "If you control carbon, you control life."
"These are really simplistic, kind of awe-shucks arguments that just don't think through—or don't care to think through—all of the implications," says Smerdon, the researcher at Columbia, who says the new CO2-is-good routine may have sprung from new research that attempts to quantify the "CO2 fertilization effect" as part of climate change models. "Scientifically, you could have this discussion, but that isn't what these people are doing. They're grabbing one finding from the literature and presenting this hand-wavey argument that suits their ideological standpoint."
Nonetheless, this is their moment—whether they're in that camp, or whether they believe, as Morano claims, that climate science is manufactured as part of a U.N. conspiracy. From a more practical standpoint, Morano wants the Trump administration to overturn Obama-era executive orders like the Clean Power Plan, defund the United Nations climate panel, and to "Clexit" (or "climate exit") from the Paris Climate Accords. He also suggested, in glowing terms, that fellow traveler Happer may join the Trump administration as a "science czar." After that, Morano wants the president to "unleash" fracking, oil drilling, and coal production, the latter of which he somewhat agreed was no longer even competitive due to the rise of cheap natural gas.
Strange: a climate skeptic who isn't just interested in disputing the science, but who also openly advocates for more expansive use of fossil fuels, including economically inefficient ones. It's almost like these things are connected.
The crowd at CPAC, of course, was more than receptive. When it was time for questions, each audience member called on launched into not a question, or even a comment, but a diatribe. They were bursting to voice their frustration at the "climate alarmists" who were "indoctrinating" children in schools. They welcomed "greening" into their worldview like an old friend, but rarely referenced—much less inquired about—the specifics. This was new, valuable ammo in the fight against the academic scourge.
That's enough on its own, but CPAC is also now the right's premier forum for young people. One of the meetings was around 40 percent college-age or younger, and they were all soaking this up. As a seminar wrapped up, I went up to a young woman making her way out from one of the middle rows to see if all this was leaving a mark.
"I've never heard that argument before," said Sarah Olsen, a high school student from Bethesda, Maryland. "I took environmental sciences with a teacher who was very progressive, so I hadn't really heard a conservative idea about it. My first thought was that it doesn't necessarily disagree with it. It's not denying that it's happening. It's just a different, additional fact. Is CO2 good and bad? More good than bad? I feel like I want more evidence to strongly say one way or another."
SOURCE
Embarrassment: Greenpeace tries to close an already closed door
Activists are pressuring Secretary of State Rex Tillerson to recuse himself from approving the Keystone XL pipeline, even though the former Exxon CEO already promised to step away from the project.
The environmental group asked the Office of Government Ethics, the federal watchdog responsible for weeding out conflicts of interest in the executive branch, to clarify how the pipeline's approval doesn't conflict with the former ExxonMobil CEO's oil interests. Tillerson has direct authority over Keystone's approval process.
"The time is ripe for OGE to clarify exactly what those commitments mean in one of their first real tests and first real decisions Tillerson may take relating to his former employer," Greenpeace wrote in a letter to the OGE.
But
"Secretary Tillerson decided in early February to recuse himself from TransCanada's application for a presidential permit for the proposed Keystone XL pipeline," Mark Toner, acting Department Of State spokesman, said in a statement Thursday. He was referring to a Greenpeace-led campaign to force Tillerson to step away from the pipeline's approval process.
He added: "He has not worked on that matter at the Department of State, and will play no role in the deliberations or ultimate resolution of TransCanada's application."
Greenpeace framed the flub in a different light, suggesting the White House's statement confirming Tillerson's decision was in response to pressure from activists.
"Rex Tillerson's recusal from the Keystone Pipeline decision might have never been transparent to the public without people flooding the lines of the Office of Government Ethics today," said Greenpeace Climate Campaign Specialist Diana Best.
SOURCE
Cleaning up the Clean Water Act
Sen. Mike Lee
In 1972, Congress passed the Clean Water Act to protect the "waters of the United States" by empowering the Environmental Protection Agency (EPA) "to restore and maintain the chemical, physical, and biological integrity of the Nation's waters."
At first glance, this seems like a sensible, even commendable, piece of legislation. After all, who doesn't want clean water?
But there's a catch: What exactly are the "waters of the United States?" Rivers, streams, lakes, bays, and marshes obviously fit the bill. But what about a small creek that contains running water only a few months out of the year? Or a ditch beside the road that diverts runoff water after a big storm but is otherwise dry? Or what about a hole in your backyard that periodically collects a few inches of rainwater?
The answers to these questions are vital, because the EPA's jurisdiction to enforce its strict permitting and polluting regulations extends only to what is officially considered "waters of the United States." But you won't find these answers in the Clean Water Act, because Congress wrote the law without defining "waters of the United States" or providing the EPA with any clear and precise standards to do so. This ambiguity in the law — and the immense discretion enjoyed by the EPA as a result — is problematic for two main reasons.
Putting Utahns in control of environmental conservation
First, by telling the EPA to regulate a thing without strictly defining what that thing is, Congress effectively gave the bureaucratic agency the power to make the law and to enforce it. You don't need to be a cynic to see that such a concentration of power within a single government agency — especially one that is run by individuals who don't have to stand for election and whose names the American people will never know — is a recipe for abuse and corruption.
Moreover, an executive agency that has the power to define something also has the power to redefine it, again and again. This is exactly what has happened with the Clean Water Act. Over the years, EPA regulators have interpreted — and repeatedly reinterpreted — the law to accommodate their ever-expanding conception of their own power. This process reached the point of absurdity under President Obama when the EPA issued a rule, commonly called the "Waters of the United States rule," that expanded its reach so far that it claimed it could regulate a hole in someone's backyard that fills with rainwater in the winter, even if it is situated miles away from a stream that leads into a river.
For left-wing environmental groups, the open-ended nature of the Clean Water Act has been a dream come true, providing endless opportunities to steadily expand the federal government's control of public and private lands. But for many Americans — everyone from farmers and ranchers to ordinary homeowners — the EPA's evolving definition of "waters of the United States" has been a nightmare. If you're required to obtain a permit from the EPA in order to lawfully fill a hole in your backyard with dirt, and if the EPA has the power to fine you tens of thousands of dollars a day for building a pond on your farm, are your private-property rights not under attack?
Thankfully, this week, President Trump signed an executive order that requires the EPA to revise the Obama administration's rule according to the standard set forth by the late Supreme Court Justice Antonin Scalia. In Rapanos v. U.S., Justice Scalia proposed defining "waters of the United States" to mean "only relatively permanent, standing or flowing bodies of water" not including "channels through which water flows intermittently or ephemerally, or channels that periodically provide drainage for rainfall."
President Trump's executive order is a tremendous first step toward bring clarity and commonsense to the Clean Water Act.
But ultimately, this is a mess that only Congress can fix, which is why I will continue to try to advance legislative reforms, like those offered by Sens. Barrasso and Paul, that will prevent the EPA from abusing its powers, while ensuring the agency still has the tools and resources it needs to help maintain a clean and healthy water supply in the United States.
SOURCE
Media Freaks Out Over Something The EPA Chief Has Been Saying A Long Time
Media outlets are feverishly reporting Environmental Protection Agency (EPA) Administrator Scott Pruitt's remarks that carbon dioxide is not the primary driver of global warming.
Environmentalists are calling for Pruitt to resign over the comments, arguing he "misled Congress" about his beliefs in global warming. Democratic senators have chastised Pruitt for his "ignorant display."
But Pruitt's comments to CNBC's "Squawk Box," which have outraged many on the left, are no different than what he's been saying for a long time.
"I think that measuring with precision human activity on the climate is something very challenging to do and there's tremendous disagreement about the degree of impact, so no, I would not agree that it's a primary contributor to the global warming that we see," Pruitt told CNBC Thursday.
SOURCE
German Minister Announces End Of Unilateral Climate Targets
"I am not the most weighty, but the most heavy minister in the Cabinet," the Minister of the Chancellery, Peter Altmaier, said last Friday at an event in the Hotel Adlon: "I have lost weight, but the gap with others was so great that my leadership was not at risk."
As usual, Altmaier's ironic treatment of his diet ensured cheerfulness among his listeners. Soon afterwards, however, the relaxed atmosphere in the Berlin Grand Hall turned into excitement.
For the federal Minister for Special Responsibilities promised the assembled business leaders and managers to fulfill a long-cherished wish: Germany's expensive go-it-alone climatic policies could soon be over for good.
Thundering applause
"I am firmly convinced that the path of national climate targets is wrong," Altmaier told the participants of the exclusive "Convention on Energy and Climate Policy" organised by the economic council of the ruling Christian Democratic Party (CDU). Although it is "difficult to cancel existing goals," Altmaier said, in future "European and international targets" would be required.
Altmaier's words sparked the first thunderous applause of the day — for a good reason: The Federal Government had always played the role of model pupil and "pioneer" in climate policy. For example, when the EU decided to reduce CO2 emissions by 20 percent by 2020, Germany decided to reduce its emissions by 40 percent. When Europe set itself a green energy target of 20 percent, Berlin had to surpass immediately with a national 35 percent target.
Expensive go-it-alone policies of this kind were not only received badly by German industry given that increasing energy prices and green regulations threaten its competitiveness. Environmental economists also criticised again and again that national unilateralism would not save any extra CO2 under the umbrella of the EU's emissions trading scheme.
False Ambition
Even before the UN Climate Conference in Paris at the end of 2015, Germany's unilateral ambitions had led to controversial discussions. The federal government had argued that it wanted to encourage other nations to follow its lead by adopting equally ambitious CO2 targets. Critics argued that Germany undermined a coherent EU position at the UN Climate Summit, preventing the EU from speaking "with one voice."
At the meeting of the CDU Economic Council in Berlin, Altmaier — just as EU Energy Commissioner Miguel Arias Canete had done before – aregued for a "level playing field" in Europe, i.e. cross-country rules for investments in energy efficiency and climate targets.
Bursting with anger, Alexander Cerbe, the chairman of Cologne's utilities company Rheinenergie retorted: If the same investment conditions were so important for EU climate policy, why did Germany always go much further than the rest, Cerbe wanted to know. "You are quite right," the federal minister replied to everyone's surprise: He too considered unilateral goals as "the wrong approach."
Altmaier's position concurs with the new energy policy "Energy lab 2030?, developed by the CDU's Economic Council over several months with the assistance of numerous expert committees and presented at their Congress on Friday. "Unilateral national targets for climate protection are counterproductive and should therefore be abandoned," it says.
Objectives are over-ambitious
The fact that the federal government now seems intend to pursue only targets that are uniform throughout the EU may be due to the gradual realisation that Germany has adopted over-ambitious targets that cannot be achieved.
In its "Energy Concept 2010?, the federal government had decided to reduce carbon dioxide emissions by 40 percent by 2020, twice as much as the rest of Europe. The phasing out of non-CO2-emitting nuclear power plants did not seem to contradict these ambitions.
However, the climate target now proves to be over-ambitious. Among experts, it is certain that the federal government will clearly miss the promise of a 40% reduction in CO2 emissions by the end of the decade.
SOURCE
***************************************
For more postings from me, see DISSECTING LEFTISM, TONGUE-TIED, EDUCATION WATCH INTERNATIONAL, POLITICAL CORRECTNESS WATCH, FOOD & HEALTH SKEPTIC and AUSTRALIAN POLITICS. Home Pages are here or here or here. Email me (John Ray) here.

Preserving the graphics: Most graphics on this site are hotlinked from elsewhere. But hotlinked graphics sometimes have only a short life -- as little as a week in some cases. After that they no longer come up. From January 2011 on, therefore, I have posted a monthly copy of everything on this blog to a separate site where I can host text and graphics together -- which should make the graphics available even if they are no longer coming up on this site. See here or here
*****************************************
13 March, 2017
Those "devastating" EPA reductions
Budget and personnel cuts reflect environmental progress and essential regulatory reforms
Paul Driessen
The Trump White House wants significant reductions at the Environmental Protection Agency: two dozen or more programs, including a dozen dealing with President Obama's climate initiatives; a 20% downsizing in EPA's 15,000-person workforce; and a one-fourth reduction in its $8.1 billion budget.
The plan requires congressional approval, and thus is hardly a "done deal." Not surprisingly, it is generating howls of outrage. Former U.S. EPA Administrator Gina McCarthy says the proposal would be "crippling," and "devastating for the agency's ability to protect public health."
One employee resigned because the cuts would prevent him from serving "environmental justice" and "vulnerable communities." A congressman claimed EPA is "already operating at 1989 staffing levels," and the reductions could mean "cutting the meat and muscle with the fat."
A deep breath and objective assessment are in order.
1) Since EPA was created in December 1970, America's environmental progress has been amazing. Our cars now emit less than 2% of the pollutants that came out of tailpipes 47 years ago. Coal-fired power plant particulate, mercury, nitrogen oxide and sulfur dioxide emissions are 10-20 % of their 1970 levels. The white plumes above factory and power plant "smoke stacks" are 90% steam (water vapor) and plant-fertilizing carbon dioxide (which Obama EPA officials disingenuously called "carbon pollution").
Our lakes, rivers, streams and coastal areas are infinitely cleaner and far safer to drink from or swim in. The notorious lead contamination in Flint, Michigan water occurred under Gina McCarthy's watch, because her agency didn't do its job. It was her EPA officials who also triggered the infamous Gold King Mine blowout that contaminated hundreds of miles of river water with arsenic and other toxic metals.
So much for "protecting public health," ensuring "environmental justice," and safeguarding our most "vulnerable communities." It's as if we've come full circle, and now need to be protected from EPA. In truth, that goes all the way back to the agency's first administrator, William Ruckelshaus, who ignored his own scientists, banned DDT, and sentenced tens of millions of Africans and Asians to death from malaria.
2) EPA became bloated, incompetent and derelict in its fundamental duties largely because it became ideological, politicized and determined to control what it was never intended to regulate. Through mission creep, sue-and-settle lawsuits, and an eight-year quest to help "fundamentally transform" America's energy and economic system, it attempted to regulate every rivulet, puddle and other "Water of the US," stuck its nose in numerous local affairs – like the road to a nickel mine in Michigan – and colluded with environmentalists to block Alaska's Pebble Mine before a permit application had even been submitted.
Most egregious was the agency's use of alleged "dangerous manmade climate change" to justify its "war on coal," its "Clean Power Plan," and its determination to slash fossil fuel use and carbon dioxide emissions by regulating nearly every factory, farm, hospital, mall, drilling project and vehicle in America.
EPA's other chief climate crusade target was methane, which it called "an extremely powerful climate pollutant" and absurdly claimed is responsible for "a fourth of all global warming to date." Methane is a tiny 0.00017% of Earth's atmosphere – equivalent to $1.70 out of $1 million (and compared to 0.04% for CO2) – and U.S. energy operations account for less than a tenth of all annual natural and manmade methane emissions. To control that, EPA wanted industry to spend billions of dollars per year.
It also demanded that cars and light trucks get 54.5 mpg by 2025. To meet that standard, automakers would have to downsize and plasticize vehicles, making them less safe and causing thousands of serious injuries and deaths – a reality that EPA ignored in its cost/benefit and environmental justice analysis.
When states, industries or experts raised questions about EPA's "CO2 endangerment" decision, its biased and dishonest "social cost of carbon" analysis, or its use of "secret science" and highly suspect computer models to justify "climate chaos" claims – the agency railed about "intimidation" and "interference" with its mandate to "protect public health and welfare." It's time to take those questions seriously.
3) EPA obviously has too many anti-energy, anti-development staff, programs and dollars looking for more activities to regulate and terminate, to justify their existence. As these programs are properly and necessarily cut back, EPA budgets and personnel should likewise be reduced.
4) Complying with EPA and other government regulations inflicts staggering costs that reverberate throughout our economy, as businesses and families struggle to read, comprehend and comply with them. The Competitive Enterprise Institute calculated that federal regulations alone cost $1.885 trillion per year – prior to the epic regulatory tsunami of 2016 – with the Obama era alone generating $800 billion to $890 billion in annual regulatory burdens, the American Action Forum estimated.
EPA alone is responsible for well over $353 billion of the cumulative annual federal regulatory bill, CEI's Wayne Crews estimated, based on 2012 data from the first four years of the Obama presidency. Just as disturbing, the total federal regulatory bill is equal to all individual and corporate tax payments combined.
Even more frightening, embedded in those federal regulations are fines and jail terms for some 5,000 federal crimes and 300,000 less serious criminal offenses. An absence of intent to violate the law, even failure to know and understand millions of pages of laws and regulations, even the mistaken assumption that no agency could possibly implement such an absurd rule, is no excuse. You're still guilty as charged.
These regulatory burdens crush innovation, job creation, economic growth, and business and family wellbeing. They kill jobs, raise the cost of energy, food, products and services, reduce living standards, harm health and shorten lives. They violate any honest concept of "environmental justice." Poor, minority, working class and other vulnerable families are hardest hit.
5) In fact, environmental justice is little more than a meaningless, malleable, phony concoction whose primary purpose is promoting progressive programs. Whatever EPA seeks to do advances justice and protects the vulnerable. Whatever an industry does or wants is unjust. Whenever anyone criticizes an agency action, it reflects racism or callous disregard for public health.
Only the effects of government regulations, and the actions of government regulators, appear to be exempt from recrimination, intimidation and penalties imposed in the name of environmental justice.
6) Fully 98% of all counties in the United States voted for Donald Trump and his vision for a less regulated, more prosperous nation, with fewer diktats from a Washington, DC that exempts itself from rules it inflicts on others. They did not vote for rolling back real environmental progress – and know full well that President Trump and EPA Administrator Scott Pruitt are doing no such thing.
They also know there is ample room – and abundant need – for the proposed EPA reductions. That's why a CNN/ORC poll after Mr. Trump's February 28 speech found that 70% of Americans who watched felt more optimistic about the nation's future, and his policies and priorities were what the country needs now.
7) If President Trump's program, budget and personnel proposals for EPA are approved, many highly paid agency employees will lose their jobs. That's always painful, as thousands of coal miners, power plant operators and other employees in communities impacted by heavy-handed EPA regulations can attest – and as the powerful new documentary film "Collateral Damage" demonstrates.
However, downsizing is often essential to the survival of a company – or a country. As President Obama was fond of saying, elections have consequences. Let's hope Congress and the Trump Administration move forward on EPA restructuring, stand firmly in the face of the predictable forces of professional outrage, and do a good job explaining why these changes are absolutely essential.
Ricevuto per e-mail
Sanders attacks EPA head using debunked talking points
Sen. Bernie Sanders, the Socialist-Independent from Vermont, went on a tear yesterday when he learned the EPA's new head #Scott Pruitt said on CNN he didn't think CO2 was the predominant cause of #Climate Change. Sanders told CNN's Wolf Blitzer it was "pathetic" to have an EPA administrator who held these views and called him a "denier."
The debate was over, he thundered, and "90 percent of scientists" agree that human activity and CO2 emissions are causing problems around the world. He also railed that emissions were causing "devastating problems already in the U.S." and across the globe. Sanders also said Pruitt was a "threat to the well-being" of everyone on Earth.
But Pruitt said measuring with precision the impact human activity had on the climate was "very challenging" and there was "tremendous disagreement" on the degree of its influence. He said he didn't believe CO2 was the primary driver behind the one degree Celsius of global warming that's occurred since the planet exited the Little Ice Age in 1850.
If Sanders had been keeping up with the scientific literature, he'd know the atmosphere gets heated from multiple sources: some natural and some man-made. Even the Washington Post weighed in and said scientists can't measure how much warming occurs after CO2 is added to the atmosphere.
But the strongest greenhouse gas on Earth is water vapor, not CO2. There are other climate drivers that are also entirely natural: the sun's heat and magnetic variations, volcanic activity, oceanic currents, the planet's tilt and wobble, methane from wetlands/animals, plate tectonics, elevation of land masses, albedo effect, flora and fauna, and atmospheric circulation.
Climate science is one of the most complicated fields that rely largely on global computer models (GCMs), projections, and far-flung scenarios that incorporate al the variables above and a few not listed. To date, the GCMs the UN IPCC relies on have been running too hot and diverging further and further from observed data. That's a problem for those seeking more research and grant money.
Sanders also stated there were devastating climate-related problems across the U.S. despite a dearth of evidence to back up those claims. A recent study showed that there was actually more extreme weather in the first half of the 20th century than the second half. Droughts, floods, precipitation (rain and snow), tornados and more are all within norms. Sanders is pushing alarmism by linking naturally occurring weather events to global warming.
For example, as March rolled in with pleasant weather along the East Coast, a Wall Street Journal editor wrote, "Yet Trump & his administration still deny there's a problem." As did a host of other journalists. A few mild days in March is proof of weather, not climate change. It allows us to use less fuel to heat our homes, which incidentally lowers CO2 emissions. #Bernie Sanders
SOURCE
G-20 Poised To Signal Retreat From Paris Climate Deal Pledge
Finance ministers for the U.S., China, Germany and other members of the Group of 20 economies may scale back a robust pledge for their governments to combat climate change, ceding efforts to the private sector. Citing "scarce public resources," the ministers said they would encourage multilateral development banks to raise private funds to accomplish goals set under the 2015 Paris climate accord, according to a preliminary statement drafted for a meeting that will be held in Germany next week. --Joe Ryan, Bloomberg, 11 March 2017
The election of Donald Trump as the 45th president of the United States signals the beginning of the end of international climate alarmism. Trump's victory has shaken the green movement to its core and will almost certainly lead to the Paris climate agreement's unraveling. Obama and European leaders have pledged to create for it an annual US$100-billion climate fund, which is what attracts most of the signatories to the Paris agreement, who expect to be its beneficiaries. There is now zero chance the U.S. will pay them the reward they were expecting. Even in the unlikely event that the green lobby were to succeed in converting Trump into a supporter of Obama's Paris agreement, Republican senators would continue to block all funding for its implementation, including any funds for the $100-billion Green Climate Fund without which the Paris agreement would ultimately unravel. --Benny Peiser, Financial Post, 21 November 2016
SOURCE
Massive oil discovery in Alaska is biggest onshore find in 30 years
Greenie prophecies of shortages once again prove the opposite of the truth
Some 1.2 billion barrels of oil have been discovered in Alaska, marking the biggest onshore discovery in the U.S. in three decades.
The massive find of conventional oil on state land could bring relief to budget pains in Alaska brought on by slumping production in the state and the crash in oil prices.
The new discovery was made in just the past few days in Alaska's North Slope, which was previously viewed as an aging oil basin.
Spanish oil giant Repsol (REPYY) and its privately-held U.S. partner Armstrong Energy announced the find on Thursday, predicting production could begin as soon as 2021 and lead to as much as 120,000 barrels of output per day.
The oil resources lie in a well, called Horseshoe, that's 75% owned by Denver-based Armstrong. Repsol owns the rest of this well.
The discovery is 20 miles south of where the two companies have already found oil in a project known as Pikka. That northern project is already in early development and is 51% owned by Armstrong, which is the operator on both developments.
"The interesting thing about this discovery is the North Slope was previously thought to be on its last legs. But this is a significant emerging find," Repsol spokesman Kristian Rix told CNNMoney.
Of course, this news won't ease rising concern among investors about the stubborn glut of oil in the U.S. There are increasing signs that shale oil producers are preparing to ramp up output after surviving a two-year price war with OPEC.
Repsol has been actively exploring in Alaska since 2008 and has an additional presence in the Gulf of Mexico. Shares of the oil and gas company jumped nearly 3% in Madrid trading on Friday.
The North Slope find comes less than six months after Caelus Energy and private-equity giant Apollo Global Management announced a massive Alaska oil discovery in the waters of Smith Bay.
All of this is a big win for Alaska, which last year had to freeze hiring and limit state employee travel due to trouble in the oil industry. Alaska, which relies on oil and gas taxes for the vast majority of its state revenue, has been hit by the one-two punch of shrinking production from its mature fields and the fact that oil prices have been cut in half in recent years.
Things have gotten so bad that the Trans-Alaska Pipeline System is barely being used these days.
"This is also great news for the State of Alaska," Alaska Governor Bill Walker said in a statement. "We must all pull together to fill an oil pipeline that's three-quarters empty."
SOURCE
Fake News: Whipping up a media frenzy over bizarre "records" before they occur
Australia's "leading climate scientists" can't predict the climate but they are very good PR operatives. Here in Perth we've had a cool year — for the last twelve months it's been nearly a whole degree cooler than the average for the last 20 years.
But last weekend in Perth, news stories told us we'd had an "autumn stinker" and wait for it, we might get Perth's second hottest first eight days of March. Call that a HFEDOM record and write in the Guinness Book of records. It's a permutation "record" almost as important as the longest distance run by a man holding a table in his teeth. Except it's not even a record, it's a news story about a record that "might happen", but didn't.
Let's name Neil Bennett (BOM) and Will Steffen (ANU) as the Propaganda-in-Chiefs dumping meaningless climate-trivia on the people in order to generate FEAR and screw more money from the public.
Straight from the New Climate PRAVDA Manual:
Invent contrived trivial permutations in order to use the word "record"
Don't bother waiting for real data, use forecasts
If record includes the word "cool", "cooler", or "cold", send to trash.
When wrong, crickets.
So science serves its purpose as a tax revenue generator and source of support for parasitic industries that need government money and government propaganda to keep them alive. (Yes, I'm talking about renewable energy).
The public is hammered with record hot stories, even before they've happened in this case, yet there are no BoM announcements or media stories detailing WA's remarkable run of well below average temps since about April last year.
Last week the Climate Council report on summer mentioned Perth had record rainfall and the second hottest December day on record at 42.4C on 21 December, but they didn't mention 9 February when Perth had by far its coldest February maximum daily temp since records began in 1897, smashing the previous record by a whopping 1.6C.
More
HERE
***************************************
For more postings from me, see DISSECTING LEFTISM, TONGUE-TIED, EDUCATION WATCH INTERNATIONAL, POLITICAL CORRECTNESS WATCH, FOOD & HEALTH SKEPTIC and AUSTRALIAN POLITICS. Home Pages are here or here or here. Email me (John Ray) here.

Preserving the graphics: Most graphics on this site are hotlinked from elsewhere. But hotlinked graphics sometimes have only a short life -- as little as a week in some cases. After that they no longer come up. From January 2011 on, therefore, I have posted a monthly copy of everything on this blog to a separate site where I can host text and graphics together -- which should make the graphics available even if they are no longer coming up on this site. See here or here
*****************************************
12 March, 2017
An information-light editorial from New England
See below: They have had the brainwave that Trump climate skepticism is now the GOP climate position. They are apparently unaware that conservatives generally have for a long time thought global warming is a crock. It didn't need Trump.

They then proceed to do the impossible: Prove a generalization from a few specific instances. You can "prove" anything that way. For a global theory you need global evidence and all they offer in that regard is temperature rises -- now gone -- which were associated with El Nino. Those rises were associated with FLATLINING CO2 levels so we KNOW that the rises were not a CO2 effect.

But they do make some specific assertions. They say that completing the Dakota oil pipelie "will lead to increases in greenhouse gas emissions and global warming". How so? THey do not say. Moving oil and gas by pipeline instead of rail actually reduces CO2 emisions.

But I suppose we should give them credit for at least a nodding acquaintance with science. They say: "Methane is a much more potent greenhouse gas than carbon dioxide, from 25 to 84 times worse by one estimate". It is true that methane does in the laboratory absorb a lot of electromagnetic frequencies but that is a red herring. Water vapour also absorbs those frequencies and there is a lot more of that in the atmosphere. So adding methane to the atmosphere adds nothing to what water vapour has already done!

Nice try but no cigar
Republicans are killing the planet. We say that because President Donald Trump was their nominee and they own him – golden locks, who knows what stocks and barrel of childish tweets.
Yesterday brought the news that 52,000 square miles of permafrost – an area about six times as large as New Hampshire – in Canada's Northwest Territories has melted, choking rivers with sediment and releasing vast volumes of methane.
Methane is a much more potent greenhouse gas than carbon dioxide, from 25 to 84 times worse by one estimate.
What did the Trump administration do as the permafrost was melting? It stopped requiring that the oil and gas industry, a powerful emitter of methane on its own, submit comprehensive data on the amount of methane it is releasing.
Last month, some 50 American cities set all-time-high February temperatures. On Feb. 24 it was 72 degrees in Boston; on Feb. 23 it was 65 in Concord, a record for the capital city. In each of the past three years the planet has set a new record average annual temperature.
What did Trump do? Pick career EPA foe and climate change skeptic Scott Pruitt to head the environmental agency and climate change denier Ryan Zinke to head the Interior Department.
Trump and his allies are gnawing away on the Clean Power Plan designed to curb carbon emissions from power plants, lifting or weakening regulations on coal mining and mountain top removal, and rolling back auto industry emission standards.
Trump's promise to put the nation's coal miners back to work, the New York Times says, is as likely to happen as the return of Nantucket's whaling fleet.
Somalia, Kenya and other East African nations are suffering their worst drought in half a century. Millions are threatened by famine and the death toll is growing. Climate change is believed to be a factor.
Trump proposed cutting foreign aid and the State Department's budget. He wants to reduce the EPA's workforce by 20 percent and defund the agency's climate change and clean energy programs.
Last year, the Alaskan village of Newtok voted to relocate. Rising sea levels, raging storms and melting permafrost had made its existence tenuous. Rising sea levels and more intense storms threaten many of the world's coastlines and coastal cities, including Portsmouth.
What does the Trump administration do? Speed the permitting of the Dakota Access Pipeline to carry oil to Midwestern refineries and order the completion of the Keystone XL pipeline to carry Canadian tar sands oil to refineries in the south.
Both measures will lead to increases in greenhouse gas emissions and global warming.
The horrific condition of the nation's air and water caused a public clamor that led to the creation of the EPA in 1970. Insidiously, the Trump administration wants to silence critics and prevent public outcry by controlling the information the public can see or not collecting it in the first place.
Trump issued a gag order barring EPA employees from releasing any data or studies to the public prior to their review by political appointees. Similar prohibitions were imposed on other agencies.
Gone from the White House website is any mention of climate change. Nationally, banks of researchers, data experts, computer code writers, librarians and other volunteers are working to archive as much of the agencies' research and scientific data, paid for with public funds, as they can before it's hidden or destroyed.
Trump's war on the environment and information itself is under way. Republicans own that, too.
SOURCE
Scientists alarmed after Great Barrier Reef is hit by a SECOND year of coral bleaching
Note that both the GBRMPA and AIMS below have NOT attributed the event to global warming. Only ratbag outfits like Greenpeace and WWF have done that. And there is a reason for that circumspection. Cape Grim tells us that CO2 levels have been plateaued on 401ppm since last July (midwinter) So anything thst has happened in the recent summer is NOT due to a rise in CO2. And NASA/GISS tell us that the December global temperature anomaly is back to .79 -- exactly where it was in 2014 before the recent El Nino event that covered the second half of 2015 and most of 2016. So there has been no global warming in the recent Southern summer and there was no CO2 rise to cause anything anywhere anyway. The claim that this summer's bleaching was an effect of global warming is a complete crock for both reasons. The data could not be clearer on that
Scientists in Australia have revealed unprecedented damage to the Great Barrier Reef, warning 'we are entering uncharted territory'.
Surveys have shown the coral reef is entering its second year of year bleaching for the first time.
Bleaching happens when algae that lives in the coral is expelled due to stress caused by extreme changes in temperatures, turning the coral white and putting it at risk of dying.
The first aerial survey of 2017 has found shocking levels of bleaching in the central part of the reef, the Great Barrier Reef Marine Park Authority said.
Marine Park Authority director of reef recovery Dr David Wachenfeld said: 'Mass bleaching is occurring on the Great Barrier Reef for the second consecutive year.
'How this event unfolds will depend very much on local weather conditions over the next few weeks.'
He said not all bleached coral would die, and last year revealed bleaching and mortality could be highly variable across the vast marine park, a World Heritage Site which covers an area larger than Italy.
The Great Barrier Reef is the world's largest collection of coral reefs, with 400 types of coral, 1,500 species of fish and 4,000 mollusc species, and is the habitat of wildlife such as the dugong – sea cow – and the large green turtle.
Conditions on the reef are part of a global coral bleaching event over the past two years, as a result of unusually warm ocean temperatures due to climate change and a strong El Nino weather phenomenon which pushes temperatures up further.
Dr Neal Cantin, from the Australian Institute of Marine Science (AIMS), said the recurrence of widespread coral bleaching in back-to-back summers indicated there was not enough time since 2016's extreme heat event for the corals to fully recover.
'We are seeing a decrease in the stress tolerance of these corals,' he said. 'This is the first time the Great Barrier Reef has not had a few years between bleaching events to recover.
'Many coral species appear to be more susceptible to bleaching after more than 12 months of sustained above-average ocean temperatures. 'We are now entering uncharted territory.'
John Tanzer, from WWF International, said: 'What is unfolding before our very eyes is the starkest evidence that climate change is already wreaking havoc on the ocean.
'Coral reefs are a beloved natural wonder but less appreciated is that they also directly support the jobs, livelihoods and food supplies of many millions of people. What will happen to these people as large areas of coral die?'
He called for a major lift in action to bring down carbon emissions, and scaled efforts to reduce local pressures on reefs so they have the best chance of withstanding climate change.
Brett Monroe Garner, a conservation photographer and marine biologist documenting the bleaching with Greenpeace, said: 'I've been photographing this area of the reef for several years now and what we're seeing is unprecedented.
'Just a few months ago, these corals were full of colour and life. Now, everywhere you look is white. The corals aren't getting the chance to bounce back from last year's bleaching event. If this is the new normal, we're in trouble.'
SOURCE
Greenie corruption at EPA under attack
House lawmakers introduced legislation to block the EPA from appointing science advisers who are currently taking money from the agency
The bill stipulates EPA advisers "shall have no current grants or contracts from the [EPA] and shall not apply for a grant or contract for 3 years following the end of that member's service on the Board."
"This bill would ensure that scientists advising EPA on regulatory decisions are not the same scientists receiving EPA grants," said Texas Republican Rep. Lamar Smith, chairman of the House Committee on Science, Space and Technology.
Smith also introduced a bill to prevent EPA from using "secret science" to develop major regulations. Republicans argue EPA and other agencies shouldn't be able to base regulations on non-public scientific data.
EPA and environmentalists traditionally argued such science should be kept non-public to protect confidential patient data — though it's not clear why that can't be redacted.
"Suffice it to say it will not make the EPA great again; it will gut the EPA at the expense of public health and safety," Andrew Rosenberg, with the Union of Concerned Scientists, told InsideClimate News in February when Smith scheduled a hearing on EPA "secret science."
Scientists sitting on EPA advisory panels are charged with evaluating the research used to justify regulations, but Republicans have increasingly called into question the true "independence" of advisers benefiting from federal funding.
The Energy & Environment Legal Institute sued EPA last summer to prevent its Clean Air Scientific Advisory Committee from meeting based on data showing 24 of the 26 members of a clean air advisory panel had gotten, or are the current recipients of, EPA grants.
In total, panel members received more than $190 million from EPA, according EELI attorney Steve Milloy.
Milloy also found 17 of the 20 scientific advisers sitting on EPA's ozone panel received a total of $192 million in EPA grants over the years.
Smith has long been a critic of EPA's scientific process, which he says doesn't have proper checks against bias. Smith noted in 2014 that EPA science panel advisers often reviewed regulation based on their own research without disclosing this to the public.
Smith's bill prevents EPA advisers from reviewing rules based on their own research unless they publicly disclose this and their research has already been peer-reviewed.
"As both of these bills move forward, our committee is working hard to preserve EPA's scientific integrity and to help strengthen EPA's internal review process," Smith said.
Oklahoma Republican Sen. Jim Inhofe has also called into question how EPA chooses its scientific advisers.
"I have observed EPA, under the Obama Administration, cherry-picking the same allies to serve on this advisory committee and its subcommittees at the expense of having an open and robust process for selecting external advisers," Inhofe wrote in a letter sent to the EPA in February 2016.
"The majority of CASAC members have also received considerable financial support from EPA, which calls into question their independence and therefore the integrity of the overall panel," Inhofe wrote.
SOURCE
Trump cuts EPA office of 'environmental racism'
Mustafi Ali, head of the EPA's environmental justice program, has resigned. This is fantastic news, and here's why:
Environmental justice, for the unaware, is defined by the EPA as "the fair treatment and meaningful involvement of all people regardless of race, color, national origin, or income, with respect to the development, implementation and enforcement of environmental laws, regulations and polices."
That's the bureaucratic speak. Now, for the layman's: It's the government's way of controlling the people by linking environmental degradations to civil rights — specifically, to the civil rights of minorities and the poor.
What does water quality have to do with skin color?
If you ask Ali, water has has a lot to do with skin color — in fact, it's precisely the reason he stepped down. According to Ali's resignation letter, the EPA's new leaders have not shown "any indication that they are focused or interested in helping" minority communities, so he feels it would be "best if I take my talents elsewhere."
Good riddance. Here's more about how "environmental justice" works:
The way it works is this: Clean air is a human right. Wealthy people often enjoy clean air because their paychecks allow them to live in homes with decent ventilation, free of roach residue and geographically distant from carbon dioxide-releasing power plants, dirty factories, and areas of high vehicular traffic — meaning, areas of high pollution. Poor people, on the other hand, are forced by their lower incomes to jam into housing that's roach-infested, nearby trains, transportation hubs and high-pollution buildings and facilities.
So taxpayers need to cough up money for poorer people to move to wealthier neighborhoods.
So basically it's the Department of Housing and Urban Development with a fun environmental twist.
Poverty doesn't discriminate, and neither does clean water. If Trump achieves nothing else during his presidency, getting rid of this race-baiting program is a huge success.
Now to just get rid of the EPA altogether.
SOURCE
Mass. is enforcing its environmental rules less
If super-correct Mass. is losing momentum, it suggests that less environmental zeal may be coming across the board
Over the past decade, the state Department of Environmental Protection's enforcement of air and water quality rules has fallen off sharply, as the agency's workforce shrunk by nearly a third, according to a Globe review of state records.
Enforcement actions for serious violations have dropped by more than half, statistics show, as inspections also declined. Fines collected from violators plummeted during the same period by nearly 75 percent.
"We've been working very, very hard to keep a healthy level of inspections," Martin Suuberg, the agency's commissioner, said in a telephone interview. "But our numbers reflect that we've lost people."
Reduced oversight at the DEP — historically one of the nation's best funded and most progressive environmental agencies — comes as the Trump administration is considering major cuts to the federal EPA budget while transferring some responsibilities to the states. Governor Charlie Baker introduced legislation Wednesday to give the state oversight of pollution in Massachusetts' waterways, now a federal responsibility.
"This should be a wake-up call for Congress and the Trump administration," said Ken Kimmell, who served as DEP commissioner during Governor Deval Patrick's administration. "Cutting EPA's budget will mean less environmental cops on the beat, and states are in no position to pick up the slack."
During his tenure, staff reductions hindered a number of programs, Kimmell said. For example, the agency had to cut back on the labor-intensive work of testing rivers for the illegal dumping of sewage and fecal matter, he said.
"We just didn't have the staffing to deal with it," said Kimmell, now president of the Union of Concerned Scientists in Cambridge.
Matthew Beaton, the state's energy and environmental affairs secretary, declined to answer questions. His office noted that the administration's latest budget proposal calls for a 4 percent increase for the DEP, which would boost its budget to $53.7 million. Some of that money is earmarked to hire 15 new compliance officers.
The agency's budget peaked in 2009 at $62.3 million.
In a statement, Beaton said, "The Baker-Polito administration was pleased to propose increased funding for MassDEP . . . to ensure that safe drinking water, clean air, and land protection remain top priorities."
But over the past decade, the reductions have been stark.
* Between 2006 and 2016, the number of agency employees devoted to enforcement, compliance, and environmental monitoring — everywhere from landfills to gas stations — has fallen by nearly 25 percent. At the same time, the number of annual inspections has fluctuated but generally declined.
* Inspections have fallen more steeply since Baker took office in 2015. Since then, the agency has conducted about 5,800 annual inspections, more than 1,000 fewer than the median of the past decade.
* In the same time, enforcement actions have also declined more significantly than in previous years. Since 2015, the agency engaged in 2,500 enforcement actions — also about 1,000 fewer than the median over the past decade.
'The cause of the falloff is the depletion of staff.'
Quote Icon
* Fines from cases referred to the state attorney general's office fell by more than half.
* Last year, the agency issued just $1.8 million in penalties, the lowest total of the past decade.
Suuberg said the administration wasn't purposely reducing its enforcement of environmental regulations, although Baker issued a controversial executive order in 2015 that required state agencies to ensure their regulations don't exceed federal mandates, as many environmental directives do.
Suuberg said the order hasn't changed the agency's work. But environmental advocates have raised concerns, contending it could lead to the dismantling of the state's strict regulations on water and air quality.
George Bachrach, president of the Environmental League of Massachusetts, said he didn't think the reduced oversight is intentional, but was the inevitable result of chronic budget cuts.
"The cause of the falloff is the depletion of staff," he said.
He said the agency's job has become more challenging since 2008, when the state Legislature passed the Global Warming Solutions and Green Communities acts, which required new efforts to cut carbon emissions, increase energy efficiency, and promote renewable energy.
"DEP staff bravely soldiers on, saying they can do the same with less; but the truth is they can only do less with less," Bachrach said. "As a result, we are not cleaning contaminated sites that could make way for new development and jobs. We're not as aggressively monitoring pollution and protecting our rivers and open spaces."
The reduced staff of compliance officers first emerged as a concern in the late 2000s, when DEP Commissioner Laurie Burt presided over the first round of significant layoffs.
Burt said she began to realize she didn't have the staff or money to perform tasks such as monitoring storm-water runoff from agricultural areas, which can cause toxic algae blooms in surrounding rivers and lakes, and using helicopters to observe the encroachment of development on wetlands.
"It was very difficult not to have those resources," she said.
By the time David Cash took over as commissioner in 2014, the agency had lost more than 400 employees from its peak of 1,173 employees in 2000. Today, there are about 655 employees.
Those cuts, he said, made it harder to conduct a range of inspections, particularly for a new, high-profile program to remove food scraps from the trash, an effort designed to lower municipal waste costs and reduce greenhouse gas emissions.
"At the time, we already had inadequate staffing to adequately carry out inspections in our waste program, so inspections to assure compliance of the new organics program were not as robust as they should have been," Cash said.
The agency's challenges come as the Baker administration looks to expand its responsibilities.
The legislation Baker introduced Wednesday would allow the state to take over the so-called National Pollutant Discharge Elimination System.
The administration has already proposed adding $1.4 million to the agency's budget to pay for a dozen employees to oversee the program, significantly fewer than environmental officials in the Patrick administration had estimated it would take.
Suuberg said the added responsibilities wouldn't further compromise the agency's oversight capacity.
"We'll continue to focus our resources on high priority public health and environmental issues," he said.
SOURCE
***************************************
For more postings from me, see DISSECTING LEFTISM, TONGUE-TIED, EDUCATION WATCH INTERNATIONAL, POLITICAL CORRECTNESS WATCH, FOOD & HEALTH SKEPTIC and AUSTRALIAN POLITICS. Home Pages are here or here or here. Email me (John Ray) here.

Preserving the graphics: Most graphics on this site are hotlinked from elsewhere. But hotlinked graphics sometimes have only a short life -- as little as a week in some cases. After that they no longer come up. From January 2011 on, therefore, I have posted a monthly copy of everything on this blog to a separate site where I can host text and graphics together -- which should make the graphics available even if they are no longer coming up on this site. See here or here
*****************************************
10 March, 2017
Pick your statistic: Was recent Australian weather unusually hot?
The authors below have picked statistics that appear to show that recent times in Australia were unusually hot. As with most Green/Left claims, the key is to look at what they did NOT say. And it stands out like dog's balls what they have done. They have discussed summer only. What about other recent seasons? Were they unusually hot too? They probably were in parts but it's the average that matters and the BoM tells us that 2016 was only the 4th hottest year for Australia. So overall, there is nothing to get heated about. It's just the usual dishonest propaganda below
?Scientists have confirmed what anyone who lived through the past summer knows to be true - climate change is driving hotter and longer summers that are becoming "the new normal", according to scientists, with worse to come unless tough decisions are made.
The summer of 2016/17 produced not only Sydney's hottest summer on record, Canberra's hottest summer for daytime temperatures and Brisbane's hottest summer in terms of mean temperature, but Queensland's second hottest summer on record and the hottest summer temperatures on record for almost 45 per cent of NSW.
Scientists have called it "the angry summer" as more than 205 records were broken in just 90 days, according to a new report from the Climate Council.
"We are into the latter half of the critical decade, and temperatures are continuing to increase and extreme weather events are worsening. Climate change is increasing the frequency, duration and intensity of heatwaves and warm spells. Hot days and heatwaves, like those experienced in the 2016/17 angry summer, are becoming the new normal, and even more extreme heat is on the way in future unless rapid and deep reductions in greenhouse gas emissions are achieved around the world," the report warned.
The reports authors, which include Professor Will Steffen, the inaugural director of the Australian National University's Climate Change Institute, warned that Australia will continue to warm up throughout the 21st century and experience increasingly severe impacts.
SOURCE
The latest emission from David Suzuki
In good Warmist style, David Suzuki's latest relies heavily on "ad hominem" abuse rather than any discussion of science. Suzuki is however still popular in Canada so his fellow Canadian, Patrick Moore, has written a reply. It follows Suzuki's rant below
Apparently, fossil-fuel companies protect watersheds and rivers by removing oil. That's according to comments on the David Suzuki Foundation Facebook page and elsewhere, including this: "The amount of contamination occuring [sic] from extraction is far less than if we just left the oil there to continue polluting the waterways."
The "logic" of climate-change deniers and antienvironmentalists is often baffling. Although the person who posted that comment doesn't appear to claim professional background or knowledge, Canadian antienvironmentalist Patrick Moore— who capitalizes on his science degree and long-ago association with Greenpeace to shill for polluting industries—told the Vancouver Sun in 2011 that oil companies are "leaving the soil cleaner than they found it because they're removing the oil from it."
Those who coat their "alternative facts" with a veneer of "expertise" often employ twisted logic. Take a petition letter urging U.S. President Donald Trump to withdraw from the UN Framework Convention on Climate Change.
Letter author Richard Lindzen, a climate skeptic whose work has often been debunked, claims "more than 300 eminent scientists and other qualified individuals from around the world" signed the petition. What kind of "eminent scientists" would sign something claiming carbon dioxide "is not a pollutant but a major benefit to agriculture and other life on Earth" and that "warming from increased atmospheric CO2 will be benign"?
The idea that CO2 is little more than plant food is common in denier circles, floated recently by the U.S. Heartland Institute, its affiliated industry promoters like Canadians Patrick Moore and Tom Harris, and others. In a 2014 book, two signatories to the Trump letter, retired Environment Canada scientist Madhav Khandekar and retired Australian geology professor Cliff Ollier, along with database marketing consultant Arthur Middleton Hughes, wrote that the world should burn more coal "to produce electricity and increase CO2 in the atmosphere." They also argue for more use of the pesticide DDT.
We've addressed the debunked CO2 argument before. It ignores pollution from burning coal and other fossil fuels, and the complexity and interconnectedness of natural systems. Many plants do need CO2, but it doesn't follow that more CO2 is better, or that CO2 is the only factor in plant growth. Studies show rising temperatures often hinder plant growth and nutritional value. And droughts, floods, and other increasingly extreme and unpredictable weather events brought on by climate change are not beneficial to agriculture or plant growth. We also need oxygen to live, but too much can be toxic.
So, who are the "300 eminent scientists and other qualified individuals" who put their names to such unscientific nonsense? Like Khandekar, many are affiliated with the industry-funded Heartland Institute, which has promoted tobacco and compared climate scientists to the Unabomber and Charles Manson.
A Desmog Blog investigation described the 300 as "medical doctors, mystery men, coal executives, petroleum engineers, economists, and think tank members. Only a small handful could be considered even remotely 'qualified' or 'eminent'—but not in the field of climate science." Many show no academic affiliation or address. Canadians are represented by the likes of Khandekar and Moore.
Moore once even claimed glaciers are "dead zones" that we'd be better off without! There's that twisted logic. It's true that plants don't grow on glaciers, but microorganisms and other life do. Saying "Ice and frost are the enemies of life" is absurd—especially for those of us who require water to live!
Another signatory, William Happer, is a retired physics professor being eyed as Trump's science adviser. Greenpeace once caught him in a sting in which he agreed to write an article touting the benefits of coal and to fake its peer-review status.
People posting nonsensical comments on Facebook might simply be uninformed or misinformed. But it's hard not to conclude that many of the so-called experts are being deliberately deceptive. Any scientifically literate person who has examined the massive amounts of evidence for human-caused global warming and its consequences, collected over many decades from around the world, wouldn't fall for such easily debunked claims.
In this "post-truth" era, with a climate-change-denying U.S. administration, those who want to keep humanity wedded to outdated, polluting technologies have been emboldened. It's up to the rest of us to cut through the misinformation and help humanity get on track to a cleaner, healthier future.
SOURCE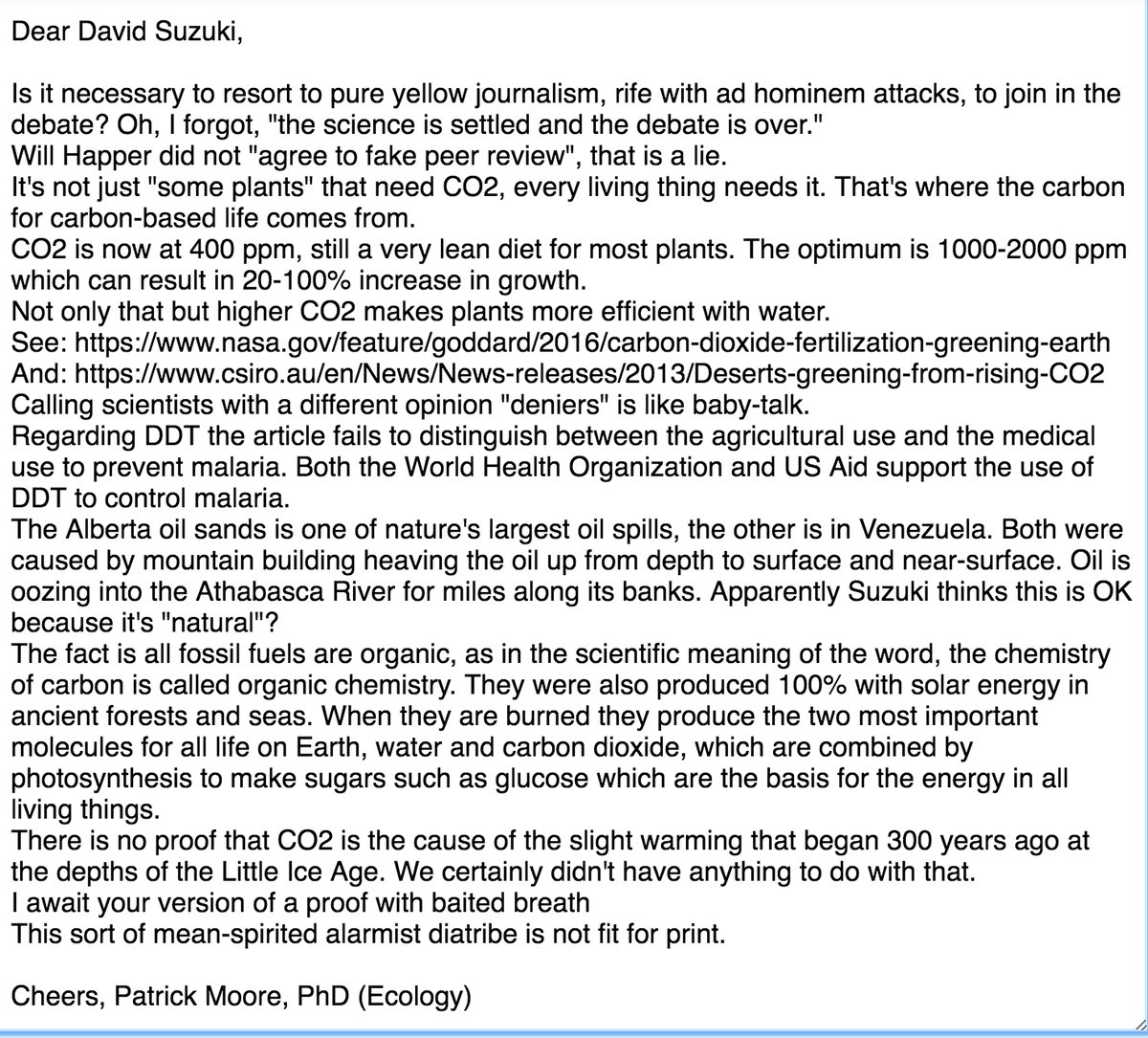 Judge refuses to block Dakota Access pipeline with project days from completion
The Standing Rock Sioux on Tuesday lost another legal challenge to the Dakota Access pipeline, leaving the tribe with few remaining avenues as the project moves within days of being ready to deliver oil.
U.S. District Court Judge James A. Boasberg turned down a request for a preliminary injunction filed by the tribe and the Cheyenne River Sioux, ruling that their claim based on the Religious Freedom Restoration Act was unlikely to succeed.
A status report filed by Energy Transfer Partners with the court said the final ream pass at Lake Oahe is expected to be finished this week, meaning oil can begin flowing as early as March 13.
Standing Rock Chairman Dave Archambault II called the ruling "disappointing, but not surprising," adding that he was confident that the tribe would prevail in its ongoing lawsuit.
"Trump and his friends at Big Oil have not won. Today's ruling does not hurt the strength of our legal arguments challenging the illegal easement approved by the Trump administration," Mr. Archambault said in a statement.
The tribes had argued that running the pipeline below Lake Oahe would desecrate the water used in religious ceremonies, which must be "ritually pure," even though the pipe runs underground and does not come in contact with the water.
In his 38-page opinion, Judge Boasberg said the tribe's argument "does not persuasively support the proposition that this purpose requires the federal government to refrain from permitting infrastructure projects on its own land when doing otherwise would render water reserved for the reservation's use spiritually impure."
He pointed out that several other infrastructure projects already cross the lake, including a 1982 natural-gas pipeline that runs underneath, an overhead electric utility line, three vehicle bridges and a railroad bridge, and a wastewater-treatment plant that discharges into a tributary that then flows through the Standing Rock reservation into Lake Oahe.
The tribes also argued that the Dakota Access oil pipeline would fulfill the "black snake prophecy," even though Lake Oahe itself is man-made, built 60 years ago.
"Presumably, the prophecy was issued after Lake Oahe was created; otherwise, the presence of pipelines upstream of the lake, including one that crosses 7.5 miles to its north, would be hard to reconcile with the Tribe's belief that DAPL alone is the Black Snake," the opinion said.
Judge Boasberg pointed out that the proposed route was disclosed by the U.S. Army Corps in Engineers as part of its review in October 2014, but it was not until last month that the tribes made a claim based on religion.
"For more than two years after becoming aware of DAPL's proposed route, construction, and operation, then, Cheyenne River remained silent as to the Black Snake prophecy and its concerns about the presence of oil in the pipeline under Lake Oahe absent any issue of rupture, as well as about the possible applicability of RFRA," the judge said.
The Standing Rock Sioux has fought the 1,172-mile, four-state pipeline, although its previous arguments were based mainly on the project's risk to water quality. Energy Transfer Partners has insisted that the state-of-the-art pipeline is safe.
After issuing in July an easement for the final 1,100-foot stretch under Lake Oahe, the Obama administration delayed and then revoked the permit. The corps then reissued the easement in January after President Trump signed a memorandum to expedite the project.
The tribe has called for a full Environmental Impact Statement and "careful consideration" of tribal treaties before the easement is issued.
Delaying the pipeline based on a last-minute argument would "impose significant costs on a third party," he said, namely Energy Transfer Partners, the company building the $3.8 billion pipeline, which the judge described as "days from completion."
"Indeed, Defendants previously modified the pipeline workspace and route more than a hundred times in response to cultural surveys and Tribes' concerns regarding historic and cultural resources," the opinion said. "The Corps also imposed additional construction conditions on DAPL in response to tribal positions regarding environmental safety."
Chase Iron Eyes, a leading pipeline foe, said that if there is a spill, the corps and the judge "will have oil and blood on their hands, and we will not let them forget it."
SOURCE
Warmists think they can alter what people eat
You would need a new Soviet system to achieve that. "So, what's the problem", I can imagine them replying
You are what you eat, as the saying goes, and while good dietary choices boost your own health, they also could improve the health care system and even benefit the planet. Healthier people mean not only less disease but also reduced greenhouse gas emissions from health care.
As it turns out, some relatively small diet tweaks could add up to significant inroads in addressing climate change.
That's the finding of a new study led by UC Santa Barbara researchers, who analyzed the potential effects of healthier model diets for the United States. The results appear in the journal Climatic Change.
"To my knowledge, this is the first time anyone has done this," said study director David Cleveland, a research professor in UCSB's environmental studies program and geography department. "People have looked at what effect diets have both on climate and on health, but they've never examined the potential to mitigate climate change through the food system and the health care system together."
The food system contributes about 30 percent of total U.S. greenhouse gas emissions, with the largest proportion coming from animal-based food. In addition, the poor quality of the standard U.S. diet -- including high levels of red and processed meat and low levels of fruits and vegetables -- is a major factor in a number of preventable diseases. The U.S. spends $3 trillion on health care every year -- 18 percent of the gross domestic product -- much of it allocated to diseases associated with poor diets.
Cleveland and colleagues first used data from published meta-analyses that examined the effect of foods on diseases. Then, using life-cycle assessment data for the foods that changed in the healthier model diets, they analyzed the effects of the diets on greenhouse gas emissions for the food system. For the health care system, the researchers estimated the change in risk of diabetes, colorectal cancer and coronary heart disease due to the healthier diets and the subsequent effect on both health care costs and greenhouse gas emissions.
To create healthier model diets, the researchers altered the standard 2,000-calorie-a-day U.S. diet, changing the sources of about half of those calories. The different model diets progressively reduced the amount of red and processed meats, with the most stringent diet eliminating them completely. Fruit and vegetable intake was doubled, and peas and beans increased to replace the meat protein removed. Refined grains were partially replaced with whole grains. Added sugar, which Cleveland noted is a known health risk, was not reduced. Neither was dairy, eggs, fish or non-red meat.
"This means our estimates are probably very conservative, both in terms of health and climate change implications," Cleveland said. "Just changing half of the diet and including only some of the diseases associated with diets, we found a huge effect.
"Food has a tremendous impact on the environment," he added. "That means that there is enormous potential for our food choices to have positive effects on our environment as well on our health and our health care costs."
That is exactly what the scientists found. The adoption of healthier model diets reduced the relative risk of coronary heart disease, colorectal cancer and Type 2 diabetes by 20 to 40 percent. Health care costs went down by $77 billion to $93 billion annually and direct greenhouse gas emissions dropped by 222 kilograms to 826 kilograms per person per year.
"In the third diet -- which contained no red or processed meats -- there was a savings of $95 billion out of the total annual cost of $230 billion for those three diseases," Cleveland explained. "That's not huge compared to the $3 trillion total in health care costs, but it's a start. Results like these can also help motivate individual and policy changes."
In terms of climate policy, the healthier diets could contribute up to 23 percent of the U.S. Climate Action Plan goal to reduce net greenhouse gas emissions 17 percent below 2005 levels by 2020, Cleveland said. Further, the diets could generate up to 134 percent of California's goal of reaching 1990 emission levels by 2020.
According to Cleveland, the findings add weight to the conclusion of several other recent studies: Diet change must be part of successful climate change mitigation policies, and climate change mitigation must be included in policies to improve the food system.
This creates an important opportunity for the University of California, Cleveland noted. "The UC Carbon Neutrality Initiative should have a major focus on climate change mitigation via the food system," he said. "And the UC Global Food Initiative should have a major focus on the relationships among food, climate and health."
SOURCE
House votes to end unauthorized rogue EPA, agency propaganda to support harmful regs
In fiscal years 2014 and 2015, the Environmental Protection Agency (EPA) tricked the American people into rallying behind a regulation, The Waters of the United States, that took away jobs and harmed businesses.
After engaging in "covert propaganda and self-aggrandizement", the non-partisan Government Accountability Office reported that the EPA violated critical anti-lobbying law — enacted in annual appropriations bills — to push regulations onto the American people; now Trump is undoing Obama's damage and Congress is bringing transparency back into government.
U.S. Rep. Tim Walberg (R-Mich.), authored and had the House pass legislation, H.R. 1004, The Regulatory Integrity Act of 2017, through the House which will require executive agencies to update the status of upcoming regulations consistently on a public format. The law puts the requirement on agency heads to "make publicly available in a searchable format in a prominent location either on the website of the Executive agency or in the rule making docket on Regulations.gov" each pending regulatory action as well as "a list of each public communication about the pending agency regulatory action."
The law requires executive agencies to maintain public access to this information for a minimum of 5 years after the regulation has been finalized, ensuring the people have access to accurate information on the regulations they will be asked to submit to.
The Waters of the United States rule proposed by the EPA serves to redefine what constitutes rivers, streams, lakes, and marshes fall under the jurisdiction of the agency as "navigable" waters under the terms of the Clean Water Act to the extent that every puddle on your property could be covered.
The rule dramatically increases EPA oversight and did so under the justification in part that the "final rule reflects consideration of the extensive public comments received on the proposed rule."
However, this "public comment" was far from what the EPA described. The New York Times revealed in May 2015, through a series of social media campaigns the EPA, without fully disclosing its identity, helped tip the scales throughout the comment period, pushing positive information about the water rule to the public and encouraged newly turned environmentalists to comment on the need for the program.
As the EPA boasted over one million comments with a nearly 90 percent positivity rating, Republican Senator James Inhofe blasted the agency's involvement, "There is clear collusion between extreme environmental groups and the Obama administration in both developing and promoting a host of new regulations."
The Government Accountability Office report explained that while the EPA could not quantify the exact cost spent on social media campaigns promoting this rule but that "staff is paid for time spent developing and posting a message but time is not tracked by platform or project."
The Committee on Oversight and Government Reform noted in their report on H.R. 1004 that the most egregious element of the EPA's actions was that "through these campaigns the EPA oversimplified an immensely complicated rule in order to solicit support for its rule, leaving the public misinformed."
The EPA tried to fool the American people into legislation that former House Speaker John Boehner at the time said, "is being shoved down the throats of hardworking people with no input, and places landowners, small businesses, farmers and manufacturers on the road to a regulatory and economic hell."
Luckily, President Trump has made rescinding this exact regulation a priority. Just this week, Trump signed executive order Restoring the Rule of Law, Federalism, and Economic Growth by Reviewing the "Waters of the United States" Rule, to review the EPA's overreach.
Trump announced, "EPA's so-called Waters of the United States Rule is one of the worst examples of federal regulation and it has truly run amok and is one of the rules most strongly opposed by farmers, ranchers and agricultural workers all across our land…The EPA's regulators were putting people out of jobs by the hundreds of thousands and regulations and permits started treating our wonderful small farmers and small businesses as if they were a major industrial polluter."
As Trump removes the "navigable" waters rule the Obama Administration wanted, Congress is working to prevent government from attempting to fool citizens like this in the future.
Now by passing the Walberg legislation, the House is preventing this blatant public misinformation. By forcing agency heads to provide information regarding pending regulations to the public in a clear and concise way, Congress is following through on what Trump has begun; removing executive overreach and bringing government back to the people who provided consent to be governed.
SOURCE
***************************************
For more postings from me, see DISSECTING LEFTISM, TONGUE-TIED, EDUCATION WATCH INTERNATIONAL, POLITICAL CORRECTNESS WATCH, FOOD & HEALTH SKEPTIC and AUSTRALIAN POLITICS. Home Pages are here or here or here. Email me (John Ray) here.

Preserving the graphics: Most graphics on this site are hotlinked from elsewhere. But hotlinked graphics sometimes have only a short life -- as little as a week in some cases. After that they no longer come up. From January 2011 on, therefore, I have posted a monthly copy of everything on this blog to a separate site where I can host text and graphics together -- which should make the graphics available even if they are no longer coming up on this site. See here or here
*****************************************
9 March, 2017
Five Reasons Why Ridicule Is The Proper Response To Global Warming Alarmists
If it seems that the climate radicals are acting desperately because they sense that their "movement" is dying, then that's probably an accurate assessment. From EPA employees threatening resistance to Donald Trump's presidency to junk-science guy Bill Nye appearing on Fox News to tell the world that humans are fully responsible for "the speed that climate change is happening," the irrational behavior is overflowing.
Of course the alarmists can't give up their shrillness. They're still bullies who try to marginalize, shame and silence those who don't agree with their narrative that man is dangerously overheating the planet through his greenhouse gas emissions.
But they're the ones who should be mocked. Here's why:
* They're wrong. The devastating heat they predicted simply hasn't happened. Climate scientists Roy Spencer, John Christy and others have showed this numerous times.
* They've hidden their true agenda. The zealots want to destroy capitalism and take over the world's economy.
Two years ago, Christiana Figueres, executive secretary of United Nation's Framework Convention on Climate Change, said "this is the first time in the history of mankind that we are setting ourselves the task of intentionally, within a defined period of time, to change the economic development model that has been reigning for at least 150 years."
A year later, Ottmar Edenhofer, who co-chaired the U.N.'s Intergovernmental Panel on Climate Change from 2008 to 2015, admitted that "we redistribute de facto the world's wealth by climate policy."
* They're hypocrites. Every year, delegates, many of them on private jets, fly to Davos, Switzerland, for the World Economic Forum, from where they hector the rest of us about our carbon footprints. The busybodies also regularly jet to the U.N.'s global warming conferences, held in such global hot spots as Paris, Cancun, Copenhagen and Milan. Wherever they go, their accommodations are always lavish, their travels well attended to, and their dining sumptuous. Of course their goal is to strip 21st-century comforts from everyone else in the name of "fighting" climate change.
The hypocrite-in-chief is of course Al Gore. While constantly haranguing the world about man's carbon emissions, he's lived the very lifestyle he condemns. From a 20-room home that requires yacht-loads of energy, to banking as much as $100 million from the oil barons who bought his old cable network, to his habit of using private jets to whisk him away to preach his sermons about the evils of fossil-fuel use, his life is a lie.
* They're authoritarians. Merely disagreeing with them is much like disagreeing with the Castros. The clearly deranged Robert F. Kennedy Jr. has said that some climate skeptics should be prosecuted as war criminals. Last March, then-Attorney General Loretta Lynch told the Senate Judiciary Committee that there had been official discussions about prosecuting "deniers."
This came at the prompting of Democratic Sen. Sheldon Whitehouse, who has suggested the government use organized-crime laws to go after the same people. Democratic Rep. Raul Grijalva has targeted, through the use of government police power, climate researchers whose work he doesn't like, while academic activist David Suzuki has encouraged Canadian politicians to find "a legal way of throwing our so-called leaders into jail because what they're doing is a criminal act."
* Leonardo DiCaprio. Here's a high school dropout who's become fabulously rich doing what kindergartners do every day — pretending to be someone else and imagining that they are doing something they aren't doing, and probably never will or would do. It's called acting and it pays some of its practitioners well.
But it doesn't give them gravitas, something DiCaprio knows he's lacking and is struggling mightily to obtain. The fact that DiCaprio fancies himself to be a climate expert and a model of environmental morality, and the fact that elitists have enthusiastically gone along with his adult playacting, are strong indictments against the alarmist community.
SOURCE
Rich environmentalists oppress poor people
Environmentalism remains enduringly popular among the world's rich elite. Activists would like us to believe they are motivated only by the purest of intentions, but is that really true? They routinely oppose development and discount the needs of ordinary people, but their campaigns are often motivated by factors that have no redeeming merits at all.
In the remote, mountainous jungles of Aceh province, on the island of Sumatra in Indonesia, lies the Mount Leuser National Park, a World Heritage Site. It is home to the Sumatran tiger, Sumatran orangutan, Sumatran elephant and Sumatran rhinoceros, all of which are listed as critically endangered. It forms part of the Leuser ecosystem, one of the largest and richest rainforests in the world, covering an estimated 2.6-million hectares from the Indian Ocean to the Malacca Strait.
Like most rainforest regions, Leuser is under threat from development. According to one source, about 21,000 hectares of the ecosystem are razed each year, mostly to make way for palm oil plantations. Other sources put the damage at about 4,000 hectares every six or so months, mostly on land zoned for non-forest uses. These numbers represent only a fraction of a percent of the ecosystem's surface area, but forest coverage in Indonesia has fallen from 65% to 50% in the 25 years since 1990.
The fight against deforestation is a long and ongoing battle, in which environmentalists protecting an important ecological sanctuary are pitched against impoverished locals who want the benefit of jobs, roads, hospitals, farms and schools.
Unsurprisingly, rich celebrities with carbon footprints the size of small countries have poked their noses into that fight. Leonardo DiCaprio, the actor and climate change hypocrite who reportedly flew a beautician from Sydney to Los Angeles to do his eyebrows for the Oscars, recently made deforestation in the Leuser ecosystem a piller of his alarmist film, entitled Before the Flood. The film was broadcast worldwide, to mostly positive reviews.
Recently, however, a new front opened in this fight. Geothermal energy, which depends on steam generated by the subterranean heat of geologically active regions, is an important potential power source for Indonesia. With an installed capacity of 1,335 megawatts at the end of 2012, it is the third-largest producer of geothermal energy in the world, and set to overtake the United States and the Phillipines. Estimates of the exploitable potential of its geothermal energy vary widely, from 9 gigawatts to 27 gigawatts. The higher of these estimates would give Indonesia the world's largest known geothermal resources.
Indonesia has long had ambitions to develop its geothermal reserves, in a bid to shore up its limited power supply and bolster it with renewable energy. However, progress has been slow, for lack of capital financing among other difficulties. Still, where geothermal energy is available, it is an unusually effective and clean resource, and Indonesia has been cited prominently as an example of the potential of geothermal energy. It is a reliable source of both base load and peak load electricity, combusts no fossil fuels, and produces no emissions other than steam. On the surface, it has a small footprint, needing no more space than a gas turbine or coal-fired power station. As effective, environmentally-friendly energy goes, geothermal is probably the best option known to man.
One would think, therefore, that green activists would welcome the possible development of a new geothermal plant in Indonesia. But a proposed development by Turkish company Hitay Holdings would require rezoning of 800 hectares of the Mount Leuser National Park. The governor of Aceh province, Zaini Abdullah, is in favour of the project. The Indonesian Environment and Forestry Ministry shot him down.
Although the site identified for the plant is very far from the low-lying deforestation hotspots, would represent only 0.1% of the Mount Leuser National Park's area, and would amount to only a small fraction of the damage that other development is allegedly doing every year, environmental groups are dead against it. The media followed suit, with emotive appeals claiming that a geothermal plant would pose a threat to endangered species and rainforests alike.
In a separate development, veteran broadcaster Sir David Attenborough, whose beautiful nature films have been accused of lulling us into a false sense of security about the state of the environment, attacked plans for a bridge to be built across the Kinabatangan river on the Malaysian side of Borneo. He argues that a bridge will harm endangered wildlife and threaten the vast patchwork of wildlife sanctuaries along the river. He has little sympathy for the locals who want the bridge to cut travel times between villages and to local hospitals.
These stories raise the question of how limited the environmental impact of a project would have to be, or conversely, how great the need of the locals has to be to earn the support of global eco-activists and environmental officials.
Environmentalists often try to appeal to our common-sense instincts to preserve our world from harm. Nobody would dispute that a healthy, productive environment is desirable, and indeed essential for continued human welfare and prosperity.
However, in their zeal to oppose environmental degradation, environmentalists routinely overstate their case. When infrastructure or other development projects are proposed, their knee-jerk reaction is to object, and never give ground. Instead of seeking to minimise harm, they insist that no environmental price is worth the benefit of development.
There are strong incentives for environmentalists to become fundamentalist extremists, who brook no human development that might disturb a supposedly pristine environment. To understand why, allow me to propose four possible motivations: environmentalism as a religion, environmentalism as a political tool, environmentalism as sensationalism, and environmentalism as an industry.
The first was eloquently expressed by the late author and screenwriter, Michael Crichton, in a speech given to the Commonwealth Club in San Francisco in 2003. It was scrubbed from his personal website after his death in 2008, but remains archived here and there on the internet. Crichton posited the idea that "environmentalism is in fact a perfect 21st century remapping of traditional Judeo-Christian beliefs and myths", which appeals to urban atheists.
"There's an initial Eden, a paradise, a state of grace and unity with nature, there's a fall from grace into a state of pollution as a result of eating from the tree of knowledge, and as a result of our actions there is a judgment day coming for us all," he said. "We are all energy sinners, doomed to die, unless we seek salvation, which is now called sustainability. Sustainability is salvation in the church of the environment. Just as organic food is its communion, that pesticide-free wafer that the right people with the right beliefs, imbibe."
Faith can be justified by any evidence, or none at all. The faithful live in certainty that they know the one and only truth, and they invariably denounce those who point to evidence that justifies scepticism as immoral or heretical. Crichton's point was not to denounce environmentalism per se. He argued that we need an environmental movement, but not one that is as dogmatic and inflexible as a religion.
Politically, environmentalism is also useful. The socialist project may have failed, but that has not stopped governments from seeking to expand their power, nor has it stopped left-wingers from finding ever more excuses to advocate for higher taxes and more regulation.
In environmentalism they have found an over-arching justification that affects almost every aspect of our lives. It rails against private profit and prosperity, seeking to redistribute the fruits of private enterprise to the general public instead.
Because the call for ever-expanding government intervention to curb private development is based on unproven – and unprovable – predictions about the future, it becomes very hard to argue against. What is more important: personal liberty, private profit and rising prosperity, or government protection from the threat of future calamity? It is not intuitively obvious that the answer is often liberty, profit or prosperity, because the calamity might not occur. It is anathema to many that the answer can ever be prosperity despite a real risk of future calamity.
For an entertaining take on the notion that environmentalists are green on the outside, and red on the inside, pick up a copy of British journalist James Delingpole's book, Watermelons.
Prophecies of environmental doom not only appeal to the obvious audience, which contrary to all the evidence believes that the world is headed to hell in a handbasket. Whenever there's a story about the threat of environmental destruction, I'm likely to click on the link, too – if only to denounce or deride the apocalyptic alarmism.
If it bleeds, it leads, is an age-old media trope. And what better headline than a prediction that a fluffy animal, or worse, all of humanity, is facing disaster?
The media consists largely of wealthy, urban elites, many of whom instinctively buy into the environmentalist religion or have socialist sympathies. But they're also driven by pure profit. Readers and viewers mean revenue, and sensationalist stories of doom are guaranteed clickbait, which can be packaged for sale to advertisers.
Finally, the profit motive is not limited to the media. The environmental industry itself is vast. I'd tell you how vast, but they charge $3,995 for that information. This is the highest price I've seen for any research report on any industry ever, which underlines just how rich the industry is.
Billions of dollars of government funding is available for environmental research and projects. "Green technology" companies can earn large subsidies to help them compete against more economically efficient incumbents. Millions of jobs rely on supporting the environmental mantra, and that includes thousands of career scientists.
When you hear someone say "planet before profits", the correct translation is "our profit before yours". The idea that environmentalists are altruists who have no motive other than to save the planet from the rest of us is poppycock. There are certainly good people in the environmental movement, but many are no less self-serving than any capitalist. Conversely, there are greedy people in private companies, but most are full of good people who sincerely want to earn their living by making the world a better place for the rest of us.
Environmentalists do not have a monopoly on the truth, or on being good. They are often wrong, especially when they prophesy doom. And they are seldom more wrong than when they deny poor people a chance at building bridges or developing renewable energy.
It's time we acknowledge that when environmentalists put planet before profits and prosperity, they might not be doing it out of a genuine fear for the environmental consequences. They can be motivated by faith, politics, sensationalism or profit, just like the rest of us, and these motives are powerful enough to trump their regard for humanity.
To repeat an old dictum of mine: distrust environmentalists just as much as you would distrust corporate spin. DM
SOURCE
Five Key Reasons to Pull Plug on Wind Subsidies
A tax reform plan drafted in part by incoming Trump administration Treasury Secretary Steven Mnuchin bodes poorly for wind industry lobbies hoping once again to extend current federal production tax credits (PTCs) which are set to expire by 2021.
Now set at 2.3 cents per kilowatt-hour, the original subsidy intent was to "level the energy market playing field" by stimulating technology development to achieve competitive costs, reduce fossil fuel "climate pollution," and advance American energy independence.
None of these goals are really any closer to realization now than when these subsidies were first enacted in 1992. Here are some key reasons:
* Remote Possibilities with Fickle Trickles:
First, consider that even gargantuan wind installations covering thousands of acres generate only small amounts of unreliable power. The most ideal wind locations are remote from large urban and industrial regions where power demands are highest. This results in large transmission infrastructure costs and power loss inefficiencies.
The quality of that power isn't any bargain either. Unlike coal and natural gas-fired plants which provide reliable power when needed — including peak demand times — wind installation output varies substantially with local daily, monthly and seasonal weather conditions independent of demands. This intermittence trend favors colder night-time periods rather than hot summer late afternoons when power is needed most.
Texas, one of the most promising wind energy states, averages only about 16.8 percent of the installed capacity,
* Shadowy Backup Juggling and Grid Balancing Acts:
Those intermittent outputs require access to a "shadow capacity" which enables utilities to balance power grids when wind conditions aren't optimum . . . which is most of the time.
Anti-fossil energy promoters aren't eager to mention that those "spinning reserves" (which must equal the total wind capacity) are fueled by the same sort of coal or natural gas turbines that those friendly breezes were touted to replace.
Second-by-second grid management to insure uninterrupted power transfer becomes increasingly complex and inefficient as more and more intermittent sources are added to the power supply mix. Fossil-fueled turbines must be constantly throttled up and down to balance the grid, and wind energy overloads produced on blustery days must be dumped when regional power systems don't have room for it. This introduces big inefficiencies… much like driving a car in stop-and-go traffic.
* Short on Longevity, Long on Maintenance:
A major study of nearly 3,000 on-shore British wind farms found that the turbines have a very short 12 to 15 year operating life, not the 20 to 25 year lifespans applied in politicized government and industry projections. The report also concluded that a typical turbine generated more than twice as much electricity during its first year than upon reaching 15 years of use. Performance deterioration for off-shore installations is even far worse.
The author, an Edinburgh University economist and former World Bank energy advisor, estimated that routine wear and tear will more than double the cost of electricity produced by Britain's wind farms in the next decade in order for the government to meet present renewable energy targets.
* Environmental and Neighbor Opposition:
Along with high lifecycle investment and operations costs, let's also add environmental costs to the mix. As with all other energy sources, many self-proclaimed environmentalists aren't all keen on wind turbines either. A Sierra Club official described them as giant "Cuisinarts in the sky" for bird and bat slaughters. Nearby landowners are fighting them in the courts for un-neighborly human offenses.
"Not in My Backyard" (NIMBY) opposition typically arises from an aesthetic perspective where turbines and associated transmission lines dominate scenic vistas. Other local wind critics have legitimate health concerns about land-based installations. Common symptoms include headaches, nausea, sleeplessness, and ringing in ears resulting from prolonged exposure to inaudibly low "infrasound" frequencies that even penetrate walls.
* Competitive Free Market Fictions:
The existence of the entire wind power industry depends upon federal subsidies. As Warren Buffett, a big wind power investor has admitted, "[O]n wind energy, we get a tax credit if we build a lot of wind farms. That's the only reason to build them. They don't make sense without the tax credit."
Production tax credits were first enacted to provide a "temporary boost" for fledgling wind and solar industries two and one-half decades ago. That federal charity cost taxpayers $12 billion in 2014, amounting to around $23 per megawatt of power produced . . . about half the wholesale price of electricity.
This was about 50 times more subsidy support than received by coal and natural gas combined, yet wind and solar together produced less than five percent of total U.S. electricity. Wind farm hand-outs are even more generous when state and local tax credits are factored in.
No, wind is certainly not a "free," reliable or economically competitive energy source. Nor is it a sustainable charity we can continue to afford blow money into.
SOURCE
Michael Mann's Climate Stimulus
A case study in one job 'saved.'
As for stimulus jobs—whether "saved" or "created"—we thought readers might be interested to know whose employment they are sustaining. More than $2.4 million is stimulating the career of none other than Penn State climate scientist Michael Mann.
Mr. Mann is the creator of the famous hockey stick graph, which purported to show some 900 years of minor temperature fluctuations, followed by a spike in temperatures over the past century. His work, which became a short-term sensation when seized upon by Al Gore, was later discredited. Mr. Mann made the climate spotlight again last year as a central player in the emails from the University of East Anglia's Climatic Research Unit, which showed climatologists massaging data, squelching opposing views, and hiding their work from the public.
Mr. Mann came by his grants via the National Science Foundation, which received $3 billion in stimulus money. Last June, the foundation approved a $541,184 grant to fund work "Toward Improved Projections of the Climate Response to Anthropogenic Forcing," which will contribute "to the understanding of abrupt climate change." Principal investigator? Michael Mann.
He received another grant worth nearly $1.9 million to investigate the role of "environmental temperature on the transmission of vector-borne diseases." Mr. Mann is listed as a "co-principal investigator" on that project. Both grants say they were "funded under the American Recovery and Reinvestment Act of 2009."
The NSF made these awards prior to last year's climate email scandal, but a member of its Office of Legislative and Public Affairs told us she was "unaware of any discussion regarding suspending or changing the awards made to Michael Mann." So your tax dollars will continue to fund a climate scientist whose main contribution to the field has been to discredit climate science.
SOURCE
China's Electric Cars Sales Plunge After Subsidy Cuts
Electric vehicle sales in China plunged 75% in January after the government cut subsidies by more than a fifth starting this year, raising the question of whether the country can sustain demand for green cars without generous grants.
China is considering dialing back or delaying proposed measures aimed at pushing automakers to produce more electric vehicles, after industry feedback that the targets are overly ambitious.
Under draft rules released in September for public consultation, automakers will be required to obtain a new-energy vehicle credit score of 8 percent next year, derived from different weightings assigned to various types of zero- and low-emission vehicles. Companies that fail to meet the requirement face fines or have to buy credits from those that exceeded the minimum.
Average production of new-energy vehicles last year may have contributed only about 3 percent of the score required, 5 percentage points short of the proposed 2018 target, according to the China Association of Automobile Manufacturers. German Economy Minister Sigmar Gabriel told German media in November that he expressed the view to his Chinese counterpart that the 2018 targets were not attainable.
Miao Wei, China's minister of industry and information technology, told Bloomberg News in an interview in Beijing on Sunday that his ministry is considering either lowering the credit requirement in percentage terms or delaying the implementation date.
"We are still working on the regulation," Miao said on the sidelines of the opening of the annual session of the National People's Congress. "It may be finalized around May or June."
SOURCE
***************************************
For more postings from me, see DISSECTING LEFTISM, TONGUE-TIED, EDUCATION WATCH INTERNATIONAL, POLITICAL CORRECTNESS WATCH, FOOD & HEALTH SKEPTIC and AUSTRALIAN POLITICS. Home Pages are here or here or here. Email me (John Ray) here.

Preserving the graphics: Most graphics on this site are hotlinked from elsewhere. But hotlinked graphics sometimes have only a short life -- as little as a week in some cases. After that they no longer come up. From January 2011 on, therefore, I have posted a monthly copy of everything on this blog to a separate site where I can host text and graphics together -- which should make the graphics available even if they are no longer coming up on this site. See here or here
*****************************************
8 March, 2017
UNEP trots out an old, old fallacy
"The United Nations Environment Programme": Who needs it? We have allegedly been running out of vital resources ever since Malthus. It hasn't happened. Resources have proliferated instead. But the robot who wrote the words below has not noticed
Behavioural insights needed to tackle global challenges
The 2030 Agenda for Sustainable Development, which includes the Sustainable Development Goals, gives us less than 15 years to fulfil ambitious goals, including achieving changes in how we consume and produce.
Energy demand is set to grow by at least one-third by 2040, requiring stringent adoption of energy efficiency measures and less carbon-intensive sources to keep global temperature rise to under the Paris Agreement targets of 1.5C to 2C.
By 2025, 3 billion people could face water scarcity; and by 2050, if consumption and production habits don't change, annual natural resource extraction would need to triple, exceeding the Earth's capacity to satisfy demand.
The relatively subtle levers behavioural science provides can maximize outcomes for the money spent on interventions and have potential for scale.
"Agenda 2030 can only be accomplished if we understand the habits and behaviours that prevent our societies from fully achieving sustainable development," said Dr Foster.
Currently, though, the Kenyan example is a relative rarity. Developed countries largely dominate the application of behavioural sciences in policymaking.
Applying behavioural insights to sustainability efforts in developing countries is crucial. Three billion middle class consumers will join the global economy by 2040. This consumer class will largely be youthful, urban and predominantly located in developing countries.
SOURCE
No bee-mageddon after all?
A key set of genes involved in honey bee responses to multiple diseases caused by viruses and parasites has been identified by researchers.
The findings are important given that honey bee populations have experienced severe losses across the Northern Hemisphere, mainly due to parasites and pathogens.
The identification of this set of genes could help researchers and beekeepers breed bees that are more resilient to stress, and could also help researchers learn how to use pathogens effectively to control insects pests.
The researchers said that recent advances in DNA sequencing have prompted many investigations of the genes involved in honey bee responses to pathogens.
But until now, the large amount of data has been too cumbersome and specific to individual bees to reveal general patterns in honey bee immunity.
Professor Christina Grozinger, a professor of entomology at Pennsylvania State University and a co-author of the study, said that data from previous genetic studies of honey bee responses to pathogens has been difficult to compare across studies.
'Our team created a new bioinformatics tool that has enabled us to integrate information from 19 different genomic data sets to identify the key genes involved in honey bees' response to diseases,' she said.
The team of 28 researchers representing eight different countries developed a new statistical technique called 'directed rank-product analysis' which allowed them to identify the genes that were expressed similarly across 19 data sets, as opposed to just the genes that were expressed more than others within a data set.
The researchers found that these similarly expressed genes included those that code for proteins involved in the response to tissue damage by pathogens.
They also found some of these genes code for enzymes involved in the metabolism of carbohydrates from food.
This is an important finding because the researchers suggest that a decrease in carbohydrate metabolism may indicate the impact of the infection on the insect.
'Honey bees were thought to respond to different disease organisms in entirely different ways, but we have learned that they mostly rely on a core set of genes that they turn on or off in response to any major pathogenic challenge,' said Professor Robert Paxton, a professor of zoology at the German Centre for Integrative Biodiversity Research and a co-author of the study.
'We can now explore the physiological mechanisms by which pathogens overcome their honey-bee hosts, and how honey bees can fight back against those pathogens,' he said.
The researchers said that the findings also have implications for species other than honey bees.
This means that the genes provide important knowledge for understanding how other insects, such as bumble bees, respond to pathogens.
It could also help researchers learn how to use pathogens effectively to control insects pests such as aphids and certain types of moths.
'This analysis provides unprecedented insight into the mechanisms that underpin the interactions between insects and their pathogens,' said Dr Vincent Doublet, a researcher at the University of Exeter and the co-lead author of the study.
'With this analysis, we generated a list of genes that will likely be an important source for future functional studies, for breeding more resilient honey-bee stocks and for controlling emerging bee diseases,' he said.
SOURCE
Clean-Energy Loan Guarantees: The Dirty Truth
Federal loan guarantees for clean energy technology may have helped companies with political connections, but they've failed to provide a satisfactory return—in either financial or environmental benefits—for the American taxpayer. This finding comes from Independent Institute Research Fellow Ryan M. Yonk, who made his case against the Department of Energy's Title XVII federal loan guarantees last month before a congressional committee.
"Government support may make it easier for those who receive support, but it also makes it more difficult for new ideas to gain private funding and grow," Yonk told the Joint Energy Subcommittee and Oversight Subcommittee. "The net result of loan guarantee programs is likely a loss in meaningful innovation."
The public may have the impression that the Department of Energy offers its loan guarantees to innovative start-ups working on the cutting edge. Such an impression is inaccurate. But even if it were, federal loan guarantees would be a poor method for encouraging genuine innovation. "The primary takeaway from my analysis," Yonk continues, "is that government's attempts to promote innovation have likely done exactly the opposite. In place of these programs, government would do better to simply step out of the way of entrepreneurs and individuals."
SOURCE
Time to Say 'Au Revoir' to Paris Climate Deal
Staying in the Paris climate agreement would allow future administrations to ship billions of taxpayer dollars overseas to subsidize green energy technologies, without input from Congress.
President Donald Trump will soon issue an executive order calling on the Environmental Protection Agency to rescind the Clean Power Plan, a key component of the Obama administration's Paris climate agreement.
Reports have also surfaced that top officials in the Trump administration are divided on whether to pull out of the Paris protocol.
Trump should keep his campaign promise and withdraw, not just from Paris, but from the entire United Nations Framework Convention on Climate Change.
The domestic regulations President Barack Obama submitted as the United States' national determined contributions to the Paris Agreement aim to reduce domestic greenhouse gas emissions by 26 percent to 28 percent below 2005 levels by the year 2025.
Global warming regulations for new and existing power plants will drive electricity bills higher for families and businesses. Fuel efficiency mandates for cars, trucks, and heavy-duty vehicles increase the up-front cost of vehicles by thousands of dollars. Methane regulations on oil and gas would introduce burdensome, complex processes that would likely slow the industry's current efforts to reduce emissions, which have been falling for decades.
Cumulatively, these regulations will restrict economic growth and kill jobs.
A common argument for the U.S. to remain in the Paris protocol is that the U.S. must show leadership on climate change. But committing to Paris is merely leading on what not to do.
The high price tag of Paris will generate meaningless climate benefits. The Massachusetts Institute of Technology's Joint Program on the Science and Policy of Global Change projects that the Paris Agreement will avert a mere 0.2 degrees Celsius warming by the year 2100.
Additionally, it's a fool's errand to bank on emissions cuts from rapidly developing countries who want to increase their standards of living and that have more pressing environmental concerns to address than cutting greenhouse gas emissions.
The best way for the U.S. to lead is to promote policies that increase economic freedom, which will in turn increase health and wealth and provide citizens around the world with more resources to adapt to a changing climate.
One of the alleged concerns Trump officials have is that withdrawing from the U.N. framework convention could have "broad and damaging diplomatic ramifications." But withdrawing would not preclude the U.S. government from studying climate science, understanding any potential risks associated with climate change, and working with nations through informal arrangements to undertake appropriate steps, if necessary.
Instead, withdrawing would simply recognize that the Paris climate agreement is a costly, unworkable, and ineffective approach.
Withdrawing will also prevent future administrations from using the existing U.N. framework to avoid getting the Senate's advice and consent in the treaty process, which is what Obama did with Paris. If the U.S. remains in, future administrations could ship billions of taxpayer dollars overseas to subsidize green energy technologies, without input from Congress.
If the Trump administration withdraws from the U.N. framework, it would also withdraw the U.S. from any protocol to which it is a party (including Paris), and it would go into force one year after the depositary receives the notification of withdrawal.
Some reports suggested withdrawing from the entire framework could be tricky legally and may require Senate ratification, since the Senate ratified the U.N. framework.
But precedent exists for presidents withdrawing from treaties without Senate approval. As Climate Central reports:
[I]n 1992, President George W. Bush withdrew the U.S. from an anti-ballistic missile treaty that the Senate had ratified in 1972 without seeking the Senate's approval. After President [Jimmy] Carter withdrew from a defense treaty with Taiwan, the Supreme Court refused to hear a challenge filed by members of Congress.
The clearest and most aggressive pathway out of Paris is to withdraw from the U.N. framework.
On the campaign trail, candidate Trump vowed to "cancel" the Paris climate change agreement that commits America to reducing greenhouse gas emissions, and as president-elect, he said he was keeping an "open mind" about it.
Now as president, he's largely left us with radio silence and speculation. It's time to end that speculation.
SOURCE
Historical Grape Harvest Dates Show Modern Temperatures No Warmer Now Than Most Of The Last 1,000 Years
In a late February (2017) interview on a U.S. news program, mechanical engineer Bill Nye claimed that the settled science says humans have been warming the planet at a rate that is unnaturally and "catastrophically" fast since the year 1750 .
"It's a settled question. The speed that climate change is happening is caused by humans. Instead of climate change happening on timescales of millions of years or 15,000 years, it's happening on the timescale of decades, and now years. … Humans are causing it [climate change] to happen catastrophically fast. [Without human activity], the climate would be like it was in 1750."
When pressed to identify the signature change affirming this rapid human-caused acceleration, Nye immediately cited viticulture evidence, or grape-growing practices in England and France.
"Britain would not be very well suited to growing grapes as it is today [if not for human activity]. French winemakers would not be buying land to the north, as they are now [if not for human activity]."
Apparently Bill Nye believes it is quite unusual to grow grapes in England. Or maybe he believes that this has never happened before given his perceptions of the unprecedentedly fast pace of climate change since 1750. Perhaps he doesn't realize that grape vineyards have been growing in England for thousands of years, or that grape harvesting occurred 100s of kilometers further north than it does today as recently as during the latter stages of the Medieval Warm Period (~1100 to 1300 A.D).
Considering how very sensitive grapes are to climate conditions, and that grapes can only be harvested successfully after ripening in climates that average a specified number of warm days per year, the use of grape harvest dating as a proxy for temperature has long been thought to be both promising and reliable.
Unfortunately for Bill Nye and those who believe modern warmth is exceptional, or that the climate has changed at a catastrophically fast pace since 1750, scientists who use grape harvest dates to reconstruct historical temperatures have not found that modern warmth is either unusual or unprecedented. In fact, grape harvest date evidence suggests the opposite conclusion reached by Bill Nye is more accurate: there is nothing unusual about the modern climate and its "well-suitedness" to grape harvesting. In fact, there were several periods of greater warmth than today (and thus better suitability for grape harvesting) during the multi-centennial (~1400-1900 A.D.) Little Ice Age — which had the coldest temperatures of the last 10,000 years.
In other words, there is nothing unusual, unprecedented, or remarkable — let alone "catastrophically fast" — about either the pace or degree of warmth in the modern climate.
More
HERE
For more postings from me, see DISSECTING LEFTISM, TONGUE-TIED, EDUCATION WATCH INTERNATIONAL, POLITICAL CORRECTNESS WATCH, FOOD & HEALTH SKEPTIC and AUSTRALIAN POLITICS. Home Pages are here or here or here. Email me (John Ray) here.

Preserving the graphics: Most graphics on this site are hotlinked from elsewhere. But hotlinked graphics sometimes have only a short life -- as little as a week in some cases. After that they no longer come up. From January 2011 on, therefore, I have posted a monthly copy of everything on this blog to a separate site where I can host text and graphics together -- which should make the graphics available even if they are no longer coming up on this site. See here or here
*****************************************
7 March, 2017
Trump to Undo Vehicle Rules That Target Global Warming
From the NYT
The Trump administration is expected to begin rolling back stringent federal regulations on vehicle pollution that contributes to global warming, according to people familiar with the matter, essentially marking a U-turn to efforts to force the American auto industry to produce more electric cars.
The announcement — which is expected as soon as Tuesday and will be made jointly by the Environmental Protection Agency administrator, Scott Pruitt, and the transportation secretary, Elaine L. Chao — will immediately start to undo one of former President Barack Obama's most significant environmental legacies.
During the same week, and possibly on the same day, Mr. Trump is expected to direct Mr. Pruitt to begin the more lengthy and legally complex process of dismantling the Clean Power Plan, Mr. Obama's rules to cut planet-warming pollution from coal-fired power plants.
The regulatory rollback on vehicle pollution will relax restrictions on tailpipe emissions of carbon dioxide and will not require action by Congress. It will also have a major effect on the United States auto industry.
Under the Obama administration's vehicle fuel economy standards, American automakers were locked into nearly a decade of trying to design and build ever more sophisticated fuel-efficient vehicles, including electric and hybrid models. The nation's largest auto companies told Mr. Trump last month that they found those technical requirements too burdensome.
The E.P.A. will also begin legal proceedings to revoke a waiver for California that was allowing the state to enforce the tougher tailpipe standards for its drivers.
E.P.A. officials did not respond to emails requesting comment on the move.
On Feb. 21, a coalition of the 17 largest companies that sell cars in the United States sent two letters to Mr. Pruitt, asking him to revisit the tailpipe rules. They said it may be "the single most important decision the E.P.A. has made in recent history."
They complained about the steep technical challenge posed by the stringent standard, noting that only about 3.5 percent of new vehicles are able to reach it. That even excludes some hybrid cars, plug-in electric cars and fuel cell vehicles, the automakers wrote. "Even today, no conventional vehicle today meets that target."
The automakers estimated their industry would have to spend a "staggering" $200 billion between 2012 and 2025 to comply and said the tailpipe emissions rule was far more expensive for the industry than enforcing the Clean Power Plan.
Former Obama administration officials and environmentalists denounced Mr. Trump's expected announcement.
"The rest of the world is moving forward with electric cars. If the Trump administration goes backward, the U.S. won't be able to compete globally," said Margo T. Oge, a former senior E.P.A. official and the author of "Driving the Future: Combating Climate Change With Cleaner, Smarter Cars."
"This means they'll just keep polluting," said S. William Becker, the executive director of the National Association of Clean Air Agencies. He also predicted that "if this administration goes after the California waiver, there will be an all-out brawl between Trump and California and the other states that will defend its program."
The tailpipe pollution regulations were among Mr. Obama's major initiatives to reduce global warming and were put forth jointly by the E.P.A. and the Transportation Department. They would have forced automakers to build passenger cars that achieve an average of 54.5 miles per gallon by 2025, compared with about 36 miles per gallon today.
Eventually achieving those targets would have drastically reduced the nation's vehicle tailpipe pollution, which accounts for about a third of the United States' total greenhouse gas emissions.
Those regulations are locked into place for vehicle model years through 2021, and just before Mr. Trump took office, the E.P.A. put forth a final rule intended to cement them for vehicles built from 2022 through 2025. However, the E.P.A. did not jointly release its plan to do so with the Transportation Department, leaving a legal loophole for the Trump administration to take advantage of.
The E.P.A.'s Clean Power Plan regulations, which would cut climate-warming pollution from power plants, will probably be much harder for Mr. Pruitt to undo. He will have to legally withdraw the existing rule and propose a new rule to replace it, a process that could take up to two years and is expected to be fraught with legal challenges and delays along the way.
The effort to undo the tailpipe standards will be much more legally simple. After withdrawing the Obama administration's requirement for model years 2022 through 2025, the Trump administration will have a year to put forth an alternative set of efficiency standards, people familiar with the matter said.
SOURCE
Real climate science is very difficult and uncertain
The recent run of chilly rain and snow in the UAE seems to affirm the UN's admission in 2013 of a decline in temperature rises. But the complexities of time and maths make it hard for scientists to say whether that is permanent.
Snowball fights in the UAE, snowless slopes in the Alps. Chilly winds in Dubai, balmy weather in Minnesota.
Another winter, another outbreak of weird weather. Still, that is climate change for you.
Or is it? Ask a local taxi driver and you may end up in a debate about how plunging temperatures can be squared with global warming.
So what do the experts say? At last month's regional meeting of the World Meteorological Organisation in Abu Dhabi, the talk was of how warming Arctic air and declining sea ice is affecting the flows of air and seawater that influence the region's weather.
In particular, the polar jetstream – the band of fast-moving air that can stop polar air from reaching farther south – has been flailing around like a snake in a sack, flipping the weather around in a heartbeat.
But do not expect climate experts to seize on the recent bout of freak weather and insist it must be man-made global warming. They know it is all more complex than that.
From the strange, barely predictable temperature changes in the Pacific, known as El Nino, to random upheaval, global warming is not the only influence on the weather.
And according to some, it may no longer be the threat it once was.
The idea that global warming may be grinding to a halt has been around for a decade, and is based on data collected from thousands of weather stations around the world. When plotted against time, the temperature measurements produce a zig-zag pattern, with some years cooler and others warmer than before. The long-term direction is clear enough, however: upwards.
But around 2007, some researchers began pointing out that the trend seemed to be breaking down.
Initially, many dismissed the claim as simply part of a denialist agenda to discredit the concept of global warming. Yet, as the years rolled by and more data came in, it became harder to dismiss.
In 2013, the United Nations' Intergovernmental Panel on Climate Change (IPCC) agreed that a slowdown was under way. The data pointed to a warming rate from 1998 onwards that is barely half that of the previous half-century's.
And for reasons unknown, the slowdown had not been predicted by computer models of the climate.
Unsurprisingly, climate-change sceptics seized on the IPCC's "admission" as proof that the models could not be trusted to predict global warming.
Some scientists suspected, however, that the problem might lie elsewhere – namely, with the raw data.
In 2015, a team led by Thomas Karl, at the US National Oceanic and Atmospheric Administration (NOAA), pointed to changes in temperature measurement techniques that could have introduced subtle bias into the data.
Sure enough, once these were corrected, and new data from more sites added in, the slowdown vanished – suggesting the models were correct after all.
Although hardly a ringing endorsement of the reliability of global warming data, the NOAA's findings were welcomed by many climatologists. Hard science, it seemed, had once again defeated the deniers.
But the story did not end there. Last year, the Nature Climate Change journal published work by another team that claimed the newly-corrected data were still biased – this time by subtle atmospheric influences on the Earth's temperature.
When these were taken into account the slowdown appeared again, although less strongly and over different timescales.
Last month, the story took a more dramatic turn. A former data scientist at NOAA alleged the Karl paper had been rushed out without proper checks.
Whether the allegations are really all that serious remains unclear.
Sceptics view them as proof of the questionable nature of much climate research. Many climatologists dismiss them as nitpicking. One commentator even declared the whole controversy to be "fake news".
Although that may be pushing it too far, the continuing debate does highlight the limitations of science as a means of checking "alternative facts".
Those involved in research know that the scientific process is shockingly simple to subvert – inadvertently or otherwise.
For on the face of it, what could be simpler than telling whether something is getting hotter or not?
If your exposure to science stopped at school, you would know exactly what to do: stick a thermometer on it, measure the temperature over time and see if the resulting graph rises, falls or stays the same.
Telling if the entire Earth is getting warmer is a different ball game, however. Simply collecting readings from weather stations is not going to be enough: the data will be plentiful near towns and cities, far less so in remote areas – and virtually non-existent over much of the oceans, which cover most of the Earth's surface.
Measuring the rate of warming raises another, tougher problem: what is the relevant timescale?
A few years are not long enough: the Earth's climate is affected by a host of influences that ebb and flow from months to millennia.
Several decades of data are probably the minimum needed to reveal a genuine shift.
Certainly, claiming a hiatus in global warming on the basis of data from a handful of years is premature.
Finally, there is the problem of deciding if any detected trend is real or just a fluke.
The textbook way of deciding is to use so-called significance tests, statistical methods that show the chance of getting the observed results, assuming they are a fluke.
Yet statisticians have been warning researchers for decades that these techniques are prone to mistaking random noise for genuine effect.
They have come under renewed scrutiny recently because of their role in the so-called "replication crisis" in research, in which many highly cited advances fade away on reinvestigation.
Last year, the American Statistical Association took the unprecedented step of issuing a public warning about the dangers of using significance tests.
The argument over the strength of global warming shows how difficult climate research really is.
It also shows the naivety of thinking that on "hot button" issues such as global warming, science can debunk fake news in a flash.
SOURCE
Permian shale boom in Texas is devastating for alarmists
Where did "Hubbert's peak" go?
The Opec oil cartel is waking up to an unpleasant surprise. Shale output from the Permian Basin in Texas is expanding faster than the world thought humanly possible.
The scale threatens to neutralise output cuts agreed by Saudi Arabia and a Russian-led bloc last November, and ultimately threatens break their strategic lockhold on the global crude market for a generation.
"People just don't seem to realise how big the Permian is. It will eventually pass the Ghawar field in Saudi Arabia, and that is the biggest in the world," said Scott Sheffield, founder of Pioneer Natural Resources and acclaimed 'King of the Permian'.
"We think it could produce 8-10m barrels a day (b/d) within ten years. We're telling our investors that Pioneer could reach one million," he said. Roughly 70pc of this would be crude oil, and the rest in gas and liquids.
More
HERE
Bias at The New York Times? 'The Truth is Hard' when reporting on bees and neonicotinoid pesticides
The line between deliberately manipulating a story and poorly reporting the facts is perilously thin.
At Sunday's Oscars, the United States' 'paper of record' launched an advertising blitz positioning itself as the highbrow ethical responder to the spate of so-called 'fake news.' "The truth is hard…to find…to know," the add, widely circulated on YouTube, proclaimed, somberly.
It's a powerful message, one that the public and the media should reflect upon—including the leadership at the Times itself. Whether a journalist presents a story in good faith but wrongly can be a matter of healthy debate. But increasingly, a more troubling ethical line is being crossed: some writers choose to arrange facts, or even invent them, in ways that grey out nuances to advance a storyline arrived at before independent reporting even commences.
That leaves the editor as the public's final integrity life-line. But to fulfill their responsibility, editors need to be aware of their own biases, or they risk crossing over from being guardians of the truth to creators of biased or even fake news.
Which brings us to the New York Times' coverage of food and farming issues, most recently its coverage of what has come to be known in recent years as "beemageddon"— concerns about the health of one of nature's most important pollinators, the bee.
Are bees facing extinction as many environmental advocacy groups and some scientists claim; and are neonicotinoid pesticides the key reason behind their health problems, as many activists, and the Times, suggest?
Times' Michael Pollan on presenting only one side of complex issues
Covering food and modern farming has not been the Times strong point. Journalist and foodie MIchael Pollan's articles on the virtues of organic food and the dangers of 'industrialized agriculture' have been a Times' staple since the early 2000s. In 2013, he bragged in a video interview with a fellow activist that he long has exploited the willingness of his editors to forego traditional vetting because they share his reflexive anti-industry perspective.
"The media has really been on our side for the most part. I know this from writing for the New York Times…. [W]hen I wrote about food I never had to give equal time to the other side. I could say whatever I thought and offer my own conclusions. Say you should buy grass fed beef and organic is better, and these editors in New York didn't realize there is anyone who disagrees with that point of view. So, I felt like I got a free ride for a long time."
It's startling that a reputable journalist would boast about manipulating editors who shared a reflexively and uncritical anti-industry—and in this case, an anti-science—worldview. Pollan went on to bemoan that because of pushback from the science community, he now finds it increasingly difficult to present only his biased side of the story:
"There is something called the Food Dialogues presented in various places to talk about how food is produced and greater transparency. … So, I think they have kind of spooked the newspapers into realizing they need to give equal time on this issue and it is an issue with two sides"
NY Times frames simplistic narrative on bee health controversy
Two recent Times articles on the swirling farm controversy about bee health and food—one two years ago and another last week—raise serious questions about whether the paper's editors are still wearing ideological blinders on stories involving 'villainous' agri-businesses.
In 1994, the Times wrote an editorial about "The Bee Crisis," in which it noted an alarming 50% crash in feral bees in New York state. It blamed that primarily on pesticides. The next year, the phase out began of the most common pesticides—pyrethroids and organophosphates—used to protect crops pollinated by bees. While effective, these chemicals were known to kill beneficial insects and pose serious human health hazards.
They were replaced by what then and now were considered by most entomologists to be a far safer alternative—neonicotinoids, a class of insecticides whose introduction in the mid-1990s coincided with a stabilization of the global bee population. While sometimes sprayed for particular fruit, vegetable or landscape applications, the most overwhelmingly prevalent use of neonics is as a coating for seeds, which then grow into plants that systemically fight pests.
The bee health and pesticide issue faded from the headlines until the winter of 2006-2007, when some US beekeepers began discovering that many of their bees had mysteriously abandoned their colonies. The bees left behind the queen bee, attended by too few, immature worker bees to sustain the colony, yet with ample viable brood and stored food. This was dubbed Colony Collapse Disorder (CCD).
CCD is a periodic but still inexplicable ecological phenomenon that's been around since at least the 1800s, predating the modern, post-World War II use of synthetic pesticides, says University of Maryland entomologist Dennis van Engelsdorp, who along with agricultural department researcher Jeff Pettis coined the term a decade ago. van Engelsdorp, now head of the Bee Informed Partnership, has told me and other reporters, repeatedly, that there have been no instances of CCD over the past five years except cases linked to the Nosema fungus.
Times' Michael Wines misframes the 'neonic' crisis?
But you wouldn't know that if you depend on the Times as your paper of record. Since 2013, Michael Wines has reported on rising concerns about ongoing bee health issues–an issue he had been highlighting in increasingly alarming opinion-filled stories. His theme, hammered home in numerous reports, such as this article in 2015, fingered one culprit above all others: pesticides, particularly neonics. In what amounts to an editorial, Wines headlined the story: "Research Suggests Pesticide Is Alluring and Harmful to Bees."
His sources beyond two highly contested studies?–unidentified "other experts," whose views stood in contrast to industry scientists and the overwhelming majority of mainstream entomologists who see the issue as complex, with pesticides playing a real but relatively minor role in bee health issues.
Wines was back at it again later in 2015 after a temporary increase in over summer honey bee deaths. In this story, he incorrectly wrote that they were an extension of the long-since passed CCD phenomenon. He compounded this misreporting by playing up what has become known as the beepocalypse myth thesis, writing in Wines-like fashion that "some experts have focused on neonicotinoids" as the driving culprit.
So, who were these mysterious "experts" who appear like clockwork in his pieces that Wines claimed pointed to neonics as the Darth Vader of the bee world? Wines again never tells us.
That's particularly odd, because he appears not to have consulted the primary source for the rest of his story, Dennis vanEngelsdorp.
If he had, he would have found that the University of Maryland entomologist doesn't believe neonics are driving current bee health problems. They are way down the list of likely causes, he's said, with number one being the Varroa mites that feed on the bodily fluids of bees. Varroa mites first surfaced as a problem in the US in the 1980s and began infesting beehives in California in 1993. That crisis stabilized after the introduction of neonics later in the 1990s, then spiked with CCD, with sporadic problems since.
On average, about 10 to 15 percent of honey bees die each winter. In recent years, that percentage jumped to as high as 35 percent before dropping down to levels in the low 20s. There was a more recent rise in bee deaths during the summer, normally a period of hive replenishment, that has everyone spooked. Highly charged words like "beepocalypse" or "beemageddon" are now everywhere on the Internet. But what was causing the die-offs?
Like the fictional parents in the edgy comedy show South Park who blame Canada for all their woes, activists often coalesce around an issue and then come up with a simple and usually simplistic narrative to frame it. Strident opponents of modern agricultural technology initially blamed GMOs for bee deaths, and some still make that claim, although there is zero evidence to back it up. When that meme didn't get traction, their campaign focus switched to neonics.
But mainstream entomologists never saw it that way. Noting the complexity of the emerging controversy, the US Department of Agriculture and the Environmental Protection Agency have taken a cautious, science-based approach, producing a broad-based assessment of the evidence. The independent researchers concluded that bees are facing unique stressors but neonics, and pesticides in general, were unlikely to be the major drivers of bee deaths.
Along with Varroa, the blue ribbon panel pointed to Nosema, a common parasite that invades their intestinal tracts and the use and perhaps misuse of miticides to control them; climate change; lack of genetic diversity in the bee population; loss of habitat; and an often-unmentioned factor that many entomologists believe may be the key factor—the stress put on bees by large commercial beekeepers, particularly to service the agri-business demand for bees needed for the California almond crop in late winter before bees normally repopulate.
More
HERE
Exactly what are scientists marching 'for'?
Judith Curry
A mega March for Science has been planned for Earth Day (April 22) in Washington DC. The web site states:
"The March for Science demonstrates our passion for science and sounds a call to support and safeguard the scientific community. Recent policy changes have caused heightened worry among scientists.

The mischaracterization of science as a partisan issue, which has given policymakers permission to reject overwhelming evidence, is a critical and urgent matter. It is time for people who support scientific research and evidence-based policies to take a public stand and be counted.
Of course, their poster child for partisan 'mischaracterization of facts' is statements by members of the Trump administration regarding uncertainty surrounding the causes of climate change.
President Obama and his Call Out the Climate Deniers campaign apparently elicited no concerns about partisan mischaracterization of facts from the science establishment.
Scientists fear what 'might' happen under the Trump administration — they are working from rumors, leaks and a few public statements by individuals connected with Trump's transition teams. These are the same scientists pushing for 'evidence based' policies — go figure.
The American Geophysical Union (AGU) – which is joining the March – had a blog post describing the positions on climate change and science of important individuals in the Trump administration: Mick Mulvaney, Rick Perry, Wilbur Ross, Scott Pruitt, Ryan Zinke.
To me, Trump's team looks like it has a healthier attitude to science than did Obama's team, who sought to scientize policy debates and politicize science debates..
The scientists' big concern is 'silencing of facts'. This concern apparently derives from their desire to have their negotiated 'facts' — such as the 'consensus' on climate change — dictate public policy.
The scientists who are marching seem not very interested in science as a process based on continually evaluating evidence and reassessing conclusions through reasoning and impartial habits of mind.
The scientists are not just out to defend 'facts' — they fear funding cuts and limits to immigration. They also seem very attached to safeguarding the academic scientific community and the elite institutions that support it.
SOURCE
*******************************
For more postings from me, see DISSECTING LEFTISM, TONGUE-TIED, EDUCATION WATCH INTERNATIONAL, POLITICAL CORRECTNESS WATCH, FOOD & HEALTH SKEPTIC and AUSTRALIAN POLITICS. Home Pages are here or here or here. Email me (John Ray) here.

Preserving the graphics: Most graphics on this site are hotlinked from elsewhere. But hotlinked graphics sometimes have only a short life -- as little as a week in some cases. After that they no longer come up. From January 2011 on, therefore, I have posted a monthly copy of everything on this blog to a separate site where I can host text and graphics together -- which should make the graphics available even if they are no longer coming up on this site. See here or here
*****************************************
6 March, 2017
People are still laughing at Bill Nye, the non-science guy
Here is the best (and weirdest) example of cognitive dissonance you will ever see. The set-up is that Bill Nye, an engineer by training, and a proponent of science, is defending climate science on Tucker's show.
The first weird thing is that Bill Nye starts by talking about cognitive dissonance being the only reason that anyone would be skeptical of global warming. But he seems to not understand the concept of cognitive dissonance because he believes only the other side could be experiencing it. The nature of cognitive dissonance is that you don't know you're in it when you're in it. It is only obvious to observers. If Nye had been objective, he would have noted two equal possibilities: Either the skeptics are experiencing cognitive dissonance or the proponents of climate science are experiencing it. But whoever is in it can't know. It is only obvious to the other side. That's how it works.
Yes, I do the same thing all the time. I call out my critics for being in cognitive dissonance and act as if the problem couldn't be on my end. But in my case, the context is usually that I'm teaching you how to spot it. And I also talk about the specific triggers and "tells" so you can check my work. This video has a clear trigger and an enormous tell. Best example you will ever see.
The set-up for the trigger is that Nye's self-image is that of a rational supporter of science with a command of the facts about climate science. He has made a career recently of defending science, and climate science in particular. Nye's ego depends on being consistent with his pro-science, rational stance. That's who he is.
Tucker then asked Nye a simple question about climate science. He asked how much of the warming is caused by human activity. Nye's entire ego depended on knowing whether human activity is contributing to climate change in a big way, a medium way, or a small way. Tucker wanted some details. How much difference do humans make? After all, Nye had said this was settled science. Tucker just wanted to know what that settled science said.
Nye didn't know. And by not knowing that simple answer about the percentage of human contribution to warming – the only issue that really mattered to the topic – he proved in public that his opinions on science are not based on facts or knowledge. Nye tried and tried to dodge the question, but Tucker was relentless. That was the trigger. Nye could plainly see, thanks to Tucker's simple question, that his belief in science was just a belief, because he didn't actually know the science. When your self-image and ego get annihilated on live television, you can't simply admit you have been ridiculous all along. Your brain can't let you do that to yourself. So instead, it concocts weird hallucinations to force-glue your observations into some sort of semi-coherent movie in which you are not totally and thoroughly wrong. That semi-coherent movie will look like a form of insanity to observers.
Look for Nye to go totally mental in the last minute of the clip, changing the topic to political leaks for no apparent reason. That's your tell. His brain just sort of broke right in front of you.
People do and say dumb things all the time, and it isn't always cognitive dissonance. That's why you look for the trigger to make sure the "tell" was what you thought it was.
To be fair, spotting cognitive dissonance is more like bird-watching than science. Sometimes you misidentify a bird. But this example is like an ostrich sitting on your lap. Hard to miss. Enjoy.
SOURCE
Diogenes searching for honest policies
Renewable energy is defective solution in search of a problem, money and power
Paul Driessen
The Greek philosopher Diogenes reportedly carried an oil lamp during the daytime, the better to help him find an honest man. People everywhere should join Congress and the Trump Administration in search of honest energy and climate policies – as too many existing policies were devised by special interests seeking money and power, and often using imaginary problems to justify their quest.
The health and environmental impacts from fossil fuels are well documented, though often exaggerated or even fabricated by activists, politicians, bureaucrats and companies with lofty agendas: securing climate research grants, and mandates and subsidies for renewable energy projects to replace fossil fuels; reducing economic growth and living standards in industrialized nations; and redistributing the world's wealth, fundamentally transforming the global economy, and telling impoverished countries what kinds of energy and what level of economic development they will be permitted to have.
More often than not, proponents justify these agendas by insisting we must prevent dangerous manmade global warming and climate chaos, prevent unsustainable resource consumption, and safeguard people against purported technological risks. My multiple articles on the catechism of climate cataclysm … sustainability realities, absurdities and duplicities … and selective application of precautionary pabulum address the conceptual fallacies of these interchangeable, agenda-driving mantras.
All three are routinely defined, twisted, used and abused to block technologies that activists despise, and promote technologies and policies that advance their agendas and fill their coffers.
But beyond their glaring, often insurmountable conceptual problems are the practical issues. With what, exactly, will these agitators replace fossil fuels? Applying the same health and environmental standards they use against oil, natural gas and coal – just how clean, green, Earth-friendly, sustainable, climate-stabilizing, healthy, and human rights/social justice-oriented are their renewable energy alternatives?
If their alternatives are so wondrous, why do they still need permanent mandates, renewable portfolio standards, investment tax credits, production tax credits, feed-in tariffs, myriad other subsidies, exemptions from endangered species and other regulations, and laws requiring that utility companies buy their electricity whenever it is produced (even if it is not needed)? Why must they build and run fossil fuel "backup" power plants for the 50-85% of the time that wind and solar are not producing?
The following brief examination will hopefully guide more rigorous analyses of the impacts of these "technologies of the future" – aka wind, solar and biomass technologies that served mankind rather poorly for countless generations, until the fossil/nuclear era began, and now are supposed to serve us once again.
Probably the biggest single problem with any supposedly renewable, sustainable alternative is its horrendously low energy density: the amount of energy produced per acre. We can get far more electricity or fuel from a few dozen, hundred or thousand acres of oil, gas or coal production operations than we can from millions or tens of millions of acres of renewable energy projects.
Moreover, fossil fuel operations can often be conducted in the middle of farm fields or wildlife habitats – or the land can be reclaimed and returned to those uses once the energy has been extracted. Offshore oil and gas platforms actually create thriving habitats for marine life. Most renewable energy operations displace food crops or destroy wildlife habitats – and must do so in perpetuity.
And so we have corn as high as an elephant's eye, across an area the size of Iowa (36 million acres) to produce ethanol that replaces 10% of US gasoline but also requires vast quantities of water, fertilizer, fuel and pesticides to grow the corn and turn it into fuel – instead of feeding hungry people.
We find bright yellow canola fields across more millions of acres in Montana, Saskatchewan, Germany and elsewhere, to produce biodiesel – and still more acreage devoted to switchgrass for ethanol and algae ponds for "advanced biofuels." In Brazil, it's millions of acres of sugarcane for ethanol, and millions more for other biofuels from palm oil, from areas that once were rainforests, "the Earth's lungs," as environmentalist groups like to say. Once teeming with wildlife, they are now monoculture energy plantations – so that we don't have to desecrate Mother Earth by drilling holes in the ground to produce oil and natural gas: nature's own biofuels, created over millions of years and stored for mankind's benefit.
Of course, when these expensive, environment-intensive alternatives are burned, they send more carbon dioxide into the atmosphere, the same as fossil fuels do – on top of the CO2 that was burned by fuels and released from soils and clear-cut trees to produce the "climate-friendly renewable" energy.
Meanwhile, American and Canadian companies are cutting down millions of acres of forest habitats, and turning millions of trees into wood pellets that they truck to coastal ports and transport on oil-fueled cargo ships to England – to be hauled by truck and burned in place of coal to generate electricity. The pellets cost more than coal (which Britain still has in abundance), so utility companies receive huge taxpayer subsidies to make up the difference. One power plant received £450 million ($553 million) in 2015.
The financially and environmentally unsustainable scheme is justified on the ground that trees are renewable; so the scam helps Britain meet its climate change and renewable fuel obligations under various laws and treaties. Even though the trees-to-pellets-to-power process emits more carbon dioxide and pollution than coal-based power generation, the "wood fool" arrangement is considered to be "carbon neutral," because growing replacement trees over the next century or two will absorb CO2.
If this sounds freaking dishonest and insane, it's because it is freaking dishonest and insane. Diogenes must be turning summersaults in his grave. But there's more.
On top of all this biofuel lunacy, we also have tens of thousands of wind turbines towering above fields, lakes, oceans and homes – butchering millions of birds and bats, and impairing the health of thousands of humans whose wellbeing is sacrificed to Big Wind profits. We've also got millions of solar panels sprawling across countless acres of desert and grassland habitats, to produce well under 1% of the world's electricity. Their expensive, intermittent power reaches distant urban areas via thousands of miles of high-voltage transmission lines. They all require greenhouse gas-emitting backup power plants.
Those turbines, panels, transmission lines and backups require millions of tons of steel, copper, concrete, rare earth and other exotic metals, fiberglass and other materials – much of it produced under nonexistent health and environmental laws in faraway countries, where injury, illness, child labor and death run rampant … and are ignored by local, national and United Nations authorities and human rights activists.
Removing all these worn-out turbines and solar panels will cost billions of dollars that state and federal governments don't have, and developers have rarely had to cover with bonds.
Finally, the energy produced from all these "planet-saving" enterprises is far more costly than what could be produced using fossil fuels. Poor families are hit hardest, as they must spend a much larger portion of their incomes on energy than middle class and wealthy families. Businesses, factories, hospitals and schools also face rising energy costs, and must lay off workers, reduce services or close their doors.
The impacts ricochet throughout communities and nations, adversely affecting living standards, nutrition, health and life spans. We are reminded once again: Corporate fraud affects a limited number of customers; government and activist fraud affects every taxpayer, citizen and consumer.
The essence of all these renewable fuel programs is embodied in the notion that we must capture methane from cow dung, to safeguard Earth's climate from this "potent greenhouse gas." The operable term is BS.
The US Congress and Trump Administration could become world leaders in returning honesty and sanity to energy, climate, economic and environmental discussions and policies. Let's hope they do.
Via email
America First Energy Strategy Should Be Priority for Trump to Counter OPEC
For decades, conventional wisdom held that the United States would remain reliant on imported oil as domestic reserves were either too limited or too expensive to be accessible. Yet in the early years of this new century, a small group of American innovators tackled the shale formations in our nation's heartland with new technology. The result rewrote the energy rulebook: vast supplies of domestic crude were produced, rural and industrial communities were reinvigorated, and our country's oil imports were halved.
Despite our newly-tapped oil wealth, the energy industry was unconcerned about the possibility of global oversupply. The industry was confident that Saudi Arabia, the global swing producer and de facto leader of the Organization of the Petroleum Exporting Companies (OPEC), would take its usual approach and cut production levels. However, at the November 2014 OPEC meeting, Saudi Arabia and other member states refused to cut production, sending prices plummeting. In June 2014, the price of oil was $110 per barrel. By January 2016, prices had collapsed to $26.
This crash in oil prices has been kind to consumers. Average annual household gasoline spending dropped from $2,655 in 2011 to $2,090 in 2015. That is $565 that can be used to spend on bills, put food on the table, or put away for the future—approximately 20 percent of the average 2015 tax refund. However, the shale industry was decimated. Since January 2015, more than 220 oil companies have gone bankrupt, taking 150,000 jobs with them. Parts of the country that had enjoyed the energy boom were nudged back toward recession.
Furthermore, tremendous uncertainty following this price collapse prevented companies from investing in future production, with $100 billion in upstream spending cut from 2014 to 2016—paving the way for future supply shortages and price spikes. Although consumers are enjoying low pump prices now, the domestic needs of OPEC nations mean oil prices can rise as well as fall, and become a burden to American families once more.
It is these domestic needs, such as social spending to pacify restive populations, that has caused OPEC to shift its strategy again, creating more market volatility by bringing in Russia and others as part of a production "supercartel." This group's unprecedented influence over the global oil market comes from a combination of cheap crude and concentrated political power within its member states. Their national oil companies control 90 percent of global reserves, but are not free-market, profit-maximizing companies like American oil producers. They serve instead as arms of their respective governments, generating revenues to support regimes who don't share our geopolitical priorities.
Because oil is the lifeblood of the U.S. economy, powering 92 percent of our vehicle fleet with no alternatives available at scale, OPEC's hold over the global oil market jeopardizes our economic sovereignty. Oil is priced and traded globally, so no matter how much oil the U.S. produces, we will remain susceptible to the cartel's actions. To counter our reliance upon this opaque market, we must develop a range of domestic policy responses.
First, we must produce more domestic resources here at home. Second, we must modernize our fuel efficiency standards to get more out of the oil we do consume. Third, we must encourage the adoption of alternative fuel vehicles that run on domestic and diverse energy sources including electricity, natural gas, and hydrogen. Finally, we must examine how OPEC's activities undermine our economic interests
and strategic priorities as we maintain the security of global oil supplies.
A bipartisan group of Congressmen is working to address the last recommendation. Kevin Cramer (R-ND), Collin Peterson (D-MN), Trent Franks (R-AZ) and David Scott (D-GA) have introduced H.R. 545, which would create a Congressional commission that investigates OPEC's influence over the global oil market, assesses current American efforts to mitigate the cartel's effects, and proposes a range of answers —diplomatic, legal, trade, regulatory and statutory—to President Trump and Congress.
The time for action is now. The President has prioritized energy security in his America First Energy Plan, stating that his administration wants to, "Become, and stay, totally independent of any need to import energy from the OPEC cartel or any nations hostile to our interests."
With President Trump in office, the opportunity to take on OPEC's disproportionate role in the global oil market has presented itself. If this commission is established soon, it has the potential to set the President's energy agenda for the next four years—and make sure, most importantly, that our country's energy system truly works in our own national interest.
SOURCE
Wind Energy Is Not the Answer
Urban voters may like the idea of using more wind and solar energy, but the push for large-scale renewables is creating land-use conflicts in rural regions from Maryland to California and Ontario to Loch Ness.
Since 2015, more than 120 government entities in about two dozen states have moved to reject or restrict the land-devouring, subsidy-fueled sprawl of the wind industry.
The backlash continued last month when a judge in Maryland ruled that the possible benefits of a proposed 17-turbine project did "not justify or offset subjecting the local community to the adverse impacts that will result from the wind project's construction and operation." The judge's ruling probably spells the end of an eight-year battle that pitted local homeowners and Allegany County against the developer of the 60-megawatt project.
Objections to the encroachment of wind energy installations don't fit the environmentalists' narrative. The backlash undermines the claim -- often repeated by climate activists such as 350.org founder Bill McKibben and Stanford engineering professor Mark Jacobson -- that we can run our entire economy on nothing but energy from the wind and sun. Many of those same activists routinely demonize natural gas and hydraulic fracturing even though the physical footprint of gas production is far smaller than that of wind. Three years ago, the late David J.C. MacKay, then a professor at the University of Cambridge, calculated that wind energy requires about 700 times more land to produce the same amount of energy as a fracking site.
Rural residents are objecting to wind projects to protect their property values and viewsheds. They don't want to live next door to industrial-scale wind farms. They don't want to see the red-blinking lights atop the turbines, all night, every night for the rest of their lives. Nor do they want to be subjected to the audible and inaudible noise the turbines produce.
Even in California, which has mandated that 50 percent of the electricity sold in the state be produced from renewable energy sources by 2030, there is resistance to wind power. In 2015, the Los Angeles County Board of Supervisors voted unanimously to ban wind turbines in LA's unincorporated areas. At the hearing on the measure, then-Supervisor Michael D. Antonovich said the skyscraper-sized turbines "create visual blight (and) contradict the county's rural dark skies ordinance."
In New York, angry fishermen are suing to stop an offshore wind project that could be built in the heart of one of the best squid fisheries on the Eastern Seaboard. Three upstate counties, Erie, Orleans and Niagara, as well as the towns of Yates and Somerset, are fighting a proposed 200-megawatt project that aims to put dozens of turbines on the shores of Lake Ontario. As in California, New York has a "50 by 30" renewable-energy mandate.
Outside the U.S., about 90 towns in Ontario have declared themselves "unwilling hosts" to wind projects. In April 2016, a wind project near Scotland's famous Loch Ness was rejected by local authorities because of its potential negative effect on tourism. Poland and the German state of Bavaria have effectively banned wind turbines by implementing a rule that allows turbines to be located no closer than 10 times their height to homes or other sensitive areas.
The defeat of the Maryland wind project came as a relief to K. Darlene Park, a resident of Frostburg and the president of Allegany Neighbors & Citizens for Home Owners Rights. "We were up against an army of suits," she told me. "It's like a brick has been taken off our shoulders." Park's tiny group relied on volunteers and a budget of about $20,000 as it fought the turbines all the way to the state's public service commission.
Neither the communications director nor the chief executive of the American Wind Energy Association, which spends more than $20 million per year promoting wind power, would comment on the rural opposition to wind turbines. Their refusal isn't surprising. If the wind lobby and their myriad allies at the Sierra Club, Natural Resources Defense Council and other environmental groups acknowledge turbines' negative effects on landscapes and rural quality of life, it would subvert their claims that wind energy is truly green.
Just as problematic for the industry's future: to increase wind-energy production to the levels needed to displace significant quantities of coal, oil and natural gas will require erecting more and taller turbines (new models reach to 700 feet). But the more turbines that get installed, and the taller they are, the more nearby residents are likely to object.
Wind energy simply requires too much territory. That means we can't rely on it for major cuts in emissions. Indeed, the more wind energy encroaches on small towns and suburbs, the more resistance it will face. That resistance will come from homeowners like Park who told me, "We feel this renewable energy push is an attack on rural America."
SOURCE
Does Denmark have the reliable "renewable" electricity that eludes "Green" South Australia?
Someone below is not telling the whole story. Unmentioned is the Skagerrak interconnector between Denmark and Norway -- which enables Denmark to import Nowegian hydro-power when the wind isn't blowing. There are also interconnecters to Sweden and Germany that import coal and nuclear power when the wind isn't blowing. And sometimes the wind is so still that it provides virtually no power to Denmark.

And the statement that on "Samso, an island in Denmark, renewables provide 100 per cent of the electricity" is misleading. On Samso, electricity is generated using a mix of wind, solar and straw-fired power plants. If straw-fired power plants are renewable so are coal-fired plants. There is no likelihood of running out of either straw or coal.

Also unmentioned is the cost factor, but it is known that Denmark has paid heavily for its wind plants and some 2010 figures suggest that Denmark's wind industry is almost completely dependent on taxpayer subsidies, and Danes pay the highest electricity rates of any industrialised nation.

Further, when the wind does decide to blow, Denmark sends fully half of its very expensive, taxpayer-subsidized wind power to its neighbors at cut rates, in return for said neighbors dialing up or down its hydro power or nukes at other times (which, most of the time, means "up").

As ever, it's a very different story when you know the facts that the Green/Left leave out. It's fake news below
THE man who helped create the world's first 100 per cent renewable island, and who lives in a country that gets 50 per cent of its electricity from wind and other sources, says he has to travel to Australia for a blackout.
Soren Hermansen told news.com.au that blackouts are not common in Denmark, which gets about 50 per cent of its electricity from renewables. "I have to go to Australia to deal with a blackout, we never have blackouts, this is not bragging," he said. "We have a very powerful grid — we don't experience any failure."
Denmark has managed to successfully integrate its renewables into its electricity system but it has also avoided some of the problems that Australia is experiencing by burying its distribution lines underground.
This helps avoid blackouts caused by severe weather, which led to South Australia's statewide blackout in October.
While underground cabling would be very expensive to implement in Australia, taking out the storm factor, Mr Hermansen said Denmark's system showed it was possible to successfully integrate renewable energy into the electricity network and create a stable system — without reliance on coal-fired power.
Debate has been raging in Australia about whether the country needs coal-fired power to provide a stable electricity system, in light of the a number of blackouts in South Australia, which gets about 40 per cent of it electricity from renewables.
But even on Samso, an island in Denmark where renewables provide 100 per cent of the electricity, Mr Hermansen said supply was very stable.
The island has a cable connecting it to the mainland but Mr Hermansen said it was used "rarely", maybe two to three per cent of the time, at a maximum.
Most of the time, the island is a net exporter of electricity to the mainland.
Samso is an island of about 4000 people, and gets its electricity mainly from wind turbines, both on the island and offshore.
Five of the 10 offshore wind turbines are owned by the local government, three are privately owned mainly by local farmers who pooled their money to fund the project, and the last two are owned by a co-operative of small investors.
Mr Hermansen spoke at the national Community Energy Congress in Melbourne this week, and said local community support was one of the keys to creating a successful renewables grid.
"It requires people to be educated and informed, and to take responsibility for energy consumption and generation," he said.
"(In the past) they were just consumers in a shop buying energy ... they got a bill every month, they paid it and that's it."
Nowadays electricity grids are becoming decentralised. Consumers can participate in the energy system, through things like installing rooftop solar panels that feed energy into the grid or by contributing to community electricity projects.
There are already community-funded solar projects in Australia, including an investor fund that raised $17,500 from 150 people to install a 29.9kW solar farm on the roof of Young Henry's Brewery in Sydney.
It's these types of community projects that are helping to generate electricity in Denmark.
Wind power alone produces about 40 per cent of Denmark's electricity and the country aims to increase this by 100 per cent by 2050.
Power stations help generate the rest but instead of burning coal, many of them use local materials.
Power stations in forested areas are fed with wood chips, those in farming areas used manure and in the city, waste is incinerated.
The country is also innovative in its heating system, developing district heating networks to collect hot water or steam produced by power stations and transport this via water pipes to heat surrounding homes.
This supplies more than 60 per cent of homes in Denmark with heating and hot water. "It reduces our dependency on oil and also produces electricity," Mr Hermansen said.
Denmark's last coal fired power station has been decommissioned but is on standby mode until 2024. There is also some natural gas and LNG powered gas stations to help make up any shortfalls.
"The energy sector said this was not possible 10 to 15 years ago but it is happening now with no impact on industry or the security of the system," Mr Hermansen said.
When asked whether Australia could follow Denmark's lead, Mr Hermansen said while he didn't know all the details of the system but it seemed viable.
"You have a lot of natural resources, there's a lot of wind and other materials," he said.
SOURCE
"Green" SA faces more power woes after generator goes offline
They just don't have enough baseload capacity after they turned off their coal-fired stations. Any unusual event can now throw them. They have virtually no capacity in reserve. So when bad things happen they struggle to cope. They need those coal-fired generators. There is no alternative
South Australians have been asked to conserve electricity and consider turning off appliances to avoid potential load-shedding after three units at Torrens Island Power Station went offline following spot fires.
Four spot fires and a possible explosion at the power plant resulted in three units generating a combined 400 megawatts of power going offline at 3:33pm.
The Australian Energy Market Operator (AEMO) also reported a loss of 200 megawatts of power from the nearby Pelican Point Power Station, which tripped as a result of the Torrens Island incident.
It has asked the market to respond, declaring there was a lack of reserve power available in SA.
There are fears this could lead to load-shedding — ordered by AEMO when power demand outstrips supply — and which most recently led to 90,000 Adelaide customers being switched off during a heatwave in February.
SA Energy Minister Tom Koutsantonis said South Australians should turn off all non-essential items when they go home tonight, such as dishwashers and washing machines.
"AEMO has requested as a precautionary measure to help avoid potential load-shedding that people conserve electricity and run air conditioners at a higher temperature of about 26 degrees," he said.
"To meet the drop in supply and manage risk within the system, AEMO has directed available additional generation to turn on."
A Metropolitan Fire Service spokesperson said they sent four appliances to the site and "on arrival found that on-site AGL personnel had extinguished a series of small spot fires using dry power fire extinguishes".
Torrens Island is the state's largest power generator, with a total of eight gas-fired units that generate up to 1,280 megawatts.
It was not clear how many units were in use at the time of the outage and the extent of the damage and time it will take to be repaired remains unknown.
The reliability of SA's power supply has been a controversial topic since September last year when wild weather resulted in a state-wide blackout.
Another blackout occurred in December, when an electrical fault on the Victorian side of the border prompted the failure of the Heywood Interconnector, which was contributing about 220 megawatts into SA's mix
SA Power Networks said the cause of the Torrens Island fires was being investigated and did not appear to be caused by its distribution network.
Mr Koutsantonis said the outage was not caused by "some inherent fragility of the system" but was due to fires and the close proximity of large generators to each other.
"The restart is occurring during a very high demand [period]," he said. "Is it frustrating? Yes absolutely.
"The important thing here now is rather than a blame game is to try and help people help the market operator manage the system for the next couple of hours by keeping the demand low."
Wholesale power prices in SA spiked and hit the maximum allowable limit of $14,000 per megawatt hour.
SOURCE
***************************************
For more postings from me, see DISSECTING LEFTISM, TONGUE-TIED, EDUCATION WATCH INTERNATIONAL, POLITICAL CORRECTNESS WATCH, FOOD & HEALTH SKEPTIC and AUSTRALIAN POLITICS. Home Pages are here or here or here. Email me (John Ray) here.

Preserving the graphics: Most graphics on this site are hotlinked from elsewhere. But hotlinked graphics sometimes have only a short life -- as little as a week in some cases. After that they no longer come up. From January 2011 on, therefore, I have posted a monthly copy of everything on this blog to a separate site where I can host text and graphics together -- which should make the graphics available even if they are no longer coming up on this site. See here or here
*****************************************
5 March, 2017
Fact-Checking Bill Nye
Let's fact-check Bill Nye regarding comments he made about something near and dear to my heart — wine — during the Feb. 26 edition of "Tucker Carlson Tonight."
Here's his response to what the earth would look like today if man was not the culprit for all the warming:
"It would have looked like it did in 1750. Britain would not be very well-suited to growing grapes as it is today. French wine-makers would not be buying land to the north as they are now. People who plan to run ski resorts would still be able to do it in Europe."
First of all, grapes are being grown in modern day Britain, but they were also being grown back when the Romans were in charge. There were 50-100 vineyards in Britain between 1000 and 1300 AD and even one in Scotland! And Britons were still giving it a go as late as the 1700s before the Little Ice Age. The reason is two-fold. 1) You could grow grapes and make wine because it was warm enough to (we were in a climate optimum both times). 2) The occupiers were of Roman and then French descent (the Normans showed up in 1066), both known for their love of wine. I can certainly speak for the former. Obviously, the northern tastes are more toward ales, and this combined with the cooling lead to the necessary change from the fruit of the vine to the harvest of the field.
What about the ski industry?
Looks like there are plenty where people usually go to ski — the Alps.
And locations north of the UK still have theirs.
A big hint to all this lies in the cyclical nature of the oceans. The shift in the Pacific in 1978, called the Great Pacific Climatic Shift, from cold to warm naturally started elevating global temperatures, and that was followed by shifts in the IOD (Indian Ocean Dipole) and, most importantly for Europe and the Arctic, the Atlantic to its warm phase. It does not take a science guy, just common sense, to understand the earth's major warm ocean bodies, with 1000x the heat capacity of the air, would have a warming effect on the planet. (Inconvenient truth: Warming oceans also release CO2.) But why quibble with such trivialities as the ocean when you can just label people like the late Dr. William Gray, who had 50 years of experience in the field and a PhD — something Bill does not have — delusional? Perhaps a read of his paper is in order.
Here's what it comes down to. By saying CO2 is now the climate control knob, i.e. 100% responsible, you are denying (there's that word) the entire history of the CO2-temperature relationship in the known history of the planet.
Also being denied is that warmer times, including when grapes were grown in Britain, were called climate optimums because life flourished then.
And the increase even has a diminishing return.
I had the chance to talk with Bill Nye for about three hours in my home. He is not an evil demon, he is a man who believes he is right and wants to change the world for better. That is what he believes. The problems for me start when you resort to some of the things he has recently advocated — jailing people or, in the case above, labeling people delusional. And that's a bit of a shame, for two reasons. 1) It's step one toward the type of despotic view that people who think they know better try to force on others. That is not freedom, and that is not science. 2) He is someone who really brought science to the forefront. I have a picture of two former pro football players, Chris and Keith Conlin, choking me cause they told me to lay off Bill Nye.
No, I am not going soft, because it's the totality of the journey that has to be looked at. But diminishing whatever authority you may have had before (if these two guy watched Bill Nye, then he has gotten a lot of exposure) with this kind of thing seems to be out of line to me. One is always taught to "Finish Strong." The argument here is not that the climate does not change — it always has and always will — but it involves, in my opinion, three main points that sum up my position:
1.) How much is man responsible for variances that were previously exclusively natural?
In my opinion, most of the warmth today is likely natural given the tiny amounts of CO2 relative to the entire system, of which the oceans have 1000x the heat capacity and are the great thermostat of the planet, taking centuries of action and reaction to reach where they are now.
2.) Is this worth the draconian reactions that will handcuff the greatest experiment in freedom and prosperity in history, the United States of America?
3.) This question may arise, if one wants: Would not the cost of adaptation to such things, rather than trying to correct what has always happened in the past anyway, be a sounder fiscal response?
Now does that seem delusional or worthy of jail time?
I suggest Bill finish strong with his argument, but not by what is a soft tyranny of suggesting jail time or demeaning others, some with far more education and experience than he.
SOURCE
Senate votes to confirm former Texas governor Rick Perry as energy secretary
Former Texas governor Rick Perry won confirmation Thursday as President Trump's energy secretary. Now comes the hard part.
The Senate voted 62 to 37 Thursday afternoon to confirm Perry as energy secretary, brushing aside his onetime vow to abolish the department.
The genial Republican drew less fire from Democrats during his confirmation process than other Trump nominees, but Perry now faces many of the same tough issues over regulations, the department's activities to slow climate change and potentially deep cuts in manpower and spending.
As Texas governor, Perry presided over a boom in all kinds of energy production, including wind power and shale drilling. Many of his supporters cited that record as evidence that he could help a similarly wide variety of energy interests.
But Perry's foes criticized his tepid acknowledgment of climate change, his strong ties to his state's oil and gas industry, and his lack of experience with the department's main budgetary area, the maintenance of the nation's nuclear stockpile. And they wondered whether he will be able to protect the department's national laboratories and other scientific research against those who would slash the budget.
It is something of a surprise landing for Perry, who ran for president in 2012 and 2016 with dismal results. During a presidential debate in 2011, he famously forgot the name of the department, one of three he had pledged to eliminate.
"Perry would join the ranks of other unqualified candidates chosen by this president to lead critically important agencies with very specific and complex functions," Sen. Patty Murray (D- Wash.) said on the Senate floor just before the vote.
Sen. John Cornyn (R-Texas) replied that as governor Perry "created an environment where all energy producers could not just succeed but really prosper." He said he hoped Perry would rely on "these same principles."
The Energy Department is a basket of different activities. Most of its budget goes to maintaining the nuclear weapons stockpile and cleaning up an old weapons site in Hanford, Wash. It runs the national laboratories, sets appliance standards, hands out loans and grants for basic research and early stage energy technologies from carbon capture and storage to battery technology.
Renewable energy supporters expressed hope.
"As Governor of Texas, Rick Perry saw firsthand the positive economic impact as the Lone Star state diversified its energy production mix, resulting in more than 143,000 advanced energy jobs, success integrating more wind onto the grid than anywhere else, improving energy efficiency, and now experiencing a solar boom," said Malcolm Woolf, senior vice president for policy and government affairs at the business-backed Advanced Energy Economy. "We look forward to working with DOE Secretary Perry, to continue this significant business opportunity to expand advanced energy that now supports more than 3 million workers across the nation."
So too did the nation's appliance makers, whose products are regulated for energy efficiency by the Energy Department. Stephen Yurek, president of the Air-Conditioning, Heating, and Refrigeration Institute, said "it is important that the Secretary ensure that the regulatory process, now 40 years old and in need of significant reform, operates fairly and consistently for all stakeholders."
But the environmental group 350.org executive director May Boeve said in a statement that "Trump just added one more unqualified fossil fuel shill and climate-denier to his cabinet."
Friends of the Earth senior strategic adviser Damon Moglen noted: "Over the course of his career, Rick Perry has taken millions of dollars from the oil, gas and nuclear industries while pushing their dirty energy agenda."
He added, "Unlike the preeminent physicists who ran the department for the last eight years, Perry lacks the knowledge and experience to run the DOE." Moglen called the idea that Perry would be able to clean up the nation's nuclear weapons facilities an "absurdity."
SOURCE
Science deniers in the wind industry
The human health consequences of manipulated measurements
Helen Schwiesow Parker, PhD, LCP
Like the tobacco industry before it, the wind industry has spent decades vehemently denying known harmful consequences associated with its product, while promoting its fraudulent feel-good image. Dismissing or denying the serious health impacts of industrial-scale wind turbines is wishful thinking, akin to insisting that tobacco is harmless because we enjoy it.
The problem with wind energy is not just its costly, subsidized, unreliable electricity; the need to back up every megawatt with redundant fossil-fuel power; or its impacts on wildlife and their habitats.
Infrasound (inaudible) and low-frequency (audible) noise (slowly vibrating sound waves collectively referred to as ILFN) produced by Industrial-scale Wind Turbines (IWTs) directly and predictably cause adverse human health effects. The sonic radiation tends to be amplified within structures, and sensitivity to the impact of the resonance increases with continuing exposure.
These facts have been known to the wind industry and the US government since the 1980s when it became a 'hot topic,' with numerous studies presented and published by acousticians working under grants from the Departments of Energy, Defense and NASA. The wind industry response?
Deny the science. Insist that "what you can't hear can't hurt you." Claim that "neighbors will get used to it." Measure only outside dwellings, and allow only noise measurements in the field that reflect the relative loudness perceived by the human ear, while drastically reducing sound-level readings in the lower frequencies that are known to cause problems.
From a distance, many view the massive turbines as majestic – as a clean, seemingly quiet and free source of endless energy. To untold thousands of families clustered within 2 kilometers (1.25 miles) or more of the pulsing machines, however, the IWTs bring strangely debilitating illness – increasingly incapacitating for some, yet scoffed at by wind proponents.
Common sense tells us that fifty-story-tall metal structures with blades as long as football fields moving at 180 mph at their tips would negatively impact quiet neighborhoods. But the extent and severity of the IWT's effect on body, mind and spirit comes as a surprise to most people.
"When I'm at home I'm usually sick with headaches, nausea, vertigo, tinnitus, anxiety, hopelessness, depression. My ears pop a lot and I hardly ever sleep…. Suicide looks to be my only relief. Land of the FREE Home of the BULLSHIT! … Million to one odds anybody contacts me back."
The primary pathway of turbine assault on human health is no mystery. The Israeli army has used low-frequency sound pulses as high-tech crowd control for years. People are made nauseous and confused, with blurred vision, vertigo, headaches, tachycardia, heightened blood pressure, pain and ringing in the ears, difficulties with memory and concentration, anxiety, depression, irritability, and panic attacks.
This also describes the Wind Turbine Syndrome (WTS), a constellation of symptoms first given a name by the brilliant young MD/PhD, Nina Pierpont. She followed her astute and compassionate observations of turbine neighbors around the world with epidemiological research, using a robust case-crossover statistical design: subjects experienced symptoms that varied with proximity to the turbines. When the same subjects were placed at a greater distance from the turbines, their symptoms abated; returning them to the scene brought the symptoms back.
Michigan State University noise engineers explain that "Inaudible components [ILFN] can induce resonant vibration in liquids, gases and solids … bodily tissues and cavities – potentially harmful to humans." A subject in the groundbreaking Cooper study describes how the resonance shows up in a glass of water on her kitchen table, and in the toilet bowl, and how she feels it in her body.
Pierpont hypothesized that a significant pathway from ILFN to symptoms might include disruption to balance mechanisms located in the inner ear.
Dr. Alec Salt and colleagues, otolaryngologists at Washington University, later found that inaudible ILFN reaches the brain via inner ear Outer Hair Cell (OHC) displacement, leading indeed to unfamiliar and disturbing sensations paralleling WTS.
As turbine size trends upward, the sickening ILFN emissions worsen. There's a lot of money riding on keeping the science under the radar of public awareness, and regulations to a minimum.
When Denmark's EPA proposed tightening turbine noise regulations to protect turbine neighbors from increasing ILFN (May 2011), the Vestas CEO wrote the DEPA Minister, asserting: "It simply isn't technically possible to curtail the ILFN output," and "Increased distance requirements [setbacks from residences] cannot be met whilst maintaining a satisfactory business outcome for the investor."' DEPA folded, turning instead to looser standards that were "likely to be copied by other countries."
Although alerted to the increased endangerment of turbine neighbors around the world, the press remained silent, and Big Wind's central players ramped up their game plan undeterred.
In addition to the impact of ILFN radiation, turbine neighbors suffer from Turbine "Flicker" – a strobe-like effect caused by turbine blades alternately blocking and allowing sunlight to skim rhythmically and repeatedly across the land, or ricochet in bursts across interior walls and stairwells.
The direct impact extends to nearly a mile from the turbine – long after sunrise, and again long before sunset. It is mesmerizing, disorienting, and often brings on nausea, dizziness, lightheadedness, irritability, even panic, indoors or outside.
Repetitive sleep disturbance and stress-related symptoms are the most common health complaints of IWT neighbors. The audible sound constantly fluctuates, described as akin to low-flying jets or the rumble of helicopters, "freakish, screeching sound sludge." It is unnatural. People say the noise gets into your head, and you can't get it out.
Advising the Falmouth, MA Board of Health, Dr. William Hallstein wrote: "All varieties of illnesses are destabilized, secondary to inadequate sleep: diabetic blood sugars, cardiac rhythms, migraines, tissue healing. Psychiatric problems intensify … all in the 'normal' brain. Errors in judgment and accident rates increase."
As with seasickness, not everyone is similarly affected. But for many, the experience becomes literally intolerable. Devastated families and individuals around the world, having lost their health, jobs or farms, return their keys to the bank, sell their homes at fire-sale prices, or simply pack up and flee. Some never recover their health.
(For more details on this human health travesty, see my three-part series on MasterResource.org)
The continuing expansion of Big Wind is a tale of money and power shunting aside integrity and compassion, abetted by a disinterested news media, leading to an un-informed public, further betrayed by "human rights advocates" loathe to break ranks from popular positions.
The myth that "saving the world" requires tolerating the costs of Big Wind could not be further from the truth. Responsible stewardship demands critical thinking, common sense and grade school science, not just following Big Wind's Pied Piper and supposedly good intentions.
In fact, allowing wind into the energy mix squanders our non-renewable environment and taxpayer billions that are greatly needed elsewhere, wasting them on the most idiotic of engineering conceits.
Reliance on wind actually increases emissions and fossil fuel use overall, due to inefficiencies introduced into the system. Big Wind eliminates none of the need for conventional capacity, but rather consumes vast quantities of additional fuel and raw materials, while spewing emissions during the manufacture, transportation, construction and maintenance of the enormous redundant turbines and their uniquely demanding infrastructure.
The Wind Game is nothing but an obscenely costly, mostly useless energy redundancy scheme. It funnels unimaginable profits from our taxpayer and rate-payer pockets to its inner circle, while knowingly ignoring its victims' desperate pleas for relief – and indeed ridiculing them and trying to bury all the growing evidence of harm to their health and wellbeing.
We've witnessed three decades of this callous, mercenary assault, this arrogant denial of what is known to be true, this untold suffering of thousands of innocent victims around the world. It's time to bring in the human rights and social justice referees – and call "game over."
SOURCE
COMMENT from a reader:
It is interesting to note that much study has been dedicated to micro wave emissions, Magnetic field exposure, cell phone radio wave emissions, noise exposure, atomic radiation and so forth all with the intent to determine any ill effects, but the wind industry relies on ignoring the possibility of any health related fall out even when long term exposure of real people level a complaint. I wonder how elephants and polar bears and whales are reacting to these low level sound waves. They communicate in these tones so do they now hear a demented beast crying out from a mid America cornfield to be freed.
We Must Save the Environment – From the Environmentalists
The joke is so old and repetitive – because the joke that is environmentalism and environmentalists is so old and repetitive. Time and again, nigh every time environmentalists gather to gripe about some fairy tale or other – or to simply listen to tunes, turn on, tune in and drop out – they have left behind an environmental disaster.
Remember Woodstock? The 1969 Peace, Love and Narcotics concert in New York state? These "Love Your Mother Earth" Gaia worshippers – left the concert field looking like a nuclear trash bomb had been dropped. Ironic – given the Hippies' "No Nukes" movement.
Flash forward forty years. Remember Occupy Wall Street? That was the second iteration of the Left's series of failed attempts to replicate the germane grassroots magic of the Tea Party (remember the Coffee Party?). Occupy's chief complaint was against corporations (about which they vigorously complained on Twitter, Inc. and Facebook, Inc. – via their Apple, Inc. iPhones and Samsung, Inc. Galaxies). Of course a component of their anti-corporation sentiment – was that corporations are destroying the planet. They're evil, they're giant – and they mass-pollute.
You know who definitely destroyed their little corners of the planet? Occupy Wall Street. "They…were…the 99%" – of the massive mess makers in their anti-corporate equation. They defecated and urinated on police cars. Because – classy. They lived in filth – and left it behind when they vamoosed. Leaving the corporations and straight-job-having-taxpayers they loathe to pick up the tab for their noxious tantrums.
Has the Left finally learned its lesson? Have the planet's alleged physicians finally healed themselves? Of course not. The joke then – is still the joke now. Behold the Dakota Access Pipeline protest.
The environmental-disaster environmentalists gathered along the North Dakota-South Dakota border to protest a certain section of the aforementioned pipeline. And that gathering – was a donation-cash-cow.
GoFundMe and FundRazr pages were established – and the coin rolled. Official Sacred Stone Camp – $3,125,550. Sacred Stone Camp Legal Defense Fund – $2,982,763. Veterans for Standing Rock – $1,155,770. Water Protector Legal Collective – $627,374. #BuildWithStandingRock Community – $537,555. Last Real Indians #NoDAPL Aid – $378,402. And on, and on, and….
In toto, nearly $14 million was raised in the name of stopping the pipeline (which they ultimately failed to do – as President Donald Trump signed off on its completion). "Leftist Volunteer Protester" is, as always, a highly lucrative gig. (Except when the Leftist paymasters stiff you.)
Now it is understandable that rank-and-file Leftist protest gadflies aren't used to earning money – and are thus unfamiliar with the concept of income taxes. So North Dakota Tax Commissioner Ryan Rauschenberger issued a gentle reminder: "'[We're] looking at the entities that have potential paid contractors here on their behalf doing work.'…Mr. Rauschenberger said red flags will be raised if he doesn't start seeing W2 or 1099 tax forms from those affiliated with the protest arriving at his office."
$14 million for volunteer protesters – is a lot of coin. But it is way less than the $33 million taxpayers have already had to pay – to deal with the highly-compensated volunteer protesters. And along with the wasted money, thousands and thousands of civil servant man hours have been wasted babysitting them. If you live anywhere near this Leftist pipeline cabal and had to, while being robbed or assaulted, wait a whole lot longer for the cops to show – it is because they were diverted to dealing with this Leftist pipeline cabal.
And taxpayers aren't yet finished paying for this Leftist mess. Because the Leftists – left yet another mess.
$6 million of the $14 million raised – went directly to the Standing Rock Sioux Tribe. The Indians protesting the pipeline. The coin was donated to allegedly address three things: legal fees for their lawsuits against the Army Corps of Engineers, waste management at the protest site – and to offset Indian casino gambling revenue losses incurred because of the protest they were leading.
Get that last bit? They led a protest they knew would cost them money – and they had the audacity to ask people to compensate them for their self-inflicted wounds. The other two reasons for the titanic coin – make even less sense.
Legal fees? EarthJustice – the environmentalist lawyer group representing the Tribe – doesn't charge its clients. (And EarthJustice is undoubtedly raising money its own self on their ridiculous pipeline litigiousness.)
Waste management? The protesters appear to know less about this – than they do about income tax: "Sanitation crews are working hard to dispose of six months' worth of garbage from a community the size of Wahpeton or Valley City. The mountains of debris need to be moved before the spring thaw occurs….'Standing Rock Environmental Protection Agency and Dakota Sanitation are working together to try and advert an environmental tragedy,' says Tom Doering, Morton County Emergency Manager. It's estimated it will take 250 trucks filled with litter to clear the camp….Each load that's dumped is inspected by the Morton County Sheriff's Department."
Get that? All of that cleanup work – is being done taxpayer-funded government entities. Not by anyone paid by the Tribe. And it doesn't end there: "The U.S. Army Corps of Engineers has moved into the evacuated Dakota Access pipeline protest camp to finish the cleanup…."
Get that? The (again, taxpayer-funded) Army Corps of Engineers is being sued by the Tribe – and has to pay to clean up after the Tribe. While the Tribe sits on the millions it raised – putatively to pay for clean up.
Again, the anti-environment environmentalists joke – is a very old one. It wasn't funny then – it isn't funny now.
But it does make it nigh impossible to take environmentalism and environmentalists seriously.
SOURCE
Australia's record-breaking summer heat linked to climate change (?)
This is just modelling: Games with numbers. There has been no statistically significant change for decades anyway. So there is nothing to link to. Big fraud!
The record-breaking heat seen across southeast Australia in the last few months was made 50 times more likely by climate change, according to new analysis that links the heat directly to global warming.
Southeast Australia was struck by three major heatwaves in January and February, with temperatures climbing as high as 113°F (45°C) in some places. On February 10, Sydney Airport recorded its hottest February day on record, with temperatures hitting 109°F (42°C). The heat was also uncharacteristically persistent?—?Observatory Hill in Sydney saw temperatures reach above 95°F (35°C) for nine consecutive days in January, breaking a 120-year old record. Elsewhere, the consistent heat was even more extreme: in Moore, New South Wales, there were 52 consecutive days with temperatures above 95°F (35°C).
The study, conducted by the World Weather Attribution Program at Climate Central, used climate model simulations and observational data analysis to understand how climate change, caused by an increase in greenhouse gases in the atmosphere, might have made these heat events more likely. They found that climate change made the average temperatures seen this summer in Australia 50 times more likely, and made the maximum summer temperatures 10 times more likely.
"In the past, a summer as hot as 2016–2017 was a roughly 1 in 500-year event," the researchers wrote. "Today, climate change has increased the odds to roughly 1 in 50 years?—?a 10-fold increase in frequency."
The analysis also warns that heat events like these?—?both punctuated heatwaves and long stretches of above-average temperatures?—?are likely to become more frequent as climate change continues. In the future, according to the study, heat events like the one this summer could happen as frequently as every five years?—?and will likely be more intense, with temperatures averaging at least 1.8ºF (1°C) warmer than they were in the past.
The connection between heat waves and climate change has strong scientific support. In 2015, eight papers published in the Bulletin of the American Meteorological Society's attribution report?—?an annual report that explains extreme weather events from a climate perspective?—?all linked climate change to heatwaves, showing that climate change clearly made heatwaves either more likely, more intense, or both.
According to data from NASA and NOAA, 2016 was the hottest year on record. Before that, both 2015 and 2014 held that distinction. In fact, 16 of the 17 hottest years on record have occurred since 2001.
SOURCE
***************************************
For more postings from me, see DISSECTING LEFTISM, TONGUE-TIED, EDUCATION WATCH INTERNATIONAL, POLITICAL CORRECTNESS WATCH, and AUSTRALIAN POLITICS. Home Pages are here or here or here. Email me (John Ray) here.

Preserving the graphics: Most graphics on this site are hotlinked from elsewhere. But hotlinked graphics sometimes have only a short life -- as little as a week in some cases. After that they no longer come up. From January 2011 on, therefore, I have posted a monthly copy of everything on this blog to a separate site where I can host text and graphics together -- which should make the graphics available even if they are no longer coming up on this site. See the archives here or here
*****************************************
3 March, 2017
Shining the Light on Climate Science
On Monday, Bill Nye, sitting alongside fellow climate alarmist Bernie Sanders, chided "extreme skeptics", lecturing them "to think about what is called cognitive dissonance." He asserted, "Instead of accepting that the climate is changing, deniers are denying the evidence and dismissing the authorities."
The problem, as elucidated in an Investor's Business Daily editorial, is "we're often told by advocates of climate change that the 'science is settled.' But in fact, 'science' itself is in a deep crisis over making claims it can't back up, especially about climate." For example, the article continues, an analysis by University of Virginia's Center for Open Science "estimates that roughly 70% of all studies can't be reproduced. And this includes the field of climate change." The fact that "99% of scientists" — a bogus but nevertheless often repeated statistic — blame man-made emissions for global warming despite often being unable to replicate studies is highly alarming.
Meanwhile, a new study of planetary orbits flies in the face of the conventional climate change theory. As reported in a news release, the University of Wisconsin-Madison reports newfound "evidence confirming a critical theory of how the planets in our solar system behave in their orbits around the sun." The report explains how "small but regular ticks in a planet's orbit can exert big changes on the location and orientation of a planet on its axis relative to the sun and, accordingly, change the amount of solar radiation a planet receives over a given area. Where and how much solar radiation a planet gets is a key driver of climate."
Now consider this: The globe soaks up roughly 3,850,000 exajoules (EJ) of solar energy annually. To better comprehend this number, De Anza College's Ridha Hamidi, Ph.D., says, "More energy from sunlight strikes the earth in one hour than all of the energy currently consumed on the planet in one year. The amount of solar energy reaching the surface of the planet is so vast that in one year it is about twice as much as will ever be obtained from all of the Earth's non-renewable resources of coal, oil, natural gas, and mined uranium combined." Read the last sentence twice if you have to.
In an email to The Patriot Post, meteorologist Joe Bastardi responds: "I have not read enough of the study to comment on aspects I have not researched. But given my stated position that the sun is the conductor of the climatic orchestra of the oceans, stochastic events and the very design of the system, it would make sense that the sun should be considered as the source of climatic variations rather than the increase of one molecule of CO2 out of every 10 thousand molecules of air over a 100-year period." The lesson here is that man's footprint isn't just relatively small, it's minuscule. Perhaps it's not the skeptics who are, as Nye says, "denying the evidence," but rather those who want to silence the discussion.
SOURCE
White House eyes plan to cut EPA staff by one-fifth, eliminating key programs
The White House has proposed deep cuts to the Environmental Protection Agency's budget that would reduce the agency's staff by one-fifth in the first year and eliminate dozens of programs, according to details of a plan reviewed by The Washington Post.
While administration officials had already indicated that they intended to increase defense spending at the expense of other discretionary funding, the plan spells out exactly how this new approach will affect long- standing federal programs that have a direct impact on Americans' everyday lives.
"The administration's 2018 budget blueprint will prioritize rebuilding the military and making critical investments in the nation's security," the document says. "It will also identify the savings and efficiencies needed to keep the nation on a responsible fiscal path."
The funding level proposed, which the document says "highlights the trade-offs and choices inherent in pursuing these goals," could have a significant impact on the agency. Its annual budget would drop from $8.2 billion a year to $6.1 billion. And because much of that funding already goes to states and localities in the form of grants, such cuts could have an even more significant effect on the EPA's core functions.
Though President Trump professes to care strongly about clean air and clean water, almost no other federal department or agency is as much in the crosshairs at the moment. As a candidate, he vowed to get rid of the EPA "in almost every form," leaving only "little tidbits" intact. The man he chose to lead the agency, former Oklahoma attorney general Scott Pruitt, sued it more than a dozen times in recent years, challenging its legal authority to regulate such things as mercury pollution, smog and carbon emissions from power plants.
The plan reflects those past sentiments. As proposed, the EPA's staff would be slashed from its current level of 15,000 to 12,000. Grants to states, as well as its air and water programs, would be cut by 30 percent. The massive Chesapeake Bay cleanup project would receive only $5 million in the next fiscal year, down from its current $73 million.
In addition, 38 separate programs would be eliminated entirely. Grants to clean up brownfields, or abandoned industrial sites, would be gone. Also zeroed out: the radon program, climate change initiatives and funding for Alaskan native villages.
The agency's Office of Research and Development could lose up to 42 percent of its budget, according to an individual apprised of the administration's plans. And the document eliminates funding altogether for the office's "contribution to the U.S. Global Change Research Program," a climate initiative that President George H.W. Bush launched in 1989.
The staffing reductions, which could be accomplished through a buyout offer as well as layoffs, were among several changes to which the EPA staff was asked to react by the close of business Wednesday. Multiple individuals briefed on the plan confirmed the request by the Office of Management and Budget, which did not immediately respond to a request for comment.
The document acknowledges that the cuts "will create many challenges" but suggests that "by looking ahead and focusing on clean water, clean air and other core responsibilities, rather than activities that are not required by law, EPA will be able to effectively achieve its mission."
Any cuts would have to be codified through the congressional appropriations process and would probably face resistance from some lawmakers. Rep. Mike Simpson (R-Idaho), a former chairman of the House Appropriations subcommittee on interior, environment and related agencies, said he did not think Congress would approve such a steep drop in funding.
"There's not that much in the EPA, for crying out loud," he said, noting that Republicans had already reduced the agency's budget dramatically in recent years.
Jennifer Hing, a spokeswoman for the House Appropriations Committee, declined to comment Wednesday on the cuts targeted but said in an email that the panel "will carefully look at the budget proposal once it is sent to Congress."
The EPA also would not comment on the budget proposal. But its new administrator cautioned this week that the particulars of the budget remain in flux.
"I am concerned about the grants that have been targeted, especially around water infrastructure, and those very important state revolving funds," Pruitt told the publication E&E News after Trump's address to Congress on Tuesday. He said he already had spoken with OMB Director Mick Mulvaney about the agency's funding.
"What's important for us is to educate OMB on what the priorities of the agency are, from water infrastructure to Superfund, providing some of those tangible benefits to our citizens," he said, "while at the same time making sure that we reallocate, re-prioritize in our agency to do regulatory reform to get back within the bounds of Congress."
It is unclear whether Pruitt's appeal would produce any ­changes: The document states that any requests from agencies to increase or reallocate funds must be accompanied by budgetary offsets. Those could include "alternative funding cuts, balance cancellations or viable user fees."
It instructs agency officials to "make sure any appeal is consistent with campaigns or other policy statements."
Agencies must submit any alternative budget proposals to OMB's Office of Information and Regulatory Affairs by Friday, the document states, and OMB will convene a meeting April 15 to discuss the "initial draft of the workforce reduction plan."
SOURCE
Trump Orders EPA To 'Zero Out' Global Warming Programs
The White House is pushing for significant cuts to EPA programs and staff levels, giving a glimpse of how the Trump administration plans on devolving more control to the states.
The budget plan sent from the Office of Management and Budget (OMB) to EPA leadership calls for eliminating dozens of programs, including at least 16 that have to do with global warming and implementing former President Barack Obama's climate agenda.
OMB also requested a 30 percent cut in grants to states and a 20 percent reduction in EPA's workforce through buy-outs and layoffs. In total, President Donald Trump is calling for a roughly 25 percent cut to EPA's budget — about $2 billion.
The cuts are laid out in a letter sent by William Becker, the executive director of the National Association of Clean Air Agencies (NACAA), to his group's member state and local regulators. Becker said NACAA received the "pass back" budget information sent from OMG to EPA Monday, according to InsideEPA.
Here are all the programs NACAA said OMB wants "zeroed out":
Alaska Native Villages Beach and Fish programs
Brownfield projects
Clean Power Plan implementation
Climate Voluntary partnership programs; there are 14 separate ones
Diesel Emissions Reduction Act
Endocrine grants
Energy star grants
Environmental education
Environmental justice
Geographical programs for lake [Champlain], L.I. Sound, S.F. Bay and South Florida
Global Change Research
Mexico Border grants
Multi-purpose grants
Office of Public Engagement
Radon Star Research grants
Small minority businesses
State indoor radon
Targeted air shed grants
U.S. Mexico Border Water Sense
Democrats and environmentalists have opposed Trump's budget cuts, and EPA union leaders are hemming and hawing about cutting staffing levels. Even some Republicans aren't on board with cutting so much from EPA's budget.
"They are operating at 1989 staffing levels. So you really want to be sure you are not cutting the meat and muscle with the fat," Oklahoma Republican Rep. Tom Cole, who is on the House Committee on Appropriations, told Inside EPA.
"There's not that much in the EPA, for crying out loud," California Republican Rep. Mike Thompson told The Washington Post. Thompson formerly chaired the appropriations committee's subcommittee dealing with EPA.
What's unsurprising is Trump wants to get rid of more than a dozen global warming programs at EPA, including funding to implement the Clean Power Plan (CPP)
Trump promised to repeal Obama's "Climate Action Plan" — the CPP is the linchpin of the former president's climate agenda. The CPP limits carbon dioxide emissions from new and existing power plants.
EPA Administrator Scott Pruitt helped lead a coalition of 28 states to overturn the rule while he was attorney general of Oklahoma. Trump is preparing to sign an executive order to rescind the CPP, so it's not surprising they'd cut funding for its implementation.
WaPo reported EPA's "Office of Research and Development could lose up to 42 percent of its budget, according to an individual apprised of the administration's plans."
The budget plan "eliminates funding altogether for the office's 'contribution to the U.S. Global Change Research Program,'" according to WaPo.
One area of concern, however, is the reduction in state and tribal grants for infrastructure and environmental clean-up. The Environmental Council of the States (ECS) sent a letter to EPA and OMB urging them not to cut those programs.
ECS wrote that "cuts to [state and tribal] categorical grants, or to EPA programs operated by states, will have profound impacts on states' ability to implement the core environmental programs as expected by our citizens."
More than 90 percent of EPA programs are carried out by state environmental regulators. That's something that concerns Pruitt, who promised to push back against OMB and preserve grants to states.
"I am concerned about the grants that have been targeted, particularly around water infrastructure, and those very important state revolving funds," Pruitt told E&E News Tuesday.
"What's important for us is to educate OMB on what the priorities of the agency are, from water infrastructure to Superfund, providing some of those tangible benefits to our citizens," Pruitt said, "while at the same time making sure that we reallocate, re-prioritize in our agency to do regulatory reform to get back within the bounds of Congress."
SOURCE
North Dakota should send $33 million bill for pipeline protesters to Tides, Rockefeller foundations
The left is destroying their own causes; as they frame themselves as selfless environmentalists, following their funding shows these radicals' true aims. Now, as North Dakota deals with the $33 million of costs associated with law enforcement and also damage that the Dakota Access Pipeline protestors have left behind, the corporations funding these ventures should be held accountable as well.
The Dakota Access protestors did not come out of nowhere, left-wing charities have been funding protests like these for years. Now in North Dakota, this same group is funding disorderly conduct and disrespect for the law.
Warren Buffett, a strict adversary of pipeline growth, has funneled well over $30 million dollars into the Tides Foundation, the group then disperse the funds among selected NGOs carrying out anti-pipeline campaigns.
The group primarily responsible for the rally behind the Dakota Access Pipeline is none other than the Indigenous Environmental Network, a pawn of the left.
Tom Shepstone explains in his Sept. 2016 analysis "A little research indicates one of the entities leading the charge is a group called Indigenous Environmental Network. Unsurprisingly, it has received funding from the usual fractivist funding suspects. They include the Earth Island Institute (funded, in turn, by the Rockefellers), the Tides Foundation, the Rose Foundation and Rockefeller Philanthropy Advisors (funded by Tides and the Rockefeller Family Fund, among others)."
Shepstone explained, "Not only is the pipeline not on the reservation's land, it parallels an existing natural gas pipeline already built there in the '80's. The Indigenous Environmental Network is also part of something called the Sustainable World Coalition… It's not about the climate, the environment or Native Americans. It's all about the money and power, which is why Warren Buffett also invests in Tides and other groups to fund opposition to Dakota pipelines that would compete with his Burlington Northern railroad to haul oil. It's because of these people that groups such as the Indigenous Environmental Network even exist and why the debate over the Dakota Pipeline is such a fiasco."
Meanwhile, groups like the Indigenous Environmental Network claim to be led by "tribal grassroots members", despite their lucrative assistance.
It's not just in North Dakota, either. As Vivian Krause a frequent writer for the Financial Post about this engrained corporate corruption writes, the left-wing opposition to pipelines extended to the Canada oil sands and the Keystone XL pipeline. Wrote Krause, "A large part of Tides' funding comes from the Gordon & Betty Moore Foundation, the William & Flora Hewlett Foundation, the David & Lucile Packard Foundation, the Pew Charitable Trusts and the Rockefeller Brothers Fund. These are The Big Five. They give away about $1.2 billion every year. If these foundations decide to undermine a foreign industry, they probably can."
That is exactly what they have done. Tides, with the help of big name charities and business men, has taken control of the debate on the pipelines and spun it into an indigenous issue. By Krause's calculations, Tides, a co-funder of the Rockefeller oil sands campaign, has distributed $19 million to anti-Keystone XL pipeline groups from 2008 to 2013 alone, including funding tribal groups like Idle No More. Overall, left-wing foundations have devoted more than $75 million to those operations, according to Krause.
The Tides Foundation for example, got its money's worth in 2014 when, as Toronto Sun reporter Ezra Levant explains, the left wing lobbying group based out of San Francisco wired $55,000 to the bank account of Allan Adam, from the Athabasca Chipewyan First Nation chief in Northern Alberta, to oppose the construction of oil sands.
While these protestors fight their "environmentalist" aim, they have actually destroyed the environment of the area they claim to be eager to protect.
The protestors have burned tires, releasing toxic chemicals into the air; dug latrines in the flood plain, washing waste into the Cannonball River; and killed cows and bison, hardly environmentally appropriate at all. Altogether, the damage these protestors have caused runs a bill the state estimates will cost $33 million in damages.
The Tides Foundation and its affiliates are not just paying for protests, they are building a franchise of illegal and reckless activity. North Dakota should send them the bill.
With over 700 already arrested, 90 percent with previous records, these protestors have taken it to the next level of civil disobedience. Individuals have heckled police officers, tied themselves to construction equipment, and when forced to evacuate, set fire to their sites and became violent.
These were the same tactics used in Canada by local tribal groups with great effect, often leading to property damage and arrests, and indicate an international strategy by these foundations to destabilize an entire industry. It need not be tolerated. There is no First Amendment right to destroy property.
The foundations funding this protest can and should be held accountable to the entire state affected by this chaos. By creating a problem in South Dakota, these organizations have helped create a lawless area of senseless social justice advocacy which is costing the state millions. If Tides, Rockefeller and other foundations are willing to fund these protests, it is about time someone made them fund the cleanup.
SOURCE
Trump, Navigable Waters, and the EPA's WOTUS Regulations
Rolling back a "federal land grab" or instituting an "unmitigated disaster for fish and wildlife, hunting and fishing, and clean water?"
In 2015, the Environmental Protection Agency issued a new Clean Water Rule, a.k.a. Waters of the U.S. (WOTUS) rules defining the jurisdiction of the agency over rivers, lakes, creeks, estuaries, ponds, swamps, prairie potholes, irrigation ditches, and intermittent rivulets. The new rules were based on the EPA's interpretation of the provisions of the 1972 Clean Water Act that mandated that the agency devise "comprehensive progams for water pollution control" aimed at "preventing, reducing, or eliminating the pollution of the navigable waters and ground waters and improving the sanitary condition of surface and underground waters." The agency reasoned that it had authority to regulate non-navigable upstream water sources like farm ponds and intermittent streams since they could carry pollution down to navigable waters like lakes and rivers. These new rules brought nearly half of Alaska and a total area in the lower 48 states equivalent to the size of California under the Clean Water Act's jurisdiction.
The upshot is that under the new more extensive regulations, ranchers, farmers, and property developers had to seek permission from the U.S. Army of Corps of Engineers to make changes that might affect minor sources of water on their land. Obtaining permits could take years and cost thousands of dollars. At least 32 states have sued to prevent the new regulations from taking effect, and the Sixth Federal Appeals Circuit Court stayed the new rules in October, 2016.
At the Conservative Political Action Conference meeting last week, new EPA Administrator Scott Pruitt declared that the Obama administration's WOTUS regulation had "made puddles and dry creek beds across this country subject to the jurisdiction of Washington DC. That's going to change." The new executive order that President Trump is expected to sign today directs that EPA to reopen the rulemaking process to repeal and revise the WOTUS rules. The agency is explicitly told to use the standards set out in former Supreme Court Justice Antonin Scalia's plurality opinion in the 2006 Rapanos vs. United States case. In his opinion, Scalia declared:
In sum, on its only plausible interpretation, the phrase "the waters of the United States" includes only those relatively permanent, standing or continuously flowing bodies of water "forming geographic features" that are described in ordinary parlance as "streams[,] … oceans, rivers, [and] lakes." See Webster's Second 2882. The phrase does not include channels through which water flows intermittently or ephemerally, or channels that periodically provide drainage for rainfall. The Corps' expansive interpretation of the "the waters of the United States" is thus not "based on a permissible construction of the statute."
Of course, various activist groups are alarmed at the potential rollback of EPA authority. For example, Trout Unlimited issued a statement:
Gravity works cheap, and it never takes a day off. The Administration cannot stop water flowing downhill—and we all live downstream. To be effective, the Clean Water Act must be able to control pollution at its source, upstream in the headwaters and wetlands that flow downstream through communities to our major lakes, rivers, and bays. ... If Justice Scalia's direction is followed, 60 percent of U.S. streams and 20 million acres of wetlands would lose protection of the Clean Water Act; an unmitigated disaster for fish and wildlife, hunting and fishing, and clean water.
In favor of Trump's new executive order American Farm Bureau Federation President Zippy Duvall declared:
President Trump's executive order to ditch the Waters of the U.S. rule is a welcome relief to farmers and ranchers across the country today. The flawed WOTUS rule has proven to be nothing more than a federal land grab, aimed at telling farmers and ranchers how to run their businesses. The Environmental Protection Agency failed to listen to farmers' and ranchers' concerns when drafting the rule and instead created widespread confusion for agriculture. Under the rule, the smallest pond or ditch could be declared a federal waterway.
In any case, the EPA review process will take years to complete.
SOURCE
***************************************
For more postings from me, see DISSECTING LEFTISM, TONGUE-TIED, EDUCATION WATCH INTERNATIONAL, POLITICAL CORRECTNESS WATCH, FOOD & HEALTH SKEPTIC and AUSTRALIAN POLITICS. Home Pages are here or here or here. Email me (John Ray) here.

Preserving the graphics: Most graphics on this site are hotlinked from elsewhere. But hotlinked graphics sometimes have only a short life -- as little as a week in some cases. After that they no longer come up. From January 2011 on, therefore, I have posted a monthly copy of everything on this blog to a separate site where I can host text and graphics together -- which should make the graphics available even if they are no longer coming up on this site. See here or here
*****************************************
2 March, 2017
How renewable energy advocates are hurting the climate cause
Overly optimistic reports of renewables' success are not only misleading but also counterproductive
In the wake of the 2016 presidential election, the proliferation of misinformation on social media is finally getting the attention it deserves. Or so I thought.
Scrolling through my Facebook news feed recently, I stumbled upon an article shared by Climate Central, a nonprofit news organization focused on climate science. "The World's Renewable Energy Capacity Now Beats Out Coal," read the headline from Co.Exist. I clicked. "The tipping point marks a major milestone in the transition to cleaner power sources," the subhead declared from atop an aerial photo of a wind farm.
And so went most of the coverage of a new report on renewable energy markets by the International Energy Agency, a well-respected source of global energy statistics. Outlets big and small, reputable and lesser-known, specialized and general, adopted similar headlines, subheads and ledes, accompanied by photos of wind turbines and solar panels.
"Installed capacity is not really a useful metric for a lot of purposes." –Mark JacobsonThe problem is twofold. First, capacity is a highly selective way to measure electricity, especially in the context of emissions and climate change. Capacity is defined as the maximum electric output a generator can produce under specific conditions at a moment in time — for example, how much a solar farm can generate during a sunny summer day or a wind farm when it's really windy. But, of course, the sun doesn't always shine or the wind always blow.
"Installed capacity is not really a useful metric for a lot of purposes," Mark Jacobson, an engineering professor at Stanford University who studies renewable energy, told me. "When you're asking, 'how much is this supplying, how much is wind supplying versus coal?' you want to look at the actual energy delivered."
That's commonly called generation, and is defined as the amount of electricity produced on average over a period of time, such as a year. Sure enough, if you look at generation numbers, coal still beat out renewables in 2015 by a significant margin, 39 percent to not quite 24 percent.
Second, and perhaps more importantly, most readers, and apparently many journalists, equate "renewables" with wind and solar. But the IEA's renewables category also includes hydropower and biomass. According to the IEA, 71 percent of global renewable electricity generation in 2015 came from hydropower, 15 percent from wind, 8 percent from bioenergy and 4 percent from solar. In other words, it's not wind and solar that have overtaken coal, it's a basket of renewables heavily dominated by hydropower. While growth in wind and solar installations have certainly helped push renewables' share up, hydropower also has been growing in recent years. When you include all sources, hydropower currently generates around 16 percent of the world's electricity; wind, almost 4 percent; biopower, 2 percent; and solar, just above 1 percent.
These two subtle forms of miscommunication, I believe, have led to some unfortunate misperceptions. A recent survey found that, on average, Americans believe that the country gets 20 percent of the total energy it consumes from wind and solar (11 percent wind, 9 percent solar). Part of this is likely due to the common but erroneous conflation of "energy" and "electricity." But even if you look at just electricity, the numbers for the U.S. still don't come close to 20 percent. The U.S. Energy Information Administration's 2015 statistics show that 4.7 percent of the country's electricity was generated from wind, with 0.6 percent coming from solar. That's a 14-plus percentage point difference between what Americans think and the truth.
It's hard to blame them, with confused and confusing coverage of renewable energy statistics popping up in their social media feeds and on news outlets they've come to trust. On top of that, most social media sharers never even read the articles they share. According to a recent study, 59 percent of links shared on Twitter have never been clicked, underscoring the outsize influence of misleading headlines, subheads and header photos. And research has shown that misleading and clickbait headlines have a lasting effect on how those who actually read articles interpret and remember their content.
Making wind and solar seem like they're doing better than they really are could come back to bite them — and the climate."This is typical of modern information consumption," said Arnaud Legout, co-author of the study on social media sharing, in a statement. "People form an opinion based on a summary, or a summary of summaries, without making the effort to go deeper."
It's understandable that environmental organizations and activists would want to build public enthusiasm for renewable energy. But making wind and solar seem like they're doing better than they really are could come back to bite proponents — and the climate. If members of the public think we're well on our way to throwing fossil fuels into the dustbin of history and replacing them with renewables, they'll be less likely to demand new policies and take actions to lower their own carbon footprints. The public may even come to see wind and solar as capable of outcompeting fossil fuels on their own and therefore undeserving of government subsidies and helpful regulations.
Wind and solar have made real progress in recent years. Their costs are projected to continue to decrease, and more wind and solar farms and rooftop solar arrays will continue to pop up across the country and around the world. But if the goal is to limit warming to anywhere near the level world leaders agreed to in Paris in 2015, significant challenges remain — and pretending like everything is going great is not going to fix them.
SOURCE
The Dakota Access Pipeline is Safe, Efficient, and Environmentally Sound
From the beginning of development, the Dakota Access Pipeline has been built to be one of the safest, most technologically advanced pipelines in the world. Dakota Access was designed with tremendous safety factors and state of the art construction techniques and redundancies, including construction and engineering technology that meet or exceed all safety and environmental regulations.
For example, the Dakota Access Pipeline utilizes Horizontal Directional Drills (HDD) for water crossings and state of the art pressure safety design factors that exceed federal requirements by more than 35 percent for road and water body crossings. The minimum installation depth of the pipeline will exceed federal regulations by nearly two feet in agricultural areas. The separation zone between the pipe and all existing infrastructure exceeds the regulatory requirements.
During construction and prior to operation, the pipeline has been and will be subjected to careful inspection and testing to verify its integrity and compliance with all regulatory standards. Once operational, the pipeline route will be patrolled and inspected by air on a weekly basis, weather permitting, to watch for abnormal conditions. It will also be continuously remotely monitored 24/7/365, with additional regular ground inspections.
Underground pipelines are the safest mode of transporting crude oil. Monitored 24/7/365, federal statistics show that underground pipelines transport crude oil more safely than rail (3.4-4.5x safer), or trucks (34x safer). The Dakota Access Pipeline can replace rail and truck transportation of crude oil with less impact to the environment and statistically greater safety.
More
HERE
Members of Congress met to discuss the costs of climate change. They ended up debating its existence
A hearing held Tuesday by several House subcommittees was meant to be an examination of the methods used to calculate an oft-contested metric known as the social cost of carbon, a way of quantifying the costs — environmental, health-related or otherwise — of emitting on additional ton of carbon dioxide into the atmosphere. Yet by its close, the conversation had disintegrated into yet another debate about the extent to which man-made climate change exists.
It's not the first time such an incident has occurred under the new Congress. Just a few weeks ago, the House Science Committee held a hearing intended to focus on the future of the Environmental Protection Agency and how it may incorporate the best available scientific evidence in its regulatory processes. At that hearing, multiple attendees took the opportunity to express doubt about the seriousness of human-caused climate change and the effectiveness of the EPA's climate policies — many of which were developed with the social cost of carbon in mind.
A controversial metric
The social cost of carbon is set at about $36 per ton of carbon dioxide. The calculations, developed by a federal working group in 2009, rely on a set of models that determine how carbon emissions may affect the climate in the future. They then calculate the monetary costs of any damages associated with those climatic changes, and have been used in dozens of federal environmental rules in the years since.
Tuesday's hearing, convened by the environment and oversight subcommittees of the House Science Committee, was intended to "examine the methods and parameters used to establish the social cost of carbon" with input from witnesses on how the calculation process could be improved. And indeed, the hearing did begin with a discussion of some of the common issues Republicans have raised about the calculation.
These include the fact that the metric focuses on global costs, not just domestic ones, as well as concerns about the climate-related assumptions included in the models. Many conservatives have also criticized a component of the calculations known as a discount rate, suggesting it could be higher. (The discount rate is a kind of interest rate that helps reflect the fact that carbon emitted today may affect the climate years in the future.)
At Tuesday's hearing, many of these complaints were raised again by Republican members of the subcommittees and the witnesses they called to testify, including climatologist Patrick Michaels of the Cato Institute, statistician Kevin Dayaratna of the Heritage Foundation and economist Ted Gayer of the Brookings Institution.
"The federal government should not include faulty calculations to justify faulty regulations," said Rep. Lamar Smith (R-Tex.), chair of the House Science Committee, in his opening remarks. "Instead, it should eliminate the use of the social cost of carbon until a credible value can be calculated."
However, such criticisms were contested during the hearing by Democratic attendees and witness Michael Greenstone, an economist at the University of Chicago and former chief economist for President Barack Obama's Council of Economic Advisers, who helped convene the first federal working group to begin developing the social cost of carbon in 2009. In fact, many experts have suggested that the current value of the social cost of carbon has been underestimated.
"The approach has been judged valid," Greenstone said in his opening remarks at the hearing. "Last August, a federal court of appeals rejected a legal challenge to the metric. Furthermore, the Government Accountability Office has said the working group's methods reflected key principles that ensured its credibility. It used consensus-based decision-making, relied largely on existing academic literature and models and disclosed limitations and incorporated new information by considering public comments and revising the estimates as updated research became available."
A climate debate renewed
Methodological debates aside, any discussion about how to calculate the social cost of carbon necessarily relies on the assumption that putting carbon into the atmosphere has an effect in the first place — in other words, that carbon dioxide emissions affect the climate in ways that can be quantified. And it soon became clear that not everyone at the hearing strongly felt this to be true.
A number of committee members, as well as several of the majority witnesses, eventually began to express views suggesting that human-caused emissions are not the primary driver of climate change, or that natural climate variations may play a larger role.
"Can anyone on the panel give me a date certain, even a year certain, that there was absolutely no climate change on this planet since the forming of it?" Rep. Bill Posey (R-Fla.) asked the witnesses at one point.
"Since the release of CO2, it has been changing more rapidly," Greenstone responded, to which Posey responded, "That's speculative," while an unidentified voice among the committee members added, "That's not true." Witnesses Dayaratna and Michaels both responded that they thought the climate has been changing since the planet was formed.
Later asked to clarify his stance on the primary driver of current climate change, Michaels responded: "The fact that we live on a fluid, discontinuous earth with long-period oscillations. The biggest climate change that you and I know of is an ice age oscillation, and I don't think CO2 is going to be capable of doing that — and those occurred without human influence." He noted that he does think that human activity is a "component" of modern climate change.
Others questioned whether an increase in atmospheric carbon dioxide concentrations might lead to net benefits for the planet, causing an increase in plant growth and agricultural production. At various points during the hearing, Michaels pointed to the fact that certain parts of the planet are becoming greener, presumably thanks to an increase in carbon dioxide levels. And Dayaratna suggested the possibility that factoring in increased agricultural yields — an issue he says has been mostly "unexplored" in calculations of the social cost of carbon — could produce a negative value, or a net monetary benefit associated with the emission of a ton of carbon.
The surfacing of these kinds of climate doubts at Tuesday's hearing only raise more questions about the future of the social cost of carbon, which — until now — has mostly been used to inform policies intended to combat climate change. It was an integral component of the Clean Power Plan, for instance, which is one of many environmental regulations the Trump administration has expressed an interest in dissolving.
Up to this point, experts have been skeptical about the Trump administration's ability to eliminate the social cost of carbon altogether, or even significantly reduce its value, without being struck down in court. But with members of both the Trump administration and Congress increasingly questioning its very purpose — to help account for the dangers of climate change — its future is looking ever more uncertain.
SOURCE
Climate change is real, but don't blame humans
CLIMATE change is real, and has constantly been changing ever since, but contrary to the massive propaganda it is allegedly anthropogenic or caused by man-made global warming, true science says human activities, like industrialization and transport emissions, do not cause global warming.
Is it man-made or Mann-made? The biggest argument used by the United Nations's Inter-governmental Panel on Climate Change (IPCC) and carried by Al Gore's Climate Change documentary, An Inconvenient Truth, is the "Hockey Stick" theory by climatologist Michael Mann.
Mann's study of global temperature the past 1,000 years or so recorded the spike in temperature starting in the 19th century with a graph like the shape of a hockey stick, which many politically motivated environmentalists associate directly to man-made industrialization and the massive influx of motor vehicles. This was done by getting deep earth samples from the polar region, where he made correlations between carbon dioxide (CO2) content and residues capturing temperature levels, although correlation does not establish causality.
This was debunked by many scientists and there are voluminous literature on this over the Internet. Some 31,000 scientists even signed a petition opposing this. Many scientists resigned from IPCC, which is composed more of people from government and non-governmental organizations.
Facts don't follow theory. In the Global Warming Swindle documentary, earth's history shows climate changed, contrary to the unscientific propaganda that an increase in CO2 leads to global warming, followed by climate change. Prof. Philip Stott of University of London noted that when humans were not yet producing CO2, we had little ice ages and warm periods. In the 14th century, Europe was in a Little Ice Age, as shown by illustrations of ice fairs and people skating on the Thames River. In the medieval period, England had a warm climate, as manifested in the writings of English poet Chaucer and the memories to this day of historic sites in England like vineyards, Vine Hill, Vine Street, Vinery, etc.
At the turn of the 19th century, temperatures rose by almost half- percent Celsius, but during the post- World War II economic boom up to 1975, they dropped even when CO2 rose to their peaks with industrialization, thus negating the global- warming scare theory.
More proof from Moore. Green Peace's cofounder, scientist Patrick Moore, left Green Peace when it abandoned science and turned too political, starting with its Global Chlorine Ban, when chlorine is the only technology that can purify water on a mass scale. Chlorine evaporates in 30 minutes, making water already safe. Moreover, 75 percent of medicines are chlorine-based.
Carbon dioxide may have increased from 260 parts per million (ppm) to 400 ppm the past two centuries, this is still a negligible 0.0004 of 100 percent or a million parts. Over the last 600 million years, average CO2 levels were even at 2,000 ppm, which is ideal for plant growth, Moore said. One can only get dizzy at 30,000 ppm of CO2.
We even need more CO2 to develop agriculture and more greenery. Carbon dioxide is also used as a refrigerant, There is even a web site, I Love CO2.com, but why is CO2 restricted, if the bigger greenhouse gas is water vapor, which is 850-percent stronger than CO2, and 2.1 percent more in volume than CO2. In fact, without water vapor, the Earth will be 14-percent colder.
Apparently, there are interest groups that do not want less-developed countries to industrialize. So their strategy is to put a cap on CO2, which means to go slow on
industrialization.
Moore, a Canadian, could not also understand why Green Peace is against hydropower dams, which is the cheapest renewable energy and account for 60 percent of Canada's power. It also opposed China's Three Gorges Hydro Dams, which produce 22,500 megawatts, equivalent to 40 coal plants, and even got the World Bank to pull out funding support.
Green Peace and groups like the Worldwild Life Fund also push for costly and age-old renewable energy (RE). Windmills made of steel may be more efficient, but are no different than Holland's 12th- century wooden mills, as there is no energy when there is no wind. Solar is another costly RE with very low energy flux density, but may still be appropriate in remote areas.
We need smart-agri vs. climate change. Regardless of the arguments, climate change is here to stay and we need to prepare agriculture as the first line of defense. This was stressed at a Philippine Agricultural Journalists (PAJ) forum sponsored by the Climate Change, Agriculture and Food Security (CCAFS) program based at the International Rice Research Institute (IRRI). Among the speakers were Dr. Julian Gonsalvez of the International Institute for Rural Reconstruction; Dr. Reiner Wassmann of IRRI, Victor Cruz of the UP Los Baños College of Forestry; and Dr. Rex Navarro, a PAJ director and member of the Climate Change CCAFS team.
Navarro summed up the measures to be climate-resilient as follows: 1)Farmers need to be knowledge-smart; 2) Seed-smart by using quality-resilient hybrid seeds; 3) Water-smart or irrigation that can manage drought or floods; 4) Nutrient-smart, balancing organic and inorganic fertilization; 5) Energy-smart by adopting appropriate and efficient technologies not dependent on fossil fuel; and 6) Market-smart.
On water resources, Gonsalvez says unlike African countries, which lack rain, we are blessed with rainfall that we can harness to make it possible to have three crops a year. He adds that in Capiz, 40 reservoirs were built, allowing farmers to grow three crops. It only took a backhoe two days to build one reservoir, so why can't we do this nationwide on a mass scale? On competitiveness, as we could not match Vietnam's and Thailand's production costs of P6 per kilo with our P11 to P12 per kilo, Cruz said we should plant crops other than rice, corn and coconut. He stressed the need to also correct so many institutional and policy weaknesses.
Wassmann added it is not only "a question of productivity. It is also a question of adaptation, that diversity is always good".
In summary, climate change is a fact, but is not caused by humans, thus we need to bring back science and technology to explore all the other maybe seven to 10 natural causes, which are a whole discourse altogether. We also need to change the climate of governance to be more relevant to the imminent threats of climate change.
SOURCE
Is Global Warming Science Just A Fraud?
Climate Change: We're often told by advocates of climate change that the "science is settled." But in fact, "science" itself is in a deep crisis over making claims it can't back up, especially about climate.
As BBC News Science Correspondent Tom Feilden noted last week, "Science is facing a 'reproducibility crisis' where more than two-thirds of researchers have tried and failed to reproduce another scientist's experiments, research suggests." This isn't just his journalistic opinion, but the conclusion of the University of Virginia's Center for Open Science, which estimates that roughly 70% of all studies can't be reproduced.
And this includes the field of climate change, by the way. It's a disaster. Being able to reproduce others' experiments or findings from models is at the very heart of science. Yet, radical climate change advocates would have us spend 2% of global GDP, or roughly $1.5 trillion a year, to forestall a minuscule amount of anticipated warming based on dubious modeling and experiments.
Meanwhile, the federal government spends literally billions of dollars a year on climate change, with virtually none of the money funding scientists who doubt the climate change threat. There is no serious debate. This is a problem for all of science.
Worse, our government's own science fraud is a big problem. Dr. John Bates, a former top scientist at National Oceanic and Atmospheric Administration, recently detailed how a government paper that called into question the 18-year "pause" in global warming was based on "experimental" data and politicized. That "paper" was used to justify President Obama's signing of the Paris climate agreement.
Meanwhile, Georgia Institute of Technology climatologist Judith Curry recently retired, blaming the "CRAZINESS (her emphasis) in the field of climate science."
Even so, mythical claims of a "consensus" among scientists about climate change continue in an effort to shut up critics. Those who dissent, and literally thousands of scientists and engineers do, are shouted down and harassed.
As Princeton University physicist Will Happer told the left-wing British newspaper the Guardian earlier this week: "There's a whole area of climate so-called science that is really more like a cult. ... It will potentially harm the image of all science."
It's time for some science Glasnost. New EPA Director Scott Pruitt has called for an open debate on climate science, rather than the name-calling and outright dishonesty of the past. Real science has nothing to fear from more openness and discussion, but everything to fear from more politicized dishonesty.
SOURCE
***************************************
For more postings from me, see DISSECTING LEFTISM, TONGUE-TIED, EDUCATION WATCH INTERNATIONAL, POLITICAL CORRECTNESS WATCH, FOOD & HEALTH SKEPTIC and AUSTRALIAN POLITICS. Home Pages are here or here or here. Email me (John Ray) here.

Preserving the graphics: Most graphics on this site are hotlinked from elsewhere. But hotlinked graphics sometimes have only a short life -- as little as a week in some cases. After that they no longer come up. From January 2011 on, therefore, I have posted a monthly copy of everything on this blog to a separate site where I can host text and graphics together -- which should make the graphics available even if they are no longer coming up on this site. See here or here
*****************************************
1 March, 2017
Bill Nye now thinks he is a psychologist
In fact he's not a scientist of any kind. He's just an entertainer. And his account of cognitive dissonance is exactly ass-about. Cognitive dissonance arises when your prophecies fail. He is the one suffering from cognitive dissonance. When has a Greenie prophecy ever got anything right? He's not even capable of Googling or he would not have made such a howler
Bill Nye said Monday that climate change skeptics suffer from a psychological problem preventing them from understanding how so-called man-made global warming affects their daily lives.
Climate change skeptics suffer from cognitive dissonance on global warming, a type of psychological disorder that prevents people from recognizing reality, the comedian and former TV show host told Vermont Sen. Bernie Sanders during a Facebook Live event.
"To the deniers out there. I want you to think about what is called cognitive dissonance," Nye said, referring to situations wherein people prefer to bury their head in the sand instead of facing reality. It's up to environmentalists and everybody else to save skeptics from themselves, he added.
"Instead of accepting that the climate is changing, deniers are denying the evidence and dismissing the authorities" simply because they don't want to face a harsh reality, Nye said.
SOURCE
A new temperature record from China gives no hint of any recent warming that can be attributed to atmospheric CO2
But medieval warm period observed
A 2000-Year Temperature History of China's Animaqin Mountains
Paper Reviewed: Chen, F., Zhang, Y., Shao, X., Li, M.Q. and Yin, Z.-Y. 2016. "A 2000-year temperature reconstruction in the Animaqin Mountains of the Tibet Plateau, China". The Holocene 26: 1904-1913.
Introducing their study, Chen et al. (2016) write that "high-resolution temperature reconstruction for the past 2000 years is imperative for understanding long-term natural climate variations and for estimating anthropogenic influence on the climate system." And, therefore, they developed an even longer April-June 2665-year tree-ring width chronology based on April-June maximum temperatures recorded at four meteorological stations located near Qilian juniper trees growing near the upper tree-line of the Animaqin Mountains on the eastern Tibetan Plateau.
And what did they learn by so doing?
As illustrated in the accompanying figure below, the four researchers report that "the warmest period occurred in AD 890-947, that "the coldest period occurred in AD 351-483," that "no obvious warming trend since the industrial revolution was observed," that "the mean of the most recent 50 years was only slightly higher than that of the whole series," and that it "has not yet reached the high values attained earlier."
In addition, Chen et al. note "the results of wavelet analysis showed the occurrence of significant quasi-periodic patterns at a number of occurring periods (2-8 years, 20-30 years, 30-60 years, and 60-130 years," as well as "some long-term periods (more than 200 years)," which they say were "consistent with those associated with ENSO [El Nino Southern Oscillation], PDO [the Pacific Decadal Oscillation], and solar activity."
Last of all, the five researchers report that "the warmest period was from AD 890 to 947, as opposed to the recent period," which finding implies that there has been nothing unusual, unnatural or unprecedented about the Animaqin Mountains' recent thermal history.
SOURCE
New EPA Administrator Emphasizes Federalism, Rule of Law
"The future ain't what it used to be at the EPA." That was the message of Scott Pruitt, the newly confirmed administrator of the Environmental Protection Agency, to conservatives gathered Saturday at the Conservative Political Action Conference, or CPAC. "Process, rule of law, and cooperative federalism, that is going to be the heart of how we do business at the EPA," Pruitt said.
In his role as EPA administrator, Pruitt said that he would work to restore the role of the states.
"What really matters a lot is federalism," the former Oklahoma attorney general said.
"We are going to once again pay attention to states across this country. I believe the people in Oklahoma, in Texas, Indiana, Ohio, New York, and California and all the states across the country … care about the air they breathe and they care about the water they drink and we are going to be partners with those individuals, not adversaries."
Pruitt said the EPA will also "pay attention to process." "We are not going to bypass rule-making," he said. "We are going to do the work that Congress has said we must do." The new administrator also said he will make sure the EPA pays "keen attention to [the] rule of law."
"As we engage in real rule-making, as we make sure that we don't use the courts to regulate, we are going to do so with a keen attention to rule of law," Pruitt said. "Rule of law matters."
Pruitt said executive agencies must operate under the authority Congress has given them, and not go beyond it.
"Executive agencies only have the power that Congress has given them, they can't make it up as they go," Pruitt said. "They can't fill in the blank. They can't say, 'We're just simply going to go forward without Congress speaking.'"
SOURCE
Household solar storage increases emissions, study concludes
Contrary to popular belief, household storage for solar power doesn't reduce cost or emissions, an American study suggests.
As charging and discharging a home battery itself consumes energy, feeding surplus solar power into the storage device instead of into the grid results in higher overall electricity consumption for the household, as well as higher emissions because the increased consumption needs to be covered by fossil fuel-based energy.
This increase is quite substantial – up to 591KWh annually.
"I expected that storage would lead to an increase in energy consumption," said Robert Fares from the Cockrell School of Engineering at the University of Texas at Austin, "but I was surprised that the increase could be so significant - about an eight to 14 per cent increase on average over the year."
Fares, together with Professor Michael Webber, analysed the impact of home energy storage using electricity data from almost 100 Texas households that are part of a smart grid test bed managed by Austin-based renewable energy and smart technology company Pecan Street Inc.
The results are relevant for Texas, where the majority of grid electricity comes from fossil fuels. As a result, the increased consumption due to storage technology leads to higher carbon, sulphur and nitrogen dioxide emissions.
The situation, however, is different for utility companies, which could reduce their peak grid demand by up to 32 per cent thanks to solar energy storage and cut down the magnitude of solar power injections to the grid by up to 42 per cent.
"These findings challenge the myth that storage is inherently clean, but that, in turn, offers useful insights for utility companies," Webber said.
"If we use the storage as the means to foster the adoption of significantly more renewables that offset the dirtiest sources, then storage - done the right way and installed at large-scale - can have beneficial impacts on the grid's emissions overall."
The study was published in the journal Nature Energy.
According to the Solar Energy Industry Association, the number of rooftop solar installations grew to more than one million US households in 2016. There is a growing interest in using energy storage to capture solar energy to reduce reliance on traditional utilities.
SOURCE
CLIMATE MODELS for the layman
Judith Curry
Executive summary:
There is considerable debate over the fidelity and utility of global climate models (GCMs). This debate occurs within the community of climate scientists, who disagree about the amount of weight to give to climate models relative to observational analyses. GCM outputs are also used by economists, regulatory agencies and policy makers, so GCMs have received considerable scrutiny from a broader community of scientists, engineers, software experts, and philosophers of science. This report attempts to describe the debate surrounding GCMs to an educated but nontechnical audience.
Key summary points
* GCMs have not been subject to the rigorous verification and validation that is the norm for engineering and regulatory science.
* There are valid concerns about a fundamental lack of predictability in the complex nonlinear climate system.
* There are numerous arguments supporting the conclusion that climate models are not fit for the purpose of identifying with high confidence the proportion of the 20th century warming that was human-caused as opposed to natural.
* There is growing evidence that climate models predict too much warming from increased atmospheric carbon dioxide.
* The climate model simulation results for the 21st century reported by the Intergovernmental Panel on Climate Change (IPCC) do not include key elements of climate variability, and hence are not useful as projections for how the 21st century climate will actually evolve.
Climate models are useful tools for conducting scientific research to understand the climate system. However, the above points support the conclusion that current GCMs are not fit for the purpose of attributing the causes of 20th century warming or for predicting global or regional climate change on timescales of decades to centuries, with any high level of confidence. By extension, GCMs are not fit for the purpose of justifying political policies to fundamentally alter world social, economic and energy systems. It is this application of climate model results that fuels the vociferousness of the debate surrounding climate models
SOURCE
***************************************
For more postings from me, see DISSECTING LEFTISM, TONGUE-TIED, EDUCATION WATCH INTERNATIONAL, POLITICAL CORRECTNESS WATCH, FOOD & HEALTH SKEPTIC and AUSTRALIAN POLITICS. Home Pages are here or here or here. Email me (John Ray) here.

Preserving the graphics: Most graphics on this site are hotlinked from elsewhere. But hotlinked graphics sometimes have only a short life -- as little as a week in some cases. After that they no longer come up. From January 2011 on, therefore, I have posted a monthly copy of everything on this blog to a separate site where I can host text and graphics together -- which should make the graphics available even if they are no longer coming up on this site. See here or here
*****************************************
/>
IN BRIEF


Home (Index page)


Context for the minute average temperature change recorded: At any given time surface air temperatures around the world range over about 100°C. Even in the same place they can vary by nearly that much seasonally and as much as 30°C or more in a day. A minute rise in average temperature in that context is trivial if it is not meaningless altogether. Scientists are Warmists for the money it brings in, not because of the facts

This site is in favour of things that ARE good for the environment. That the usual Greenie causes are good for the environment is however disputed. Greenie policies can in fact be actively bad for the environment -- as with biofuels, for instance

This Blog by John Ray (M.A.; Ph.D.), writing from Brisbane, Australia.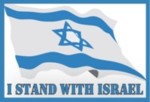 I am the most complete atheist you can imagine. I don't believe in Karl Marx, Jesus Christ or global warming. And I also don't believe in the unhealthiness of salt, sugar and fat. How skeptical can you get? If sugar is bad we are all dead

And when it comes to "climate change", I know where the skeletons are buried

Antarctica is GAINING mass

Warmists depend heavily on ice cores for their figures about the atmosphere of the past. But measuring the deep past through ice cores is a very shaky enterprise, which almost certainly takes insufficient account of compression effects. The apparently stable CO2 level of 280ppm during the Holocene could in fact be entirely an artifact of compression at the deeper levels of the ice cores. . Perhaps the gas content of an ice layer approaches a low asymptote under pressure. Dr Zbigniew Jaworowski's criticisms of the assumed reliability of ice core measurements are of course well known. And he studied them for over 30 years.

The world's first "Green" party was the Nazi party -- and Greenies are just as Fascist today in their endeavours to dictate to us all and in their attempts to suppress dissent from their claims.

Was Pope Urban VIII the first Warmist? Below we see him refusing to look through Galileo's telescope. People tend to refuse to consider evidence— if what they might discover contradicts what they believe.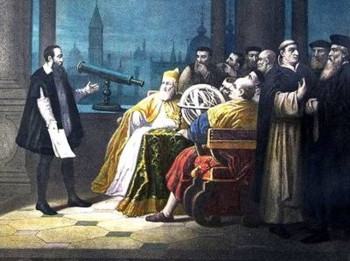 Warmism is a powerful religion that aims to control most of our lives. It is nearly as powerful as the Catholic Church once was

Believing in global warming has become a sign of virtue. Strange in a skeptical era. There is clearly a need for faith

Climate change is the religion of people who think they're too smart for religion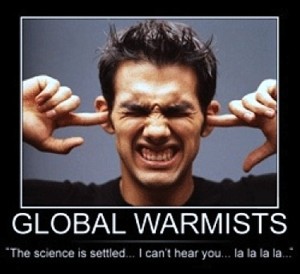 Some advice from the Buddha that the Green/Left would do well to think about: "Three things cannot be long hidden: The Sun, The Moon and The Truth"

Leftists have faith that warming will come back some day. And they mock Christians for believing in the second coming of Christ! They obviously need religion

Global warming has in fact been a religious doctrine for over a century. Even Charles Taze Russell, the founder of Jehovah's Witnesses, believed in it

A rosary for the church of global warming (Formerly the Catholic church): "Hail warming, full of grace, blessed art thou among climates and blessed is the fruit of thy womb panic"

Pope Francis is to the Catholic church what Obama is to America -- a mistake, a fool and a wrecker

Global warming is the predominant Leftist lie of the 21st century. No other lie is so influential. The runner up lie is: "Islam is a religion of peace". Both are rankly absurd.

"When it comes to alarmism, we're all deniers; when it comes to climate change, none of us are" -- Dick Lindzen

The EPA does everything it can get away with to shaft America and Americans

Cromwell's famous plea: "I beseech you, in the bowels of Christ, think it possible you may be mistaken" was ignored by those to whom it was addressed -- to their great woe. Warmists too will not consider that they may be wrong ..... "Bowels" was a metaphor for compassion in those days

The plight of the bumblebee -- an egregious example of crooked "science"

Inorganic Origin of Petroleum: "The theory of Inorganic Origin of Petroleum (synonyms: abiogenic, abiotic, abyssal, endogenous, juvenile, mineral, primordial) states that petroleum and natural gas was formed by non-biological processes deep in the Earth, crust and mantle. This contradicts the traditional view that the oil would be a "fossil fuel" produced by remnants of ancient organisms. Oil is a hydrocarbon mixture in which a major constituent is methane CH4 (a molecule composed of one carbon atom bonded to four hydrogen atoms). Occurrence of methane is common in Earth's interior and in space. The inorganic theory contrasts with the ideas that posit exhaustion of oil (Peak Oil), which assumes that the oil would be formed from biological processes and thus would occur only in small quantities and sets, tending to exhaust. Some oil drilling now goes 7 miles down, miles below any fossil layers

As the Italian chemist Primo Levi reflected in Auschwitz, carbon is 'the only element that can bind itself in long stable chains without a great expense of energy, and for life on Earth (the only one we know so far) precisely long chains are required. Therefore carbon is the key element of living substance.' The chemistry of carbon (2) gives it a unique versatility, not just in the artificial world, but also, and above all, in the animal, vegetable and – speak it loud! – human kingdoms.


David Archibald: "The more carbon dioxide we can put into the atmosphere, the better life on Earth will be for human beings and all other living things."


WISDOM:

"It doesn't matter how beautiful your theory is, it doesn't matter how smart you are. If it doesn't agree with experiment, it's wrong." --- Richard P. Feynman. Consensus is invoked only in situations where the science is not solid enough - Michael Crichton

"The growth of knowledge depends entirely on disagreement" -- Karl Popper

"Science is the belief in the ignorance of the experts" – Richard Feynman

"The desire to save humanity is always a false front for the urge to rule it" -- H L Mencken

'Nothing is more terrible than ignorance in action' -- Goethe

"Doubt is not a pleasant condition, but certainty is absurd." -- Voltaire

Lord Salisbury: "No lesson seems to be so deeply inculcated by experience of life as that you should never trust experts. If you believe doctors, nothing is wholesome; if you believe theologians, nothing is innocent; if you believe soldiers, nothing is safe."

Calvin Coolidge said, "If you see 10 troubles coming down the road, you can be sure that nine will run into the ditch before they reach you." He could have been talking about Warmists.

Some advice from long ago for Warmists: "If ifs and ans were pots and pans,there'd be no room for tinkers". It's a nursery rhyme harking back to Middle English times when "an" could mean "if". Tinkers were semi-skilled itinerant workers who fixed holes and handles in pots and pans -- which were valuable household items for most of our history. Warmists are very big on "ifs", mays", "might" etc. But all sorts of things "may" happen, including global cooling

Bertrand Russell knew about consensus: "The fact that an opinion has been widely held is no evidence whatever that it is not utterly absurd; indeed in view of the silliness of the majority of mankind, a widespread belief is more likely to be foolish than sensible."

There goes another beautiful theory about to be murdered by a brutal gang of facts. - Duc de La Rochefoucauld, French writer and moralist (1613-1680)

"Pluralitas non est ponenda sine necessitate" -- William of Occam

Was Paracelsus a 16th century libertarian? His motto was: "Alterius non sit qui suus esse potest" which means "Let no man belong to another who can belong to himself." He was certainly a rebel in his rejection of authority and his reliance on observable facts and is as such one of the founders of modern medicine

"In science, refuting an accepted belief is celebrated as an advance in knowledge; in religion it is condemned as heresy". (Bob Parks, Physics, U of Maryland). No prizes for guessing how global warming skepticism is normally responded to.

"Almost all professors of the arts and sciences are egregiously conceited, and derive their happiness from their conceit" -- Erasmus

"The improver of natural knowledge absolutely refuses to acknowledge authority, as such. For him, scepticism is the highest of duties; blind faith the one unpardonable sin." -- Thomas H. Huxley

Time was, people warning the world "Repent - the end is nigh!" were snickered at as fruitcakes. Now they own the media and run the schools.

"One of the sources of the Fascist movement is the desire to avoid a too-rational and too-comfortable world" -- George Orwell, 1943 in Can Socialists Be Happy?

The whole problem with the world is that fools and fanatics are always so certain of themselves, but wiser people so full of doubts -- Bertrand Russell

"Affordable energy in ample quantities is the lifeblood of the industrial societies and a prerequisite for the economic development of the others." -- John P. Holdren, Science Adviser to President Obama. Published in Science 9 February 2001

The closer science looks at the real world processes involved in climate regulation the more absurd the IPCC's computer driven fairy tale appears. Instead of blithely modeling climate based on hunches and suppositions, climate scientists would be better off abandoning their ivory towers and actually measuring what happens in the real world.' -- Doug L Hoffman

Something no Warmist could take on board: "Knuth once warned a correspondent, "Beware of bugs in the above code; I have only proved it correct, not tried it." -- Prof. Donald Knuth, whom some regard as the world's smartest man

"To be green is to be irrational, misanthropic and morally defective. They are the barbarians at the gate we have to stand against" -- Rich Kozlovich

"We've got to ride this global warming issue. Even if the theory of global warming is wrong, we will be doing the right thing in terms of economic and environmental policy." – Timothy Wirth, President of the UN Foundation

"Isn't the only hope for the planet that the industrialized civilizations collapse? Isn't it our responsibility to bring that about?" – Maurice Strong, founder of the UN Environment Programme (UNEP)

Leftists generally and Warmists in particular very commonly ascribe disagreement with their ideas to their opponent being "in the pay" of someone else, usually "Big Oil", without troubling themselves to provide any proof of that assertion. They are so certain that they are right that that seems to be the only reasonable explanation for opposition to them. They thus reveal themselves as the ultimate bigots -- people with fixed and rigid ideas.


ABOUT:

This is one of TWO skeptical blogs that I update daily. During my research career as a social scientist, I was appalled at how much writing in my field was scientifically lacking -- and I often said so in detail in the many academic journal articles I had published in that field. I eventually gave up social science research, however, because no data ever seemed to change the views of its practitioners. I hoped that such obtuseness was confined to the social scientists but now that I have shifted my attention to health related science and climate related science, I find the same impermeability to facts and logic. Hence this blog and my FOOD & HEALTH SKEPTIC blog. I may add that I did not come to either health or environmental research entirely without credentials. I had several academic papers published in both fields during my social science research career

Update: After 8 years of confronting the frankly childish standard of reasoning that pervades the medical journals, I have given up. I have put the blog into hibernation. In extreme cases I may put up here some of the more egregious examples of medical "wisdom" that I encounter. Greenies and food freaks seem to be largely coterminous. My regular bacon & egg breakfasts would certainly offend both -- if only because of the resultant methane output

Since my academic background is in the social sciences, it is reasonable to ask what a social scientist is doing talking about global warming. My view is that my expertise is the most relevant of all. It seems clear to me from what you will see on this blog that belief in global warming is very poorly explained by history, chemistry, physics or statistics.

Warmism is prophecy, not science. Science cannot foretell the future. Science can make very accurate predictions based on known regularities in nature (e.g. predicting the orbits of the inner planets) but Warmism is the exact opposite of that. It predicts a DEPARTURE from the known regularities of nature. If we go by the regularities of nature, we are on the brink of an ice age.

And from a philosophy of science viewpoint, far from being "the science", Warmism is not even an attempt at a factual statement, let alone being science. It is not a meaningful statement about the world. Why? Because it is unfalsifiable -- making it a religious, not a scientific statement. To be a scientific statement, there would have to be some conceivable event that disproved it -- but there appears to be none. ANY event is hailed by Warmists as proving their contentions. Only if Warmists were able to specify some fact or event that would disprove their theory would it have any claim to being a scientific statement. So the explanation for Warmist beliefs has to be primarily a psychological and political one -- which makes it my field

And, after all, Al Gore's academic qualifications are in social science also -- albeit very pissant qualifications.

A "geriatric" revolt: The scientists who reject Warmism tend to be OLD! Your present blogger is one of those. There are tremendous pressures to conformity in academe and the generally Leftist orientation of academe tends to pressure everyone within it to agree to ideas that suit the Left. And Warmism is certainly one of those ideas. So old guys are the only ones who can AFFORD to declare the Warmists to be unclothed. They either have their careers well-established (with tenure) or have reached financial independence (retirement) and so can afford to call it like they see it. In general, seniors in society today are not remotely as helpful to younger people as they once were. But their opposition to the Warmist hysteria will one day show that seniors are not completely irrelevant after all. Experience does count (we have seen many such hysterias in the past and we have a broader base of knowledge to call on) and our independence is certainly an enormous strength. Some of us are already dead. (Reid Bryson and John Daly are particularly mourned) and some of us are very senior indeed (e.g. Bill Gray and Vince Gray) but the revolt we have fostered is ever growing so we have not labored in vain.

A Warmist backs down: "No one knows exactly how far rising carbon concentrations affect temperatures" -- Stefan Rahmstorf, a scientist at the Potsdam Institute for Climate Impact Research.

Jimmy Carter Classic Quote from 1977: "Because we are now running out of gas and oil, we must prepare quickly for a third change, to strict conservation and to the use of coal and permanent renewable energy sources, like solar power.


SOME POINTS TO PONDER:

Today's environmental movement is the current manifestation of the totalitarian impulse. It is ironic that the same people who condemn the black or brown shirts of the pre WW2 period are blind to the current manifestation simply because the shirts are green.

Climate is just the sum of weather. So if you cannot forecast the weather a month in advance, you will not be able to forecast the climate 50 years in advance. And official meteorologists such as Britain's Met Office and Australia's BOM, are very poor forecasters of weather. The Met office has in fact given up on making seasonal forecasts because they have so often got such forecasts embarrassingly wrong. Their global-warming-powered "models" just did not deliver

Here's how that "97% consensus" figure was arrived at

97% of scientists want to get another research grant

Hearing a Government Funded Scientist say let me tell you the truth, is like hearing a Used Car Salesman saying let me tell you the truth.

A strange Green/Left conceit: They seem to think (e.g. here) that no-one should spend money opposing them and that conservative donors must not support the election campaigns of Congressmen they agree with

David Brower, founder Sierra Club: "Childbearing should be a punishable crime against society, unless the parents hold a government license"

To Greenies, Genghis Khan was a good guy, believe it or not. They love that he killed so many people.

Greenie antisemitism

After three exceptionally cold winters in the Northern hemisphere, the Warmists are chanting: "Warming causes cold". Even if we give that a pass for logic, it still inspires the question: "Well, what are we worried about"? Cold is not going to melt the icecaps is it?"

It's a central (but unproven) assumption of the Warmist "models" that clouds cause warming. Odd that it seems to cool the temperature down when clouds appear overhead!

To make out that the essentially trivial warming of the last 150 years poses some sort of threat, Warmists postulate positive feedbacks that might cut in to make the warming accelerate in the near future. Amid their theories about feedbacks, however, they ignore the one feedback that is no theory: The reaction of plants to CO2. Plants gobble up CO2 and the more CO2 there is the more plants will flourish and hence gobble up yet more CO2. And the increasing crop yields of recent years show that plantlife is already flourishing more. The recent rise in CO2 will therefore soon be gobbled up and will no longer be around to bother anyone. Plants provide a huge NEGATIVE feedback in response to increases in atmospheric CO2

Every green plant around us is made out of carbon dioxide that the plant has grabbed out of the atmosphere. That the plant can get its carbon from such a trace gas is one of the miracles of life. It admittedly uses the huge power of the sun to accomplish such a vast filtrative task but the fact that a dumb plant can harness the power of the sun so effectively is also a wonder. We live on a rather improbable planet. If a science fiction writer elsewhere in the universe described a world like ours he might well be ridiculed for making up such an implausible tale.

Greenies are the sand in the gears of modern civilization -- and they intend to be.

The Greenie message is entirely emotional and devoid of all logic. They say that polar ice will melt and cause a big sea-level rise. Yet 91% of the world's glacial ice is in Antarctica, where the average temperature is around minus 40 degrees Celsius. The melting point of ice is zero degrees. So for the ice to melt on any scale the Antarctic temperature would need to rise by around 40 degrees, which NOBODY is predicting. The median Greenie prediction is about 4 degrees. So where is the huge sea level rise going to come from? Mars? And the North polar area is mostly sea ice and melting sea ice does not raise the sea level at all. Yet Warmists constantly hail any sign of Arctic melting. That the melting of floating ice does not raise the water level is known as Archimedes' principle. Archimedes demonstrated it around 2,500 years ago. That Warmists have not yet caught up with that must be just about the most inspissated ignorance imaginable. The whole Warmist scare defies the most basic physics. Yet at the opening of 2011 we find the following unashamed lying by James Hansen: "We will lose all the ice in the polar ice cap in a couple of decades". Sadly, what the Vulgate says in John 1:5 is still only very partially true: "Lux in tenebris lucet". There is still much darkness in the minds of men.

The repeated refusal of Warmist "scientists" to make their raw data available to critics is such a breach of scientific protocol that it amounts to a confession in itself. Note, for instance Phil Jones' Feb 21, 2005 response to Warwick Hughes' request for his raw climate data: "We have 25 years or so invested in the work. Why should I make the data available to you, when your aim is to try and find something wrong with it?" Looking for things that might be wrong with a given conclusion is of course central to science. But Warmism cannot survive such scrutiny. So even after "Climategate", the secrecy goes on.

Most Greenie causes are at best distractions from real environmental concerns (such as land degradation) and are more motivated by a hatred of people than by any care for the environment

Global warming has taken the place of Communism as an absurdity that "liberals" will defend to the death regardless of the evidence showing its folly. Evidence never has mattered to real Leftists

'Global warming' has become the grand political narrative of the age, replacing Marxism as a dominant force for controlling liberty and human choices. -- Prof. P. Stott

Comparing climate alarmist Hansen to Cassandra is WRONG. Cassandra's (Greek mythology) dire prophecies were never believed but were always right. Hansen's dire prophecies are usually believed but are always wrong (Prof. Laurence Gould, U of Hartford, CT)

The modern environmental movement arose out of the wreckage of the New Left. They call themselves Green because they're too yellow to admit they're really Reds. So Lenin's birthday was chosen to be the date of Earth Day. Even a moderate politician like Al Gore has been clear as to what is needed. In "Earth in the Balance", he wrote that saving the planet would require a "wrenching transformation of society".

For centuries there was a scientific consensus which said that fire was explained by the release of an invisible element called phlogiston. That theory is universally ridiculed today. Global warming is the new phlogiston. Though, now that we know how deliberate the hoax has been, it might be more accurate to call global warming the New Piltdown Man. The Piltdown hoax took 40 years to unwind. I wonder....

Motives: Many people would like to be kind to others so Leftists exploit that with their nonsense about equality. Most people want a clean, green environment so Greenies exploit that by inventing all sorts of far-fetched threats to the environment. But for both, the real motive is generally to promote themselves as wiser and better than everyone else, truth regardless.

Policies: The only underlying theme that makes sense of all Greenie policies is hatred of people. Hatred of other people has been a Greenie theme from way back. In a report titled "The First Global Revolution" (1991, p. 104) published by the "Club of Rome", a Greenie panic outfit, we find the following statement: "In searching for a new enemy to unite us, we came up with the idea that pollution, the threat of global warming, water shortages, famine and the like would fit the bill.... All these dangers are caused by human intervention... The real enemy, then, is humanity itself." See here for many more examples of prominent Greenies saying how much and how furiously they hate you.

After fighting a 70 year war to destroy red communism we face another life-or-death struggle in the 21st century against green communism.

The conventional wisdom of the day is often spectacularly wrong. The most popular and successful opera of all time is undoubtedly "Carmen" by Georges Bizet. Yet it was much criticized when first performed and the unfortunate Bizet died believing that it was a flop. Similarly, when the most iconic piece of 20th century music was first performed in 1913-- Stravinsky's "Rite of Spring" -- half the audience walked out. Those of us who defy the conventional wisdom about climate are actually better off than that. Unlike Bizet and Stravinsky in 1913, we KNOW that we will eventually be vindicated -- because all that supports Warmism is a crumbling edifice of guesswork ("models").

Al Gore won a political prize for an alleged work of science. That rather speaks for itself, doesn't it?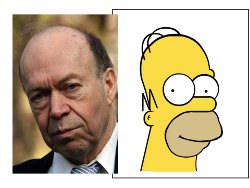 Jim Hansen and his twin

Getting rich and famous through alarmism: Al Gore is well-known but note also James Hansen. He has for decades been a senior, presumably well-paid, employee at NASA. In 2001 he was the recipient of a $250,000 Heinz Award. In 2007 Time magazine designated him a Hero of the Environment. That same year he pocketed one-third of a $1 million Dan David Prize. In 2008, the American Association for the Advancement of Science presented him with its Scientific Freedom and Responsibility Award. In 2010 he landed a $100,000 Sophie Prize. He pulled in a total of $1.2 million in 2010. Not bad for a government bureaucrat.

See the original global Warmist in action here: "The icecaps are melting and all world is drowning to wash away the sin"

I am not a global warming skeptic nor am I a global warming denier. I am a global warming atheist. I don't believe one bit of it. That the earth's climate changes is undeniable. Only ignoramuses believe that climate stability is normal. But I see NO evidence to say that mankind has had anything to do with any of the changes observed -- and much evidence against that claim.

Seeing that we are all made of carbon, the time will come when people will look back on the carbon phobia of the early 21st century as too incredible to be believed

Meanwhile, however, let me venture a tentative prophecy. Prophecies are almost always wrong but here goes: Given the common hatred of carbon (Warmists) and salt (Food freaks) and given the fact that we are all made of carbon, salt, water and calcium (with a few additives), I am going to prophecy that at some time in the future a hatred of nitrogen will emerge. Why? Because most of the air that we breathe is nitrogen. We live at the bottom of a nitrogen sea. Logical to hate nitrogen? NO. But probable: Maybe. The Green/Left is mad enough. After all, nitrogen is a CHEMICAL -- and we can't have that!

UPDATE to the above: It seems that I am a true prophet

The intellectual Roman Emperor Marcus Aurelius (AD 121-180) must have foreseen Global Warmism. He said: "The object in life is not to be on the side of the majority, but to escape finding oneself in the ranks of the insane."

The Holy Grail for most scientists is not truth but research grants. And the global warming scare has produced a huge downpour of money for research. Any mystery why so many scientists claim some belief in global warming?

For many people, global warming seems to have taken the place of "The Jews" -- a convenient but false explanation for any disliked event. Prof. Brignell has some examples.

Global warming skeptics are real party-poopers. It's so wonderful to believe that you have a mission to save the world.

There is an "ascetic instinct" (or perhaps a "survivalist instinct") in many people that causes them to delight in going without material comforts. Monasteries and nunneries were once full of such people -- with the Byzantine stylites perhaps the most striking example. Many Greenies (other than Al Gore and his Hollywood pals) have that instinct too but in the absence of strong orthodox religious committments they have to convince themselves that the world NEEDS them to live in an ascetic way. So their personal emotional needs lead them to press on us all a delusional belief that the planet needs "saving".

The claim that oil is a fossil fuel is another great myth and folly of the age. They are now finding oil at around seven MILES beneath the sea bed -- which is incomparably further down than any known fossil. The abiotic oil theory is not as yet well enough developed to generate useful predictions but that is also true of fossil fuel theory

Help keep the planet Green! Maximize your CO2 and CH4 output!

Global Warming=More Life; Global Cooling=More Death.

The inconvenient truth about biological effects of "Ocean Acidification"

Medieval Warm Period: Recent climatological data assembled from around the world using different proxies attest to the presence of both the MWP and the LIA in the following locations: the Sargasso Sea, West Africa, Kenya, Peru, Japan, Tasmania, South Africa, Idaho, Argentina, and California. These events were clearly world-wide and in most locations the peak temperatures during the MWP were higher than current temperatures.

Both radioactive and stable carbon isotopes show that the real atmospheric CO2 residence time (lifetime) is only about 5 years, and that the amount of fossil-fuel CO2 in the atmosphere is maximum 4%.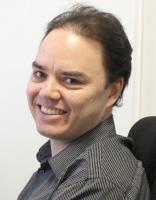 Cook the crook who cooks the books

The great and fraudulent scare about lead

Green/Left denial of the facts explained: "Rejection lies in this, that when the light came into the world men preferred darkness to light; preferred it, because their doings were evil. Anyone who acts shamefully hates the light, will not come into the light, for fear that his doings will be found out. Whereas the man whose life is true comes to the light" John 3:19-21 (Knox)

Against the long history of huge temperature variation in the earth's climate (ice ages etc.), the .6 of one degree average rise reported by the U.N. "experts" for the entire 20th century (a rise so small that you would not be able to detect such a difference personally without instruments) shows, if anything, that the 20th century was a time of exceptional temperature stability.

Recent NASA figures tell us that there was NO warming trend in the USA during the 20th century. If global warming is occurring, how come it forgot the USA?

Warmists say that the revised NASA figures do not matter because they cover only the USA -- and the rest of the world is warming nicely. But it is not. There has NEVER been any evidence that the Southern hemisphere is warming. See here. So the warming pattern sure is looking moth-eaten.

The latest scare is the possible effect of extra CO2 on the world's oceans, because more CO2 lowers the pH of seawater. While it is claimed that this makes the water more acidic, this is misleading. Since seawater has a pH around 8.1, it will take an awful lot of CO2 it to even make the water neutral (pH=7), let alone acidic (pH less than 7).

In fact, ocean acidification is a scientific impossibility. Henry's Law mandates that warming oceans will outgas CO2 to the atmosphere (as the UN's own documents predict it will), making the oceans less acid. Also, more CO2 would increase calcification rates. No comprehensive, reliable measurement of worldwide oceanic acid/base balance has ever been carried out: therefore, there is no observational basis for the computer models' guess that acidification of 0.1 pH units has occurred in recent decades.

The chaos theory people have told us for years that the air movement from a single butterfly's wing in Brazil can cause an unforeseen change in our weather here. Now we are told that climate experts can "model" the input of zillions of such incalculable variables over periods of decades to accurately forecast global warming 50 years hence. Give us all a break!

If you doubt the arrogance [of the global warming crowd, you haven't seen that Newsweek cover story that declared the global warming debate over. Consider: If Newton's laws of motion could, after 200 years of unfailing experimental and experiential confirmation, be overthrown, it requires religious fervor to believe that global warming -- infinitely more untested, complex and speculative -- is a closed issue

Scientists have politics too -- sometimes extreme politics. Read this: "This crippling of individuals I consider the worst evil of capitalism... I am convinced there is only one way to eliminate these grave evils, namely through the establishment of a socialist economy, accompanied by an educational system which would be oriented toward social goals. In such an economy, the means of production are owned by society itself and are utilized in a planned fashion. A planned economy, which adjusts production to the needs of the community, would distribute the work to be done among all those able to work and would guarantee a livelihood to every man, woman, and child." -- Albert Einstein

The "precautionary principle" is a favourite Greenie idea -- but isn't that what George Bush was doing when he invaded Iraq? Wasn't that a precaution against Saddam getting or having any WMDs? So Greenies all agree with the Iraq intervention? If not, why not?

A classic example of how the sensationalist media distort science to create climate panic is here.

There is a very readable summary of the "Hockey Stick" fraud here

The Lockwood & Froehlich paper was designed to rebut Durkin's "Great Global Warming Swindle" film. It is a rather confused paper -- acknowledging yet failing to account fully for the damping effect of the oceans, for instance -- but it is nonetheless valuable to climate atheists. The concession from a Greenie source that fluctuations in the output of the sun have driven climate change for all but the last 20 years (See the first sentence of the paper) really is invaluable. And the basic fact presented in the paper -- that solar output has in general been on the downturn in recent years -- is also amusing to see. Surely even a crazed Greenie mind must see that the sun's influence has not stopped and that reduced solar output will soon start COOLING the earth! Unprecedented July 2007 cold weather throughout the Southern hemisphere might even have been the first sign that the cooling is happening. And the fact that warming plateaued in 1998 is also a good sign that we are moving into a cooling phase. As is so often the case, the Greenies have got the danger exactly backwards. See my post of 7.14.07 and very detailed critiques here and here and here for more on the Lockwood paper and its weaknesses.

As the Greenies are now learning, even strong statistical correlations may disappear if a longer time series is used. A remarkable example from Sociology: "The modern literature on hate crimes began with a remarkable 1933 book by Arthur Raper titled The Tragedy of Lynching. Raper assembled data on the number of lynchings each year in the South and on the price of an acre's yield of cotton. He calculated the correla­tion coefficient between the two series at –0.532. In other words, when the economy was doing well, the number of lynchings was lower.... In 2001, Donald Green, Laurence McFalls, and Jennifer Smith published a paper that demolished the alleged connection between economic condi­tions and lynchings in Raper's data. Raper had the misfortune of stopping his anal­ysis in 1929. After the Great Depression hit, the price of cotton plummeted and economic condi­tions deteriorated, yet lynchings continued to fall. The correlation disappeared altogether when more years of data were added." So we must be sure to base our conclusions on ALL the data. In the Greenie case, the correlation between CO2 rise and global temperature rise stopped in 1998 -- but that could have been foreseen if measurements taken in the first half of the 20th century had been considered.

Relying on the popular wisdom can even hurt you personally: "The scientific consensus of a quarter-century ago turned into the arthritic nightmare of today."

Greenie-approved sources of electricity (windmills and solar cells) require heavy government subsidies to be competitive with normal electricity generators so a Dutch word for Greenie power seems graphic to me: "subsidieslurpers" (subsidy gobblers)

Many newspaper articles are reproduced in full on this blog despite copyright claims attached to them. I believe that such reproductions here are protected by the "fair use" provisions of copyright law. Fair use is a legal doctrine that recognises that the monopoly rights protected by copyright laws are not absolute. The doctrine holds that, when someone uses a creative work in way that does not hurt the market for the original work and advances a public purpose - such as education or scholarship - it might be considered "fair" and not infringing.




DETAILS OF REGULARLY UPDATED BLOGS BY JOHN RAY:

"Tongue Tied"
"Dissecting Leftism" (Backup here)
"Australian Politics"
"Education Watch International"
"Political Correctness Watch"
"Greenie Watch"
Western Heart


BLOGS OCCASIONALLY UPDATED:

"Marx & Engels in their own words"
"A scripture blog"
"Recipes"
"Some memoirs"
To be continued ....
Coral Reef Compendium.
IQ Compendium
Queensland Police
Australian Police News
Paralipomena (3)
Of Interest
Dagmar Schellenberger
My alternative Wikipedia


BLOGS NO LONGER BEING UPDATED

"Food & Health Skeptic"
"Eye on Britain"
"Immigration Watch International".
"Leftists as Elitists"
Socialized Medicine
OF INTEREST (2)
QANTAS -- A dying octopus
BRIAN LEITER (Ladderman)
Obama Watch
Obama Watch (2)
Dissecting Leftism -- Large font site
Michael Darby
Paralipomena (2)
AGL -- A bumbling monster
Telstra/Bigpond follies
Optus bungling
Bank of Queensland blues


There are also two blogspot blogs which record what I think are my main recent articles here and here. Similar content can be more conveniently accessed via my subject-indexed list of short articles here or here (I rarely write long articles these days)






Main academic menu
Menu of recent writings
Basic home page
Pictorial Home Page.
Selected pictures from blogs
Another picture page (Best with broadband. Rarely updated)



Note: If the link to one of my articles is not working, the article concerned can generally be viewed by prefixing to the filename the following:
http://pandora.nla.gov.au/pan/42197/20151027-0014/jonjayray.comuv.com/

OR: (After 2015)
https://web.archive.org/web/20160322114550/http://jonjayray.com/